Daylight Saving Time is such a crock of shit.
I left work at 5:30pm. It was pitch black. WHERE'S MY FUCKING DAYLIGHT NOW? Gone, thanks to it being Not-Daylight-Savings-Time.
I have to say... even though I have given up all hope of President Obama being able to get any shit done now that he's going to have to spend every waking hour of every fucking day battling the Republican-dominated House of Representatives to solve this country's problems... I would forgive everything if he would just abolish this fucked up shit of having to dick with our clocks twice a year. Surely this is a bipartisan issue if there ever was one? Everywhere I go, people are bitching about how stupid Daylight Saving Time is. You'd think every fucking House Representative and every fucking Senator and every fucking douchebag politician in the entire fucking country would be onboard. It's about the only thing they can do now which would be embraced by the majority of the fucking population who's out there in the dark AT FIVE-O-CLOCK...
I'm in a really bad mood, so I probably should stop this entry before things really get out of hand.
Except...
I've just read a very disturbing article over at Ars where they're talking about the new mandatory procedures for airport security. People still have the option of skipping the "backscatter" and "millimeter wave" scanners at airports if they're too modest for that kind of exposure. If you don't know what one of those scans looks like, I transferred my last scan to a USB Memory Stick and smuggled it out of airport security...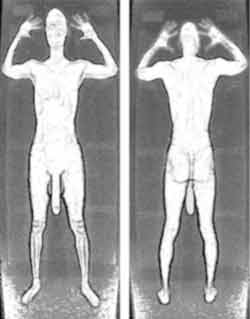 Of course I was wearing my MC Hammer Pants at the time (they're so comfortable for traveling!), so I had a certain amount of embarrassment built-in, but still... I don't want to go through THAT again.
So I think that I'll opt for the new-and-improved "Crotch-Invasive-Super-Pat-Down" instead...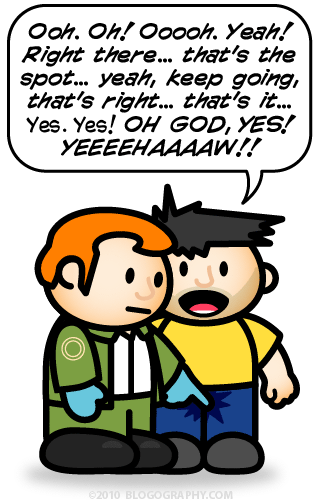 Nothing like a free hand-job to relax you before a long flight. Thank you Transportation Security Administration!