Welcome to an ALL-REVIEW EDITION of Bullet Sunday!

• SIDEWALKS! I still haven't come down off the high I got from Matt and Kim's second album masterpiece, Grand, so when I heard they were dropping their third album, Sidewalks, I was skeptical. How could they possible come up with anything even near as awesome? Well, they're Matt and Kim, so how could it not be awesome? I love it, and have been listening to Sidewalks constantly. Here's a short video talking about the album with a sweet taste of the awesome first track...
The only song I don't much care for is Northeast, which deviates from the happy funtime sound that makes me love the band so much. The other nine tracks are gold, however, with my clear favorites being Block After Block, Cameras, AM/FM Sound, and Good for Great. My only criticism of Sidewalks would be that it seems over-produced compared to what's come before. The charm of Matt and Kim's music has always been the raw, unpolished, basement sound that lets their indie roots shine through. But everything here is polished so heavily that no rough edges show, and I'm not sure that's a good thing. Kim's wild, unapologetic brashness when banging on the drums is kinda... muted... this time around. And while the complexity they've layered into their latest songs adds a welcome maturity to their sound, I'd hate for them to eventually be buried by it.
SIDEWALKS RATING: B (Recommended).

• THE WALKING DEAD! Comic book adaptations for television have historically been hit-or-miss, with even the most successful translations feeling like something is lacking. So imagine my surprise when one of my favorite comic books ever, The Walking Dead, actually managed to elevate the source material so high that it exceeds my impossibly high expectations. In some ways, it's even better than the comic book upon which it's based...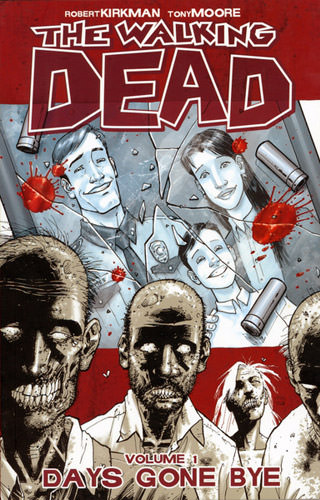 Shocking, I know. But no more shocking than a comic book where no character is sacred and anybody can die at any minute. What's truly shocking is the production values on the series. AMC is putting some serious cash into all aspects of the program, and it shows. The special effects and location shooting are brilliant. The zombies are works of art and not the schlocky B-movie retreads I was expecting. And the acting is top-notch, with Andrew Lincoln's flawless performance as Rick Grimes adding a sense of danger and realism that's almost too good to be true...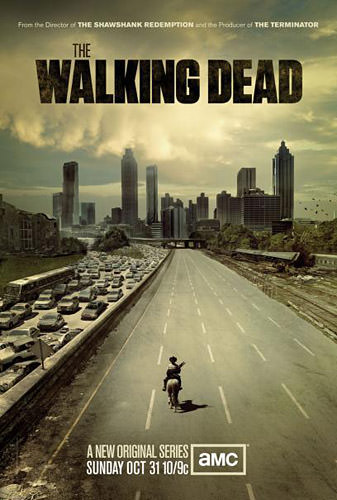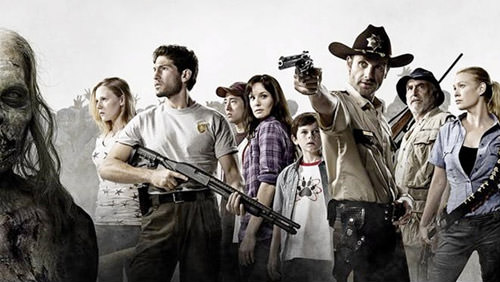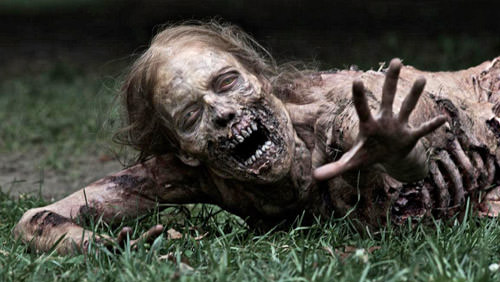 Genius television on every level, and already renewed for a second season!
COMIC RATING: A+ (Highly Recommended).
TV SHOW RATING: A (Highly Recommended).

• EARTH! As a huge fan of The Daily Show, I was quick to snap up their humorous primer on all things USA called America (The Book): A Citizen's Guide to Democracy Inaction. Even though The Daily Show is a comedy program, it still manages to have an intelligent discussion of news and politics between the funny. With America (The Book), they poke fun at the country by reducing our culture and history down to a ridiculous grade-school textbook filled with witty essays that illuminate while they amuse. It was a terrific book, which compelled me to pick up the follow-up tome, Earth (The Book): A Visitor's Guide to the Human Race...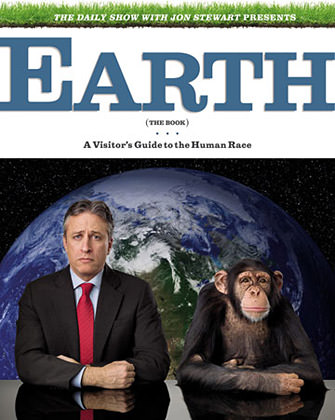 It's reminiscent of America (The Book), but on a global scale. Except this time they dismissed with the essays and went with page after page of easy jokes and witty one-liners slapped on wacky infographics and amusing photos. While still funny and moderately insightful, it doesn't leave the reader with much to think about (which seems to be the point). So while I definitely enjoyed Earth (The Book) it was kind of a step-down from their previous effort.
AMERICA (THE BOOK) RATING: A (Highly Recommended).
EARTH (THE BOOK) RATING: B (Recommended).

• BLU-RAY COLLECTIONS! I've been opposed to wasting my money on re-purchasing videos on Blu-Ray that I already own on DVD unless there's a very good reason for doing so. Unfortunately, two new sets have dropped which left me with no choice, because they both contain some of my favorite films of all time PLUS very good reasons for buying them...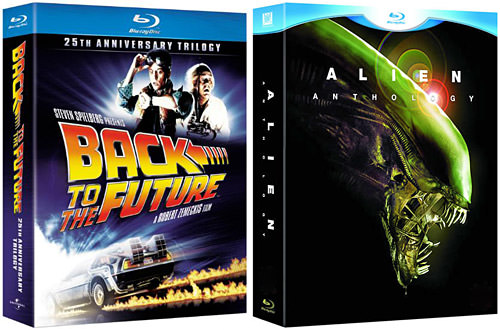 Back to the Future: 25th Anniversary Trilogy. I am convinced that all three of these films are some of the most brilliant and inventive movies to ever grace the silver screen... and it's all because of the details. The original Back to the Future not only had a great story, but showed the consequences of time travel with numerous small details that geeks like myself go crazy over (such as when Marty destroyed one of Old Man Peabody's trees in 1955, causing the "Twin Pines Mall" in 1985 to transform into "Lone Pine Mall"). Then we got Back to the Future II, which managed to create an all-new story WITHIN the original film all while giving us a fantastical look at the future. Sheer genius. Back to the Future III was a bit more mundane, trading the future for the Old West, but managed to wrap-up the trilogy in a way that was satisfying and respectful to those that came before. This new Blu-Ray set has an incredible transfer to hi-def that's a marked improvement over the old DVD versions. Despite having been filmed in the 80's, everything looks crisp and new, and there's tons of extras that any BTTF fan will love (some of which I have never seen before). An added bonus... digital copies of all three films is included, so you can transfer everything to your iPod, which is awesome. Two down-sides. 1) The packaging can make releasing the discs a real challenge. You pull down on the disc to unhook it, but sometimes it doesn't work like it should, and I worried that I'd snap the thing in half. 2) The menu system is FUCKING STUPID! Maybe it's just my player, but every damn time I view something, the menu won't come back and I have to eject the disc, then wait the five minutes it takes for the menu to load again. A serious flaw that drops my rating... I'll take functionality over design any day.
BACK TO THE FUTURE: 25TH ANNIVERSARY TRILOGY RATING: B+ (Highly Recommended).
Alien Anthology The issue here is picture quality. The Alien films are fairly dark, which is a real problem for DVD/TV. You can get some nasty compression artifacts and murky shadows that obliterate details and kill the spooky atmosphere that makes the movies work so well. Thankfully, the new Blu-Ray Hi-Def transfer is fantastic. The picture is probably better now than it ever was, which makes me wish they'd re-release the films in digital theaters. In any event, the original Ridley Scott Alien film was a masterpiece blend of science fiction and horror that can still scare the crap out of me even today. It was followed by Aliens, where James Cameron did the impossible by grafting a high-octane "space marine" action flick onto the original sci-fi/horror concept... and actually made it work. David Fincher's Alien3 was a disastrous disservice to the story from Aliens, but a pretty good film when looked at independently. Jean-Pierre Jeunet's Alien: Resurrection has some amazing visual sequences that are tied together by a rather weak story which revives Sigourney Weaver's deceased character in a way that never really worked for me. And even though I hated the freaky-ass mutant alien that provided the "villain" for the fourth installment, I think I enjoyed the film overall. Everything is brought together beautifully with a shitload of awesome extras that will take me days to get through. The packaging (again) is a bit odd (WTF-?), but workable. For any fan of any of the films, Alien Anthology is a must-have.
ALIEN ANTHOLOGY RATING: A (Highly Recommended).

And now I'm out of money, so that will have to be enough unabashed consumerism for the day.