Posted on September 8th, 2022

Her Majesty Queen Elizabeth II • 1926-2022
The Queen is dead, long live The King.
Years ago I read a book about Her Majesty by famed biographer Ben Pimlott. She is about as fascinating a figure as you'd expect. It's because of this book that when I think of Queen Elizabeth, it's usually in the context of her extraordinary dedication to the monarchy and service to her country. No matter what you may think of her in any capacity, you gotta respect her dedication. I've seen more than one documentary on The Queen, and it's always stuck with me how she dug in with the rest of Britain to serve as "Princess Auto Mechanic" during World War II...

Photo from the Imperial War Museum, London
Every day since then, she's continued to serve her people with grace as the face of all Britain to the world. And she was very good at her job. As well she should be, since she's had it since she was 25 years old.
If you want to know a little bit about the history of the Royal Family without having to read stuffy biographies, have I got a short CGP Grey video for you!
And if you want to know how Her Majesty Queen Ellizabeth II happened when royalty is a primarily male-dominated concept (until recently, natch), have I got an even shorter CGP Grey video for you!
And if you're dying to know what good The Queen is when a constitutional monarchy reduces her to nothing more than a ceremonial figurehead, guess what! Yet another short CGP Grey video to explain that to you too!

As you'd assume, all is not perfect in the land of royalty.
I find the entire concept of a monarchy to be antiquated and impractical (it's my duty as an American to feel this way). I think that the idea that somebody is qualified to hold any political position based on genetics and name recognition to be full-on nuts (even in the UK, which isn't an actual monarchy but a constitutional monarchy where the Queen doesn't hold much actual power). History is replete with examples of bad rulers who got the job just because of who their mummy and daddy were. I wouldn't put Queen Elizabeth into this category... but it's still incredibly weird to me that this kind of thing is still going on in the Year of Our Lord 2022. Maybe I would feel different if I were next in line for the throne. Though I'd like to think that my first act after having a massive party for my coronation would be to abolish the monarchy, so I dunno.
There are many examples I could drop about how the Queen is problematic to me. But here's one that has bothered me for a very long time: Her Majesty has a long record of homophobia, and infamously didn't allow partners of gay staffers to attend her annual Christmas Ball at Buckingham Palace until protests in 1995 changed the mind of her and her handlers. 1995! That's surprising (but hardly shocking), as you'd think that somebody who is supposed to represent all of the people would make even a tiny effort to recognize the LGBTQ persons that she rules over (not that Americans are ones to talk given how our leaders are no better... and, in fact, worse in many regards). The fact that she could have done something... anything... to make LGBTQ persons feel a welcome part of her reign but never did is kinda shitty behavior, to be honest.
And so there it is. I'm sorry for her family and all those subjects who loved her, but really hoping that King Charles III does even a little bit more (or a lot more) to be inclusive of all his subjects. And if not? The guy is 73 years old (long may he reign), so maybe I'll see it happen in my lifetime if I'm alive when King William V ascends the throne. Which is entirely possible if he has more of his mother in him than his father, as she always seemed so compassionate towards people... all people, regardless of station or circumstance... than others in the Royal Family.
And now, because I can't help myself, here's a CGP Grey video about tumbleweeds...
Posted on June 3rd, 2012

Let's get ready to rrrrrumble... because Bullet Sunday starts... now...

• Dawson. Game show host, game show player, and actor Richard Dawson passed away. While best known as the host of Family Feud, I remember him best for his funny appearances on Match Game. And, of course, as one of the most genius film role castings ever... Damon Killian from The Running Man...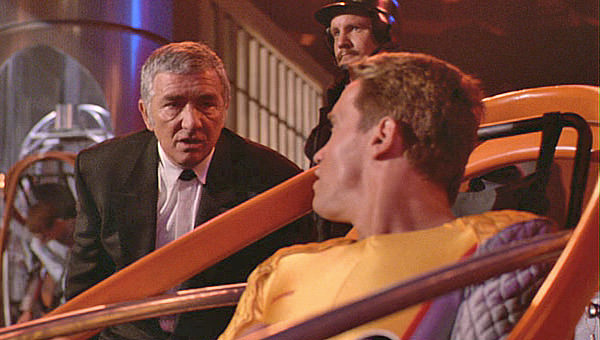 Ahnold says "I'll be back!"
A movie that was "The Hunger Games" before there was The Hunger Games, and far more entertaining. Rest in peace, sir! You'll be back... in reruns.

• Joosten. Continuing the sad news, Kathryn Joosten, who played Mrs. Landingham so brilliantly on The West Wing has also passed away...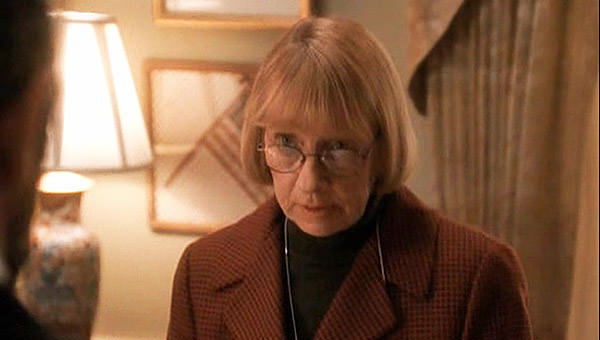 West Wing fans know that killing off Delores Landingham at the end of the second season was one of the most memorable and emotional moments from the entire series, and nothing was quite the same after she left. This was all due to Joosten infusing her character with a charm and dry humor that never ceased to steal any scene in which she appeared. Though I wasn't a fan of Desperate Housewives, I was looking forward to seeing Joosten in another series after it ended. You will be missed.

• House. As the primary European airline partner for Northwest Airlines (later merged with Delta), KLM Royal Dutch Airlines got a bit of my business back when I was flying to Europe regularly. On one of my trips, I was bumped to "World Business Class" and given a gift... a miniature Dutch house filled with gin. I thought it was kind of cool, but gave it away when I had forgotten to buy a gift for my (then) girlfriend. I think it was this one...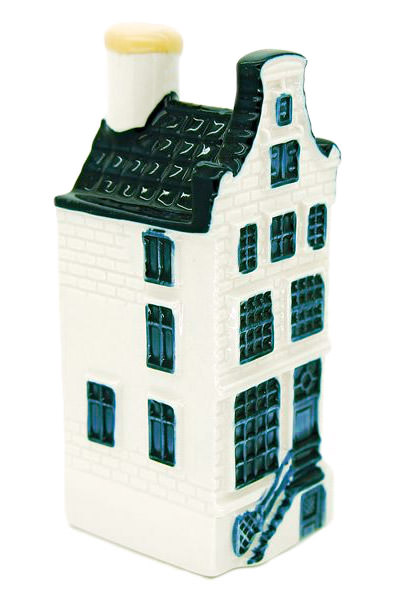 Photo taken from KLM Dutch Houses
What I only recently found out was that KLM has been coming out with a new house every October 7th for 92 years! The house I got was not a one-time event for the airline, but a tradition that had been going on for decades. On top of that, each house is based on a real house somewhere in the Netherlands.
You can read all about the 92 houses that have been released on KLM's website... but the coolest way to explore the collection is by getting the KLM Houses App for iPhone. With it you can even get a Google Map with directions to the actual house that the miniature is based on.
Something else I learned today, "KLM" stands for "Koninklijke Luchtvaart Maatschappij"... which is Dutch for "Royal Aviation Company." Try saying that ten times fast.

• Fresh. Speaking of DutchyLand... TULIPS!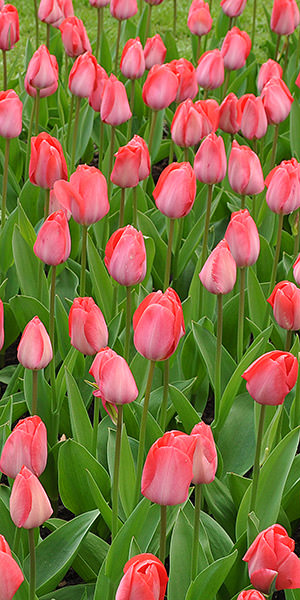 Hard to believe this was taken just 50 days ago.

• Fresh. Congratulations to Her Majesty Queen Elizabeth on the occasion of her Diamond Jubilee and 60 years on the throne...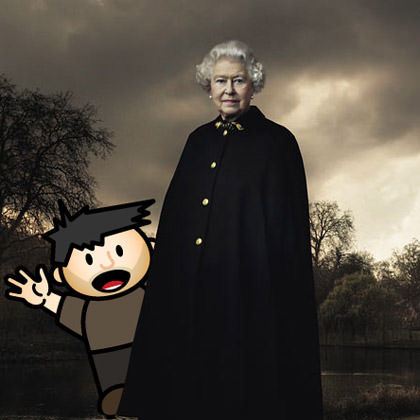 One of the most hauntingly beautiful portraits I've ever seen... by Annie Leibovitz
NOW can I get my knighthood?

And... time to pack my suitcase. It's going to be an interesting week...
Posted on April 29th, 2011

I suppose it's a good thing we didn't go to the Royal Wedding...

How embarrassing would it have been when Bad Monkey showed up wearing the same stupid-ass toilet seat hat as Princess Beatrice?
Posted on April 27th, 2011

Well bummer. Looks like I won't be going to London tomorrow after all.
I don't know whether to be more upset that I cannot attend the Royal Wedding on Friday... or that they used Comic Sans as the font for the names on the invitations...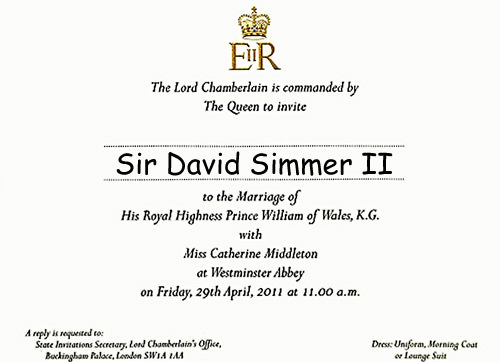 Oh don't be surprised that I got an invitation! As a Knight of The Most Excellent Order of the British Empire and a personal friend of Her Royal Majesty The Queen, of course I received an invitation!
If only my dental cleaning appointment hadn't been moved up. I was really looking forward to meeting Kate and Wills. I was especially looking forward to the wedding reception. Her Royal Highness knows how to throw down a buffet, yes she does!
But we all know how important dental hygiene is for our health so, alas, I'll be sending my regrets.