Today I was supposed to work, but couldn't make it because I awoke with a splitting headache which made me so ill that I was fighting the urge to vomit all morning. I'm not sure what the problem is, but I had to make severe changes in my diet at the request of my doctor, and it's been wrecking havoc with my system.
So, in-between dry-heaves, I set about sorting through twenty years of memories that have been stacked up in boxes. It mostly photos, post cards, travel souvenirs, and maps... but occasionally I run into other cool stuff. Like money. I found $46 in US bills scattered amongst the crap I've collected. Not to mention what probably amounts to hundreds of dollars in expired foreign currency.
My main goal is to track down any loose negatives that might be hiding so I can get them scanned. Otherwise, I'll miss the opportunity to see such gems as these (which were scanned in my last batch)...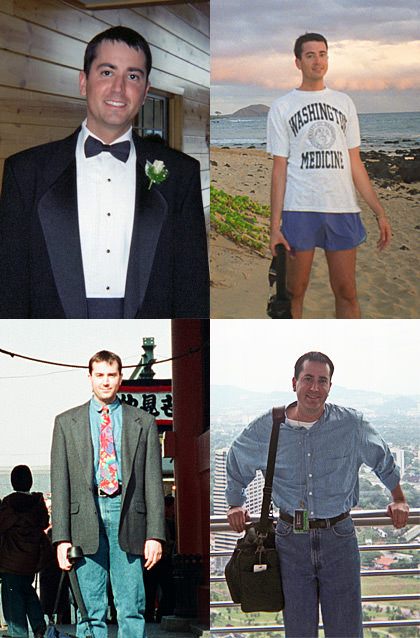 Clockwise... That's me in a tux at my good friend's wedding. Me in Hawaii circa 1986. Me at the top of Petronas Towers (Kuala Lumpur) circa 2000. And me being all business-casual in Tokyo circa 1990.
Rummaging through crap for hours wasn't doing my headache any good, but it's all worth it because every once in a while, I run across something like this...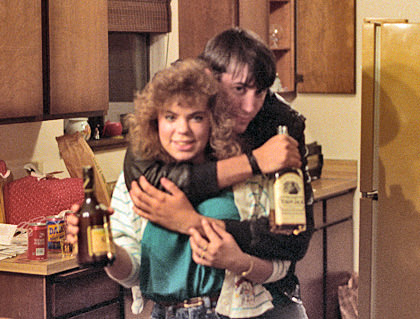 That's me and my sister, circa 1987. If I remember correctly, we had finished off all the alcohol in the apartment except Yukon Jack Whiskey and some kind of Bailey's Irish Cream knock-off. Not knowing what else to do, we mixed them together and did shots.
Googling this horrific concoction, I now know this drink actually has a name... it's called a "Yukon Jackoff."
That sounds about right.
And so I made it half-way through my memories today and was very happy to learn that most of them are actually worth remembering.
That's kind of a nice thing to have happen on a Saturday, isn't it?