It's a busy busy Bullet Sunday!
If I were smart, I'd blow off blogging today so I could get caught up with work. Oh well. Blogging is a tough habit to break. Even when it's bad for you. Especially when it's bad for you.

• Holiday. Happy Father's Day to all the dads out there! Including mine...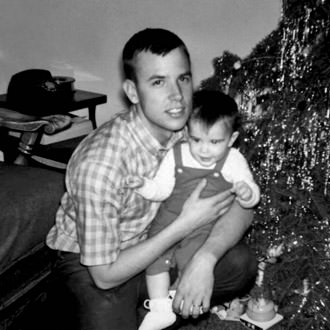 • Cheesy. I think it aught to be a law that companies who make low-fat and fat-free cheese products should be REQUIRED UNDER PENALTY OF DEATH to label their products with giant warning labels like they put on cigarettes...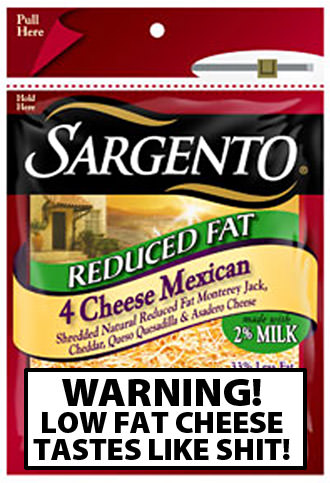 I am tired of accidentally buying the wrong cheese at the store because I'm in a hurry and don't notice the beautifully-integrated low-fat declaration. If there were an offensively large warning label requirement, I'd be less likely to mistakenly purchase this crap.

• Batmobile. Batman is my favorite comic book hero. By far. He doesn't have any super powers, so the stakes are always higher for him than say.... Superman. How Batman compensates for being merely human is those wonderful toys he uses to fight crime. The most famous of which would have to be the Batmobile. As Batman's vehicle of choice, it's taken a lot of different forms over the years. Some good. Some bad. Some meh. Kind of like the latest Batmobile designed by Gordon Murray(!) for the new Batman Live touring show. In the right light, it's kind of sexy...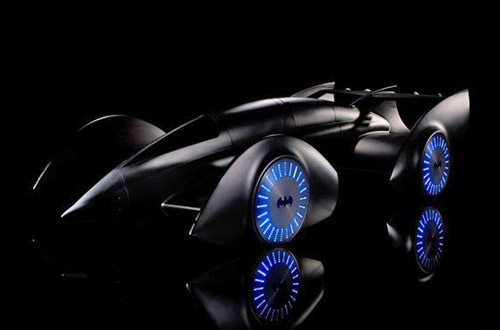 But in the wrong light... such as, say... DAYLIGHT... it looks kind of boring and lame...
Still, it is a step above the massive tank-like "Batmobile Tumbler" from the current Batman films, I guess. I mostly didn't care for the theatrical and goofy nature of the Tim Burton movies, but I think he had the best Batmobile on the big screen so far.

• Flush. I am sick of all these commercials touting "Flash" as an awesome "feature" on the Android Tablets. Flash sucks. It's battery-draining, crash-happy, annoying bullshit and I hate it. Apple choosing to dump the buggy shit from its iPhone, iPod, and iPad was one of the best things to happen to the internet, because it's forcing web developers to stop using Flash and turn to modern HTML 5 elements instead. I am reminded of just how smart Apple is every time I visit a Flash site on my MacBook and it either crashes or sucks my battery dry.
My favorite thing to do is fill out crash reports whenever Flash crashes (which is a lot)...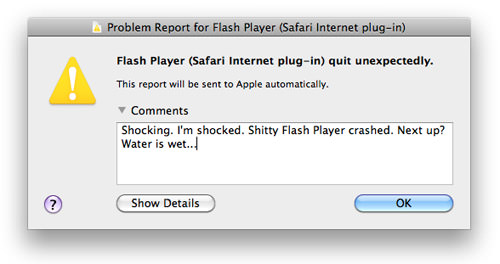 Not that it's any news to Apple... hell, they're trying their best to kill Flash. But I'm easily frustrated and a total smartass.

• Cloudy. Speaking of Apple competitor suckage... why is buying music from Amazon such a frikin' joke? It's an awful, awful experience. It's so mind-boggling horrible that I'd rather pay $1.29 for a song from Apple than to suffer through buying the same song for 69¢ from Amazon. And now that they force you to go through their "Cloud Drive" for everything, a bad situation is even worse. Partly because their "Cloud Drive Player" is shit and stutters and stalls every time I try to listen to a song. But mostly because you can't just download your music when you want. You still have to use Amazon's unbelievably crappy downloader utility, which is just fucking stupid. Apple's iCloud service won't be ready until July (Mac) and September (iOS), but it's bound to be worth waiting for given Amazon's terrible solution. Guess I'm in no danger of turning in my Certified Apple Whore credentials any time soon.

And now I think I'll eat cookies and watch episodes of The West Wing. After all these years, it remains some of the best television ever aired.