Posted on October 18th, 2020

Cooking on Sunday seems like a tough sell before facing your Monday, but sometimes life throws you an easy recipe... because an all new Bullet Sunday starts... now...

• LEWKS! Dolly Parton is one of my favorite people on earth. This video of her looking back on her leaks over the year is a great indication why...
National. Treasure.

• Rona! Thinking that overcoming COVID gives you immunity is most probably a mistake.

• UnHallmark! SQUEEEs in Hallmark...
Amazing how some of the best Hallmark movies aren't actually made by Hallmark any more. This film, for example, features an interracial couple. That is so exceedingly rare at Hallmark that you could reasonably argue that it doesn't exist. But, hey, they're producing a gay Hallmark Christmas movie this year, so maybe anything is possible?

• Meow! This made my week. Do not mess with a cat's pet!
The cat is fantastic, yes... but that puppy is too adorable.

• Pete! I think it's important to revisit this moment in Pete Buttigieg's "town hall" on FOX "News" from 2019. It's where he's asked about what people are labeling "late-term abortion"... something which is not medically accurate ("late-term" is past an expected due-date for birth), but generally accepted to mean 21 weeks or later in pregnancy. I keep seeing "late-term abortion" pop up in conversation lately, and I honestly don't think people truly get what it is. As explained by Mayor Pete in the video below, for the vast majority of women who have been carrying a baby for 21 weeks, they're expecting to carry it to term. They want that baby. So if they're needing to get an abortion into the third trimester, it's not because they've changed their mind, but because of a catastrophic medical problem for either the mother or child. So to deny women a necessary medical procedure under those circumstances is both horrifying and cruel (read this, as just one example... there are thousands more). Yet this is what some very unreasonable and sadistic people are wanting to deny a woman in need at one of the worst times in their lives.
I was initially a fan of Buttigieg, but ultimately problematic in some areas. That being said, I'd sure pick him over Trump or Biden. His thoughtful, measured response to serious issues is something we are sorely lacking in government.

• Flix! I laughed far more than I should have at this...
Lord only knows what people would think when looking at my Netflix!

• T-RAV! One of the best things about visiting St. Louis is their "Toasted Ravioli" (AKA "T-Rav"). Which, most places, is actually deep-fat-fried instead of toasted. It's amazing stuff. It's not always easy to find a non-meat version, but it's always worth it. My problem is that St. Louis is 1600 miles away, so the only way I'm going to get it is to make it myself. Fortunately, it's pretty easy, and I'm giving my recipe below...
I use Buitoni Fresh ravioli (in the refrigerator section at the grocery store) because it's smaller and I don't have to worry about the center not cooking completely. Freeze it for about 10 minutes until the outside of the pasta is chilled. You can use frozen ravioli, but you need to thaw it enough that the center is thawed, then re-chill it because the outside must be cold for stuff to stick properly.
While the ravioli is chilling, mix 1-1/4 cups of panko breadcrumbs, dash of rosemary, dash of garlic salt, scant teaspoon of dried oregano, scant teaspoon of dried basil, and a 1/3 cup of fine-grated parmesan cheese. Beat three eggs until smooth.
After the pasta has chilled, drench each piece in the beaten egg, shake a bit to get the excess off, then put in the breadcrumb mixture. Cover and press down a bit to make sure the crumbs have adhered. Place each piece on a cookie sheet to set.
Put the tray of coated ravioli in the freezer for 15-20 minutes so the batter is frozen to the pasta. If you're going to cook much later, you'll need to transfer to an air-tight container. Otherwise... heat up 3/4" of oil to medium to med-high (range tops vary... you want to quick-fry until golden without burning). Cook about one minute each side and set on paper towels to drain.
Serve with fine-grated parmesan and dried parsley on top and marinara sauce to dip. Enjoy!


And that's a wrap on this delicious Bullet Sunday. THIS TIME!
Tags:
Bullet Sunday
,
Cats
,
COVID-19
,
Food
,
Hallmark
,
Movies
,
Netflix
,
News
,
Pandemic
,
Politics
Categories:
Bullet Sunday 2020
,
Cats 2020
,
Food 2020
,
Movies 2019
,
News – Politics 2020
—
Click To It:
Permalink
—
0 Comments: Click To Add Yours!
Posted on October 17th, 2020

Each year I try to hold off turning on the heat for as long as possible. Most years I get a couple weeks to a month. This year I got a day. But I have the heat low enough that it's still a bit chilly in the mornings when walking on the floors. To combat my feet getting cold, I wear socks and put them under a heating pad while I work or watch television.
When I can, that is.
If I get up to get a load of clothes out of the washer... or go grab a snack... or any reason at all... my cats will spring into action. And most of the time they immediately fall asleep so that they're too cute to kick off of the heating pad...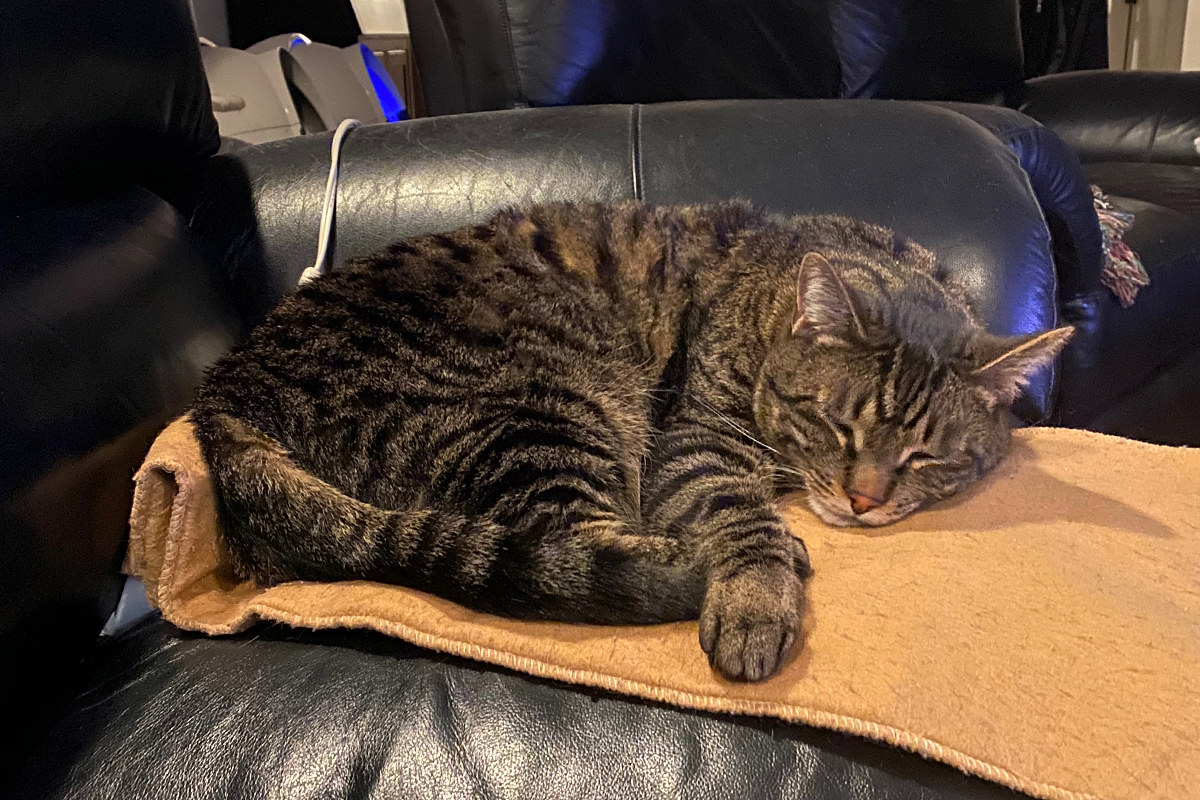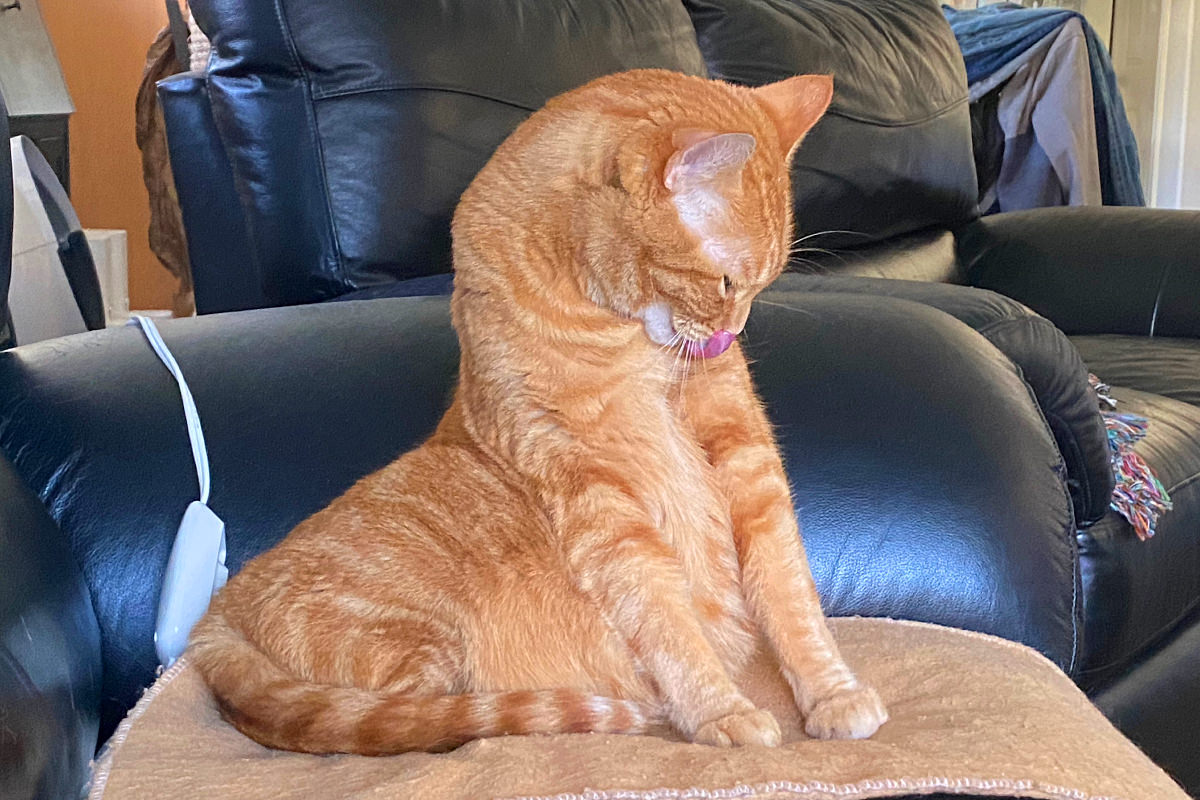 In other news...
After spilling crumbs all over the floor, Jake got his head stuck in a Cheetos bag. Again. First he was shocked and just kinda sat there being all "Well. This isn't all I had hoped for"...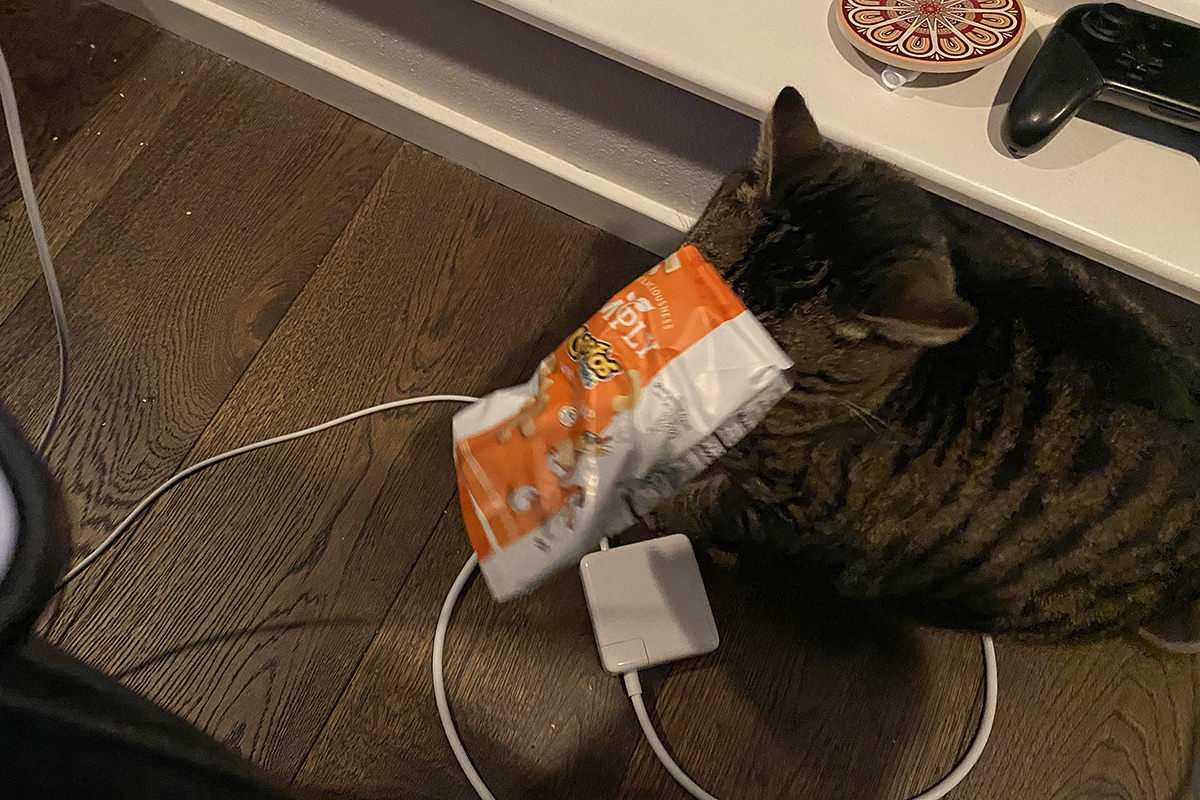 After taking this photo I went to take it off his head. Just as my hand touched it... BEDLAM. I then had to chase him around the living room as he crashed into everything. After the bag was finally off, he was just pissed... AT ME!
I'm having better luck with Fake Jake. I started dropping food down when he's around so as to distract him from running in my house while taking out the trash and stuff. Problem is that now he comes running every single time he hears my door open so he can extort food from me. Except when he came running this last time, he was too distracted to eat because he spotted a grey cat across the street...
This resulted in a fight. Not a real fight, but a play fight...
After which the grey cat came back to eat while Fake Jake stood guard...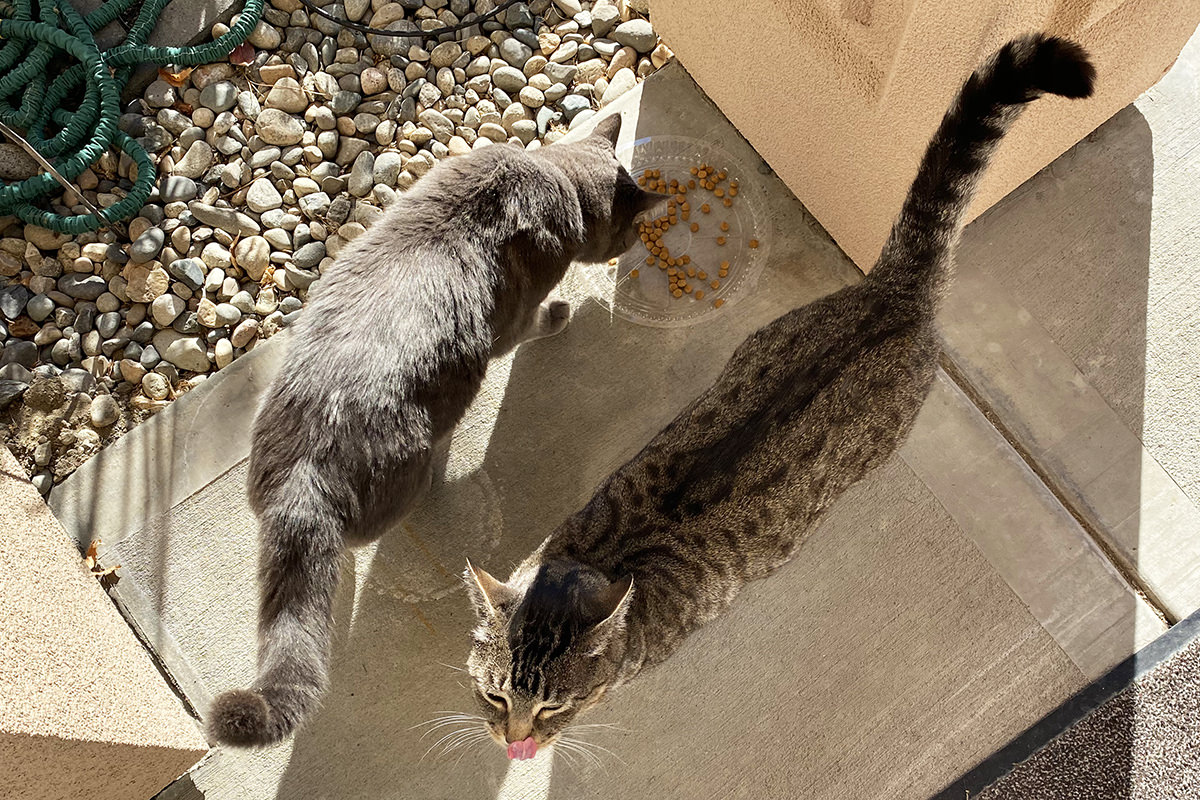 When I mentioned this to a neighbor, she told me that she thought that they were related somehow. Brothers maybe.
I wouldn't know.
All I do know is that now I'll likely have two cats extorting food out of me instead of just one.
Posted on October 10th, 2020

As Summer turns into Fall and bugs start trying to find a way inside to escape the cold, Jake and Jenny are going full-out bonkers. Bugs are like Pokémon to them, and they are compelled to Gotta Catch 'Em All.
The madness was on full display when Jenny started chasing a fly that found its way inside. She was happily batting it in the window... chasing it to another window... and generally having a good ol' time.
But then Jake came running in and things escalated to 11 in a real hurry. He was in Beast Mode and Jenny was having none of it. She ended up hiding from his mad dashes inside the cat scratcher lounger...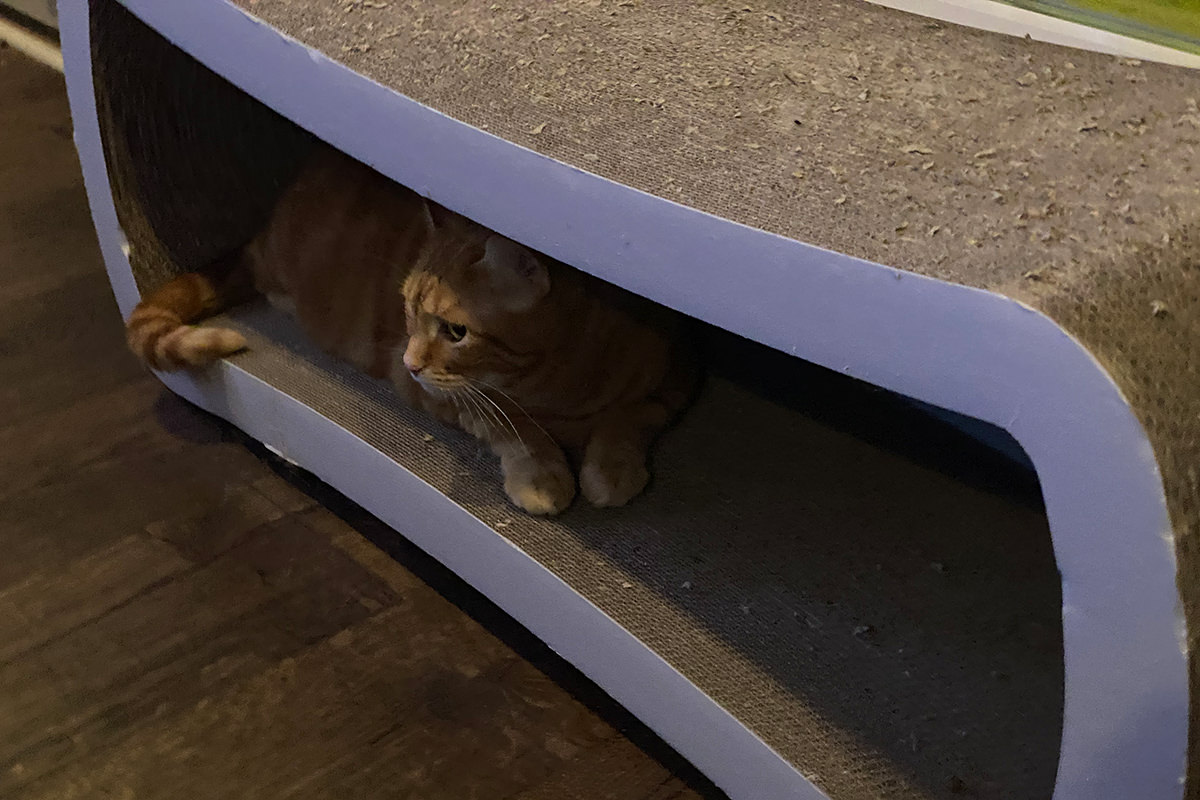 Poor thing. It was her fly first!
Speaking of Jake...
Used to be that Jenny was the one who would come up meowing when she was demanding to be petted. Now Jake is getting in on the action. He can't meow, but he can squawk. Earlier this week he hopped up on the bed, flopped on his back, then squawked until he got belly scratches...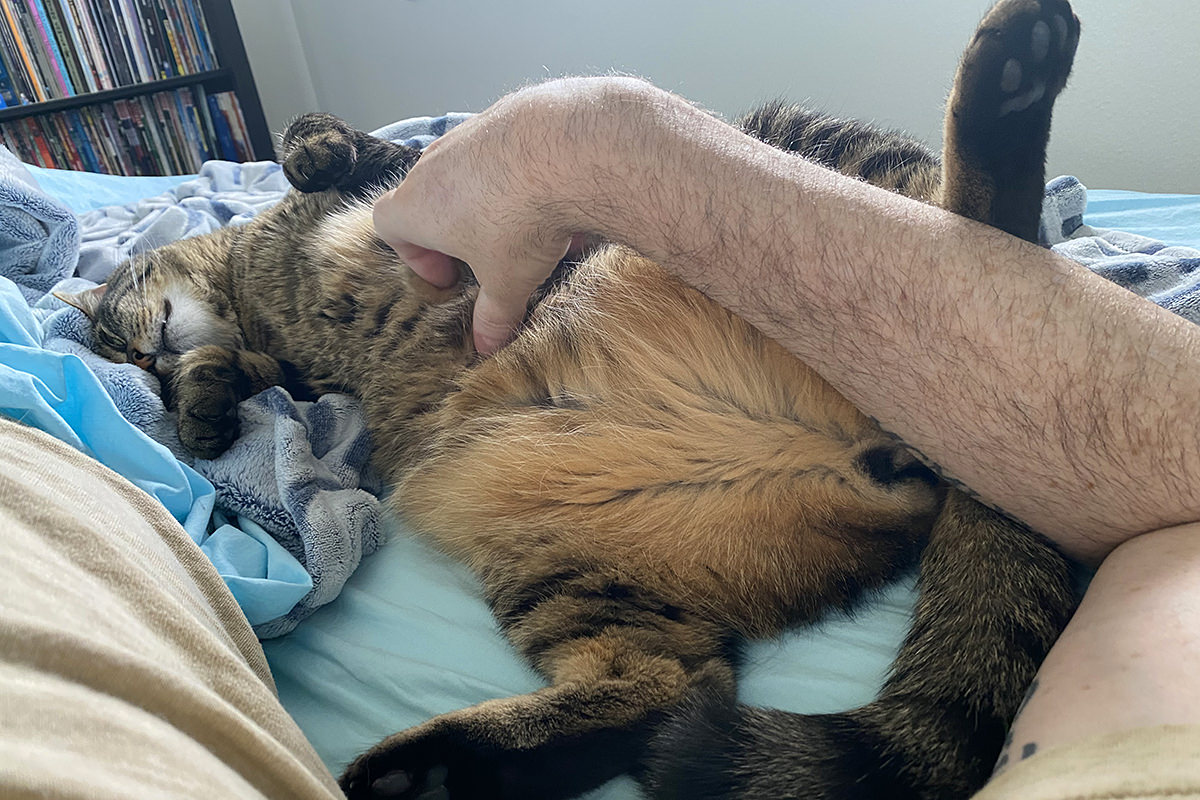 Ahhhh... that's the stuff.
After he was done, he wandered off content.
FOR ABOUT TEN MINUTES!
Then he was back to take a nap...
And, yes, this is his default sleeping position now.
If only I could lay around in bed all day like this. Must be nice.
Posted on October 3rd, 2020

I cannot win with my cats.
In order to climatize them to the absurdly stupid tradition of changing the clocks twice a year, I always move the time in small increments the month prior to the change so it's not a shock to them. As you can imagine, the Fall is far, far more difficult because I am serving their meals progressively later. They do not like this. I get stared at with evil looks because they want their breakfast when they want their breakfast...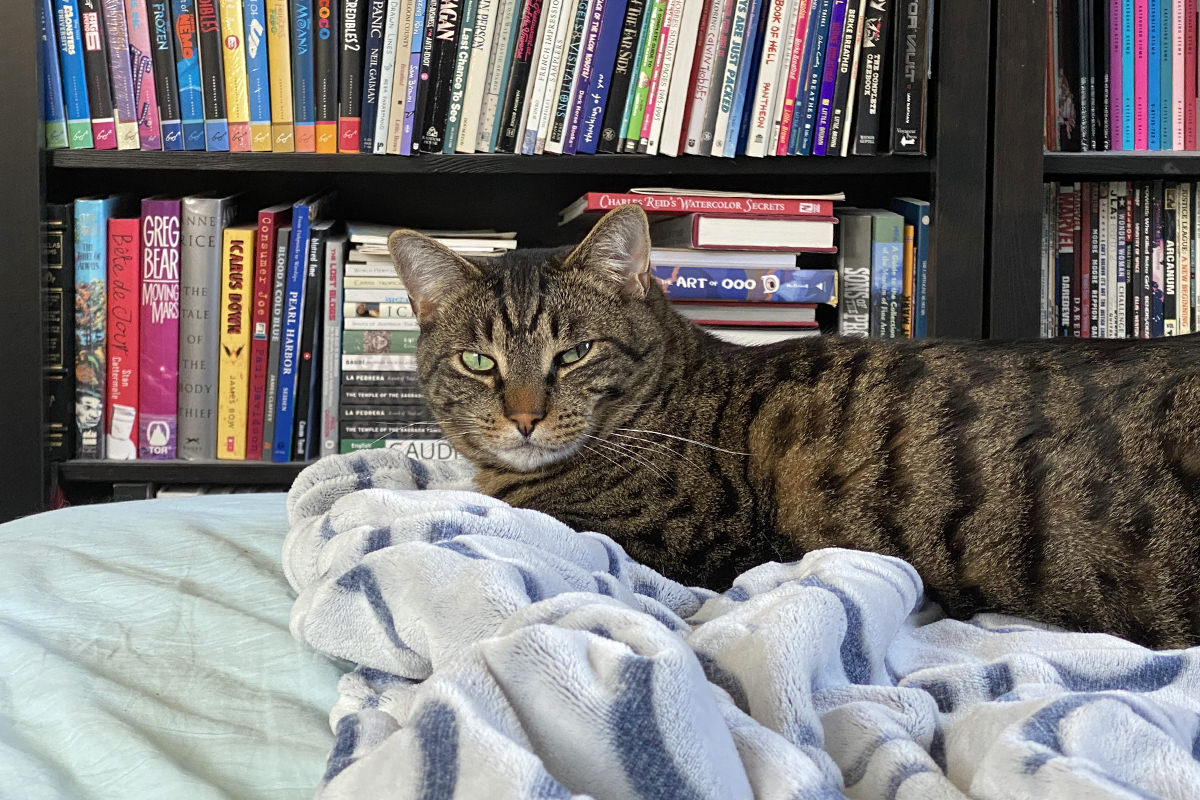 Usually when the feeder goes off? They bolt downstairs to scarf their little mid-day meal. But now? They just lay there glaring at me like food is the worst thing in the universe... then eventually saunter downstairs to begrudgingly eat.
I apologize to them, even though I hate Daylight Saving nonsense more than they ever could.
The time change (15 minutes a week for four weeks) has had a domino effect... ramping up the disdain for even thr smallest inconveniences. Take Jenny wanting to get into the laundry room, for example. The door is tough to open and close. Which is why I leave it open just a bit while washing clothes so it's easier to slide. Sometimes I leave it open a bit too much and Jenny is able to force her way in. But this time I didn't leave it open enough and she was pissed that she couldn't get it open. Pissed...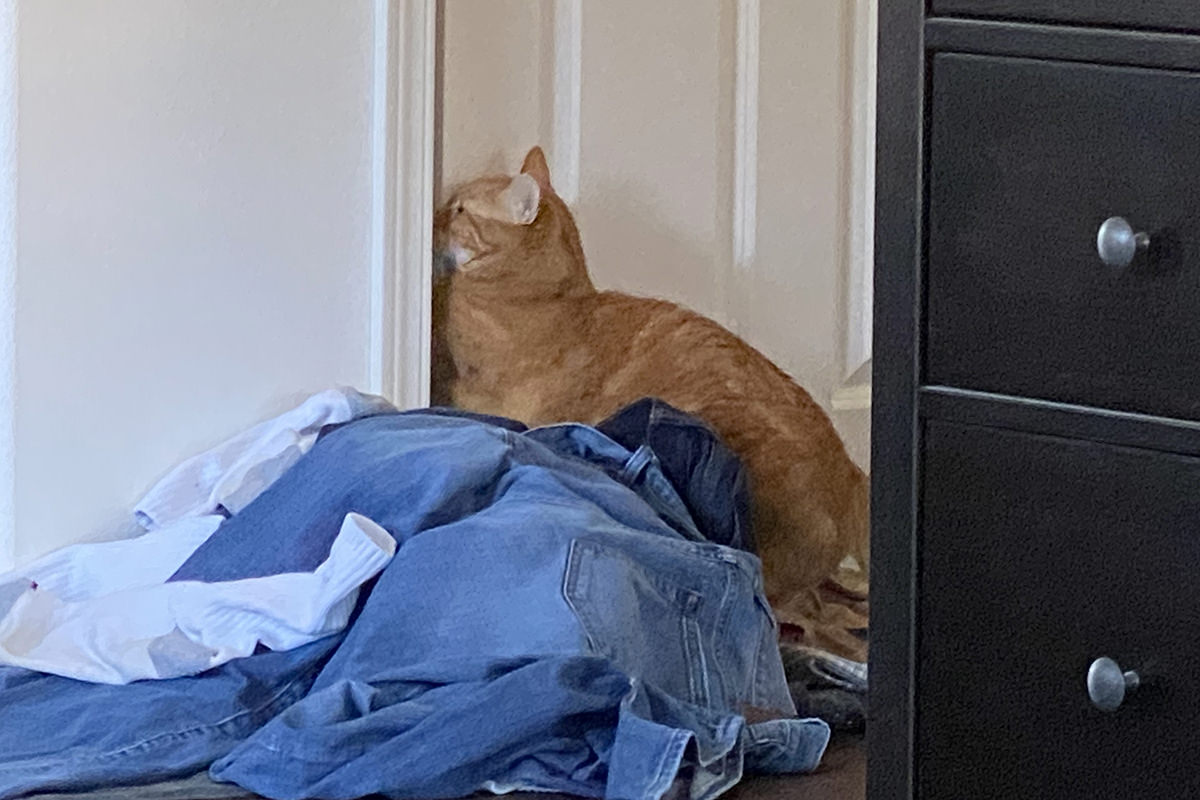 Here she is preparing to unleash a meow of frustration like she's never done before...
Fun!
There is a good thing about Fall arriving. I wake up every morning with Jake snuggled up to me. His favorite spot is behind my knees...
There are better ways to wake up.
But there are many, many worse way to wake up as well.
Posted on September 26th, 2020

Given how Jake is the cat that's a little chonky, you'd think that he would be the one constantly begging for food and first to the bowl when the automated feeder dispenses a snack. But, nope, that would be Jenny.
When the automated cat feeders goes off, she is first to her bowl. And every time I go to the kitchen, she comes running no matter where she is because she's hoping for a treat. It's like she spends her entire day waiting for it to happen. And when I don't give her a treat? Let the meowing commence...
I mean, she is the sweetest, most loving and gentle kitty you'll ever meet. But when she is expecting a treat and doesn't get one?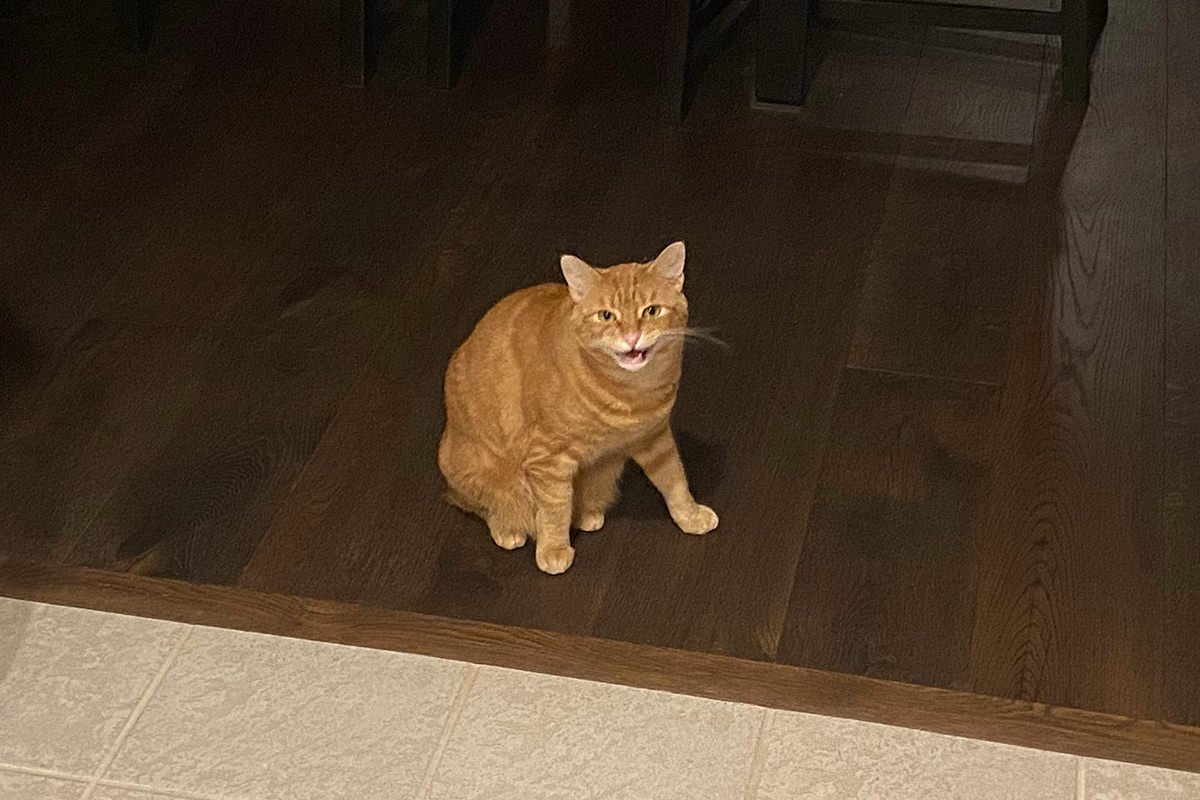 As the weather gets colder, Jake is more inclined to use me as a heating pad. How I don't wake up when he's crawling all over me is a wonder. I finally started putting a pillow out so he will lay on that instead of on me...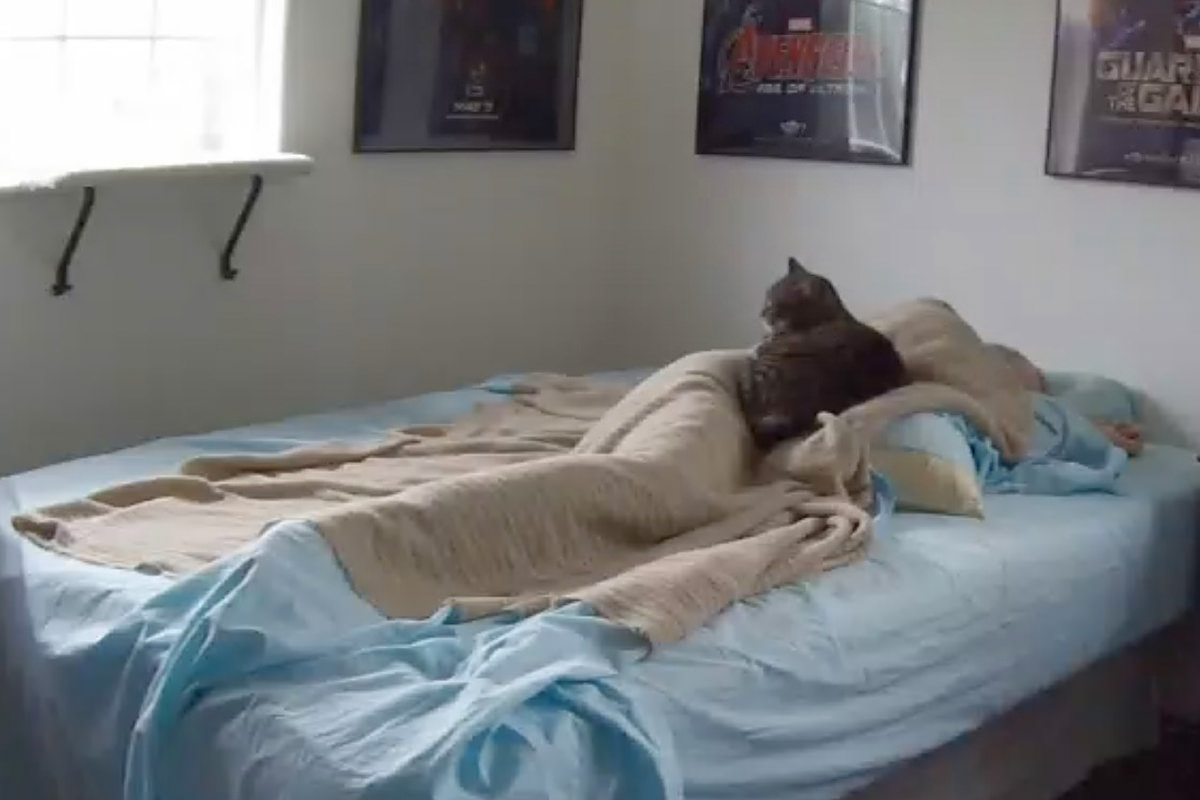 But it is fun waking up and finding him there. He's such a sweet boy...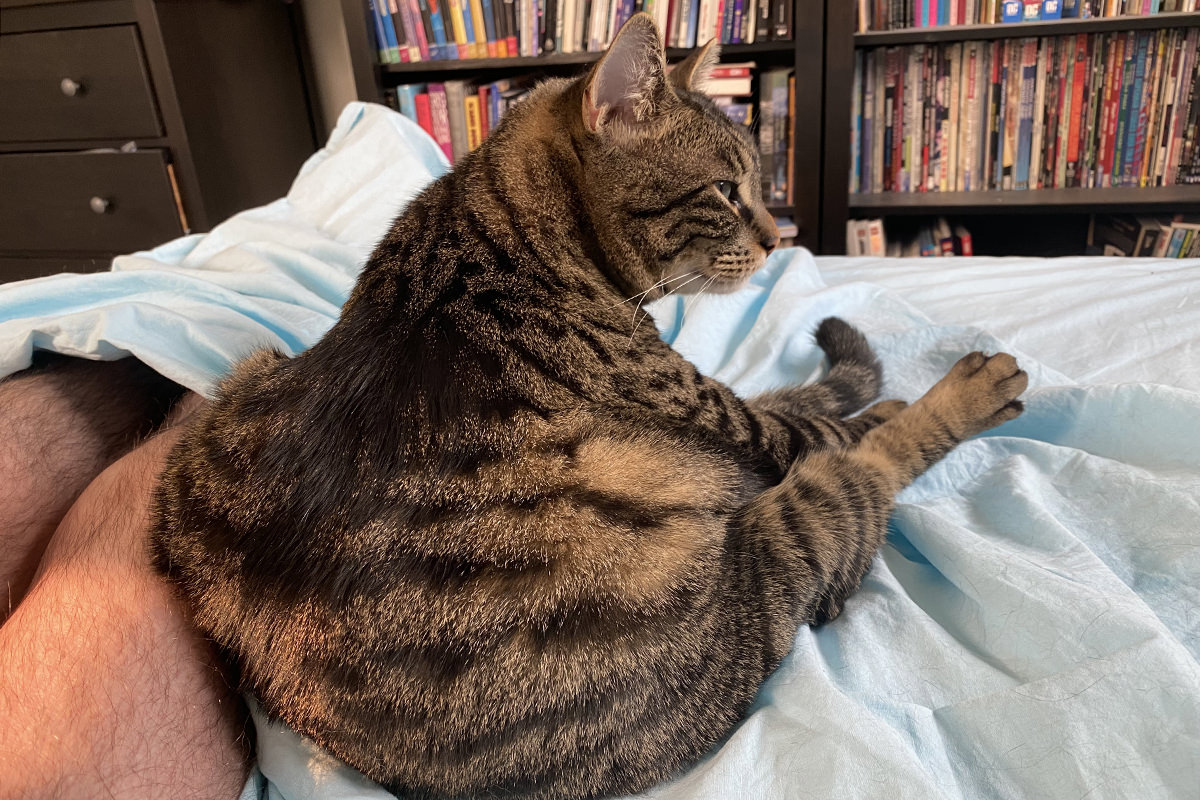 Always happy to remind me I need to take a break from work...
Always happy to remind me that cats love boxes, even when their flat...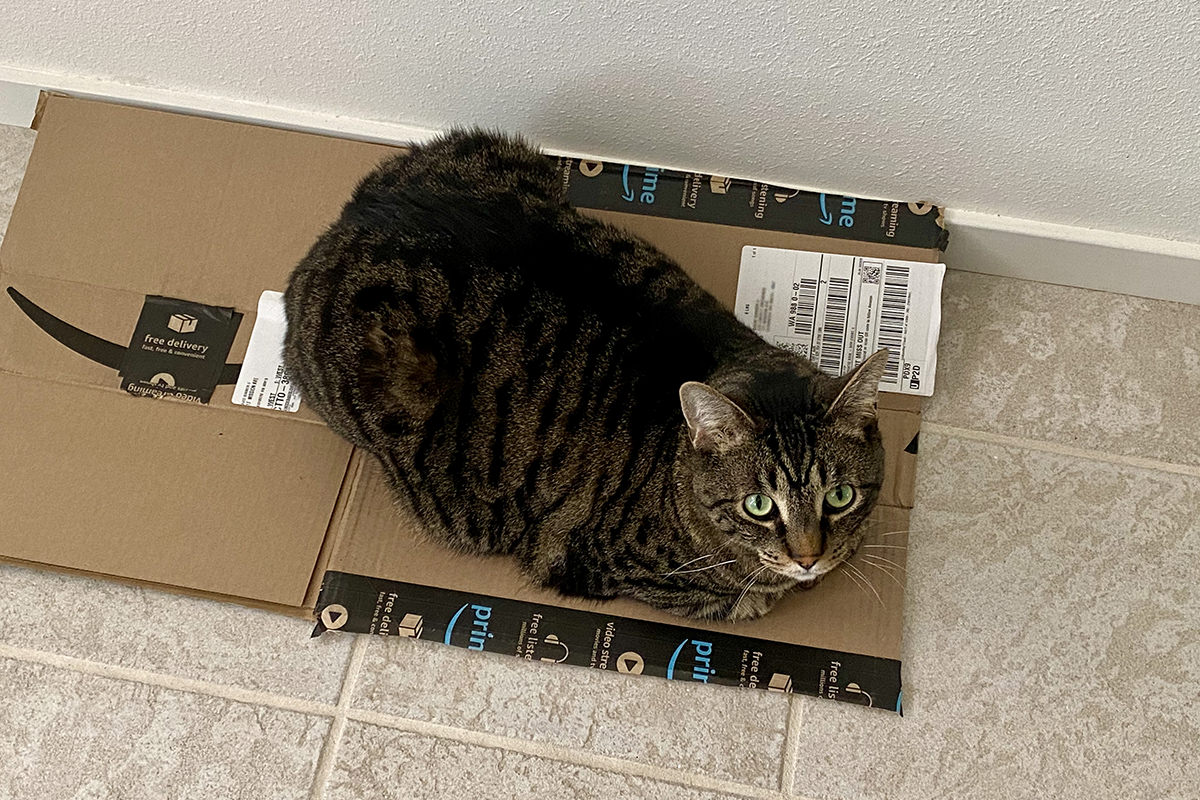 In other cat news, there's a new cat in the neighborhood. My cats are not happy about it. Whenever the cat comes to visit Jake goes running out howling and Jenny goes running out hissing her most intimidating hiss. But the guest cat? Isn't the least bit phased. He just stands there...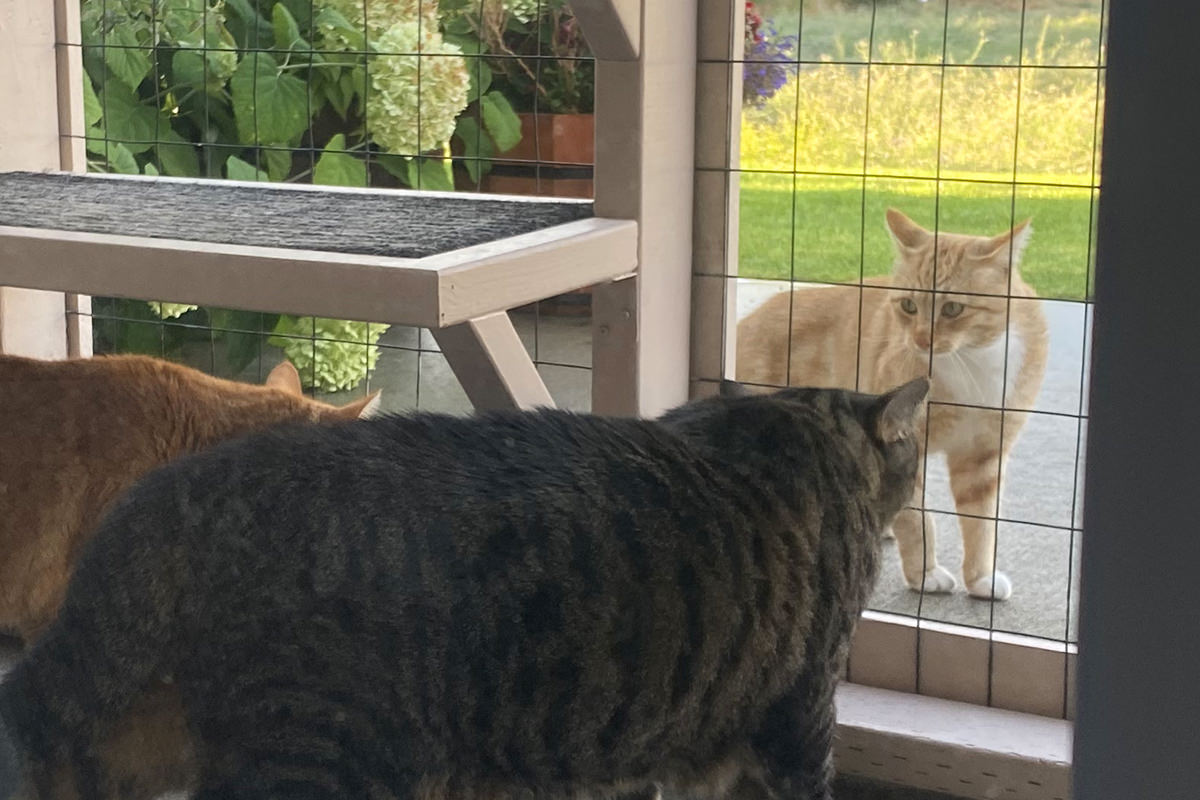 Eventually he gets bored of Jake and Jenny's drama, so he turns and sashays away...
Speaking of the catio... the afternoons are perfect weather right now. Not too hot. Not too cold. And even when it was pour rain out earlier this week, they can't get enough of it. The view from my window is often this...
And that's my Caturday.
Posted on September 19th, 2020

For the first time in weeks we caught a break in air quality. After being Hazardous, Very Unhealthy, Unhealthy, then "Unhealthy for Sensitive Persons"... today air quality was GOOD! This was nice for me, because I might get to not feel sick for a couple days... but really nice for my cats, who have been begging to go out in the catio for way too long.
Seriously. They will sit on the scratcher lounge and look outside for hours...
So I went to the back door... pulled the door off the cat-flap to the catio... then nearly got trampled as Jake and Jenny bolted to go outside...
Jake was laying out there for about 45 minutes. Jenny, on the other hand, would not leave...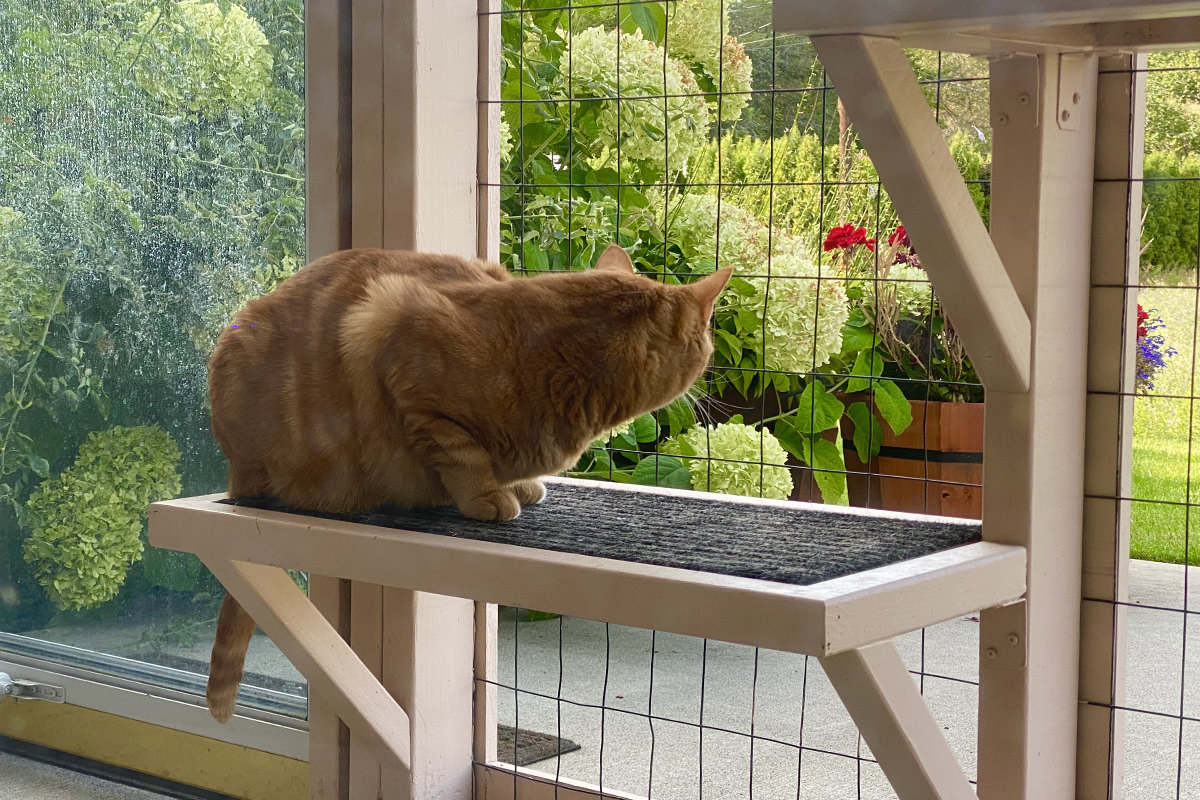 I kept checking security cameras to see if she had come inside without my seeing her, but she was there right up until the Alexa dinner alarm sounded...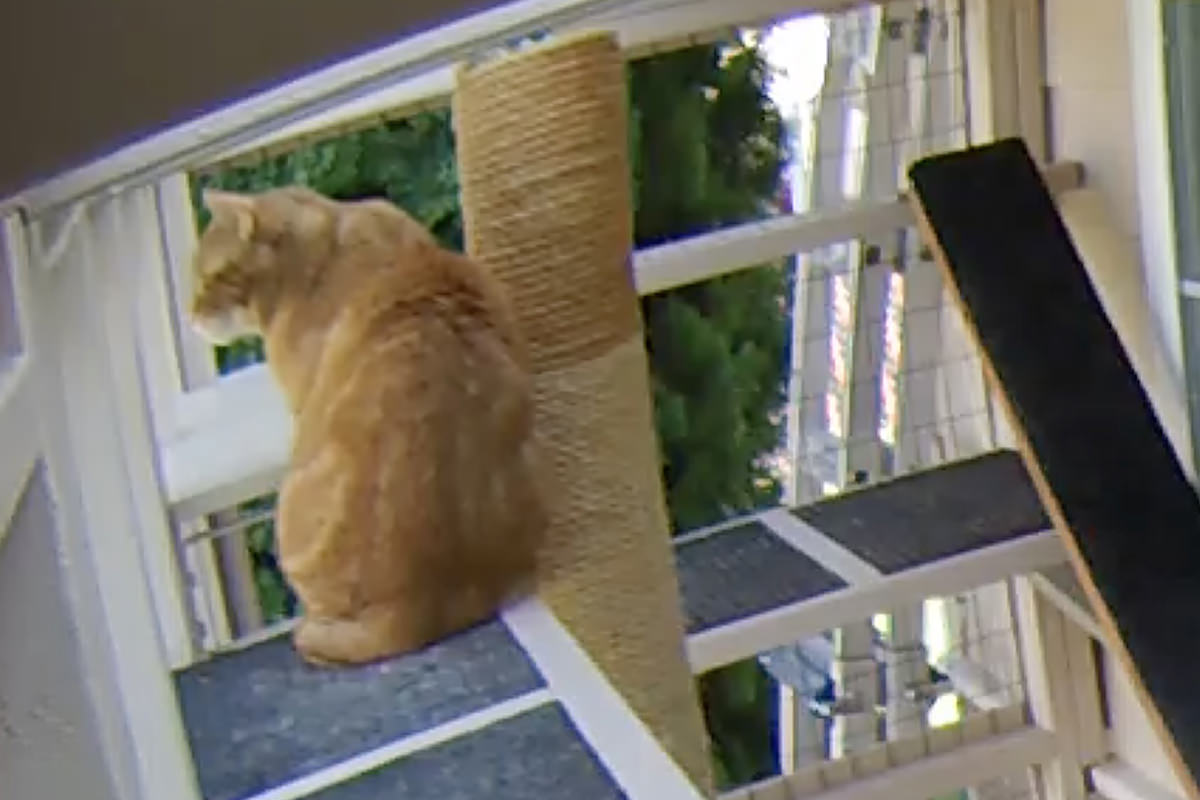 Before the catio re-opened for business, Jenny was occupying her time by watching television with me. I had dusted off my DVD collection of all the James Bond films and was watching them in order. This was my view for a good 20 minutes of Goldfinger...
Methinks she might want to be a Bond girl! She gave me an annoyed stare when I told her that the name "Pussy Galore" had already been taken...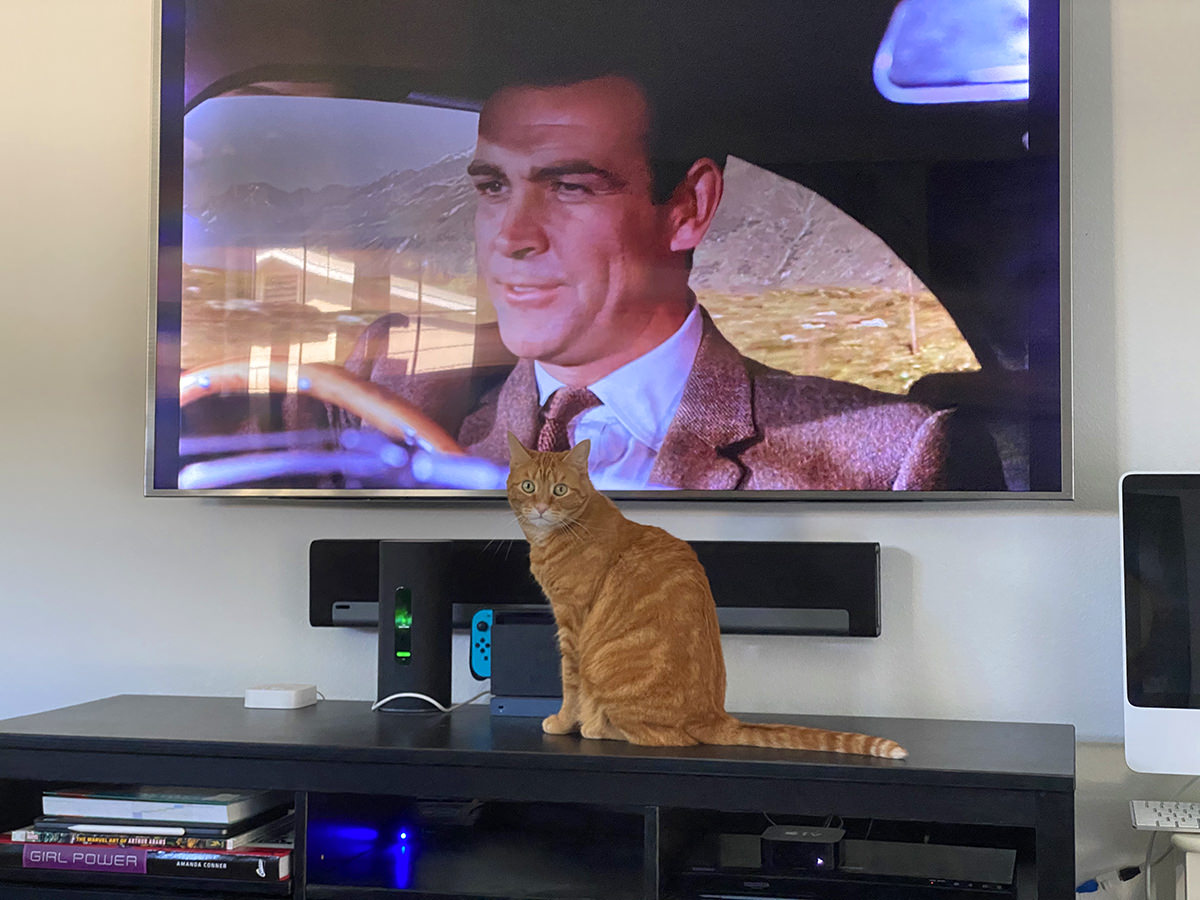 Here's hoping that our air quality remains good so I can keep the catio open.
Posted on September 14th, 2020

I am not ashamed to say that I am most definitely not doing well.
Not only is Central Washington being blanketed with smoke from our own wildfires, massive amounts of smoke is being blown in from the fires in Oregon and California as well. And despite five air purifiers running day and night, my allergies are in overdrive, making for a miserable existance. I have had a crushing headache for a week. Breathing is painful. Nosebleeds happen at random. My eyes and nose are running almost constantly. Sleep is almost impossible. Not a great day to be me, that's for sure...

Last night I finally passed out around 2:30am. I woke up shortly after 3:00am choking on blood from yet another nosebleed. That is a scary enough way to wake up... but I had aspirated and couldn't breath. The wheezing as I struggled to catch a breath freaked my cats, both of which ran out of the room at top speed. Eventually I managed to work through it, but getting back to sleep was impossible. I called in sick and have been nodding off and on ever since.
Poor Jake and Jenny. The fires have been so tough on them.
After terrifying her early-early this morning, Jenny ended up sleeping in the room next to mine...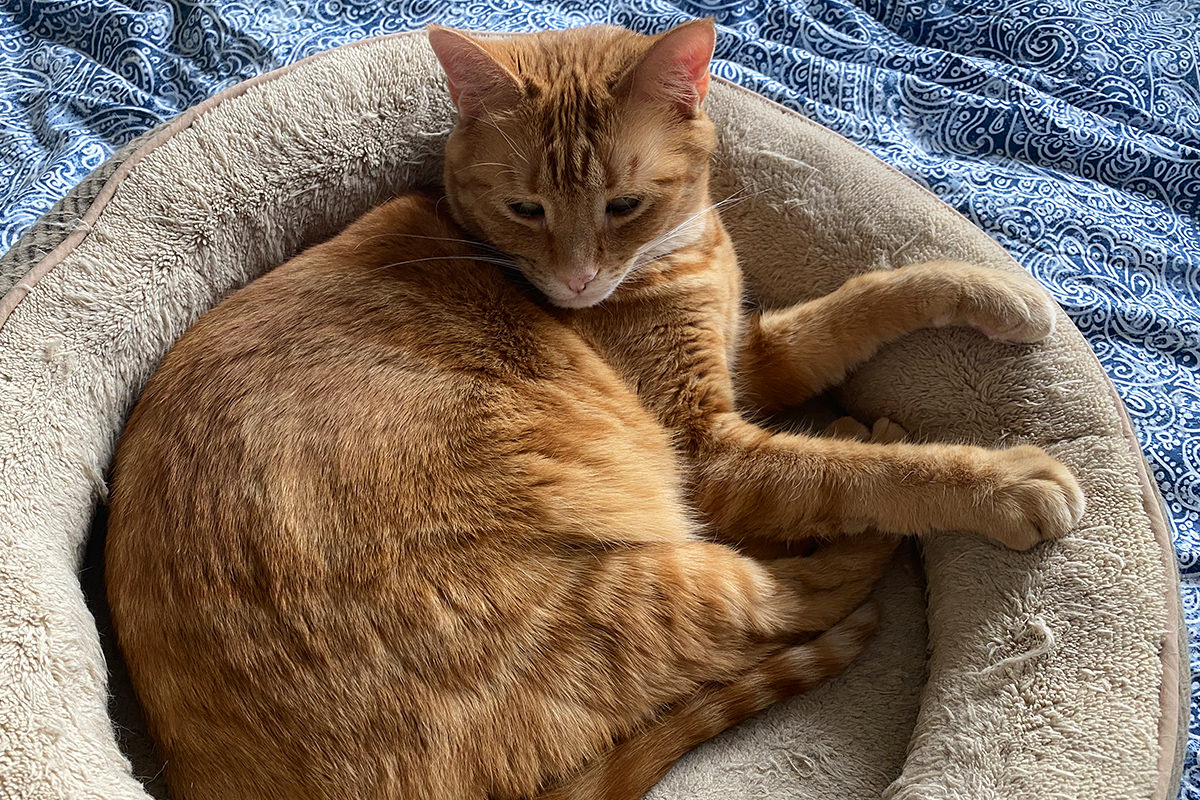 Jake... is more complicated. He has been really clingy lately and sleeping with me every night. After he ran out scared, I heard him come walking back in about an hour later. He didn't hop back on the bed, so I wasn't sure where he went. This morning I found him hiding in the cat tower...
My cats rarely go in those hidey-holes. As in very rarely. But Jake wanted to sleep near me while also being scared and this was his solution. Naturally I feel terrible about it. Note the smoke out my window.
And so here I am taking a sick day at home with two cats who are afraid of me.
In-between trying not to work because it makes my headache worse, I've been zoning out in front of the television. One think I saw today was that Drew Barrymore has a new talk show. I was interested in seeing how they were going to manage a new talk show, fully expecting it to be remote chats on Zoom or something. But that wasn't the case. Drew's Charlie's Angels co-stars Cameron Diaz and Lucy Liu were there with her... albeit socially distanced...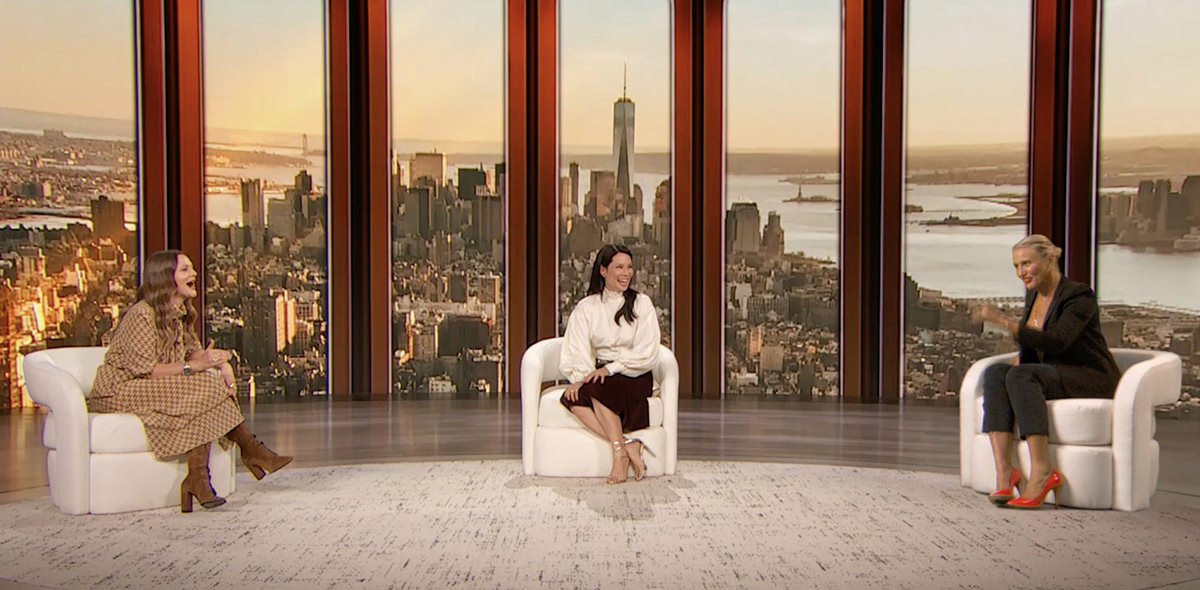 Except...
That wasn't the case at all. While Drew nd Lucy were in New York... Cameron was still in Los Angeles, appearing in the studio virtually...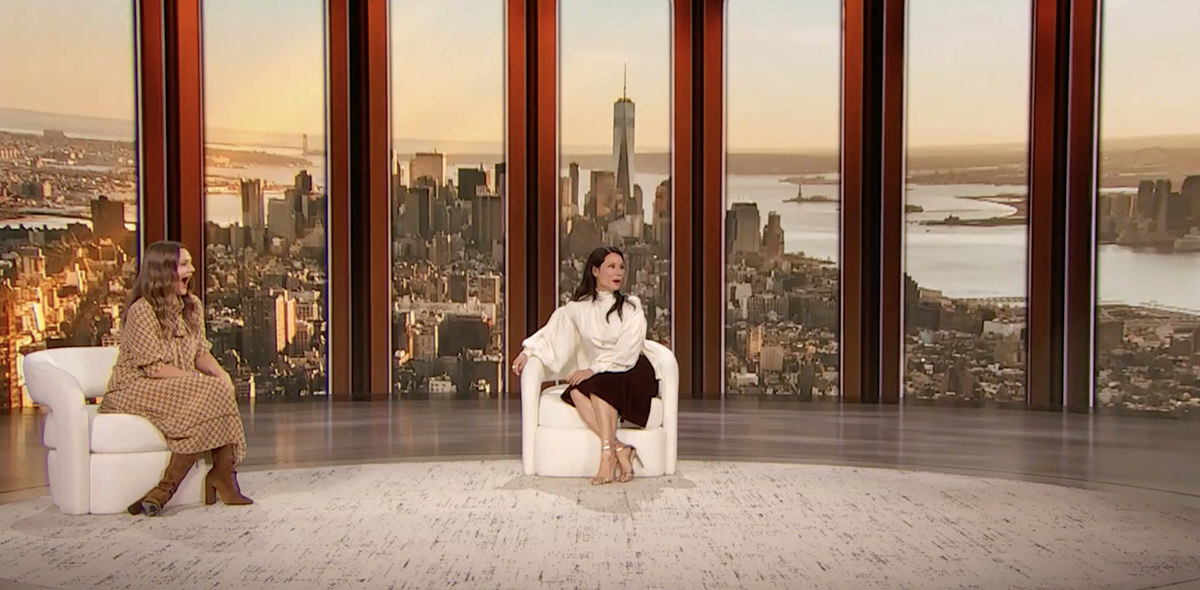 Weird to think that things like this will quickly become our new normal.
In the meanwhile I'll just go back to the virtual hellscape that's my life right now.
Posted on September 12th, 2020

The smoke, which was getting better, has taken a turn for the worse as winds push the contaminated air from Oregon and California up our way.
And as hard as it is on me and my allergies, it's double-tough on my cats.
Usually, I let them go outside in the catio while wildfires are burning because they don't last long out there when the smoke is bad. But, for whatever reason, Jake and Jenny were spending way too long out there given how bad the air quality is...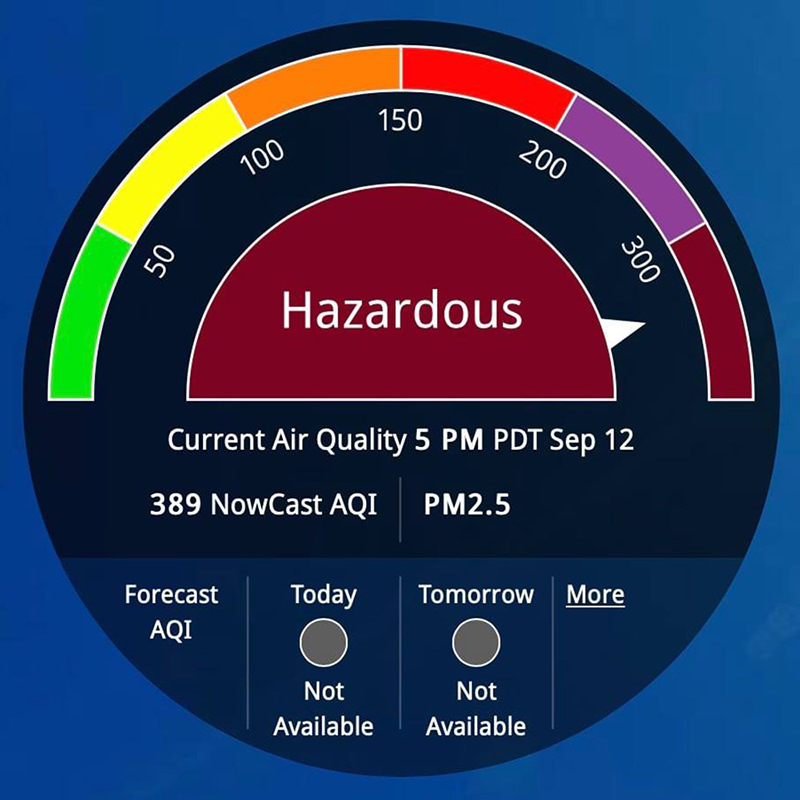 I worry about their little kitty lungs, so I went ahead and blocked the catio door so they can't get out. They are not at all happy about this... especially Jake, who sat and stared out the window for over an hour...
And, as expected lately, he will not leave my side. He's on me when I fall asleep...
And he's there when I wake up...
And if I wait too long in bed, I'll have both of them on me...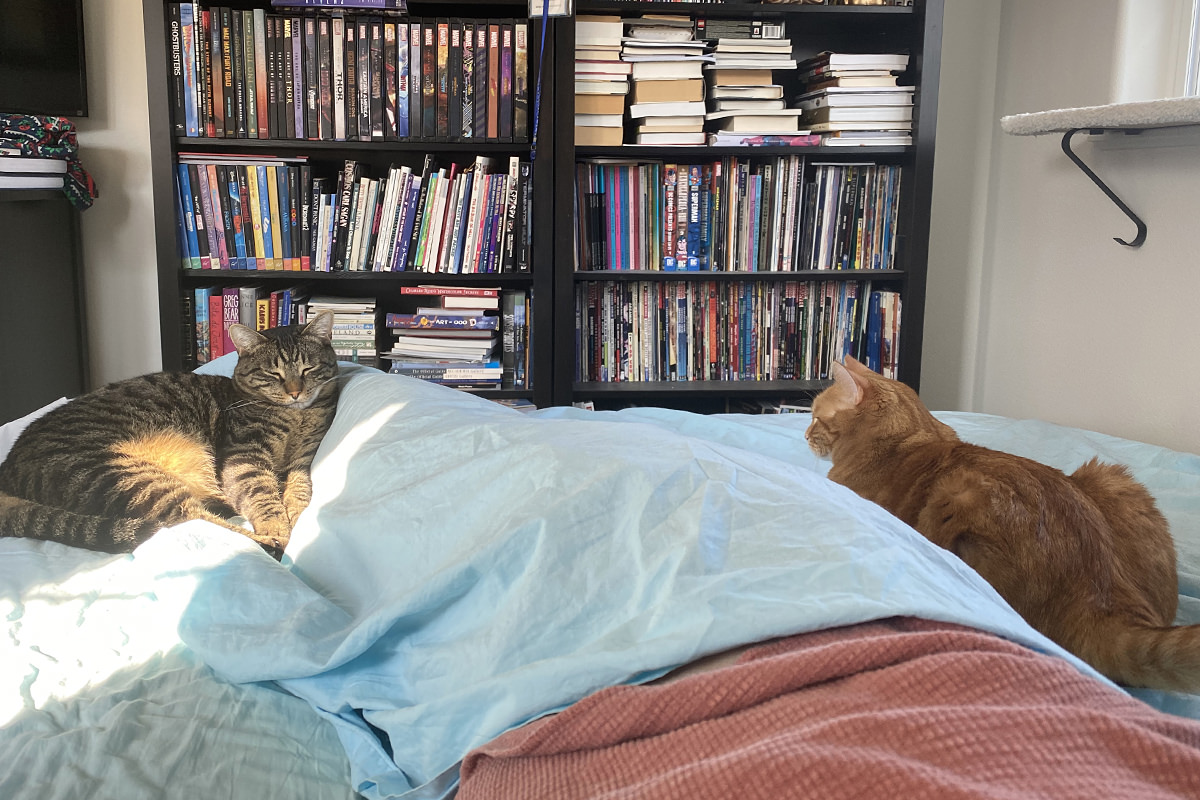 Jake is clingy when he's upset...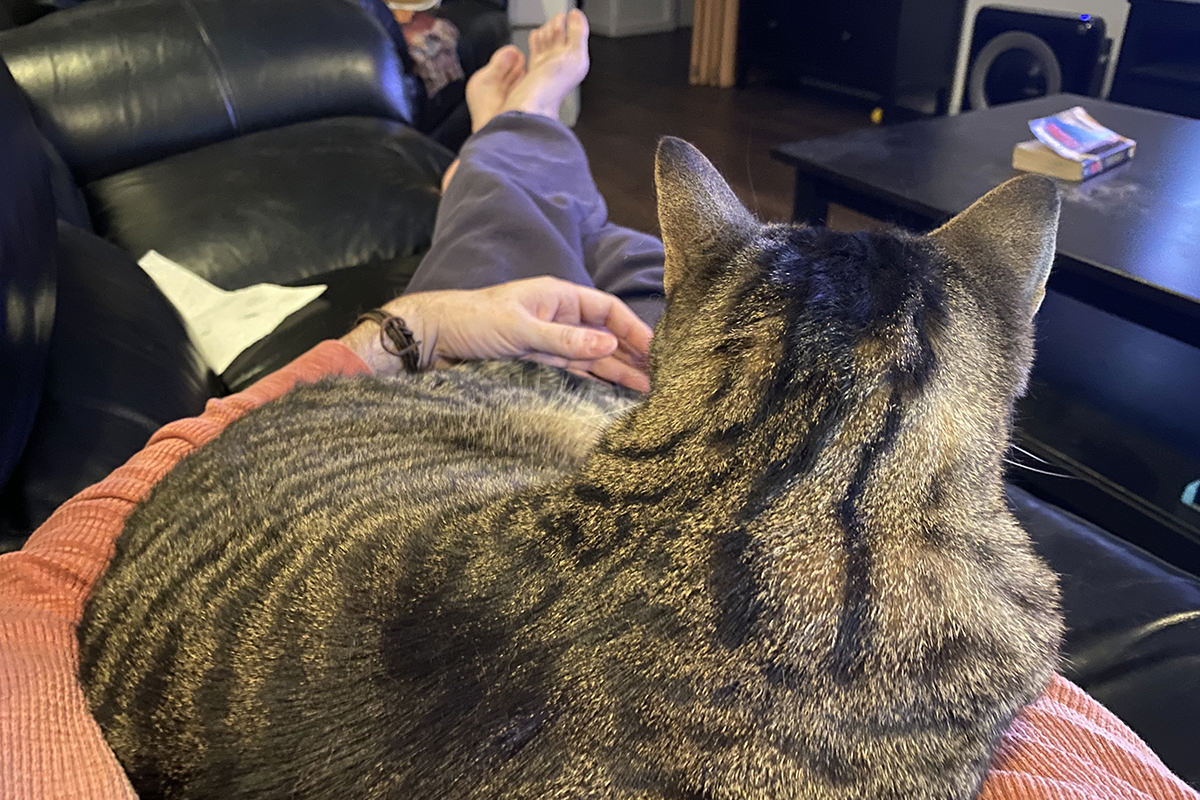 Jenny is looking for inspiration elsewhere...
Really, really hoping that this smoke subsides next week. Between my allergies and nausea and the cats' anxiety... this is more than enough.
Posted on September 5th, 2020

Well, the raccoons are back.
And this time they seem to be making friends with Jake. Used to be that when Jake would spot them and run out to the catio, they would scamper away. But now they actually come up to the fencing and make noises at him. Assumably trying to communicate.
Tonight at 11:00pm on the dot, Jake ran out to the catio at top speed. I assumed that Fake Jake was out there, but when I looked out, I saw four sets of beady little glowing eyes looking back to me.
The video footage is pretty awesome...

Jake just ponies up to the fencing and stares at them...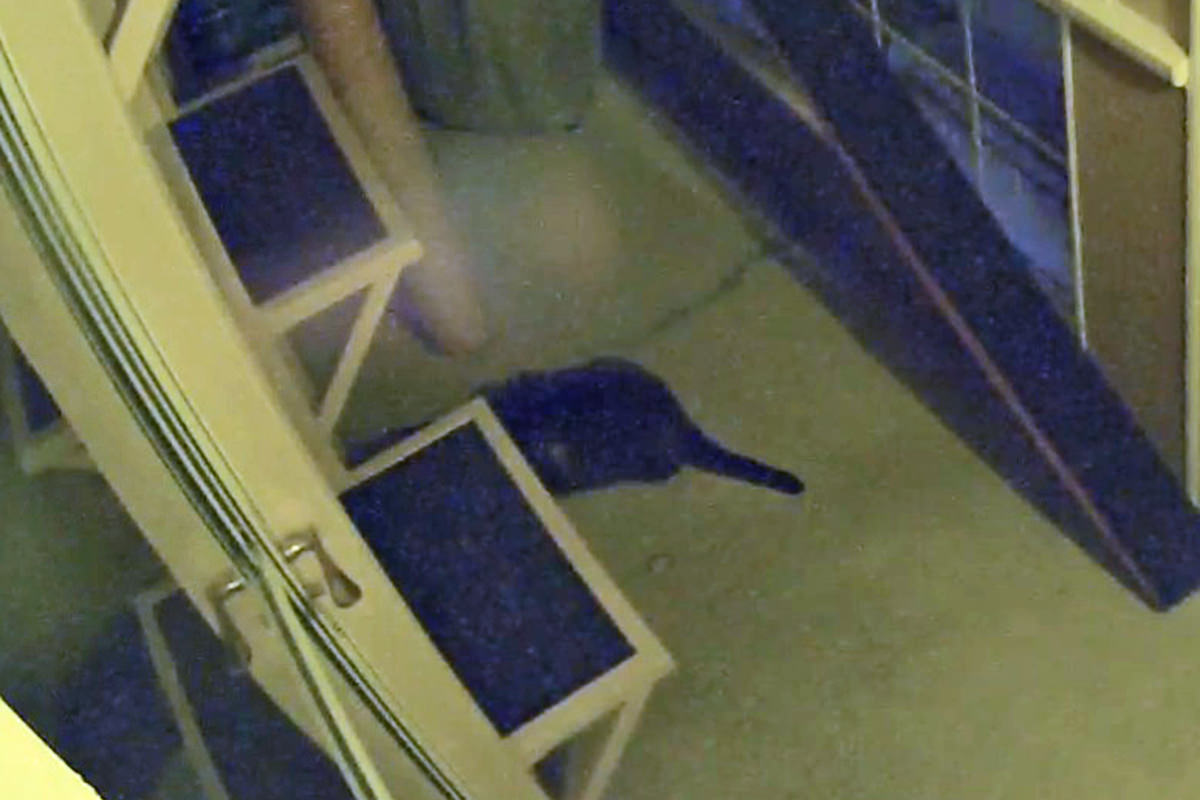 What's surprising is that they came back three times after. The first time they kind of do a walk-by. The second time one of the raccoons at the end approaches the catio. The last time they just go marching right up to the catio looking for their buddy...

As for Jenny? Not a chance that she's going out there when raccoons are in the area...

But, hey, it was Ginger Cat Appreciation Day this past Tuesday, so I'm pretty sure she's been coasting on that through now...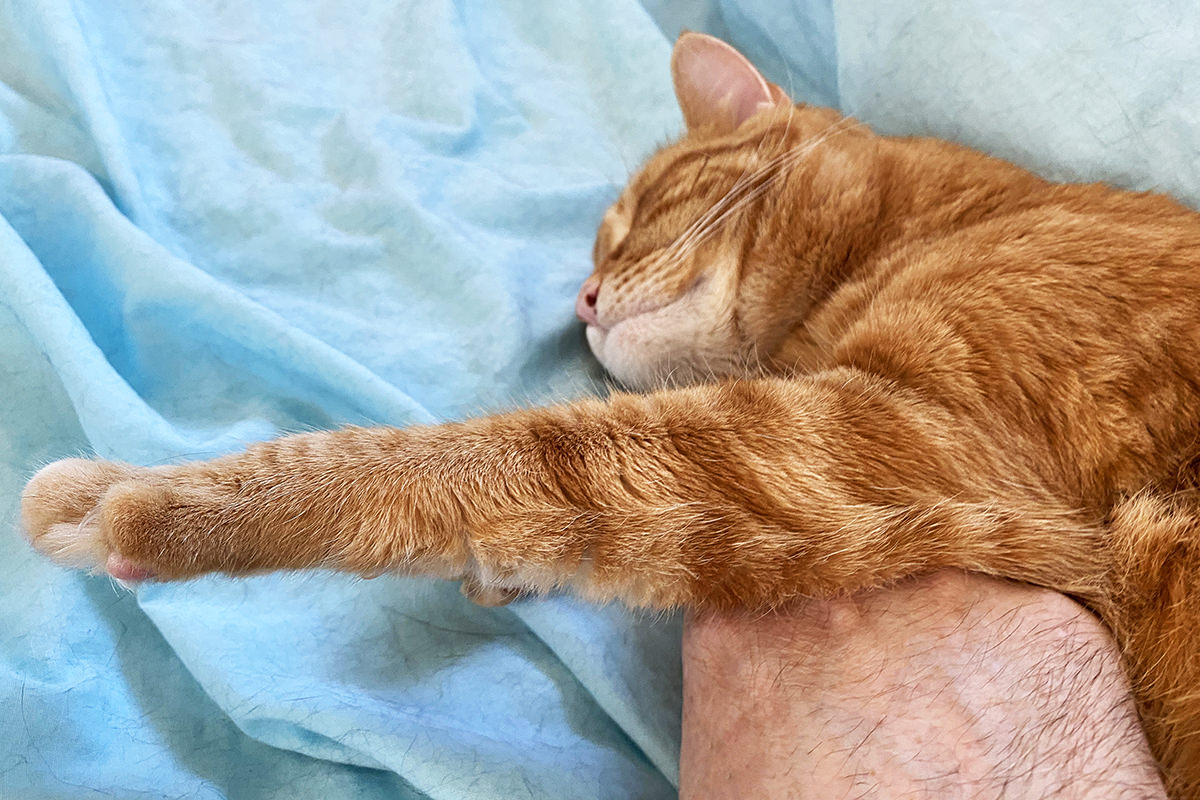 Of course, here at my house EVERY DAY IS GINGER CAT APPRECIATION DAY, and don't think that she doesn't know this. She is aware.
Posted on August 29th, 2020

I've had a headache for since I woke up with it on Wednesday. It's worse in the mornings so I've been taking an aspirin and a nap before starting my day.
At least I try.
After they've had their breakfast, Jake and Jenny take turns wanting belly rubs. And who am I to say no? So I check my email with one hand while taking care of business with my other hand...

They never return the favor, however.