Posted on June 20th, 2020

It's Caturday... and I'm sick! Sick of barfing my guts out all day long. Ugh.
If y'all remember, I added a massive sisal pole to the catio two years ago this month. I was happy to see that Jake and Jenny took to it right away. They are regularly scratching on it from all four levels that it's accessible, and they both enjoy climbing it as well. This is something that my catio-cam rarely captures because they climb the side opposite the camera, as it's the side without the hinges that attach it. Then, just a couple days ago, Jenny climbed up the side next to the camera for some reason! I finally had it on video...
My efforts to find a new toy for Jake continue, but he only has eyes for Mufasa. He is still dragging him everywhere and still licking and chewing him every chance he gets. Yesterday morning he was laying on my bed whining for Mufasa... which was laying right behind him... here he is after I handed it over...
As you can see, Mufasa ain't going to last long with that kind of treatment, which is why I am trying to find a replacement. Nothing has worked so far. I finally moved on from stuffed lions and tried a battery-powered floppy fish. Jake is completely unimpressed...
Jenny won't even get near it until it stops moving...
And so... I guess it's back to Mufasa for Jake...
Enjoy it while it lasts, buddy.
Posted on June 13th, 2020

Strangely enough, my cats aren't sick of me spending every minute I'm not at work here at home. They still love having me here and following me around for attention.
Jake is still snuggling up to my feet whenever I'm working or sleeping in bed. I'll nod off, wake up, and there he is. Sometimes in the morning when I wake up he's there too...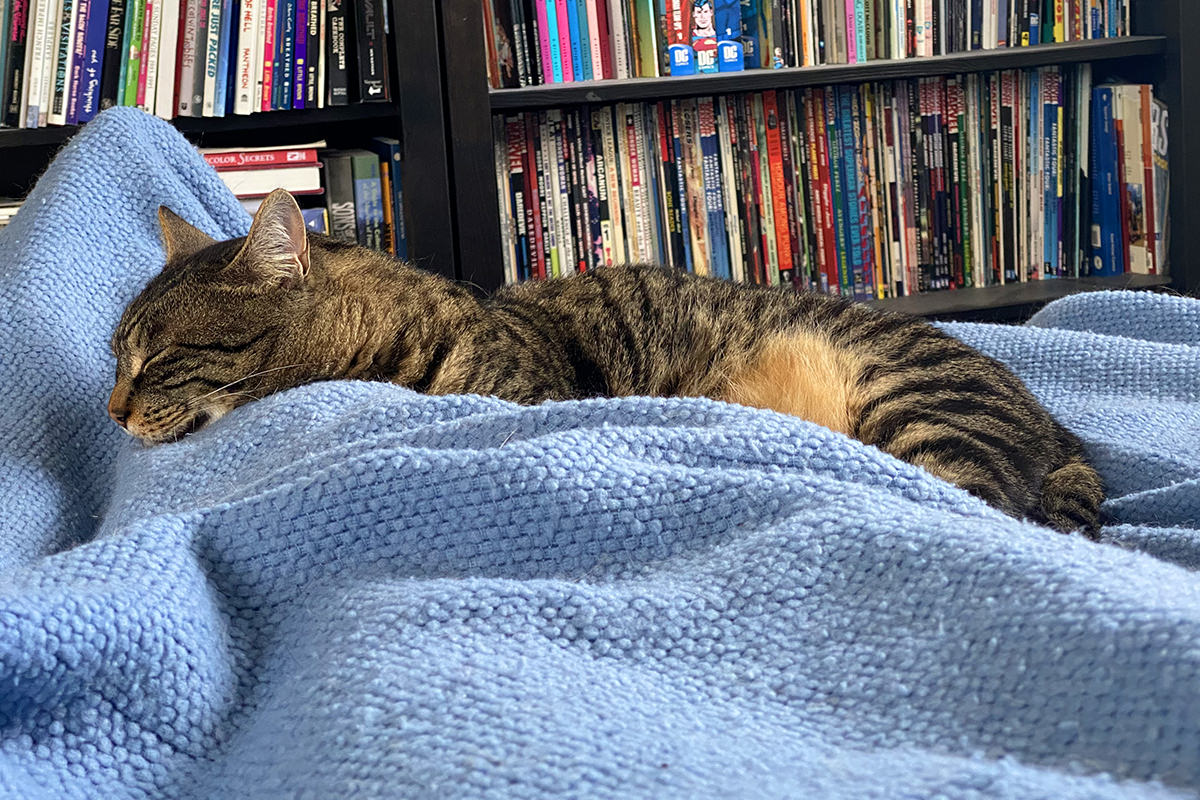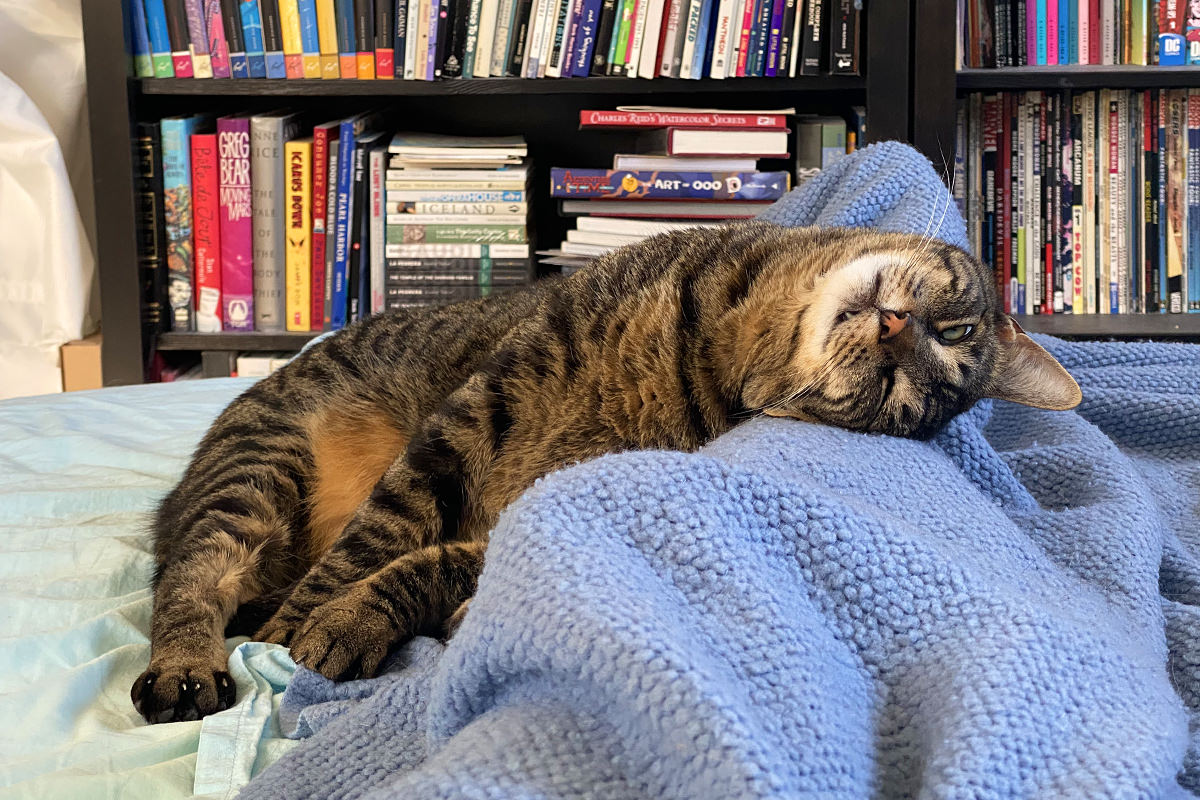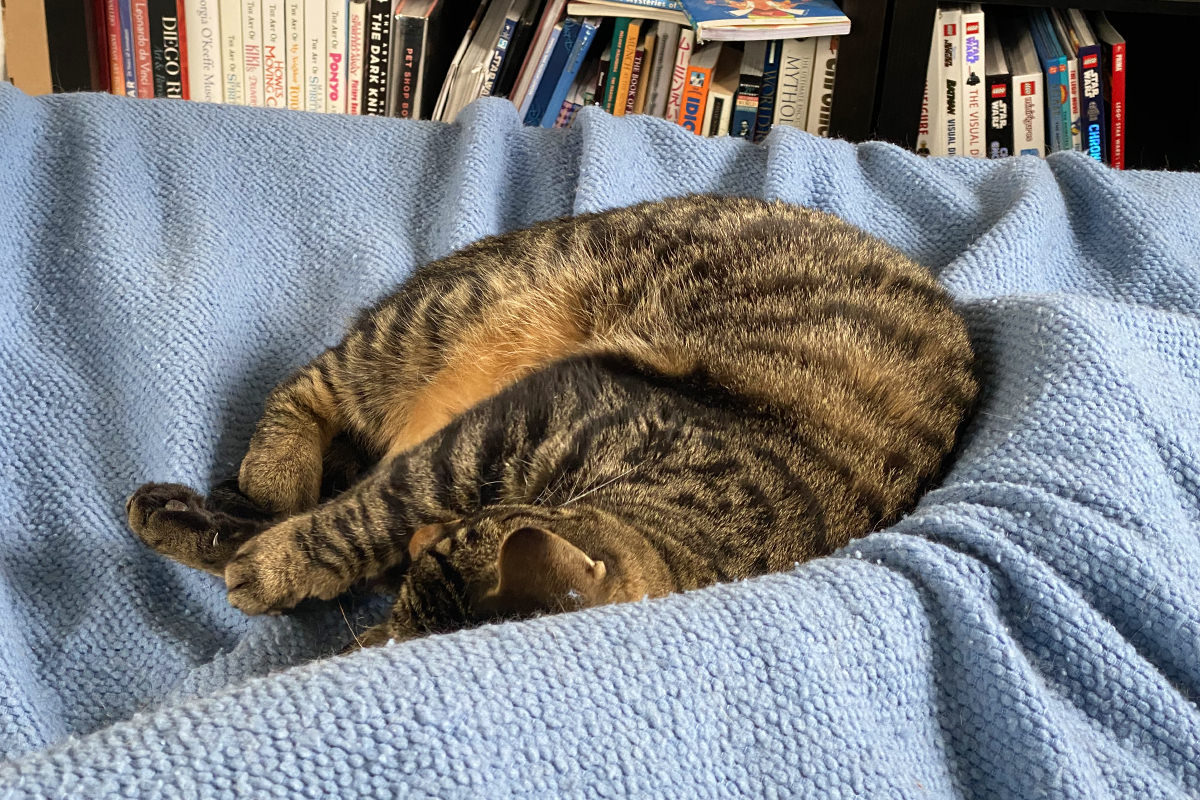 It's his favorite new thing. Jenny's favorite new thing? Sitting in a box, apparently...
Every morning when I walk down the stairs she's sitting there waiting for her breakfast.
A couple days ago I mentioned that I was having to dig through an insane number of cables in an attempt to find a way to connect my photo archive to my NAS drive. I had cables sorted into piles all over the kitchen counters. At the end of the counter I had a small pile of short cables I had thought would be good for travel. When I woke up yesterday morning, some of them were on my bedroom floor (along with Mufasa) and one of them was left on the stairs...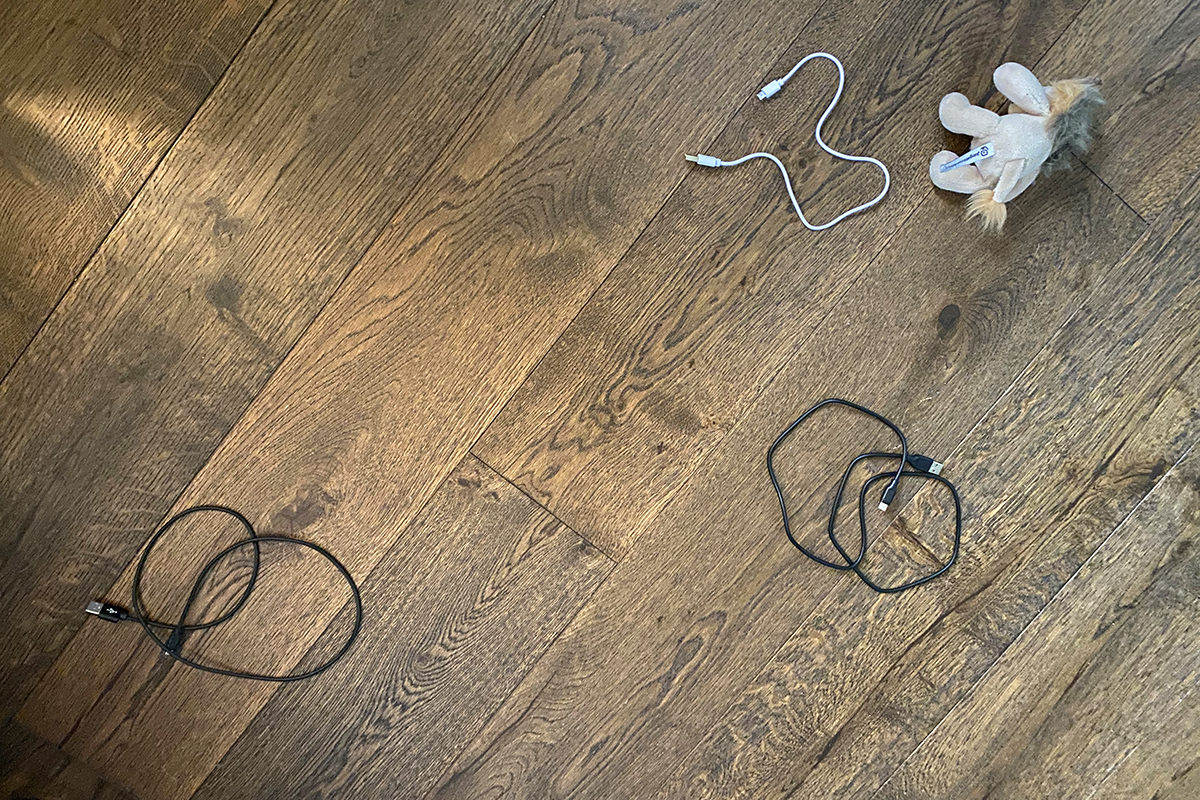 I didn't really need to look at the camera footage to know who did it, but I pulled it up just the same...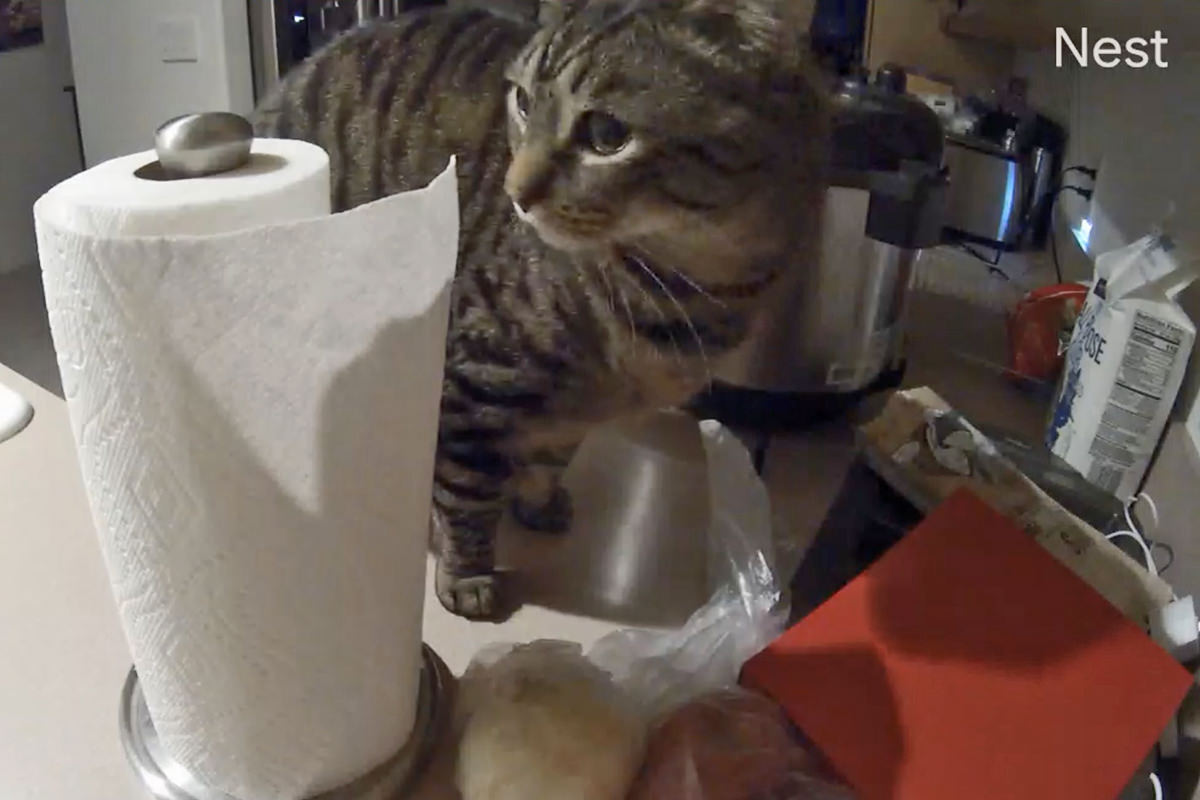 Time to disinfect the countertops again.
And now, before we go... I give you this...
Jake and Jenny were feral rescues, but they were gotten to when they were babies. Some cats aren't so lucky, but all of them deserve a chance.
Posted on June 6th, 2020

My cats like to sleep. A lot. I understand that this is true of most cats, but mine have raised it to an art form.
Especially Jenny, who doesn't seem to do much else now-a-days. Her sleeping is only interrupted when it's time to eat or poop. Other than that I am allowed to pet her in the mornings still, but her playing and exploring seems to have gone by the wayside. At first I thought she might be sick or something, but I honestly don't think that's the case. She just loves to sleep.
A couple weeks ago I was wiping down the coffee table and stacked to the two kitty beds I keep there on top of each other. When I came back from rinsing out my dustrag, Jenny was sitting on top of both beds (each with a warming pad) and loving it.
Ever since, that's her favorite place to sleep...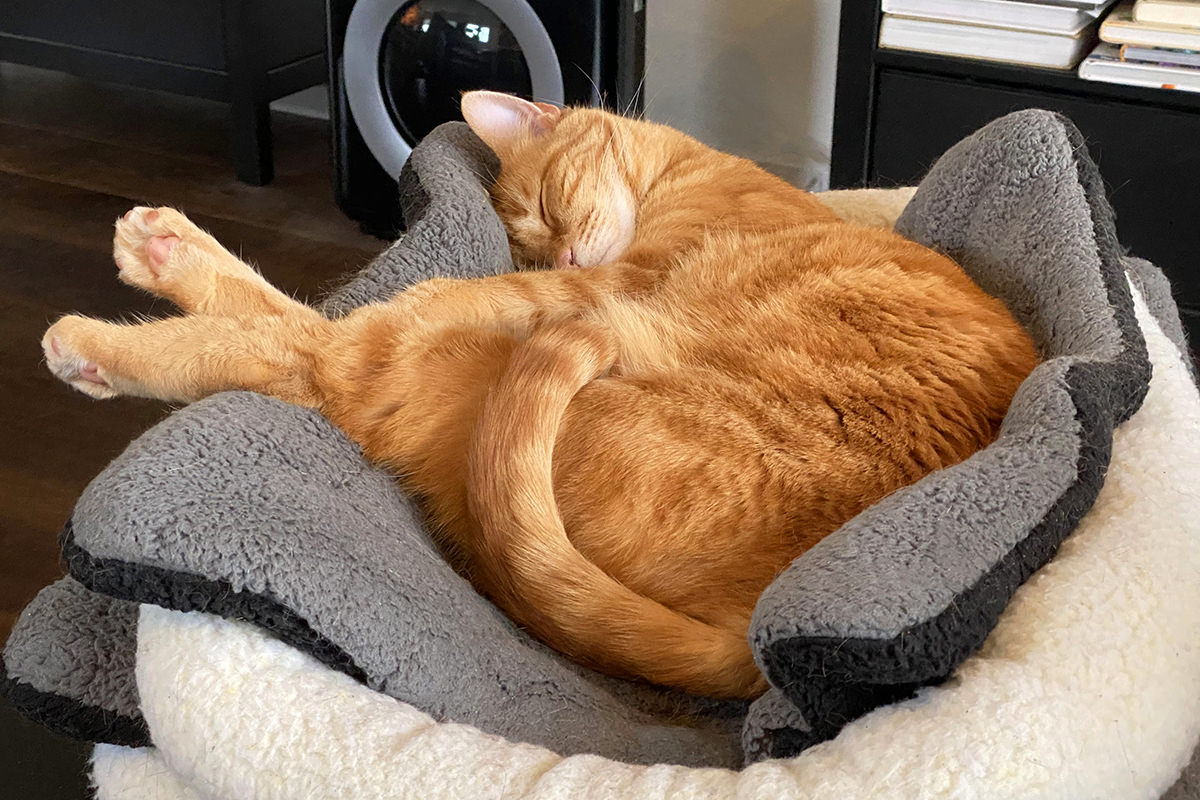 Just look at her! Could she be any more relaxed? Laying in that pillow pit with her legs kicked out. Adorable.
And make no mistake, she is out. She used to jump awake every time there was even a slight noise. Now it has to be me slamming a door or, as in the case of this photo, waking her up with a sneeze...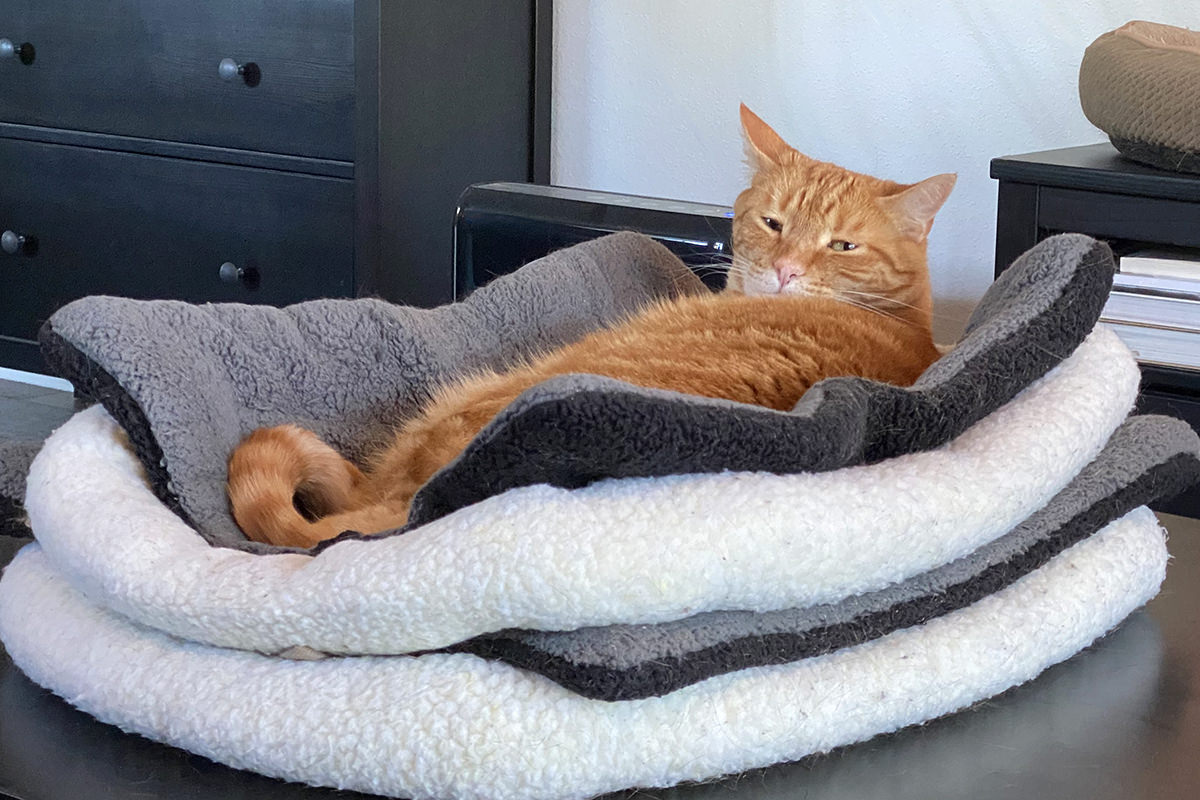 And here's the thing. She was so grumpy from having been waked up that she just stared at me for a long, long time. Eventually she flipped over so she could glare at me from an all new angle...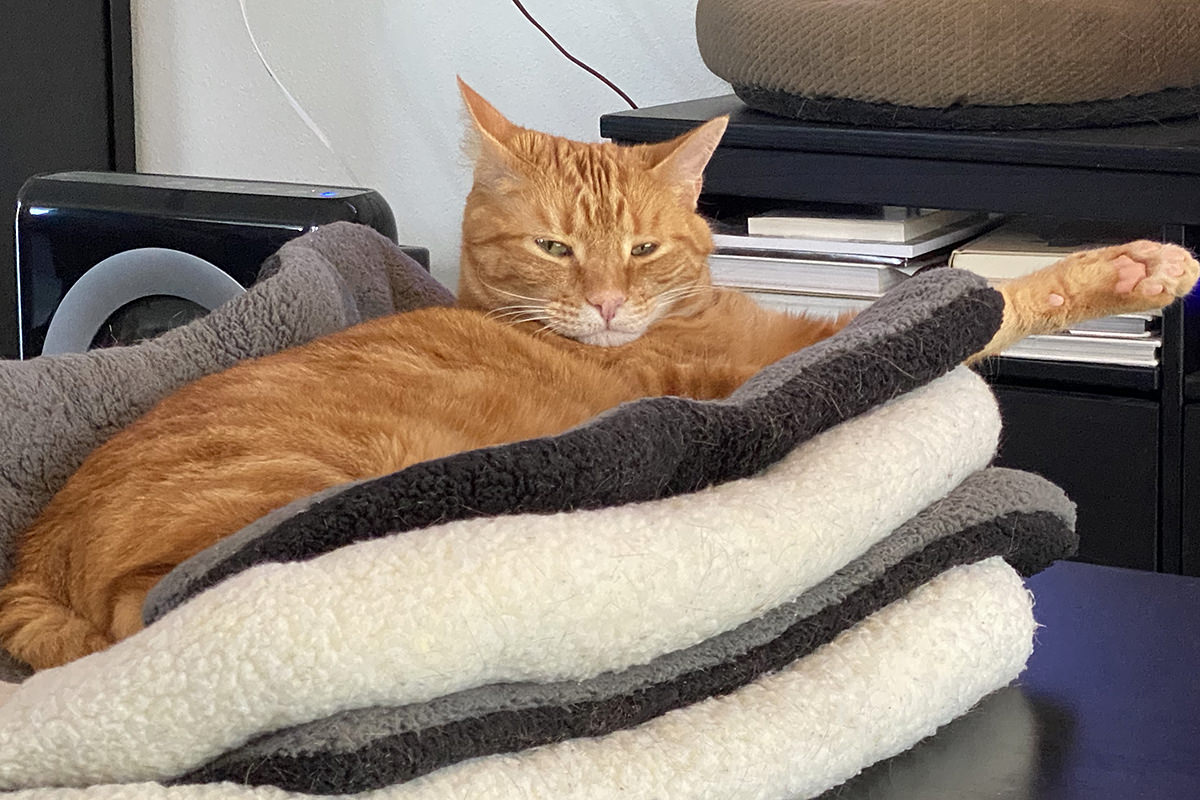 And even that wasn't good enough. She had to flip again to continue staring at me. She wanted to make very sure that I know what I did and it was wrong of my to sneeze...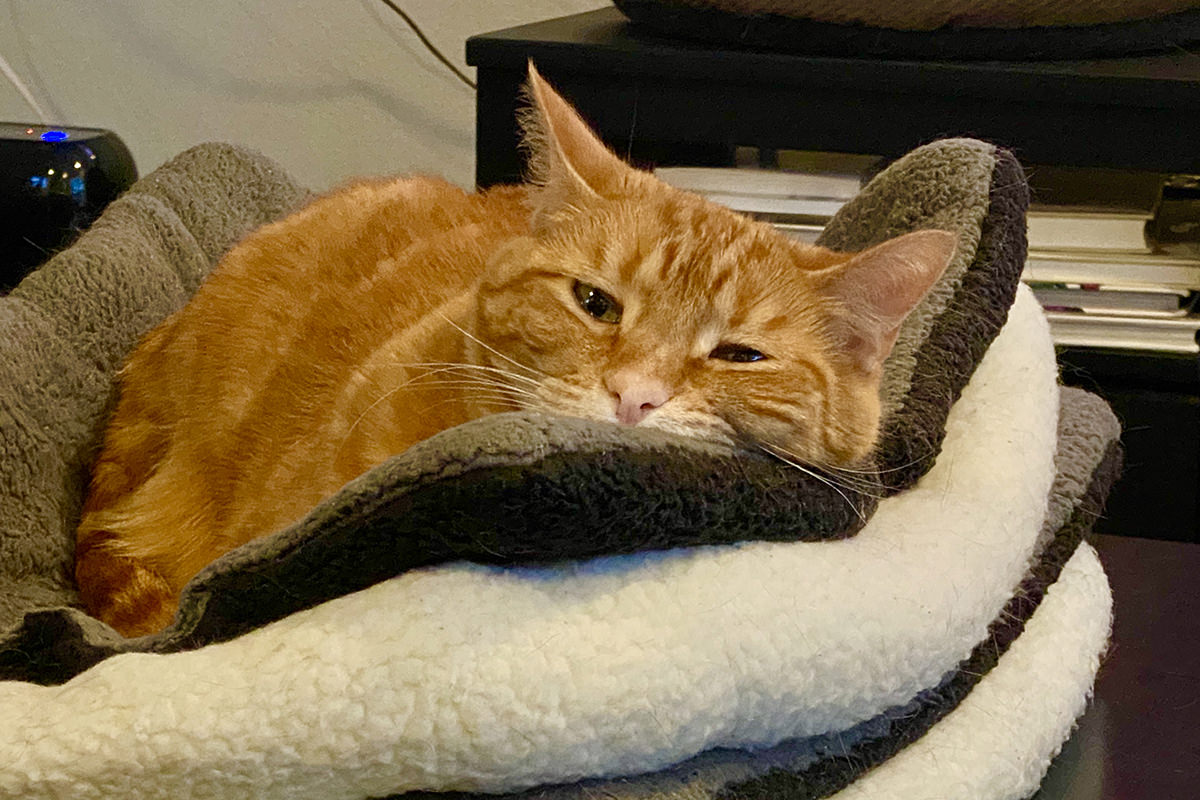 OKAY! OKAY! I GET IT, I GET IT!
And it's not just her double kitty bed. Even when she's laying next to me in my own bed while I'm working, I get a dirty look when I have to get up and get ready to go into the office...
As for Jake? For him it's all Mufasa all the time now. He loves that little stuffed lion and carts him around everywhere, even though Jenny seems to have lost interest in stealing it. Lately Jake dropped Mufasa on my bed then ran away. I guess I'm supposed to guard him or something...
Uh oh...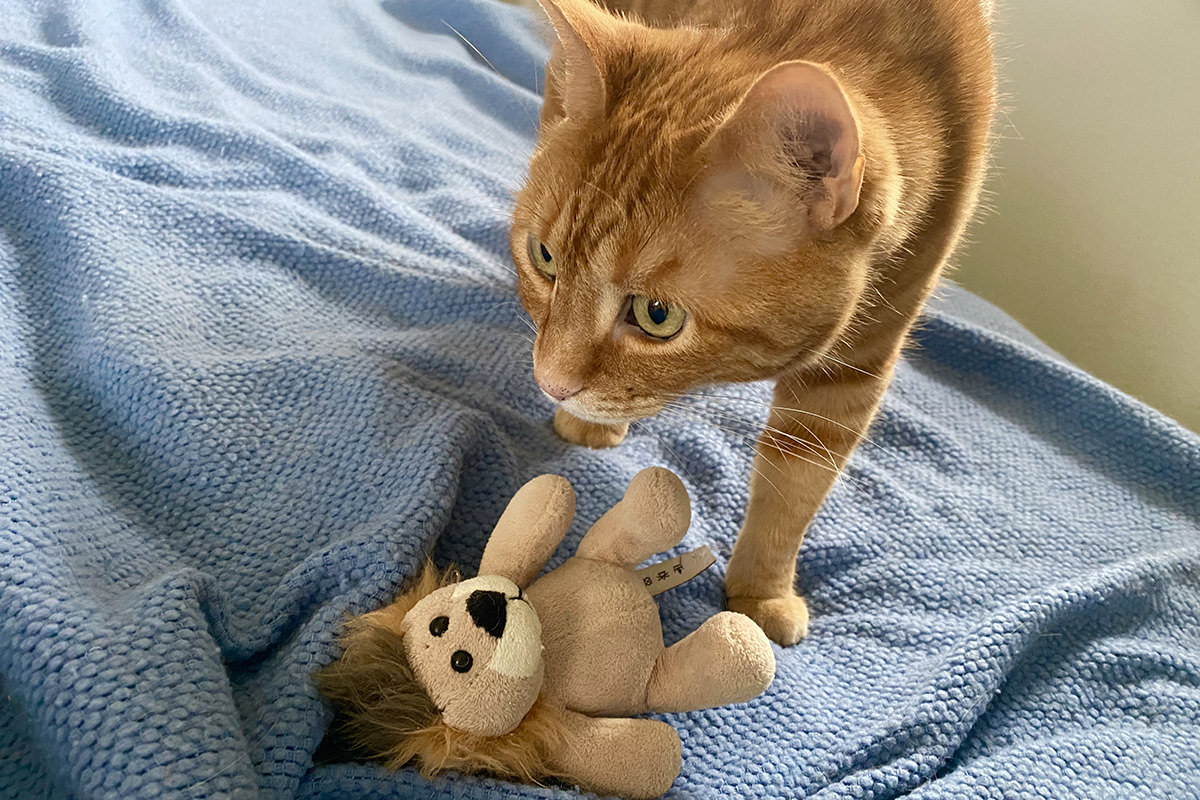 Guess Jenny isn't done stealing her brother's favorite toy after all.
Eventually Jake must have seen her with it, because he dragged it back upstairs and fell asleep with it in short order...
I think Jake even recognizes "Mufasa" by name now. Earlier this week he followed me up to bed with Mufasa in his mouth. Hung around for five minutes, then went downstairs... but left his lion with me. Five minutes later and I heard him wailing because he can't find him... so I had to yell down "JAKE! YOU LEFT MUFASA UP HERE! COME AND GET HIM!" And... so he did! Sweet! Didn't have to take Mufasa down to him!
As concerned as I've always been that Jake will tear apart Mufasa and lose his favorite thing in the world, I'm even more concerned lately. He usually just walks around with it, rolls around with it, and carries it places. But lately he's started really ripping into his lion for some reason...
A few days ago he brought Mufasa up and proceeded to bite all over it pretty rough. Especially tearing at the fur on his mane and tail. I only caught the end of his rampage on film when he was done, but it's still pretty scary because Mufasa ain't going to last much longer with this kind of treatment...
I've tried to get Jake hooked on other toys, but to no avail. He was sitting in the middle of the room looking bored, so I fired up his WhirlyBall (a ball with a stem and a feather on it that rotates) and set it down next to him. He just sat there and let the feather repeatedly smack him in the face.
I know how you feel, buddy. I know exactly how you feel.
After letting WhirlyBall dig on his face for a couple minutes, he ran and hid in the cat tree so he could observe it safely...
Of course I felt awful that I had scared him into being a bunker cat. Guess I won't be trying that again. And so I guess it's back to buying every new toy I find until I get something he likes as well as Mufasa.
Which is probably futile, but I have to try.
Posted on May 30th, 2020

Usually, my cats like to be wherever I'm at when I'm home. And I've tried to accommodate that by having places for them. If I'm in my bedroom, they hang out on the window perches I put up. If I'm in the living room, they are either laying on the cat bed I put on the coffee table... or hanging out in the cat tree. But now that I'm home all the time? They are starting to tire of hanging around me. They're either out in the catio or sleeping in the bedroom.
I kind of miss it though. My cats are entirely entertaining... even when they're doing nothing. Jeny flopped down in some water that leaked into the catio when it rained and was sporting a mohawk for a while. Eventually I managed to mostly get rid of it by petting her with damp hands, so it's almost gone now...
But don't think that they avoid me entirely. I took some shirts out of the wash to hang up... turned around for a second... and suddenly Jenny is there on one of my shirts...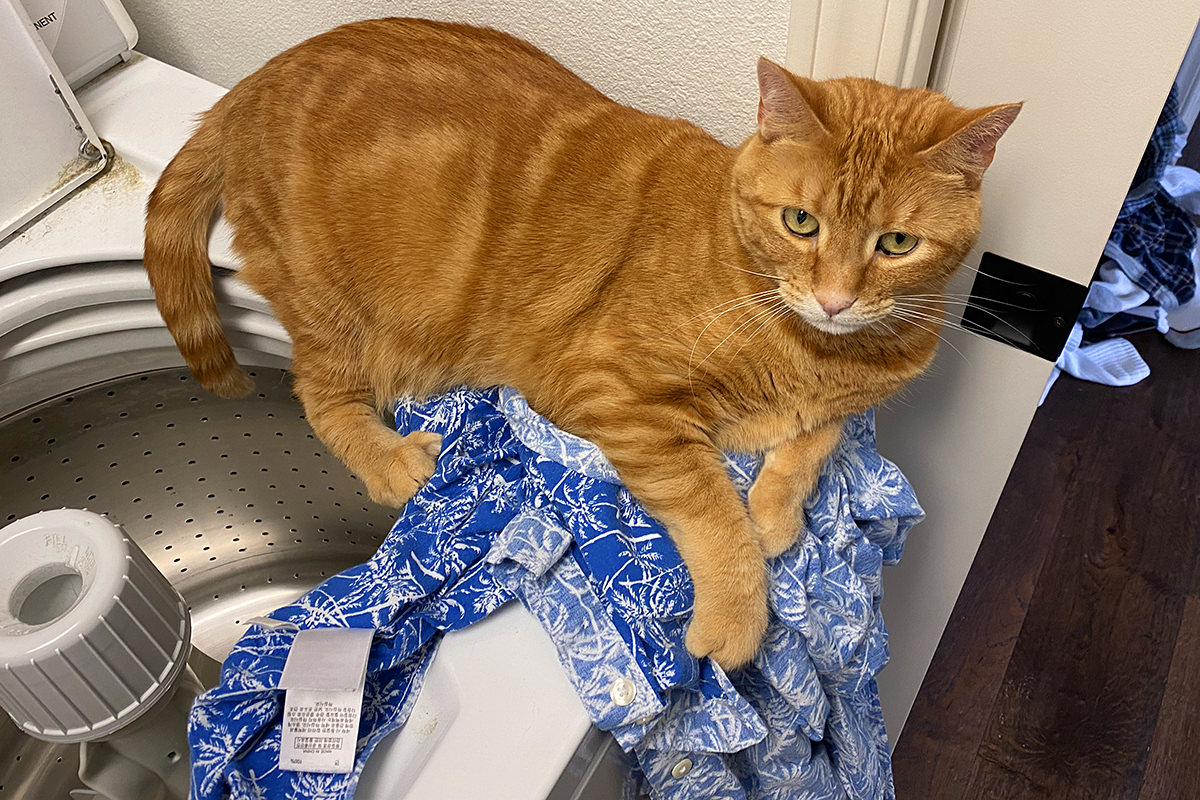 ... and would not let it go. I pull on it, and she pulls it back.
I even tried to distract her with chin scratches...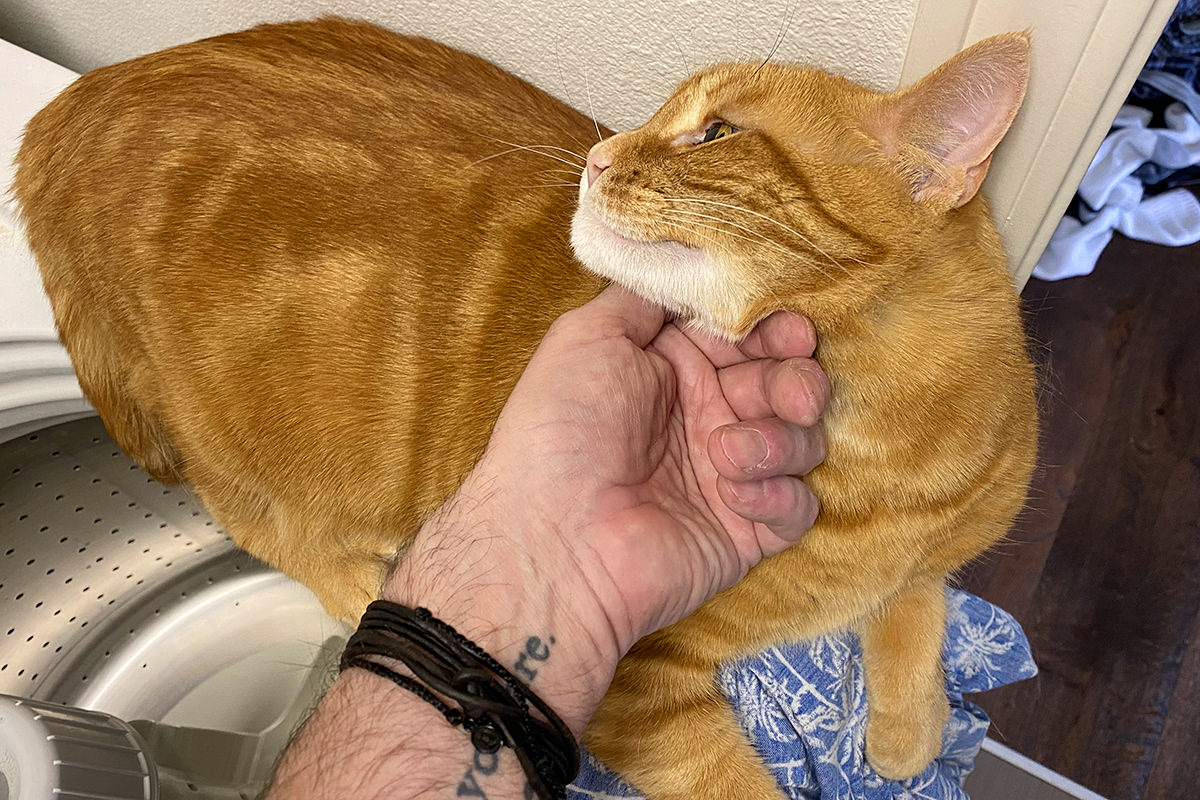 But nope!
Rather than risk battling it out and getting claw marks on a pricey shirt, I decided to just let her keep it. And she did. For over fifteen minutes! Amazing that my cats are now getting hair on my clothes before I even get them dried!
In other news, the Mufasa drama is still in effect, even though Jenny seems to have lost interest. What seems to be happening now is that Jake misses chasing his sister around for his toy, so now he's taken to throwing Mufasa around...
This is really worrisome, because I don't know that this toy can take that kind of punishment day in and day out. And, much of the time now, it's like Jake is literally daring Jenny to take his favorite toy.
Jenny hears Jake running down the steps and waits to see what's up...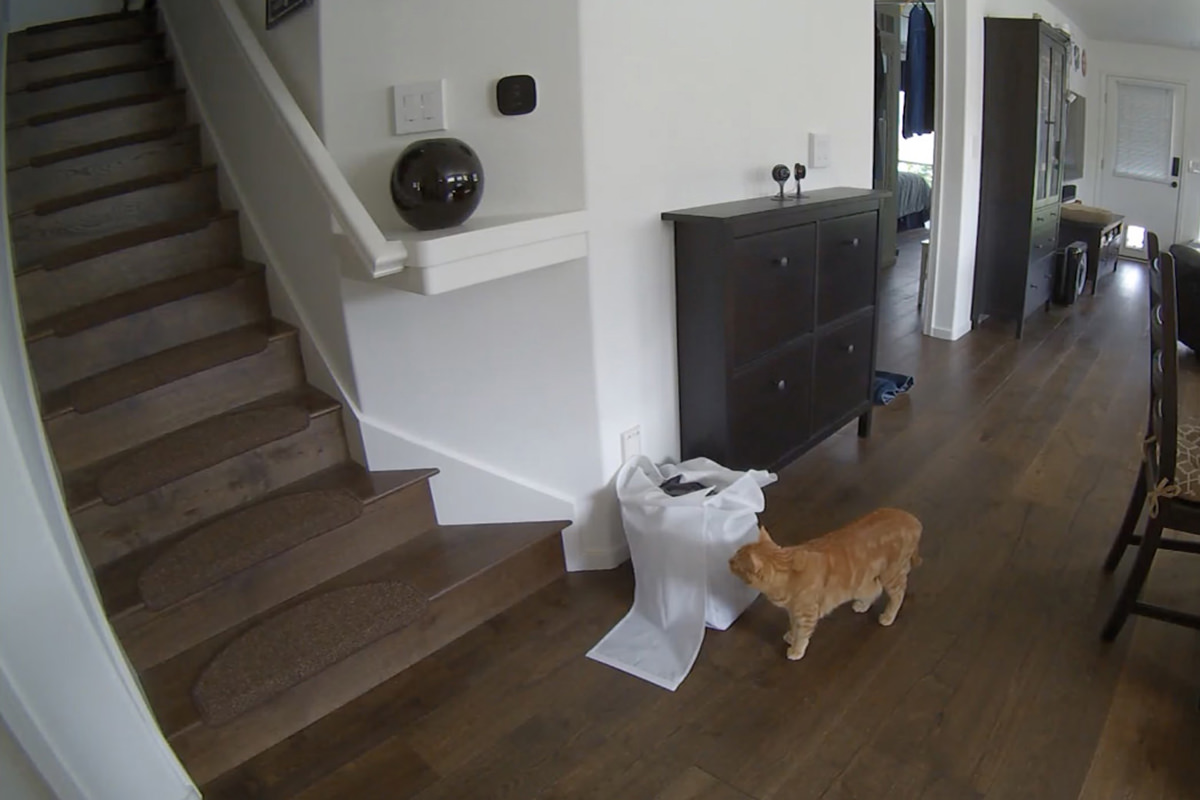 Jake come down, carrying Mufasa as usual...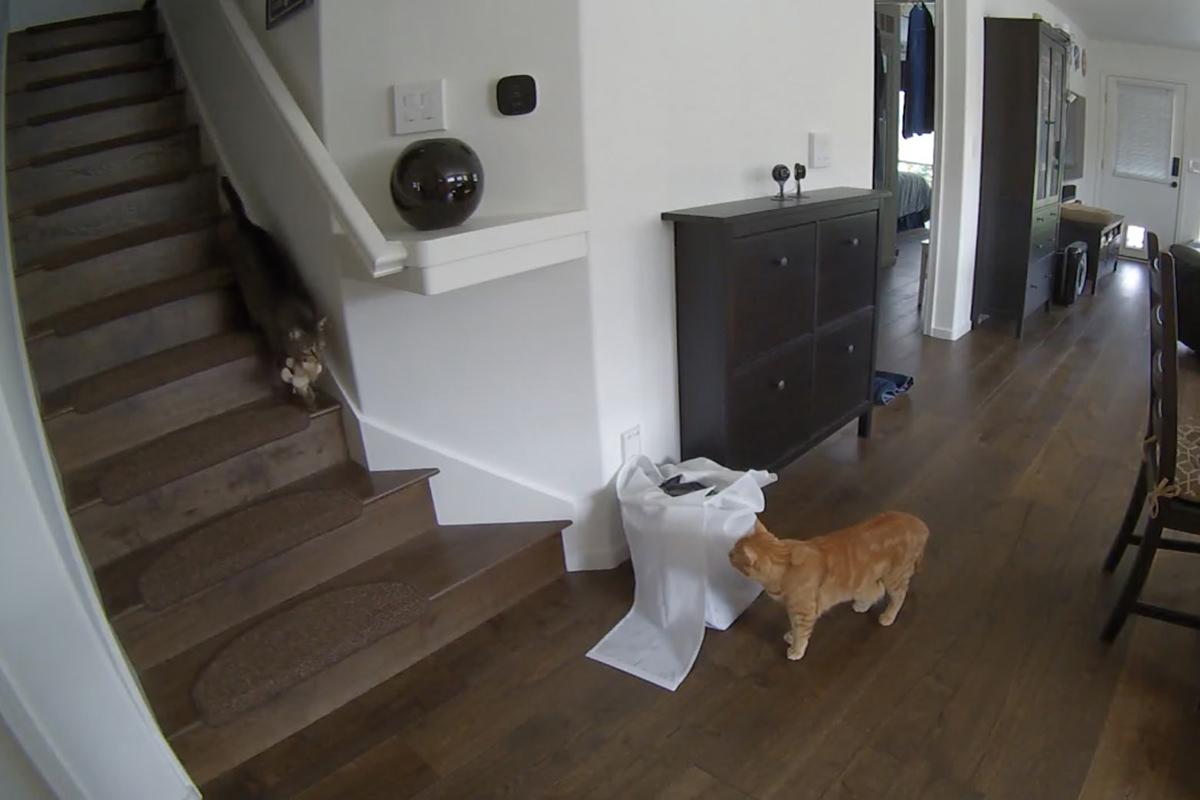 Then Jake will drop Mufasa right in front of her, pretty much inviting her to grab it...
Jenny, not one to pass up an invitation like that, reaches down to pick him up...
At which point Jake immediately freaks out and chases her away which, I'm guessing, was what he wanted all along...
At some point a pair of my boxes was dragged out of the laundry bag I didn't have time to run upstairs, so this is what greeted me when I got home...
Cats. Wouldn't want to do quarantine without them!
Posted on May 23rd, 2020

The Mufasa paranoia continues.
Poor Jake is still dragging his favorite toy everywhere for fear that Jenny will hide it if he lets it out of his sight.
The bad news is that half the time he'll get distracted and leave Mufasa unattended. The good news is that Jenny seems to be over it. For whatever reason she isn't hiding the stuffed lion any more. Whenever Jake is wandering the house crying because he can't find it, I'll see it in some totally obvious place. Like sitting on the stairs...
Which is where he will often drop it on his way up or down...
Jenny is far more clever than that. If she wanted to hide it, she wouldn't be leaving Mufasa on the stairs.
But Jake still thinks that she's taking it, and will freak out when Mufasa is missing and Jenny is available to blame. Here he is waiting for her to come downstairs so he can force her to tell him where Mufasa is, even though he was the one who dragged it upstairs just a half-hour earlier...
Note that poor Jenny is all WTF?!?
Which, as you can imagine, is her default state with a brother like Jake.
Posted on May 16th, 2020

My cats have never really responded to catnip regardless of how many times I try. When they were kittens I would buy catnip toys and sprinkle it on scratching posts to entice them, but it never really did anything. Eventually I just gave up. They were happy to scratch on their posts without it (thus saving my furniture) so why bother?
The last thing I bought them were a few toys filled with Maine Organic Catnip. They would chew on them and toss them around, but it didn't seem the catnip was doing its thing.
Then this past week somebody was singing the praises of "From The Field" catnip, so I thought I would give the 'nip one last shot. When it arrived I could smell it through the bag. Heck, I could smell it through the shipment packaging!
I sprinkled it on Jake's favorite toys... Mufasa the lion and Moose the mule... plus the Maine lobster roll that already had catnip in it. He rolled around on them for a bit, but then he wandered off...
Jenny wasn't interested at all.
And so... I guess my cats just aren't genetically disposed to catnip then. I read that can happen. Oh well. At least now I know for sure. Because if they weren't going to respond to this skunk, nothing will do it.
I tossed the bag on the kitchen counter, fed us all dinner, then plopped myself down in front of the television and started working.
TELL ME. TELL ME THAT NOBODY SAW THIS COMING!
So there I am working away when I hear the cats in the kitchen goofing off. I worry that they've gotten into the garbage. But nope! THEY GOT INTO THE CATNIP! Hopped on the counter where they knocked it to the floor, then put a bunch of teethmarks in the bag before slicing an opening and getting it all over the kitchen floor. THEN they decided to roll around in it, fight in it, and go nuts in it. And then there's Jenny picking up Mufasa and throwing him at Jake at the 1-minute mark. So apparently I was making a bad assumption that they were not affected by the stuff. Because clearly...
And so I guess I just wasn't using enough of the stuff or something? The good news is that now I can throw them a 'nip party from time to time.
It's legal to get high in Washington State now, after all.
Posted on May 9th, 2020

I know I keep mentioning how Jenny keeps getting more demanding, but it bears repeating because there seems to be no limit to how much she'll pile on. This morning, for example, she stood by the water fountain and started meowing. I went to see what was wrong and... the water level was too low for her highness's liking. She doesn't actually drink from the flowing water like Jake does, she wants to drink out of the well. So she sat there until I went and got a glass of water to fill it to a more acceptable level.
Earlier in the week she was upset that I was taking too long in the bathroom and she wanted her morning pets and sat outside the door and meowed and meowed.
And before that SHE WAS UPSET THAT THE TELEVISION WASN'T ON! Seriously. Sat there in front of the television meowing until I turned it on.
I'm getting really good at interpreting what she wants. Thankfully.
Jenny spends most of the day and a good chunk of the night out in the catio now. In daylight she naps in the sunshine. At night she... stares out into space? No idea what she's looking at. Or for...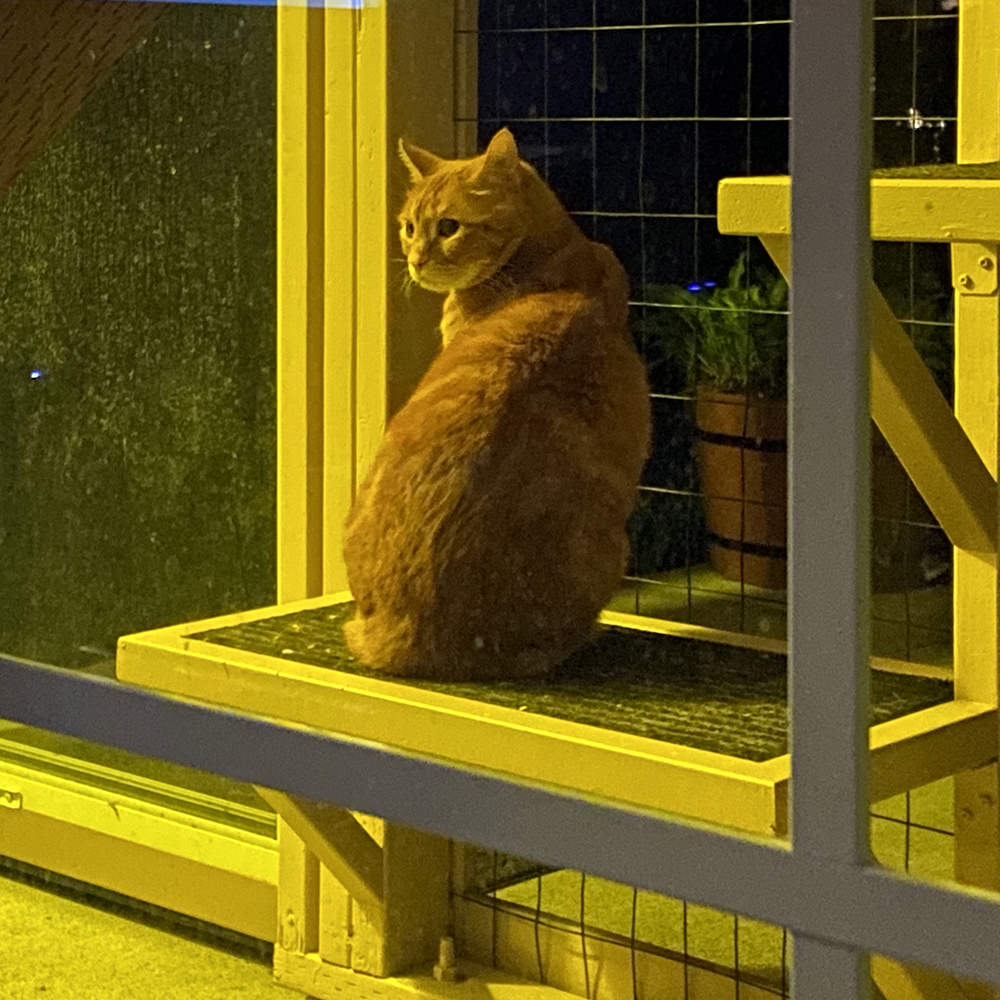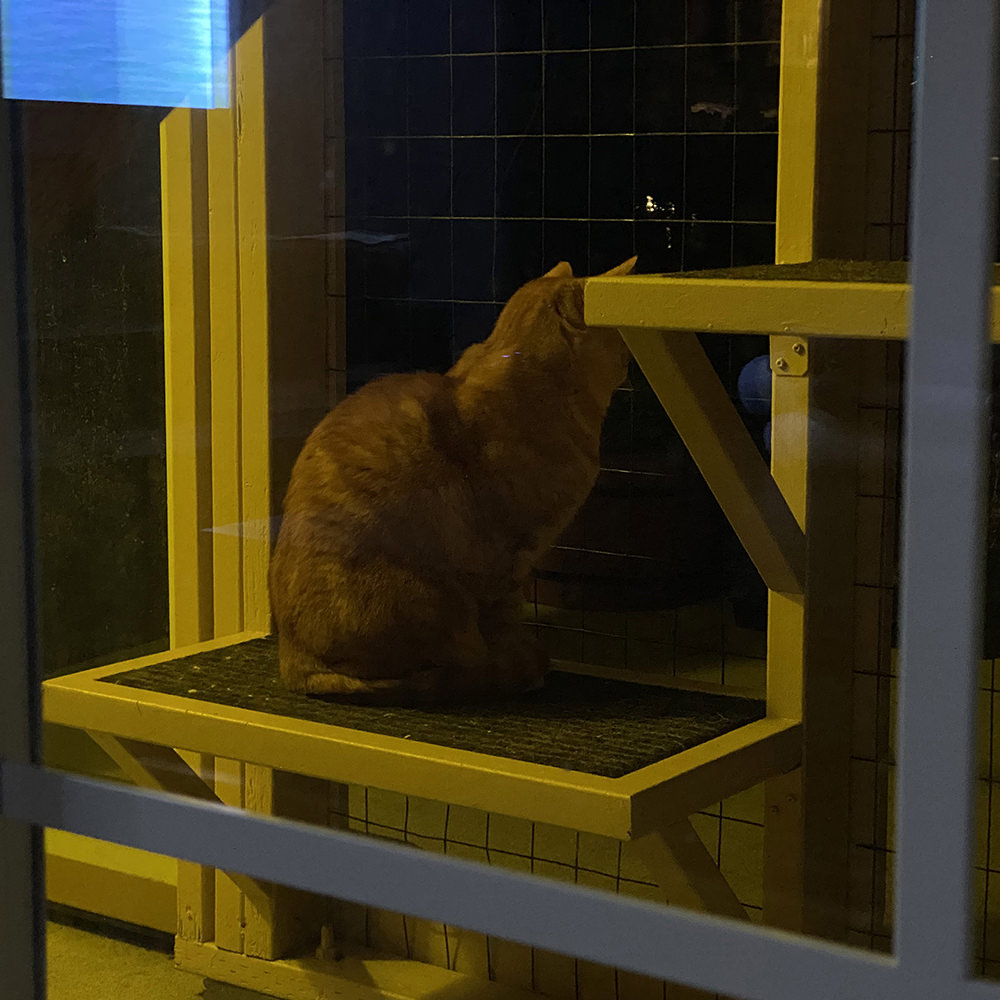 I planted some flowers outside so that she has something to look at while she's out. I don't know that she appreciates them, but the bees sure do...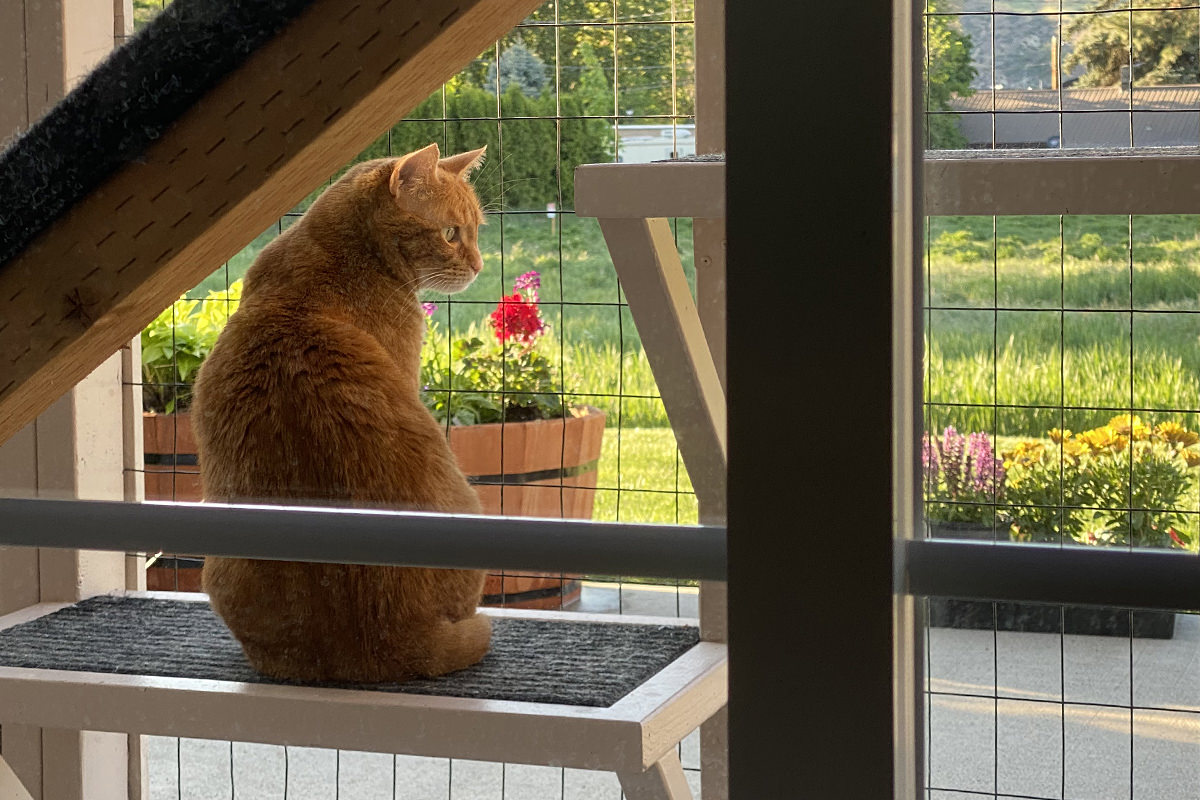 And then there's Jake.
Who is also becoming more demanding.
When I got home yesterday, Jake went running around the house and stopped long enough to scratch on his post. He got a claw stuck but, instead of working it free as he normally does, he just sat there squawking for help until I came and freed him. Methinks I spoil my cats a bit too much...
So... it's nice to be needed... I guess?
Posted on May 2nd, 2020

When it comes to feedings, I've had to develop a specific routine in order to keep the peace.
Jake wolfs down his meals as fast as he gets them. Jenny takes her time, and will wander away and wander back as she eats. Which means if I just feed them their dinner all at once, Jenny will eat a bit then leave. While she's gone, Jake will eat his food, then her food. Which is why that's not really possible.
And so it goes like this...
6:50am — Alexa alarm sounds. I feed them a sixth-can of wet food.
7:00am — The dry food auto-feeder drops the remainder of their breakfast.
9:00am — Tiny portion of cat treats (which I feed them every day because that's how I lure them in the cat carrier when they have a vet appointment).
Noon — The dry food auto-feeder drops a small snack for them.
5:50pm — Alexa alarm sounds. I feed them a sixth-can of wet food.
6:00pm — The dry food auto-feeder drops the remainder of their dinner.
9:00pm — The dry food auto-feeder drops a small snack for them.
By spacing out their feedings, Jenny gets all of her food and Jake doesn't get more than his. It also makes sure there's no binge/purge that can come from eating too much too fast.
You'd think that all this would mean that Jake is the one who makes feedings difficult, but that's not the case. As I mentioned last month, Jenny won't bite wet food, so hers has to be pureed so she can eat it by licking. Also? She needs strong-smelling foods or she won't eat them. Which means both of them get fish-based meals whether or not Jake would rather have something else, because fish smells the strongest. And sometimes Jenny isn't satisfied because it's not smelling strong enough and will be upset. For those times I have to mix in some horribly-stinky dried fish flakes to get her eating. And, here's the part you won't believe, Jake never begs for food. Jenny absolutely does, and will go running to the kitchen any time I'm there in the hope that she'll get a snack.
In other Jenny news... it seems there's something besides Rick from Rick and Morty that will cause her to come running... Ray Charles. He was on an old 1977 Saturday Night Live repeat tonight and she came running in to watch while he was singing... then left shortly after he was done...
In many ways Jenny has changed the most over the years. Used to be she would run away terrified if another cat was within sight. Then she got to the point where she wouldn't run... but instead observe from a distance. And now? She will actively run out to the catio to confront them, pushing Jake out of the way to get there first. A black cat came walking by and she was on it..
Earlier this week she ran out to confront a GERMAN SHEPHERD that wandered into the yard. I knocked on the window to scare the dog away because I worried he might bite her if she stuck a paw out or something. This was her reaction...
Jake is probably least happy with Jenny's changes. Used to be he could terrorize her and she wouldn't do anything about it. But now? Jenny knows exactly how to get her revenge... steal his favorite toy. Jake is so paranoid about it that he drags Mufasa with him everywhere and looks around nervously when he has to drop him... like here when he wants to groom his belly...
And speaking of Jake, now that the weather has gotten hotter, he's catspreading again. Especially on my bed when I have the ceiling fan on...
But he'll do it anywhere...
Still not happy about me photographing his catspreading though. I get a look...
Sorry, Jake... if not for photos, Saturdays wouldn't be as exciting.
Posted on April 25th, 2020

The more I stay at home... the more clingy my cats get.
Especially Jake, who is spending all night, every night on my bed. He comes in, flops down, then snuggles up next to me. He's there when I fall asleep, then still there when I wake up in the morning. Sometimes he gives himself a bath first...
And then.. flop...
Sometimes Jake doesn't bother with a bath. He just goes right to sleep... covering his face because I had the lights on...
When he's out-out and has stopped purring, I always go in for a belly rub...
You'd think that he'd wake right up. But nope! He was like this for over a half-hour. Like he's stuck..
Last night I went to bed early and was watching television. Jenny loves watching television with me, so here she came...
After a few minutes she was totally invested in whatever was on the TV...
The fun and games were over when Jake showed up for bed and decided to give her a facial...
Then, because Jake feels that the bed belongs to him at night, so he chased Jenny off, the little shit-head...
But don't worry. Jenny has her revenge. Usually when she runs across Mufasa and hides it somewhere. Earlier this week I went to take my morning shower and there was Mufasa...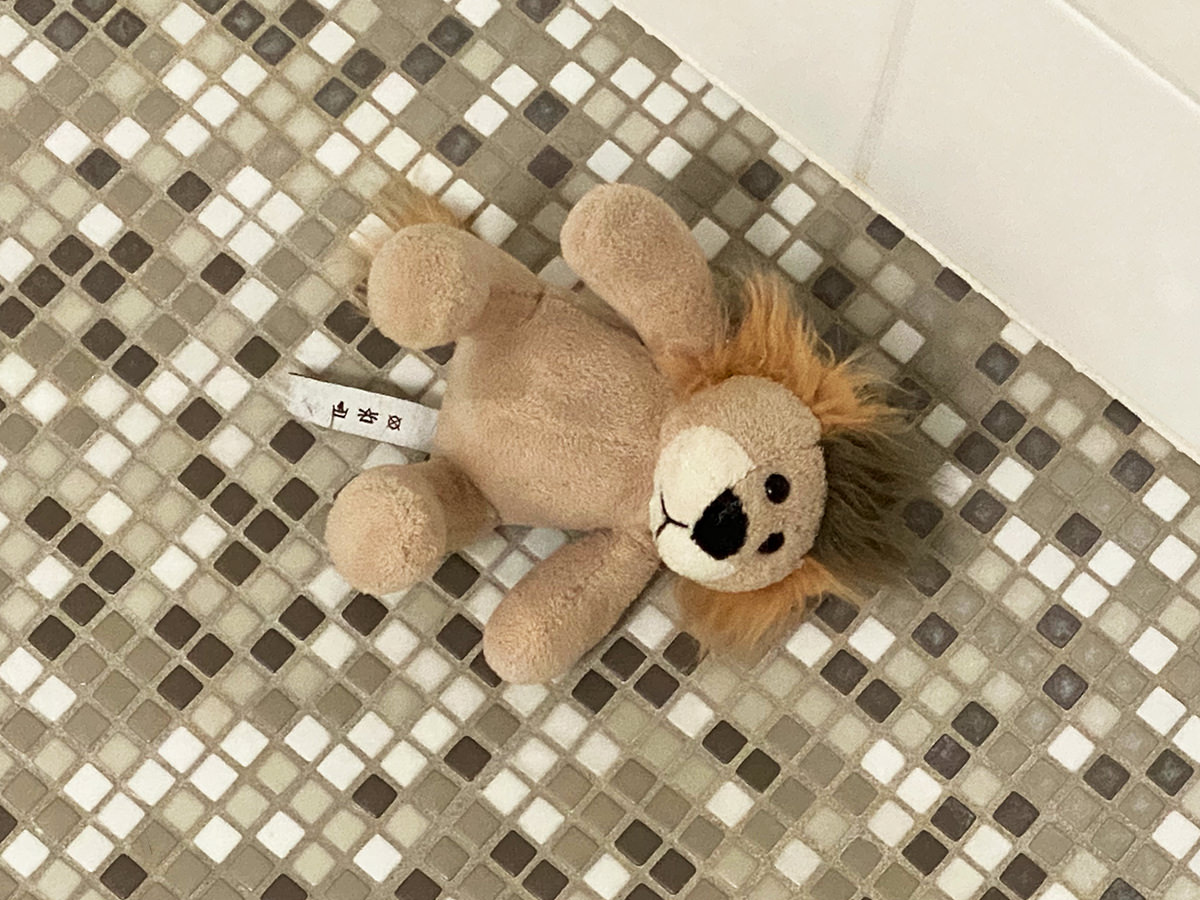 I always feel bad for Jake... no matter what he's done to deserve it... so whenever I find Mufasa I will usually go find Jake so he can have his toy back.
Have a great Caturday, everybody.
Posted on April 19th, 2020

Life in isolation may be better than no life, but your life is about to get measurably better... because an all new Bullet Sunday starts... now...

• Dough! I finally broke down and baked a couple loaves of my beloved SourJo bread. It was too hard going without, so I used the last of the flour I had been saving and went for it. The result was as delicous as it was beautiful...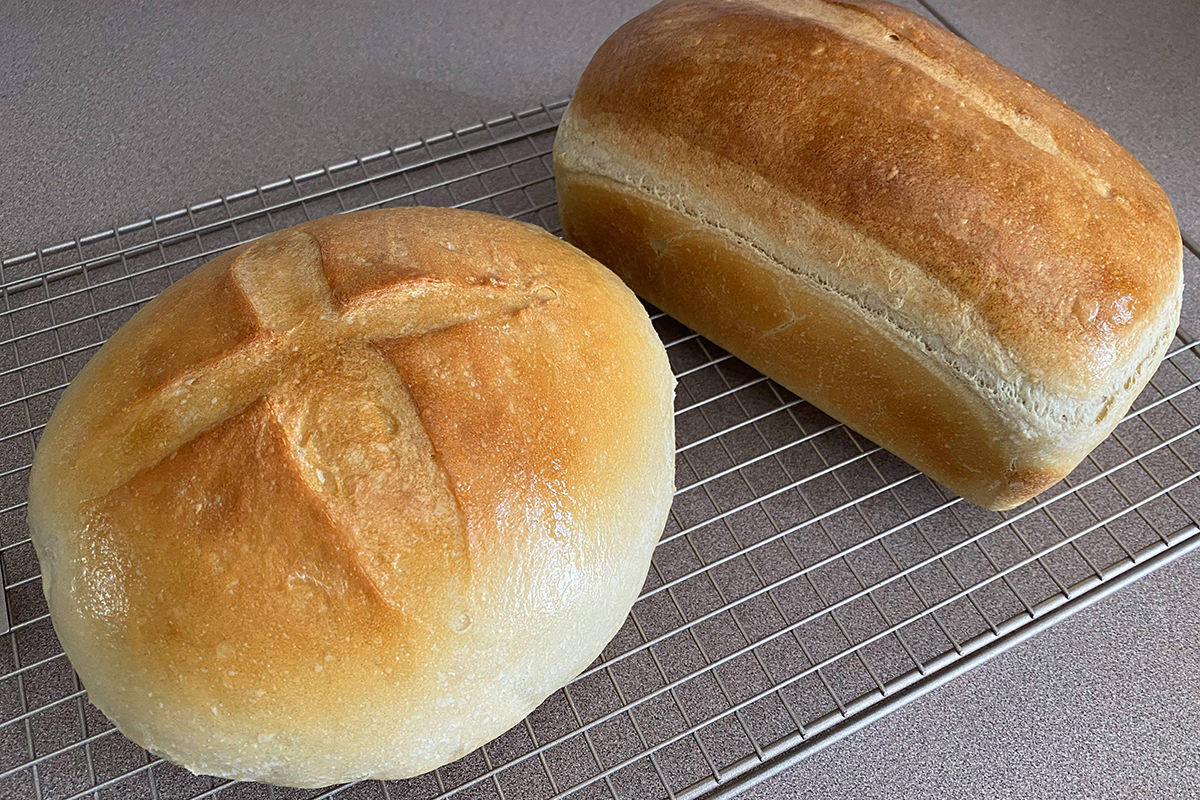 I have decided to slice and freeze the pan-loaf so I can thaw it out as toast when I need a bread fix. The round loaf, however? That I'll be eating in copious chunks with butter and jam! I sure hope that flour, sugar, and yeast come back to grocery store shelves sometime soon.

• Various Corn! Oh look... John Oliver is back to drop some truth on the outrageous levels of stupid shit that have been plaguing us as of late...
The Below Deck: Sailing Yacht drop-in was particularly wonderful for those of us who are fans of the show.

• Terms of Agreement! HOLLYWOODREPORTER.COM: COURT RULES PHOTOGRAPHER GAVE UP EXCLUSIVE LICENSING RIGHTS BY POSTING ON INSTAGRAM. This is categorically absurd. A feature of Instagram is that people can embed and share what you post. Mashable wanted to use the image without embedding the Instagram framing. They offered money. The artist refused the amount of money. So Mashable just used the Instagram framing as it was DESIGNED TO BE USED!! If you don't want people using your work in ways that social media was designed to be used... THEN DON'T FUCKING POST IT TO SOCIAL MEDIA! Especially a site like Instagram where you have to agree to their terms specifically allowing this kind of thing when you sign up for an account. Put your work on a PRIVATE SITE and EXPLICITLY STATE the terms of use (or lack of use) where you are sharing it. This is not rocket science. Nobody should be shocked or surprised as to what can happen when you post your work to social media. THIS IS WHY THEY CALL IT "SOCIAL MEDIA!"

• Sucks So Good! One of my favorite movies of all time is What We Do In The Shadows. It's hilariously funny in all the right ways. It spawned a television serious on FX that was every bit as well-done and hysterical. And now they've started their second season...
I was late to the television series (I didn't know it even existed), but now I'm crazy for it. I pre-ordered the entire season at iTunes because I just know that I will be watching them over and over again. Highest possible recommendation.

• Moo! Cows are truly some of the most gentle and beautiful animals. Part of why I can't bring myself to eat them...
THAT is one content kitty right there!

• Color! This is probably the coolest thing I've seen all year. A series of RGB colorspace books which depict every color imaginable...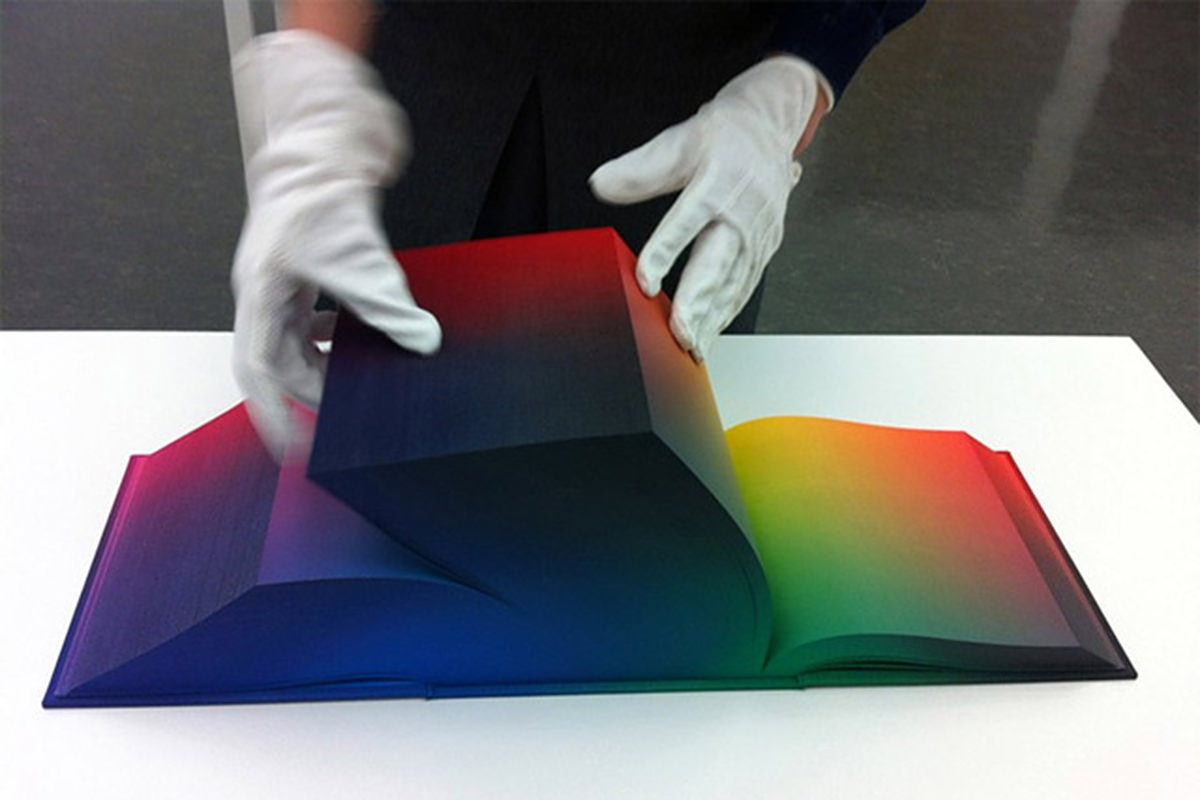 Image attributed to Brittany Schall


Photo by Vegard Kleven
You can read about the RGB Colorspace Atlas over at Colossal. You can see the work over at artist Tauba Auerbach's site.

• 'MURICA! And let's wrap this up with a shut-out to the brave nurses confronting IGNORANT STUPID FUCKING ASSHOLES protesting lockdown BY BARRICADING STREETS DURING A PANDEMIC WHEN AMBULANCES MAY NEED TO GET THROUGH...
I am so fucking sick and tired of this idiotic trash that I want to vomit. You can read about it here.

And that's all she wrote for bullets this Sunday.
Tags:
Art
,
Bread
,
Bullet Sunday
,
Cats
,
COVID-19
,
Dumbassery
,
Dumbfuckery
,
Idiocy
,
News
,
Social Media Idiocy
,
Television
Categories:
Bullet Sunday 2020
,
Cats 2020
,
Television 2020
—
Click To It:
Permalink
—
5 Comments: Click To Add Yours!