Posted on September 18th, 2021

My cats have never been okay with my traveling. They are barely agreeable for me to go to work. So it will come as no surprise that they were most unhappy for me to leave for a week.
But I really had no idea just how unhappy they would be.
Turns out that after having me home for two years, my leaving would end up being a Very Bad Thing.
Both cats have been glued to me since I got back... even going so far as to share the bed, which is something they do rarely...
Jenny is probably the most upset by my time away. Jake is usually the one who wanders the house crying when he can't find his toy lion, Mufasa, or can't figure out where I am. But lately it's Jenny who's been wandering the house crying. Jake simply never leaves my side except to go to the bathroom or eat...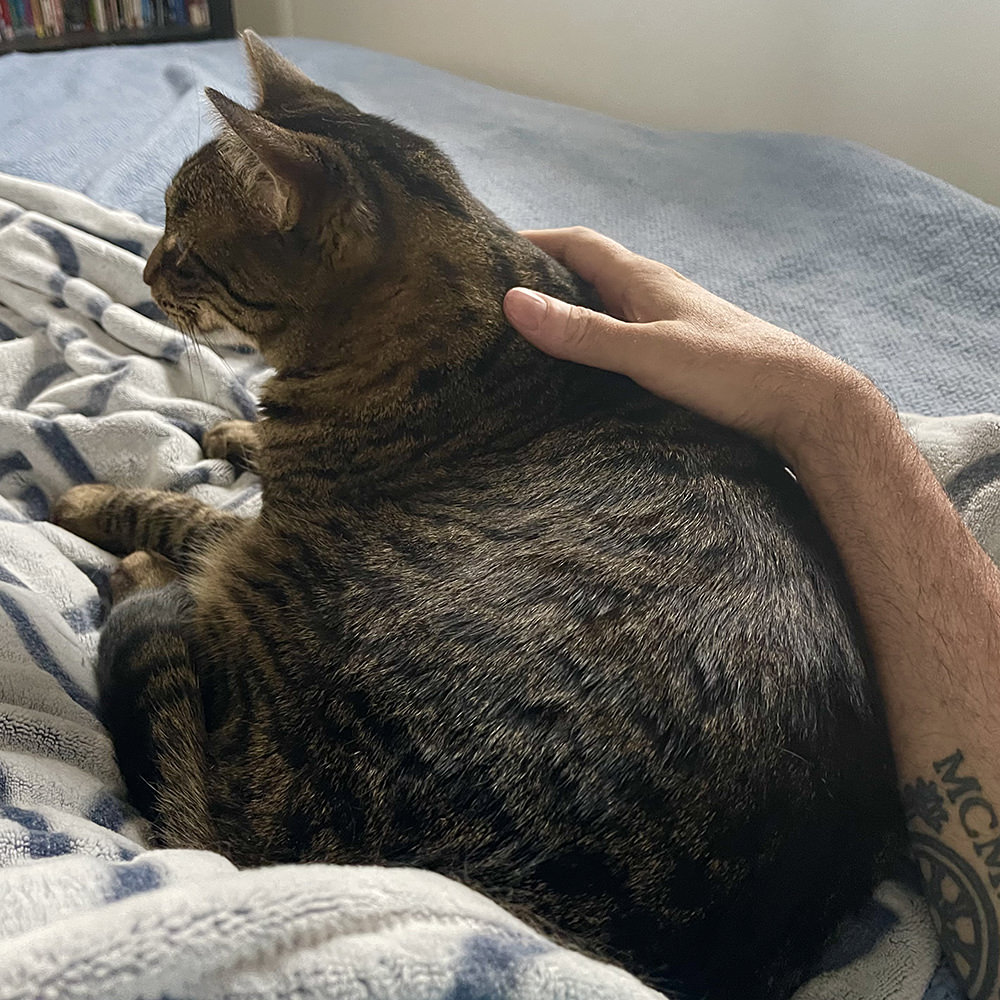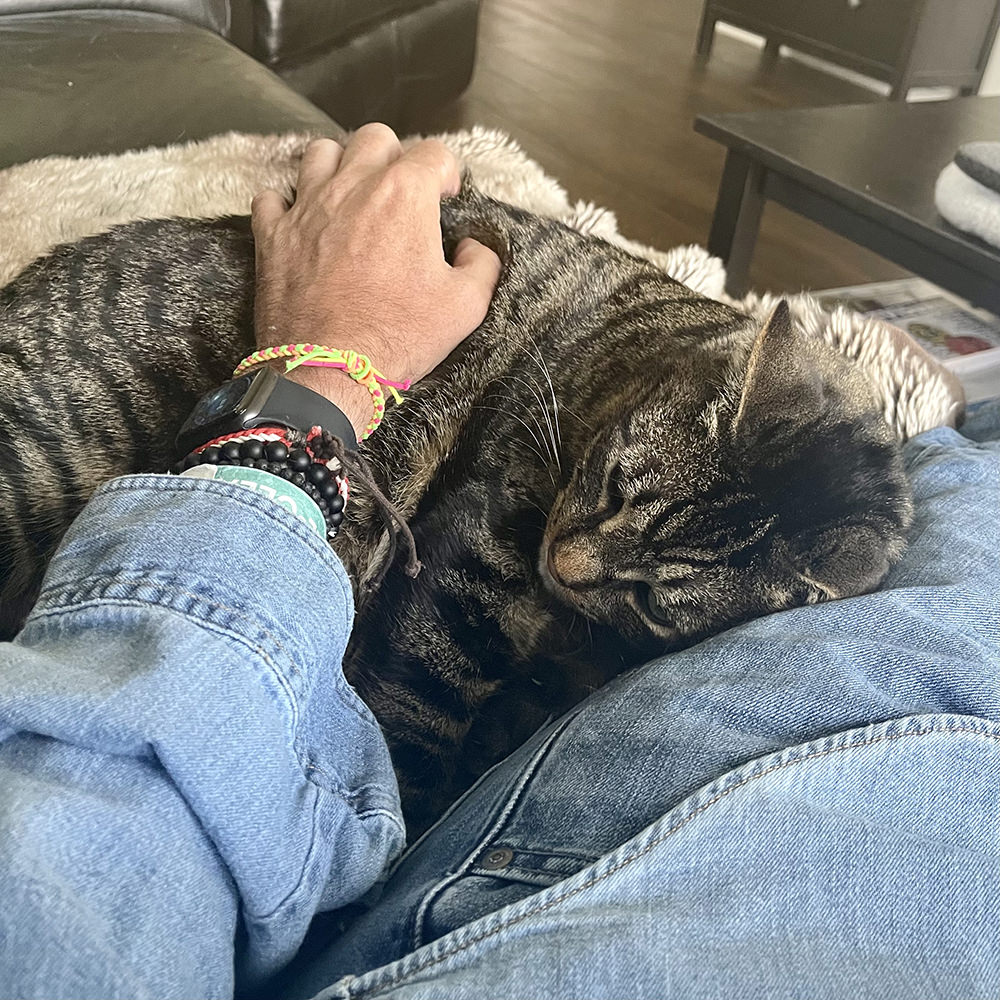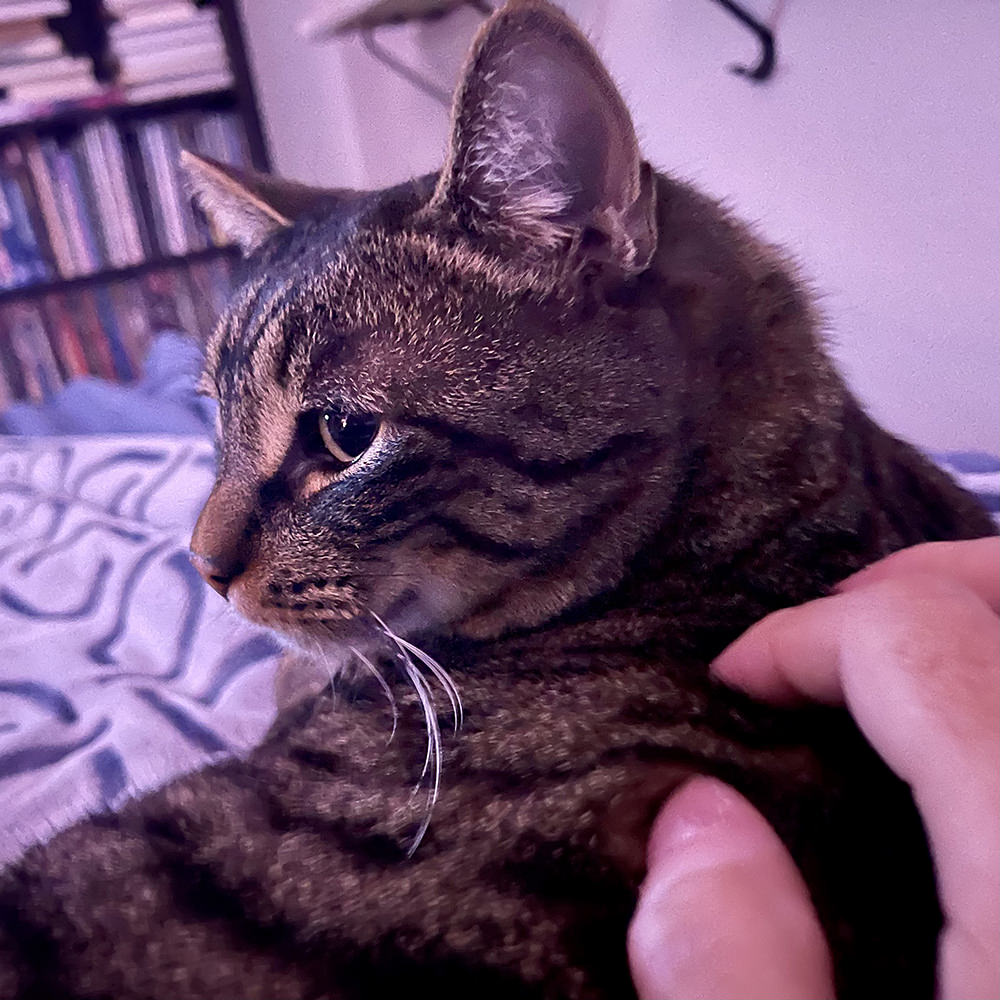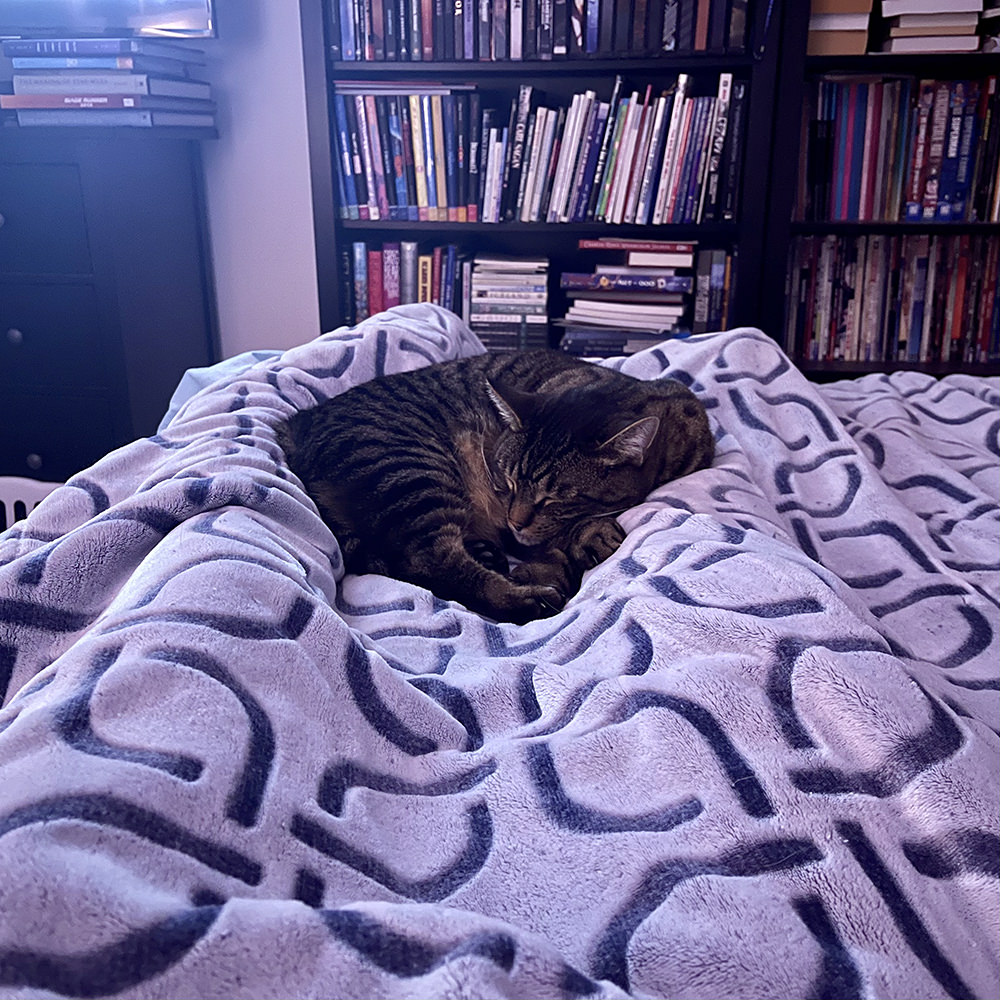 I guess it's nice to have somebody who misses you while you're gone and is happy when you're back... but having Jenny wake you up at 2:30am because she wants attention is something I hope she gets over real quick!
Posted on September 4th, 2021

Jenny continues to be my little princess... knowing full-well that she can get away with absolutely anything she puts her mind to. She's also very quick to express her displeasure when something is not to her liking. That's definitely on me, because I not only put up with it... I seem to encourage it!
Now that I have Lemon 2.0 so I can work on a destop computer at home, I spend a lot of time sitting at my desk. Jake will often lay on the banister tray I made for him (so he won't fall off again) and watch me. But Jenny? She will sit up there and demand to be petted... meowing her head off if I don't comply!
But look at that face! How could I not comply?
Earlier this week Jenny was out chillin' in the catio (the cats spend a LOT of time out there this time of year when it's warm, but not too hot). All of a sudden she came running in the house, then starts meowing at the window. Glaring. She was furious. I couldn't figure it out, but then some kids with a dog walked by and I'm like... oh...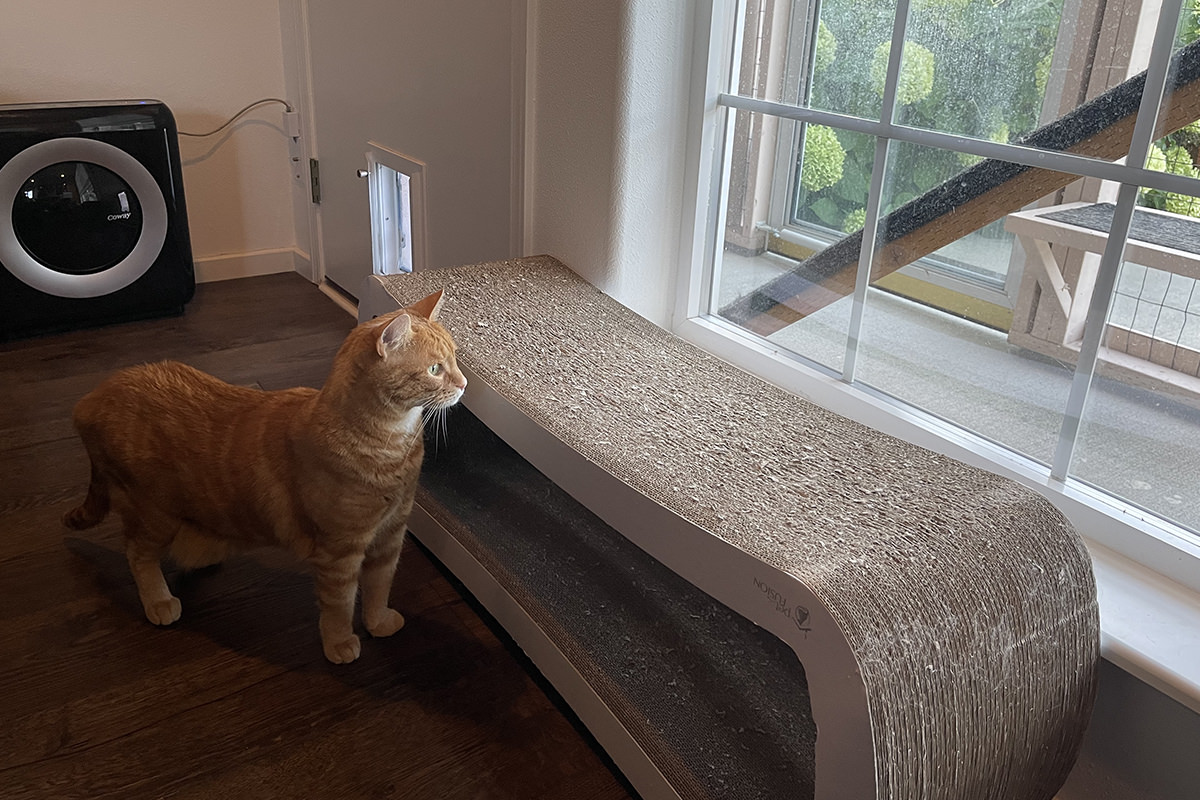 Weird that she's never done anything like this before. Weird but not surprising. This is just my little princess letting everybody know how unhappy she is with the world.
For the past week-and-a-half, Jake has had a dingleberry on his ass. Not stuck on his fur... but stuck to the skin. I tried to remove it (wearing a rubber glove, of course) but it was really stuck and any attempt was hurting him and I didn't want to rip off any skin in such a sensitive area. Then the thing started GROWING because more would stick to it every time Jake when to the bathroom. And it never fell off as I hoped it would.
Consulting Google, I saw that coconut oil was recommended. So I got the oil, loaded it in a squirt bottle, and would spray his pucker when I got the chance. I thought this would get him to try to clean it himself, but no. I am guessing it hurt when he tried so he gave up.
THEN YESTERDAY, after three days of hitting his ass with coconut oil, I gloved-up and it came right off when he was distracted with breakfast! Jake didn't even notice! Which is why I didn't mind when the little poop-head snuggled up to me that morning...
Because... you guys... YOU GUYS... that tongue!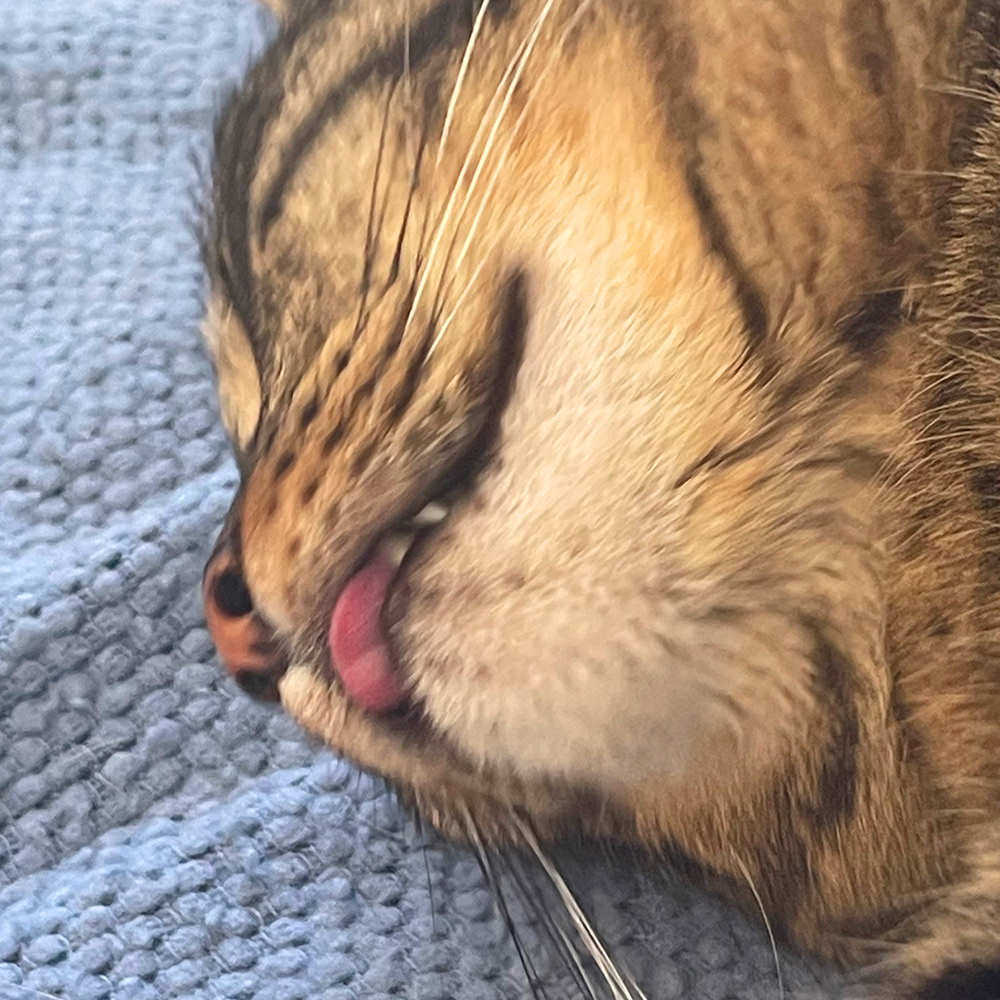 Such are the crazy things I do as a cat dad that I never even conceived of when I first brought them home. Love this guy.
Posted on August 28th, 2021

As I was sitting down to write this, Jenny just casually trapped a fly and ate it. And I'm like... WHY?!? YOU JUST HAD DINNER! Jenny may be fuzzy, adorable, and sweet. But she's also a fly-murdering psychopath who loves to kill. =sigh= I hope I'm not cleaning up fly-crusted vomit later tonight.
Yesterday I brought my work hard drive array home so I don't have to go into the office over the weekend. This resulted in Jake laying on the stairwell banister watching me work....
THEN after I start singing along with my music to him, this is what happens...
=sigh= Is my singing really THAT BAD? Apparently.
Cats. Amiright?
He can't even fake being interested in the guy who feeds him and gives him a home to sleep in!
Posted on August 21st, 2021

My cats watch television with me.
Jenny more than Jake, but Jake will absolutely watch the screen if something there catches his interest.
Like me watching an episode of Ted Lasso for the hundredth time...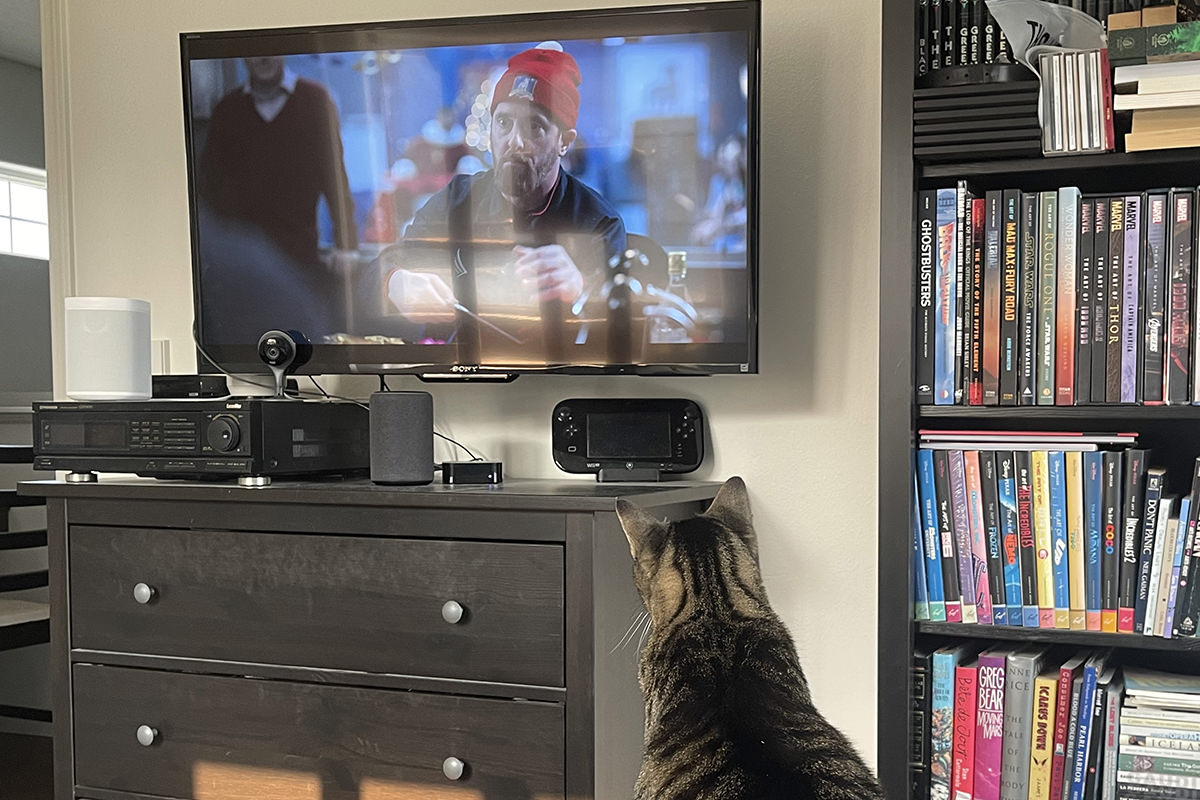 Jenny is more picky. The one thing that gives me odds of her tuning in to the television is playing Rick and Morty. As I've mentioned before, she absolutely loves Rick's voice. The other day I was getting caught up, and as soon as Rick started talking, Jenny walked from the kitchen to the living room...
Jenny was not pleased with the sexist dialogue, and had to give me a "look" to make sure I knew of her displeasure.
In other cat news... I am beginning to think that Jake suffers from narcolepsy. A couple of times now he has been walking away from me after getting pets and just... collapses asleep! At first I was mortified that he had collapsed dead. But nope... just sleeping...
Jenny, on the other hand, rarely walks away. She will let you give her pets for as long as you are willing to give her pets!
Especially in those hard-to-reach areas, like her armpits. Can cats even scratch there? I don't think they can unless they rub over something?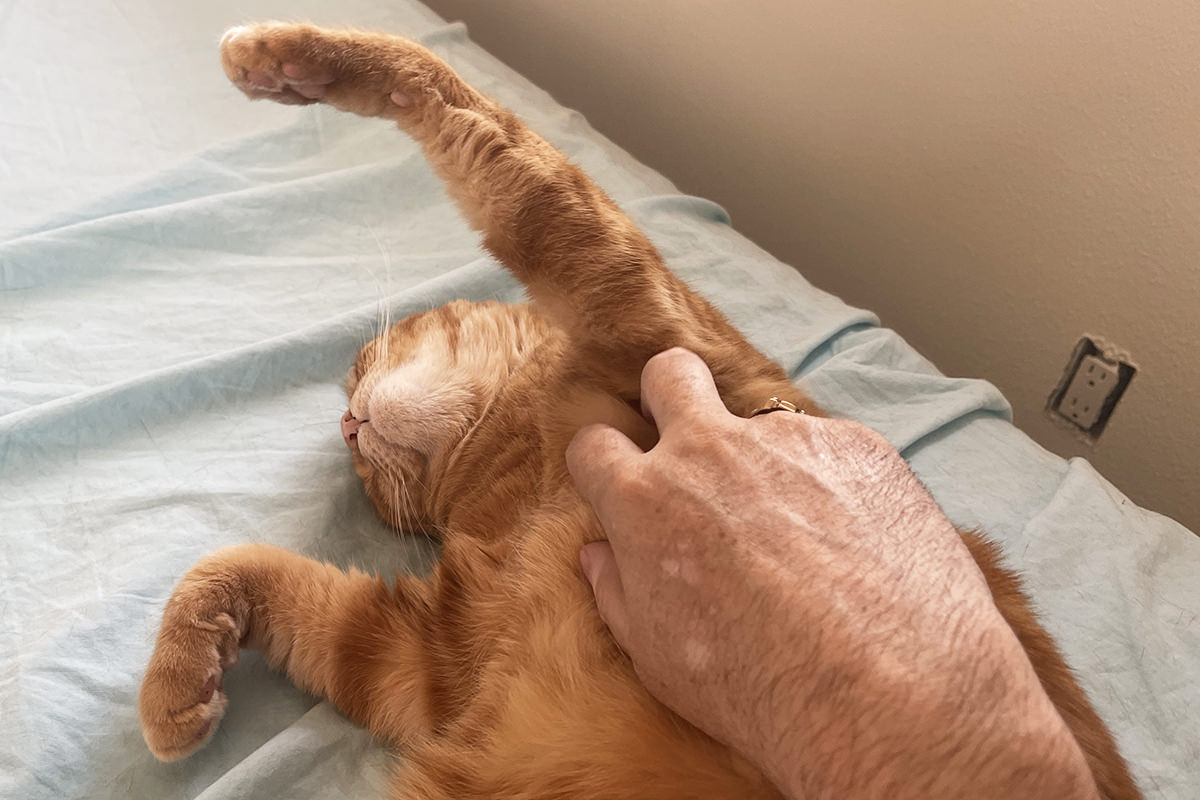 And, on that note, I really need to get out of bed and make breakfast.
Posted on August 14th, 2021

The primary reason I built a catio is to allow my cats to go outside while keeping them safe. But another reason is to keep the local wildlife safe. Doing my best to make sure that birds and mice and other critters don't get murdered by my psychopathic felines.
It's mostly successful.
Three times a bird has made their way into the catio. Only once has this resulted in a fatality. No mice, moles, or other warm-blooded creatures have died.
Insects, on the other hand? Well... the catio doesn't do a very good job of protecting them at all. My cats just looooove to chomp down on whatever bugs are foolish enough to wander in. Which hasn't been a huge problem. Until now.
Now I have praying mantises waltzing in at an alarming pace. Last week one was challenging Jake to a fight after he got batted around for a bit...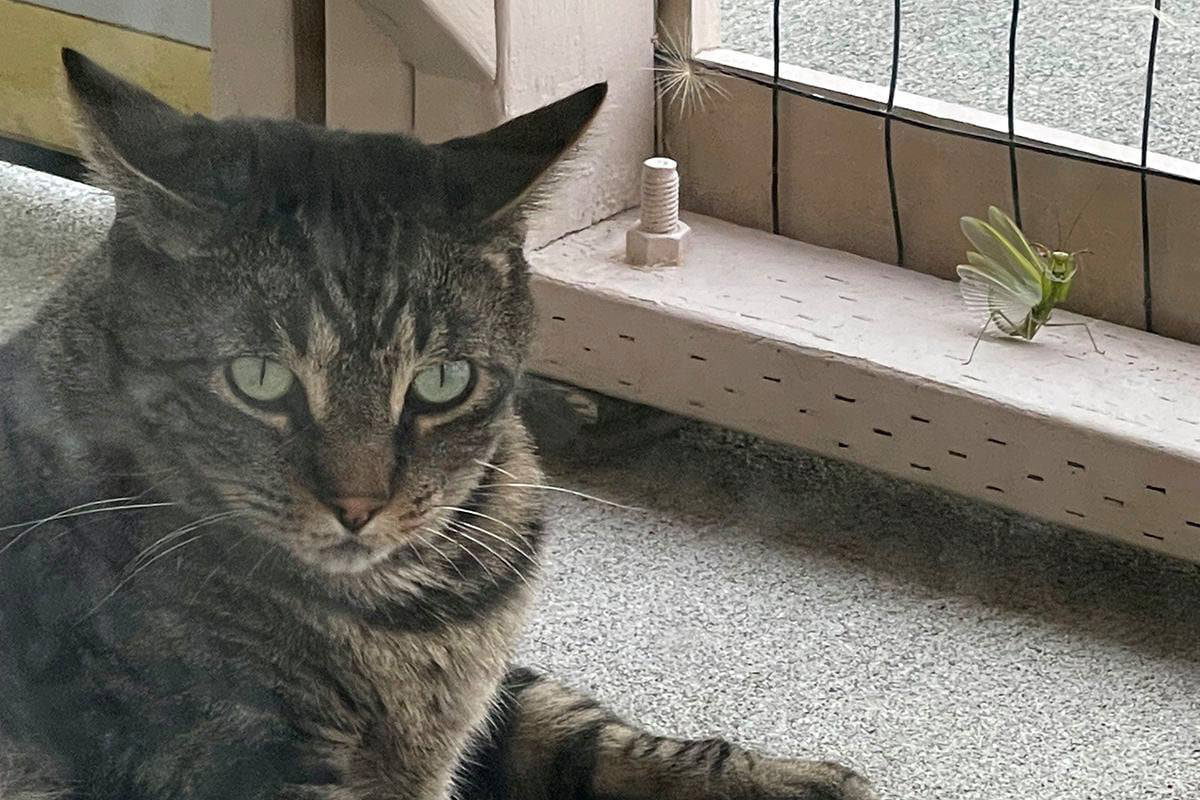 I went back outside and kicked the mantis out of the catio three times! But the stupid, suicidal thing kept coming back. It's shocking how aggressive these things are! But, alas, the thing apparently came back a fourth time...
And then... here they come... again!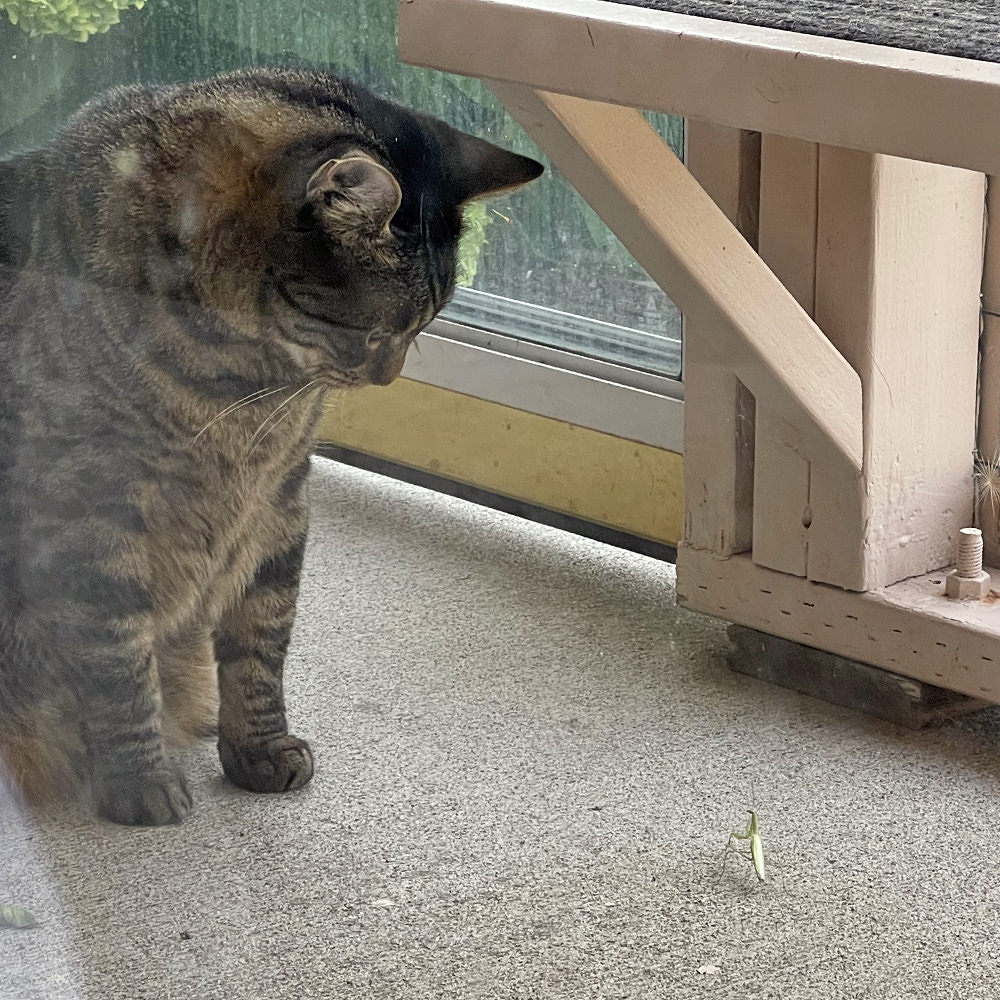 I kicked the thing back out but, of course, it came back in. This time both Jake and Jenny decided to have a go at it, so I had to rush right back outside...
I don't understand why this has suddenly become a problem. I rarely saw praying mantises the first five years I've lived here. Maybe it's the heat? I dunno.
What I do know is that any praying mantis looking to die should just head to my catio and have at it.
Posted on August 7th, 2021

I am not home today... which means I spend every mealtime staring at my cats over the security cameras, trying to see if there's anything that looks wrong with them.
One of the earliest items I bought for my cats was kitty toothbrushes with kitty toothpaste. I had heard that teeth cleaning can be so severe on cats that they have to be put under in order for it to happen, so I wanted to start out with good dental hygiene from the beginning.
Neither one of them was having it.
They would happily lick the toothpaste off of the brush (I'm guessing it tastes like fish or chicken or some other food cats love)... but the minute I start to brush with it? Nope.
Which is why I was really excited to see that Arm & Hammer had a baking-soda-infused water additive that can help to keep a cat's teeth healthy. It wasn't terribly expensive, so I snapped it right up and started using it last weekend.
Fast-forward to yesterday morning when I was doing one of my twice-weekly cleanings of Jake and Jenny's water fountain and... "OH MY GAWD!!! IS THIS MOLD GROWING INSIDE THE WATER PUMP AND FILTER?!? GAAAAAHHH!!!!" Needless to say, I was freaked out. I immediately threw the pre-filter and the filter in the garbage. Then I scrubbed every piece of the fountain with vinegar. Then with soap. Then rinsed with hot water. Then cleaned it again! I was taking no chances that my cats were ingesting mold.
Then after getting the fountain put back together with fresh pre-filter and filter parts and rinsing it yet again with hot water... I filled it up and reached for the bottle of Arm & Hammer Baking Soda Additive and...
Oh.
Apparently my fountain's filtration system works so amazingly well it is able to filter out an invisible quantity of baking soda from the water supply. Which is a good thing, I guess?
Oh well. I tried.
I really, really hope that my cats never have to be put under for a teeth cleaning. But it's not like I didn't try to help them avoid it.
Posted on July 31st, 2021

Ugh. I'm so exhausted it feels like my brain is melting.
Jenny is quick to flash the "What in the hell do you think you're doing" look when you are petting her in a way she doesn't like. But she's also quick with the deepest, most earth-shaking purrs I've ever heard when you rub her the right way...
Holy cow, look at that face! That's the same face I'm making right now because I have to work this weekend and don't have time for blogging.
Posted on July 24th, 2021

My cats may not be able to speak, but they definitely know how to communicate.
Jenny manipulates me with growing ease. She knows exactly how to meow to get me to give her belly rubs...
But also knows exactly how to tell me that I'm petting her the wrong way...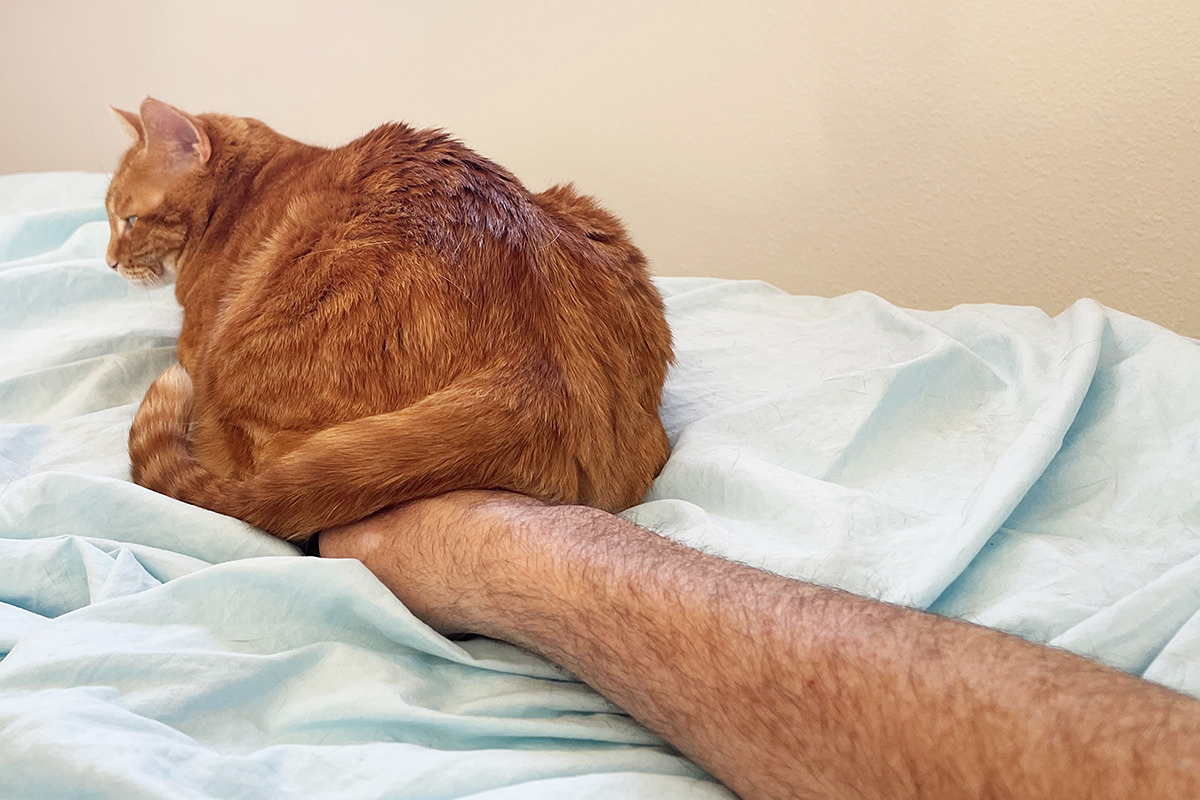 Jake isn't interested in telling me anything. He's more concerned with looking cute...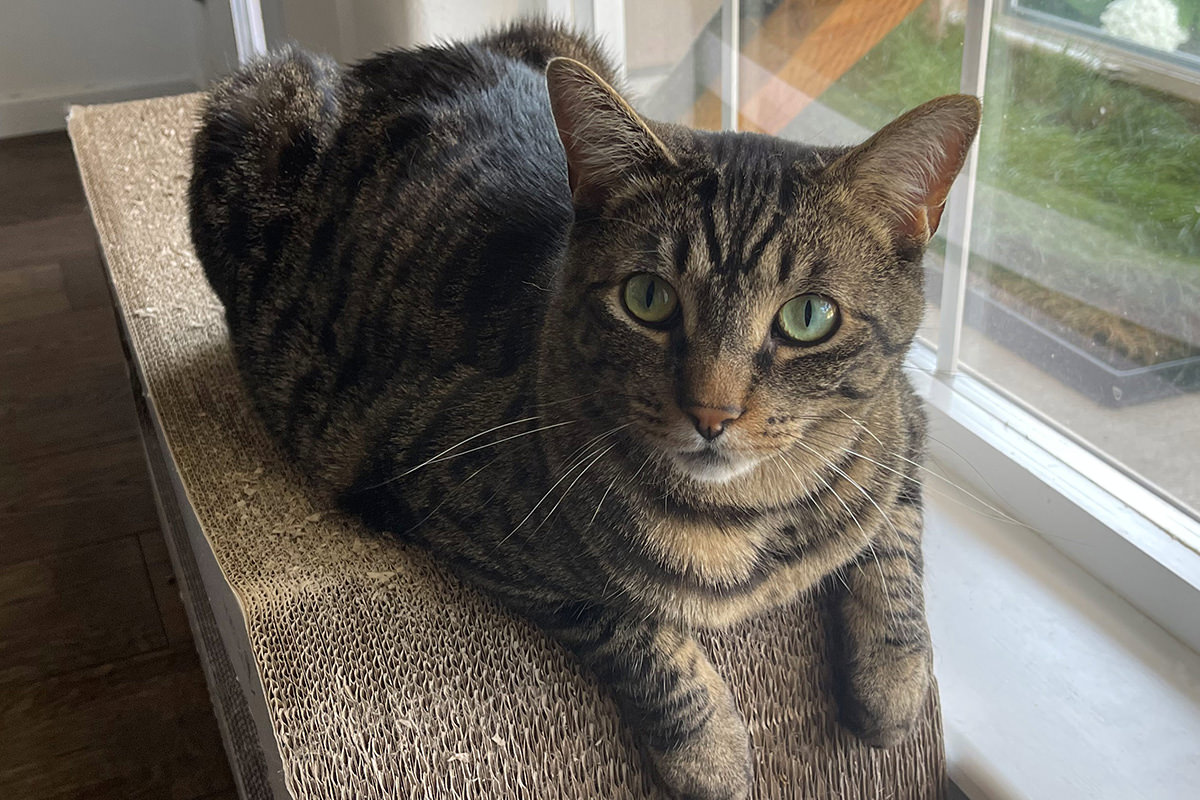 And just being cute...
Which is to say that they don't need to say anything at all.
Posted on July 17th, 2021

THUMP. BUDDA BUDDA BUDDA BUDDA. THUMP THUMP THUMP. THUMP. CLOP CLOP CLOP CLOP CLOP CLOP CLOP CLOP CLOP CLOP CLOP CLOP.
This is what I hear each time I come from work. It's Jake jumping off the upstairs cat tower... running across my room. running down the hall... then running down the stairs. It's nice that he comes running to greet me each day for scratches, and it's something I look forward to.
Jenny is more cautious. She'll wait and make sure that Jake doesn't get eaten before she cautiously slinks downstairs. The difference being that she's completely silent.
The other day I came home and heard nothing.
It happens from time to time. Jake is having a particularly good sleep and doesn't feel like being interrupted. Or he's busy chewing away on Mufasa and that's more important than welcoming be back home.
How disappointing.
And then I heard him squawking. Worried that he might be sick or hurt, I went running to find him. Only to see this...
Not sick or hurt... lazy. He didn't want to run to me, he wanted me to run to him...
Eventually he tore himself away from Mufasa and came running after me when I plopped down on the couch. Say goodbye to my spleen...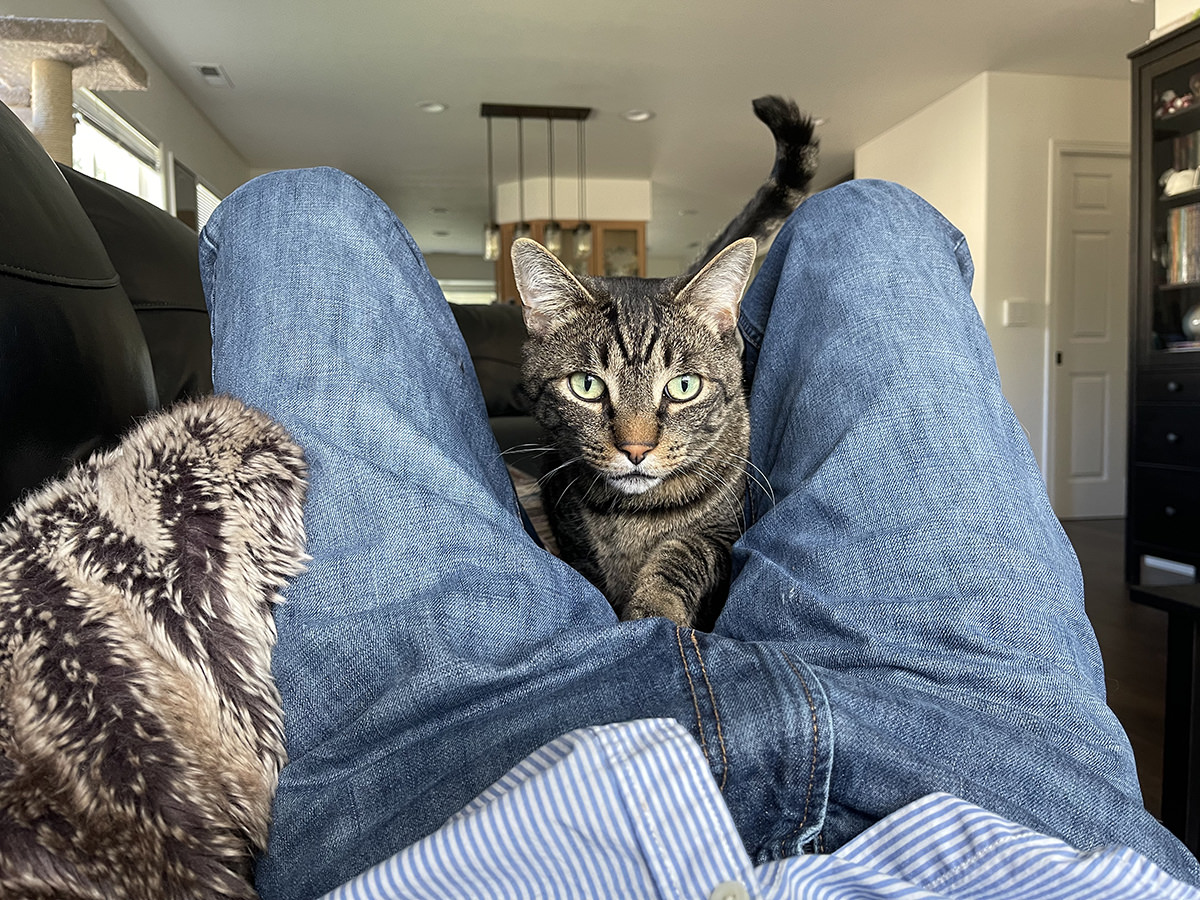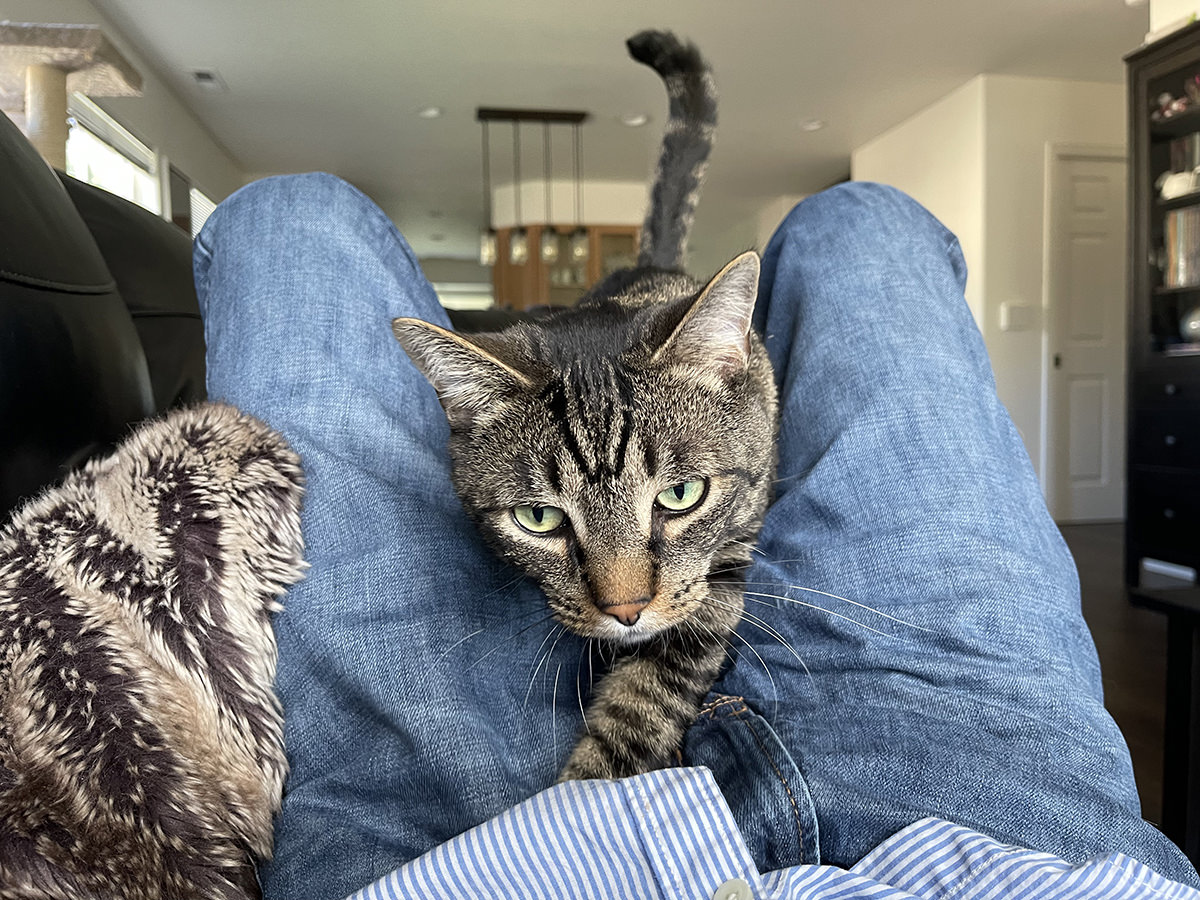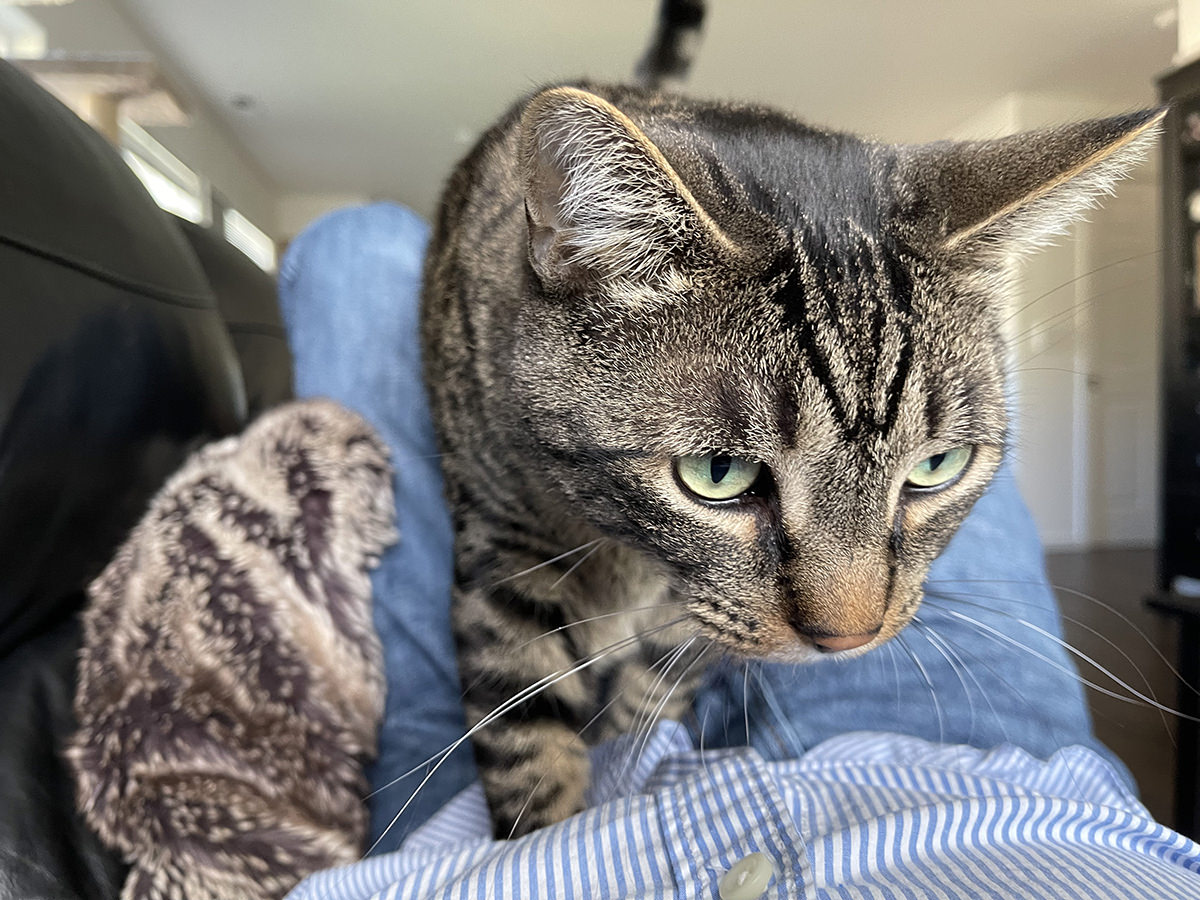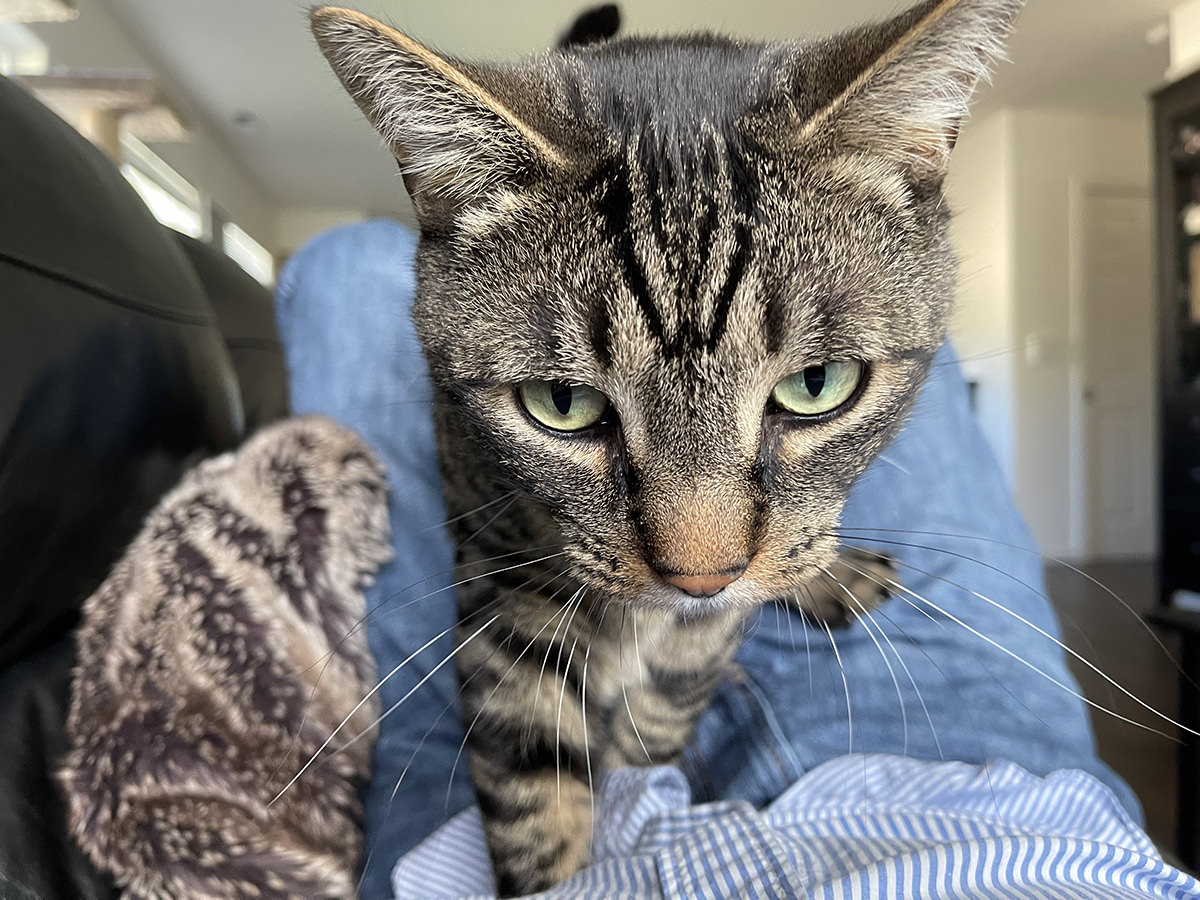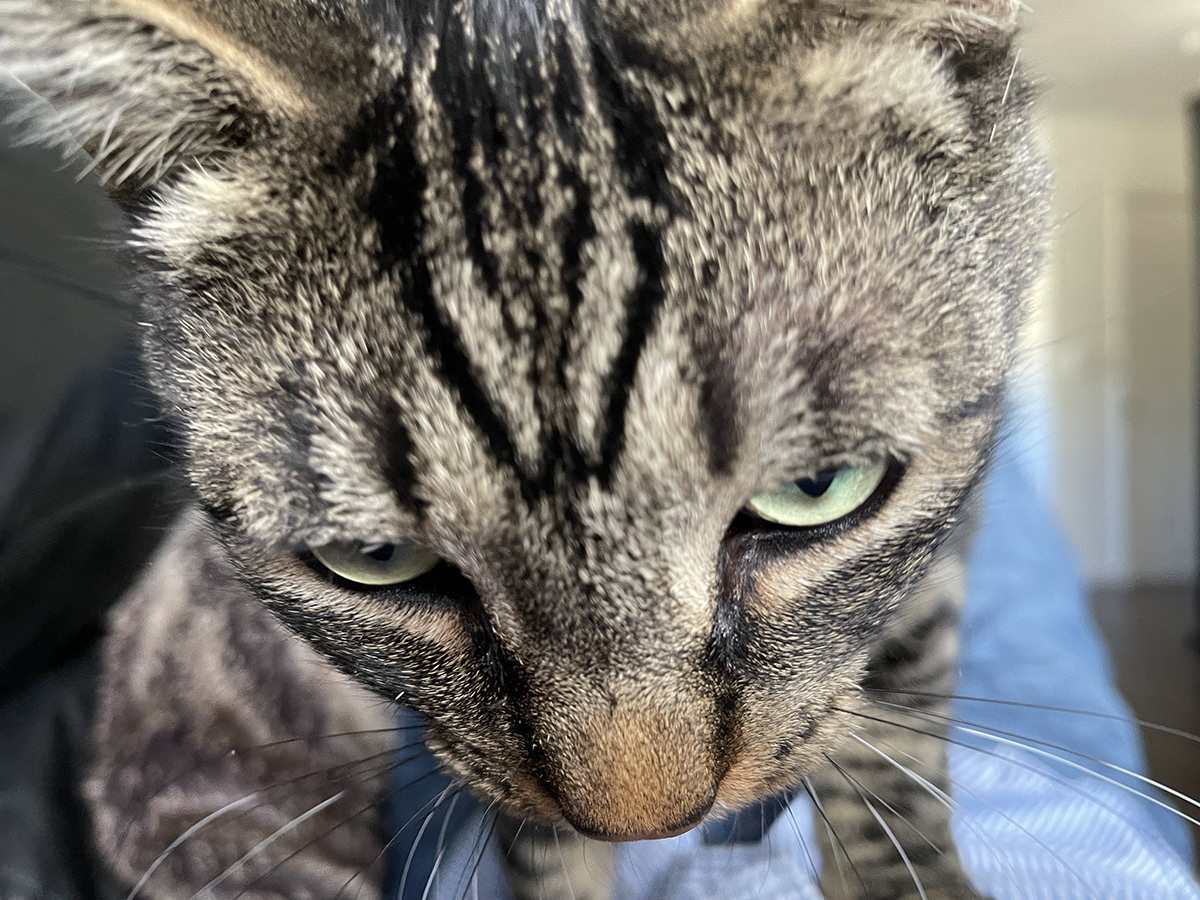 Though he was nice enough to step over my balls, so that was nice.
Speaking of Mufasa...
Earlier this week Jake piled up two of his toys... then put Mufasa on top. Then sat there squawking (turn the volume up to hear it). I guess he wanted me to come look at it? I was working, so I yelled down for him to come to bed, which he did. But then I felt bad because he was obviously proud of what he accomplished and wanted to share it.
The next morning as I went downstairs to feed the cats their breakfast I was sure to tell Jake how proud I was. He didn't care. He was over it and just wanted to be fed. Oh well. I tried.
Posted on July 10th, 2021

I am too tired to blog.
But it's not like I have a choice, do I? Fortunately, it's Caturday.
That look you get when you cough while your cat was napping...
The reason your video game controller is always covered in cat hair might have something to do with your cat's addiction to video games...
My owners are so disappointed in me.