Posted on Tuesday, September 2nd, 2008

I currently own three cameras, all manufactured by Canon, plus a busted toy Holga "art" camera (modified to accept 35mm film) which I keep for fun.
My first "serious" camera was a graduation present from my parents in 1984... the Canon A-1. This brilliant camera was the first to have electronically-controlled exposure modes to free the amateur photographer from having to figure out shutter speed and aperture settings. Though primitive by modern standards, I can't stress how revolutionary this was at the time. It allowed me to take professional photographs with virtually no effort from day one... I could concentrate all my attention on composing, lighting, and directing my shots. As I became more experienced, I was able to dial back the automated stuff and use the in-camera metering to select my own settings...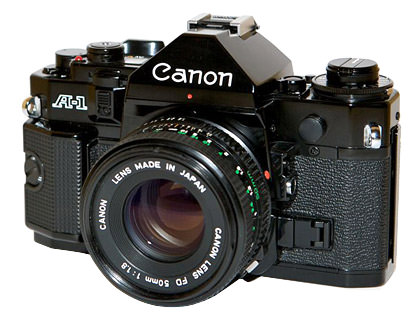 This camera is responsible for me falling in love with photography, and I took it everywhere for two decades. Rugged, dependable, and capable of amazing photos, I spent a good chunk of my income buying and developing rolls of 35mm film over the years. When the "digital revolution" arrived, I played around with a few digital cameras (most notably, the Apple QuickTake 100 in 1993), but they all shot crap compared the the beautiful images coming out of my Canon A-1. Believe it or not, I still burn an occasional roll in it to this day. As good as digital is, there's something primal about shooting film. Images shot with it aren't a bunch of 1's and 0's, but a chemical reaction you have to control. The satisfaction of getting a good shot with film is unlike any other.
But all good things come to an end.
In 2003 I was dragged kicking and screaming into the digital age when I bought the first affordable SLR camera... the Canon EOS Digital Rebel (also known as the EOS 300D). By this time, professional digital cameras were available but very expensive. I coveted the Canon 10D, but it was $1800... no lens included! I managed to get the Digital Rebel for $900 including a decent 18-55mm lens. At 6.3 megapixels, it transcended the "toy" status of other cameras I could afford, and everything I read about it was encouraging...
This has been my primary camera for the past five years. I never fell in love with it like I did my Canon A-1, but the Digital Rebel has been a wonderful camera, faithfully accompanying me on travels around the world. It's rugged, dependable, takes decent photos, and is easy to use with its many automated modes (plus full auto). Once I added my dream lens (the Canon 16mm-35mm wide-angle zoom), I was finally able to take the photos I was imagining in my head.
Because the Digital Rebel is fairly bulky, I bought a Canon PowerShot S400 Elph just one month later. It was an okay camera, but it wasn't until I replaced it with the Canon PowerShot SD800-IS in December 2006 that I fell in love with pocket digital cameras (it was the image stabilization that did it). I carry this camera with me absolutely everywhere and can't imagine life without it.
I never bought into the idea that more megapixels give you noticeably better images (unless you blow them up really big), so I never saw a need to replace my Digital Rebel. With the high-quality optics of my dream lens, the 6.3 megapixels are plenty for everything I need. Even 11x17 prints turn out beautifully, so why spend money on a new camera?
Well...
Not only have I found a camera that has convinced me to "upgrade"... but also to switch from Canon to Nikon after 22 years of Canon loyalty. Introducing the Nikon D90...
Sure it has all the cutting edge bells and whistles that make it an amazing camera. Nikon is a world leader in photography, so you'd expect it to be cutting edge. It even has the ground-breaking ability to shoot video. But adding video... even sweet video that can be shot through SLR lenses and have variable depth-of-field like a movie camera... wasn't reason enough for me to break with Canon and replace my Digital Rebel. Bells and whistles are fun, but they don't magically turn bad pictures into great pictures.
Then along comes "Active D-Lighting."
Far from a gimmick, this miracle feature applies live metering adjustments to an image to assist in opening up deep shadow areas, while also working to recover detail from blow-outs. It's not the ideal solution for dealing with problems like this, but it's an amazing accomplishment that's all happening before you even press the shutter release. The sample on Nikon's site is pushed a bit too far for my tastes, but you get the idea. Here's a shot with Active D-Lighting OFF...
And here's with Active D-Lighting ON...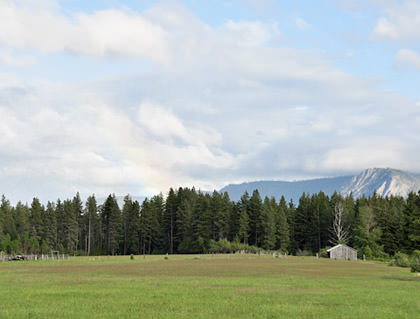 Pretty sweet. Cloud detail has been restored (including a rainbow!), plus some detail in the tree shadows too. A good photographer can always adapt to a scene given a decent camera, enough time, the right filters, and experience... but for random shooting where you're fighting to get a shot in a hurry, Active D-Lighting is an incredibly handy thing to have available (as illustrated here). It appears to be a better, more natural-looking alternative than messing around with the "Shadow/Highlight Filter" and manipulating curves in Photoshop after the fact.
Once you add Active D-Lighting to the many other features of this remarkable camera, it's just compelling enough to make me take the leap. So I'm taking the money I'll be getting from the sale of my motorcycle and sinking it into a Nikon D90. Sadly, it won't arrive in time for my upcoming vacation, but I'm anxious to play around with it when I get back just the same.
Having something to look forward to when you're coming back from vacation is nice.
Posted on Thursday, September 11th, 2008

This is not my first trip to Maui, I've been here nearly a dozen times before, which is part of the appeal to me... I've already done most everything there is to do here, so it makes for a very stress-free and relaxing vacation spot.
This time I decided to look for stuff I haven't done of the island so I'd get something new out of my visit.
I started out with The Maui Ocean Center, which is very nicely done with the usual assortment of fishes and other sea creatures...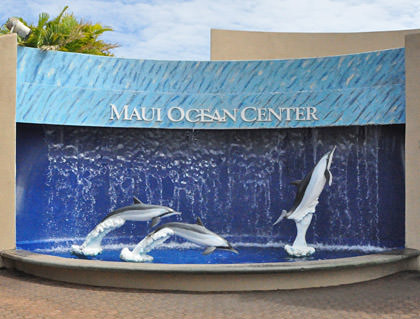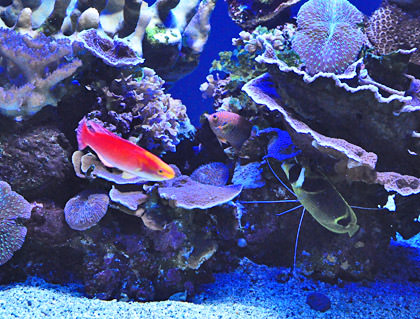 But my favorite part of the exhibit is the Jelly Fish tank, because the creatures inside are so bizarre and unusual...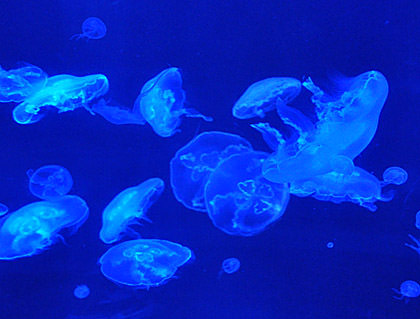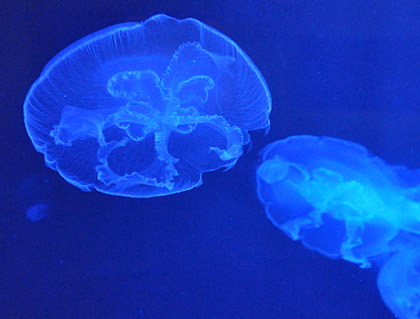 After playing with the fishes, I wandered north to take a look at the Iao Needle. This is a volcano that went dormant, after the center lava had cooled to a tube. The outside eroded away, leaving only the "needle" showing...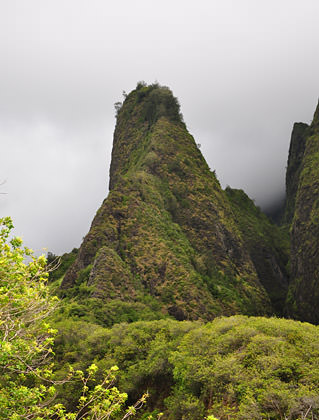 It was kind of cloudy, but plenty green...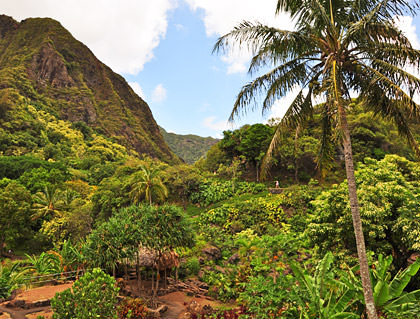 Back in the parking lot, a pair of cats were waiting patiently for me under the car next door...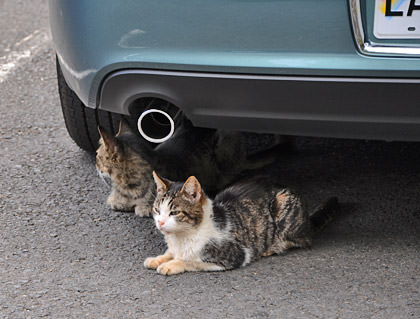 On my way back to South Maui, I dropped by the Maui Tropical Plantation, for old time's sake...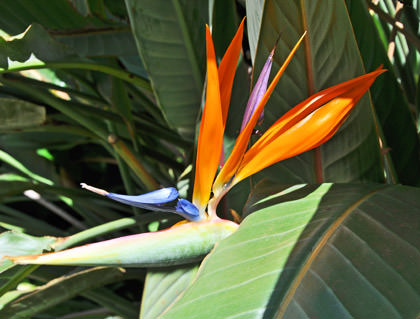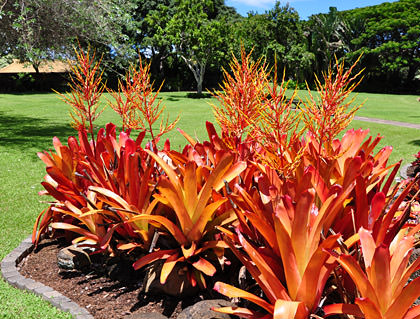 The plantation has a couple of monkeys named "Carlos" and "Montana" which were rescued when the Maui Zoo closed down...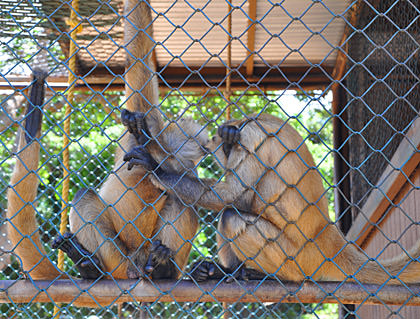 Continuing southward, I ended up at Maui's famous Big Beach...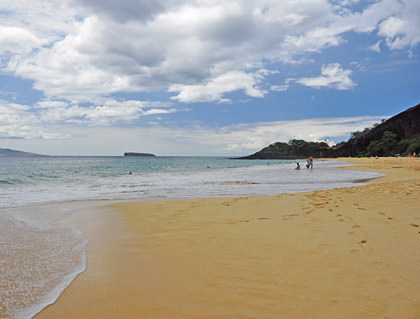 But then it started to rain. One of the great things about Maui is that if it rains where you are at, you can generally go to another part of the island and stay dry. Wanting to keep with the theme of "doing something different," I decided to drive around the northern part of the island, which I had never done before. It starts out nice enough, with plenty of stops to admire the beautiful North Coast...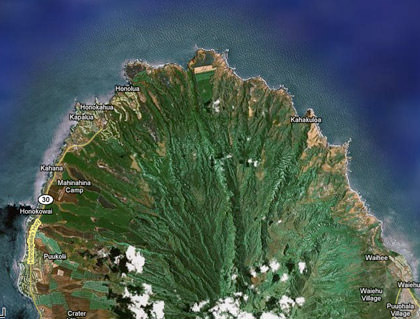 The scenery is quite beautiful, with plenty of seaside cliffs to look at...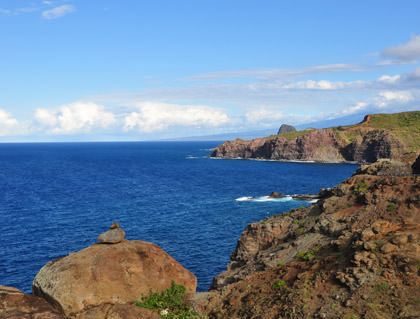 Most places you stop there are rock piles, which people build in order to leave a non-permanent and eco-friendly mark of their visit...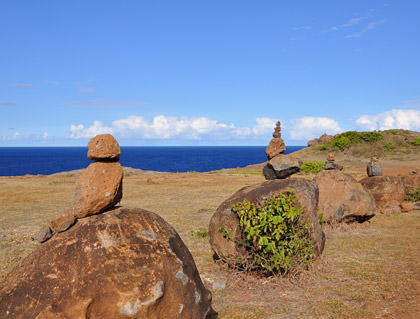 For quite a while, the road is not too bad. But after a while you turn a corner and BLAM! Suddenly you are on a very scary one-lane road on high cliffs with falling rocks and oncoming traffic. It's a sphincter-puckering event to be turning around a blind corner on a cliff, only to find yourself face-to-face with another car coming from the opposite direction. At that point, one of you has to drive backwards to a spot in the road which is wide enough for one of you to pass. After 10 miles of driving in madness, the road suddenly becomes a sane, two-laned affair once again...
With the North Maui expedition having eaten up the remainder of my day, it was time for another stunning Maui sunset in Kihei...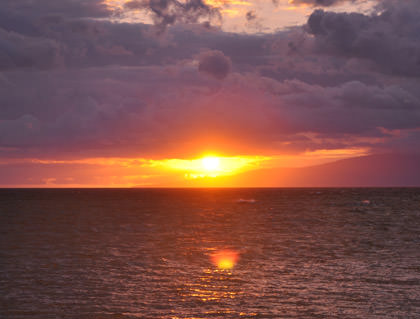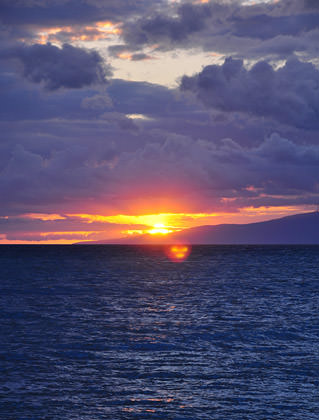 It's one of those ships from Close Encounters of the Third Kind!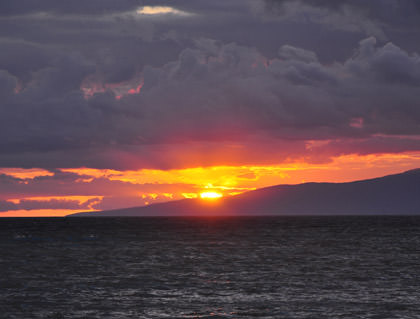 And so ends another day in paradise...
Posted on Friday, September 12th, 2008

I should probably write something here before I fall asleep.
The long drive up Maui's Mt. Haleakala to watch the sunrise is one of those things you really only need to do once. I've already done it three times. But my new camera has been giving me some incredible shots, so I decided I'd make the trek again to see what happens. Unfortunately, this meant setting my alarm for 3:00am so I could get to the summit in time.
Ummm... yeah... so totally worth it...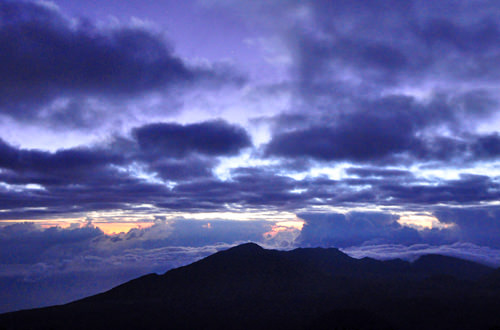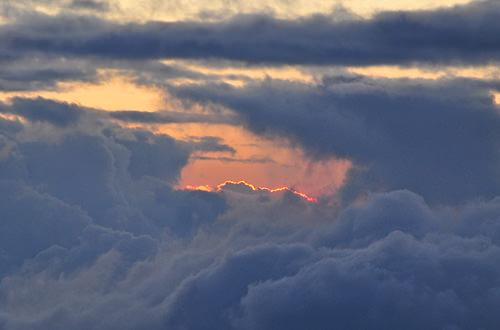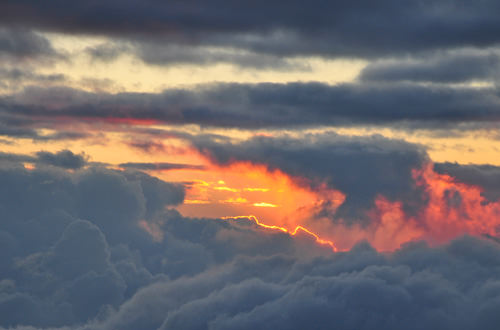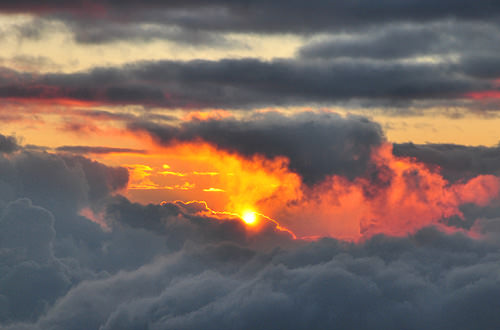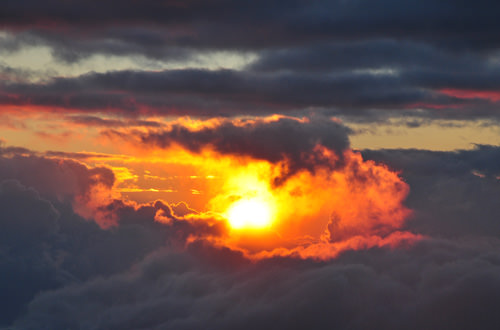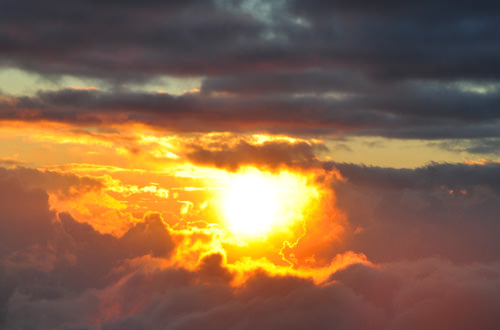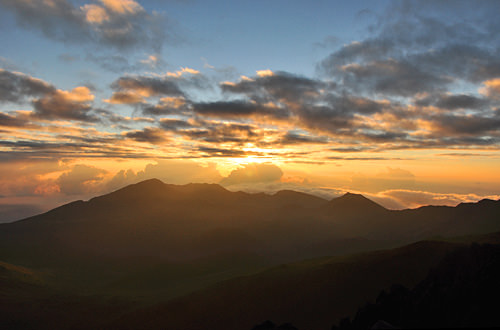 I also got to see a baby Silversword on the way down...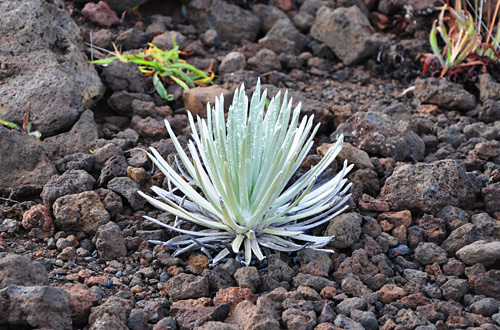 These amazing plants are unique in several ways...
They have shiny silver hairs on their leaves, making them look metallic.
They are not naturally found anywhere except the islands of Maui and Hawaii.
They grow only at high altitudes.
They are extremely fragile, and can be damaged just by walking near them, trampling their shallow roots.
They bloom only once in their lifetime and die afterwards.
At the Ranger's Station Visitor Center, a few adult Silverwords were in bloom...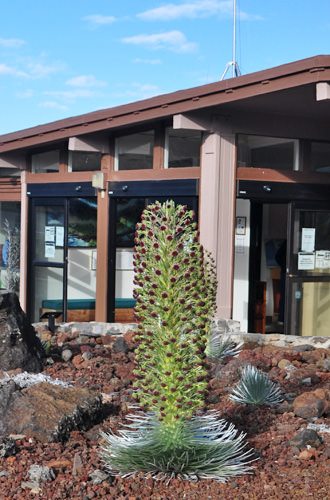 This just in from the "I don't ever want to go back home department," here's the beach today...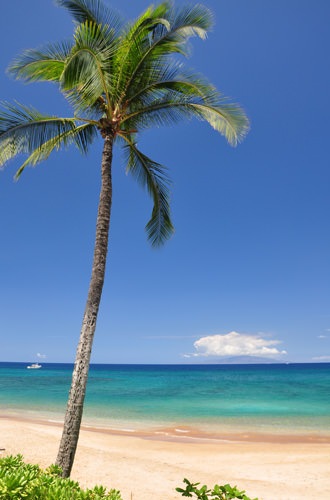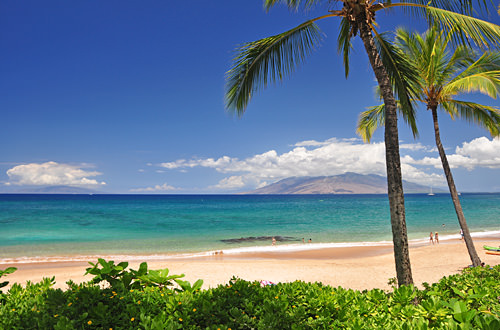 And now, it's time for a nap. I'm on vacation so I can do that...
Posted on Saturday, September 13th, 2008

A big shout-out to Maui Tacos for having most excellent vegetarian options on their menu! Potato Chimichanga = Delicious! Also interesting was my dinner last night at a fantastic Italian restaurant called Aroma D'Italia which had toasted CHEESE ravioli on the menu which tasted incredible (the owner is originally from St. Louis!).
Maui has a "feature" called "The Hana Highway," which is a beautiful drive along a scary road fraught with hundreds of switchbacks and dozens on one-lane bridges. I've done it twice (once as a driver, once as a passenger), and thought that was all I really needed to do... but my new camera was begging for adventure...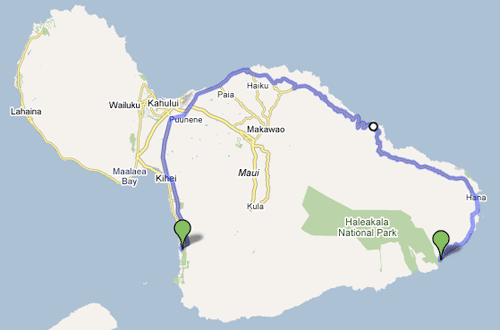 Since I didn't really want to drive it again (it's exhausting, and once was really enough), I decided to book a tour. Ultimately, this was a mistake. Sure they made plenty of stops and the driver was entertaining... but I never got to stop at the places that I wanted to photograph. I would have had a much better time had I just driven myself so I could do all the stuff that I wanted to do.
Oh well. Still, I did get some nice photographs. Here's a black sand beach...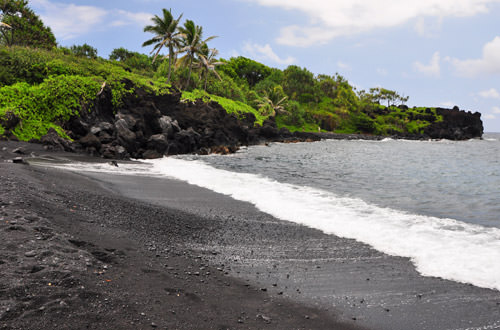 And here's a scary red sand beach (looks like blood!)...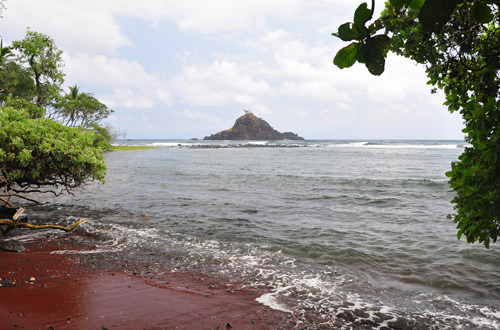 I also got some nice waterfall shots...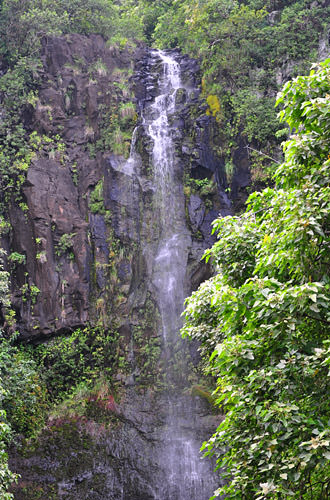 And some photographs at The Seven Sacred Pools (three of which can be seen here)...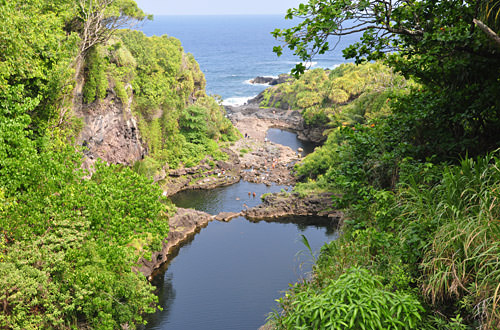 But my favorite thing this trip was finding flowers to photograph. Hawaii has some of the most beautiful plants and flowers on earth, and they're everywhere...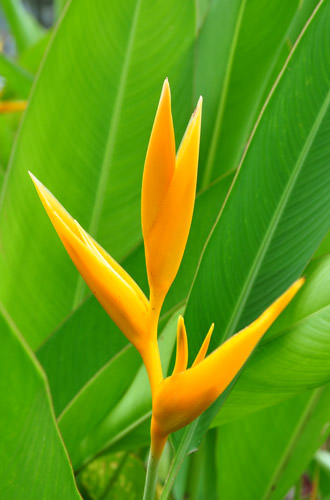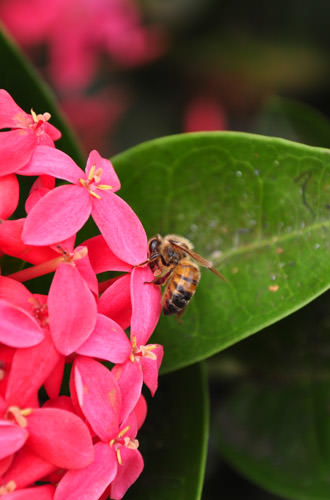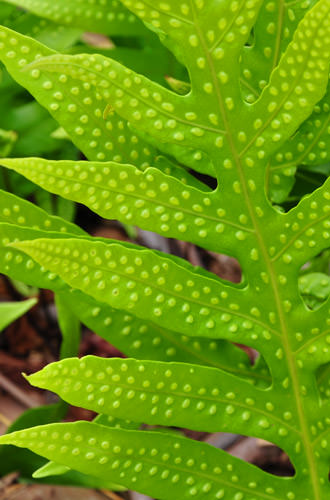 And thus ends another day in paradise...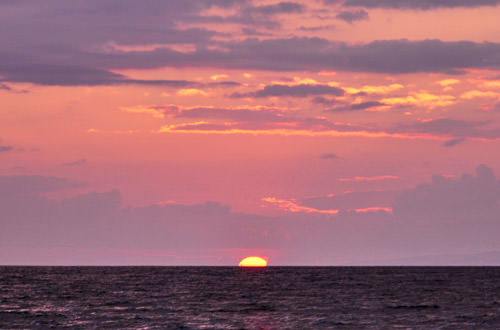 Posted on Tuesday, September 16th, 2008

To Big Island, or not to Big Island?
Back in March, a new fissure opened on the Kilauea volcano which has resulted in a tenfold release of sulphur gasses into the atmosphere. Known as "vog" (for "Volcanic Fog"), these emissions can completely obliterate the sky here on the Big Island of Hawaiʻi depending on which way the wind blows. And it's not just Hawaiʻi, but all the islands that are affected. There were a few afternoons on Maui where Mt. Haleakala was invisible because vog had blown in and hidden the entire mountain. This is a big problem, because people expect blue skies and visible sunsets when they visit the islands. If the situation gets much worse, not only will the tourist trade suffer... but crops which require sunlight to grow could start having problems too.
Keeping all of this in mind, I faced a bit of a dilemma when booking my Hawaiian vacation. Do I dare risk spending time on Hawaiʻi when the trip might very well be marred by a volcanic haze blanketing the island?
You bet your ass I do.
If vog happens, it happens. Hawaiʻi is a wonderful island to experience and if I spent all my time worrying about what may or may not occur, I might as well stay home.
And if I had decided to skip The Big Island of Hawaiʻi, I would not have had this sight awaiting me once I got to my hotel today...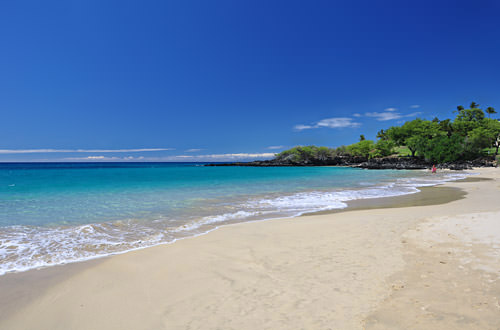 After kicking around the beach for a while (and getting a bit red because I forgot to apply sunblock), I headed to the northern tip of the island to the city of Kapaʻau. It's here where you can find the very first King Kamehameha statue. I'm thinking it was put here because he was born nearby...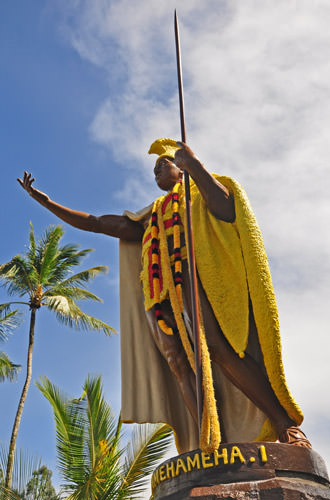 If you keep driving past Kapaʻau, you'll eventually run out of road. It all ends at the Pololu Valley lookout, where you have to turn around and go back...
Which I did, driving back on the upcountry roads of Highway 250. This actually ended up being quite cool, because you could look down on the Kailua-Kona area, where it happened to be raining...
This is one of my favorite shots I've taken so far. It's almost like a painting or something. Hey... it may be raining, but it's still Hawaiʻi!
Deciding that Kailua-Kona might be a good place for dinner, I headed on down. By the time I got there, the rain was in full-force, but it was a nice warm rain and felt great. I wandered around for a bit snapping photos, like this one of Hawaiʻi's first church...
They are doing lots of construction in the area, so traffic is a frackin' mess, but I did get to see a nice sunset on the way back to my hotel. Unfortunately, by the time I found a place to pull over and shoot it, the sun was already plummeting past the horizon. The colors were so vivid (probably thanks to the vog!) that they blew out in my camera's sensor...
By the time I got back "home," the stars were already coming out...
I have no idea what I'm doing tomorrow, but I can't wait to find out! Vog willing, big adventures await...
Posted on Wednesday, September 17th, 2008

Today was the day I decided to drive the Hawaiʻi Belt Road which circles around most of the island, including the entirety of Mauna Loa (the largest volcano on earth).
This is always a dicey proposition because, with very few exceptions, it's a two-lane road with only rare opportunities to pass dumbasses who are incapable of driving the speed limit. But there's plenty of cool stuff to see along the way, so the agony is worth it. This is especially true after Kilauea started venting back in March, because the crater rim and Volcanos National Park is right off the Belt.
But my first stop was Akaka Falls, which is far nicer than the more-famous "Rainbow Falls" further down the road...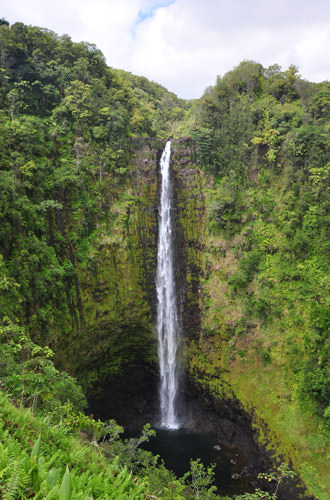 After making my way past Hilo and up to the volcanos, I got to see where all that vog (Volcanic Fog) is coming from...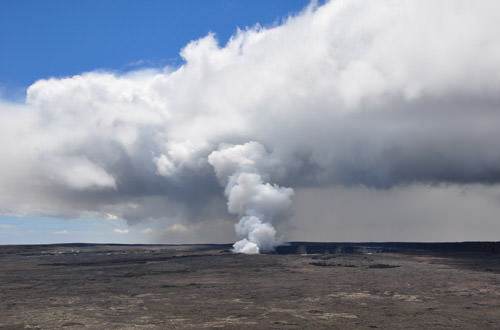 I was hoping for a full-scale eruption so I could get some cool lava shots, but Kilauea kept its cool. I had to make do with seeing the lava flows from previous eruptions...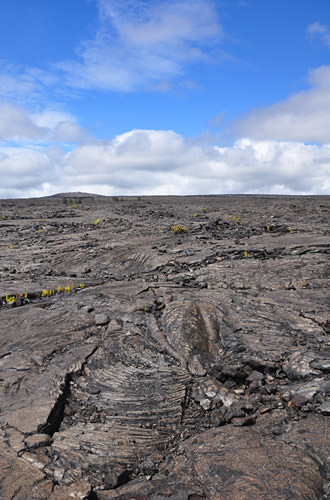 And I was also sure to explore the Thurston Lava Tube, which I had forgotten about my last time here...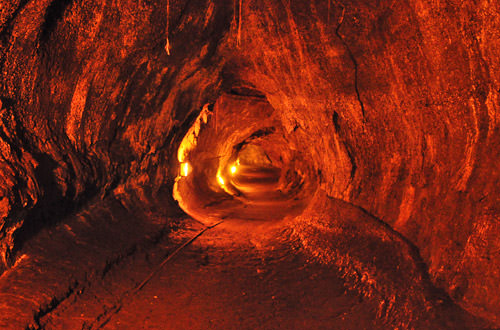 After getting my fill of delicious vog, I continued down the other side of the mountain until I reached my favorite black sand beach, Punalu'u, which is famous for turtles (I've seen them here before, but they weren't around this time)...
From there it's just a 10-minute drive to the best reason of all to visit The Big Island: Punalu'u Bakery, home of the best Hawaiian Sweet Bread on earth (not to mention the south-most bakery in the USA!)...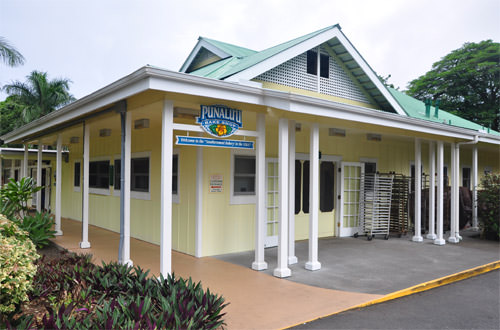 And then it was time to drive back so I could be sure to see the sunset that I missed yesterday. When researching where to stay on Hawaiʻi, I ultimately settled on the Waikoloa area, because it doesn't seem to get inundated with vog like Kona, and the rain never seem to get that bad. So far, that's held true for my visit here... no matter what's happening anywhere else on the island, it's always beautiful back at my hotel. But the vog does get blown out to sea, making for some incredible sunsets...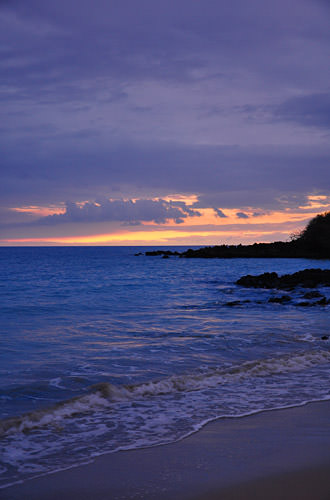 Hopefully I'll be motivated to do something interesting tomorrow, because right now all I want to do is sleep in until noon.
What a waste that would be.
Posted on Thursday, September 18th, 2008

It's my last day on The Big Island.
I wanted to spend it sitting on the beach and playing in the ocean.
But that seemed like kind of a waste given all the stuff to do here on Hawaiʻi that I haven't yet done. Shouldn't I be seeing and doing as much as possible while I still can? It seemed a dilemma best pondered while sitting on the beach and playing in the ocean.
But eventually I decided to tear myself away from this beautiful sight...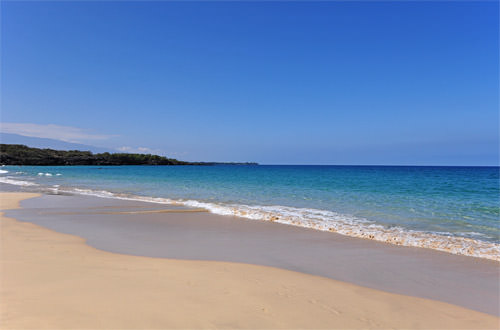 ...and head south into dreary and rainy Kailua-Kona for lunch. While there I decided to wander down to where the beautiful Hard Rock Cafe Kona used to be so I could be depressed that one of my favorite cafes has closed. Somebody should buy the building and turn it into a Hard Rock Cafe...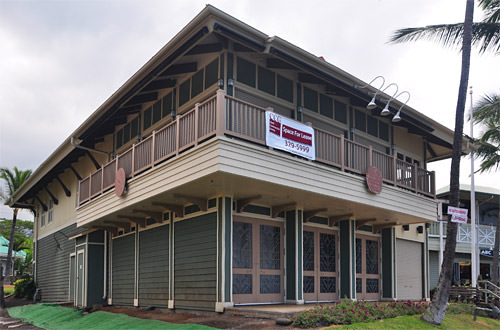 From there I decided to head to the first of two destinations I had in mind for today, The Painted Church (which is actually St. Benedict's Catholic Church). This beautiful little church sits on a hill overlooking the ocean and is famous because of the nifty paintings that cover every available surface inside...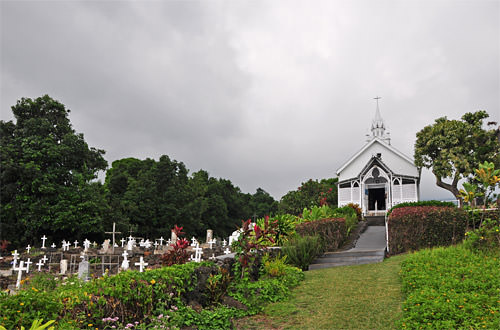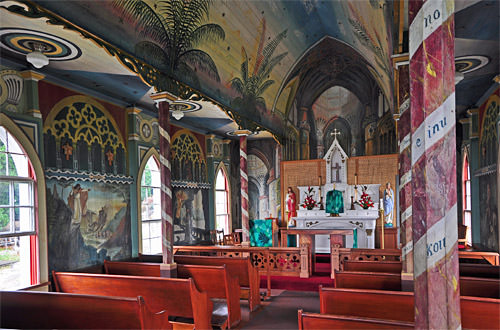 My favorite feature is the guardian cat that sits outside and inspects everybody who enters the church...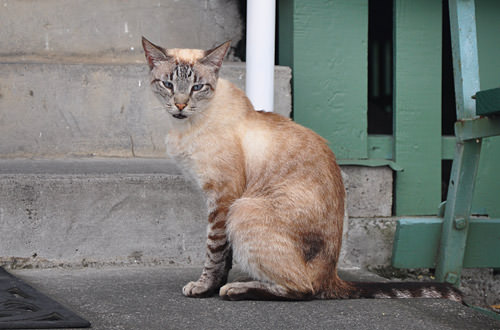 There are some terrific statues on the church grounds including a reproduction of Michelangelo's La Pieta, but I was really intrigued by a nice rendition of The Virgin Mary. She had been lovingly adorned with over a hundred necklaces which did nothing to detract from how beautiful she is...
After wandering around the church and its grounds for a while, I finally proceeded onward to my ultimate destination, Pu'uhonua o Honaunau National Historical Park. This used to be a place of refuge where Hawaiians who broke one of the ancient laws against their gods could escape from a death sentence. They'd show up, be absolved of their sin by a priest, and then go on their merry way... free to keep on living. This is also a place where Hawaiian chiefs were laid to rest.
I just liked it because there are cool structures and nifty statues all over the place...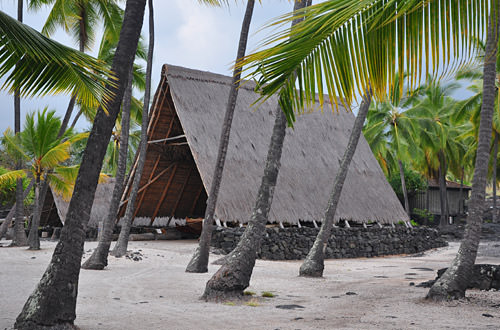 But the best thing about Pu'uhonua o Honaunau National Historical Park is that there's a beach where sea turtles come to have a rest. The ancient Hawaiians revered turtles, and petroglyphs here show "honu" turtles everywhere. I just think they're wonderful creatures. Last Sunday when I was in Maui, I snorkeled with a beautiful turtle for almost a half-hour before he finally decided to take a nap on the ocean floor. They're such trusting and inoffensive creatures that it breaks my heart to know that they're endangered now...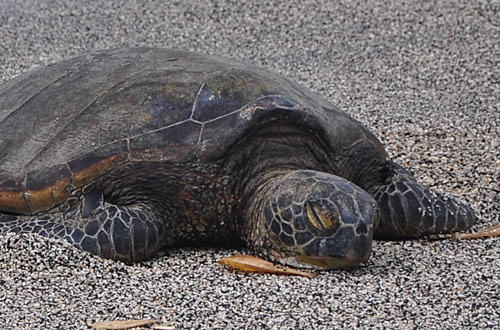 I wish I had another week here.
But before I go, I thought I'd mention that the exclusive design I made for Avitable's Halloween Party fund-raising event will disappear forever in a few short weeks. It's so awesome, that I wore it while frolicking on the beach this morning...

I PITY THE FOOL WHO DON'T BUY THIS T-SHIRT... GRRRRR!
Of course, a picture of me wearing a T-shirt isn't going to convince anybody to buy anything, so I give you the lovely Danalyn, looking divinely hot in her Neverwas Fair shirt...
If you want to get a shirt of your very own, in any style you wish, just visit Avitable's store on Zazzle.
Posted on Saturday, September 20th, 2008

Decisions, decisions.
I shouldn't have to be making decisions while I'm on vacation.
From the town of Kapaʻa where my rented condo is, you can really only travel north or south. There are lots of little roads that wander off into the countryside of Kauaʻi, but there's only one main road on the island, and it goes north or south. After flipping a coin, I decided that it would be north today, south tomorrow.
Though I have to tell you, the weather at the beach outside my room was pretty sweet, and it was all I could do to tear myself away...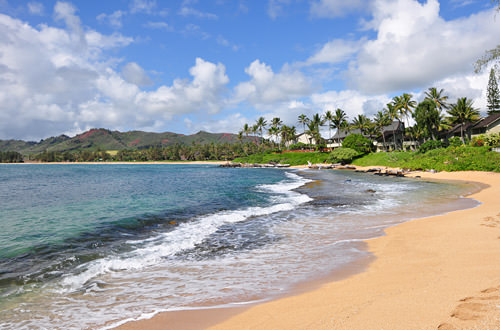 First stop was the lighthouse at Kilauea, the north-most point of Kauaʻi. It's located in a wildlife refuge where all kinds of birds come to nest, and has the largest "clamshell" light lens in the world. It is kind of beat up, needs a paint-job, and doesn't work anymore (they have a light beacon outside instead), but it's still a beautiful place to visit...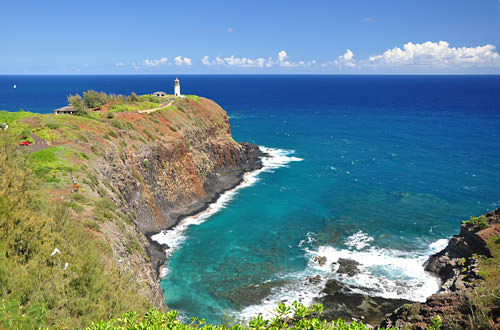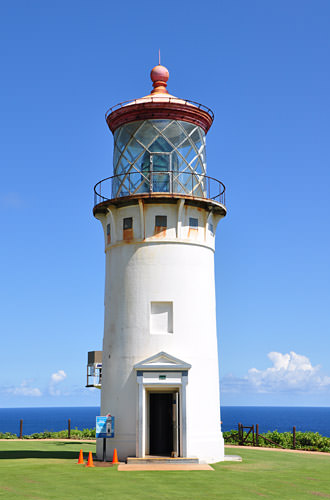 From there on out, it's pretty much just one incredibly beautiful beach after another until you run out of road. As you get further north, the waters are a little rougher, but it's an amazing sight to watch those waves come rolling in...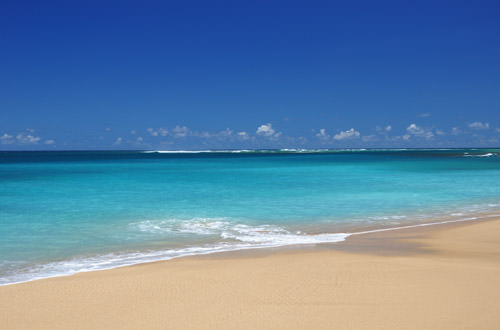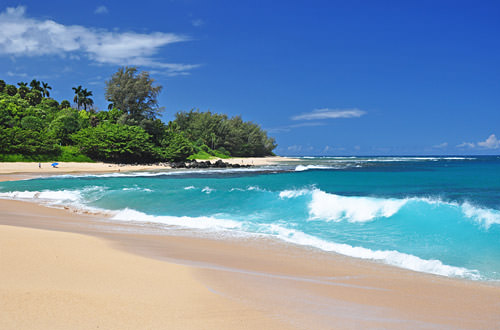 Once the road ends at Na Pali, I could have parked and hiked out 20 miles along the beautiful coastal area there, but that's way more effort than I wanted to put into my afternoon.
So I drove back to my condo and goofed off.
I received a couple emails and comments from people asking about the photos I've been taking... wanting to know how much Photoshop work I've been doing to get them to look so nice.
The answer is "none." I'm on vacation, and don't want to mess around with Photoshop. About the only thing I do is crop and re-size... no other manipulations are going on.
I seem to get the best results here when set my camera to "Vivid Color," put the exposure compensation to "-0.3," bracket the shot with "+/-0.7," turn on "Active D-Lighting," and add either a polarizing filter or a neutral density filter to my lens so I can cut some of the glare and brightness (polarizers look best but they don't work well for wide-angle shots, so I use a 4x neutral density filter for those).
For my Blogography entries, I always choose the overexposed bracketed shot. This is a bad thing, because all my bright whites are blown out. But going this route means the photos require no work on my part. I just crop them and slap them up on my blog. When it comes time to assemble my photo album, I'll choose an underexposed shot so I can brighten up the darker shadow areas by manipulating the levels without blowing out the bright spots.
Easy!
Times sure have changed since I first got into photography.
Posted on Sunday, September 21st, 2008

I woke up this morning wanting to do nothing at all.
The only thing that sounded like any fun was staying in bed and re-reading Frank Herbert's Dune for the hundredth time. I found a copy on the bookshelf of the condo I rented and couldn't refuse. It's such a mind-blowing revelation of a book that it deserves to be read a hundred times.
But I still had the south-side of Kauai to explore, so away I went. Muad'Dib would have to wait.
Mark Twain called Waimea Canyon "The Grand Canyon of the Pacific." I'd tend to agree, even though Mark Twain supposedly never visited Kauaʻi, which means he was describing it without having seen it. The canyon itself starts out nice enough, but it's hardly Grand Canyon worthy...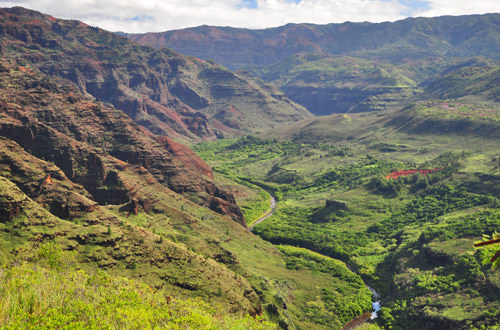 But as you move up the canyon road, the sights get more and more impressive...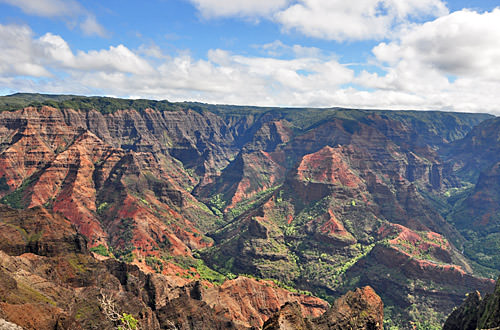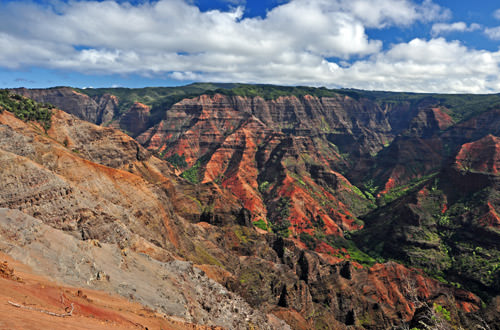 Waimea Canyon is notoriously difficult to photograph. The lighting is rarely perfect, usually giving you areas of deep shadow, distance haze, or a washed out glare that obscures the beauty of it all. I did the best I could, but there's no substitute for being there.
As a bonus, once you drive past the canyon lookout and continue on past Kokeʻe State Park, you get to see the Kalalau Valley Overlook, which is absolutely incredible. It's another area that's kind of hard to photograph well, but I was quite happy with what I got...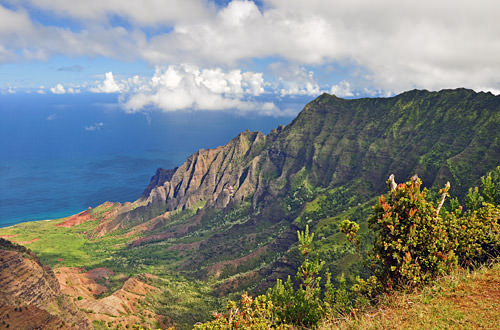 On the way back to Kapaʻa, I stopped to see Waimea Falls. The last time I was here, a friend decided to climb down onto the head of the falls and give me a heart attack. Heights scare me bad enough without watching somebody plummet to their death...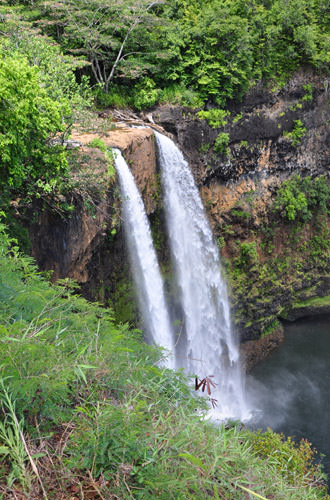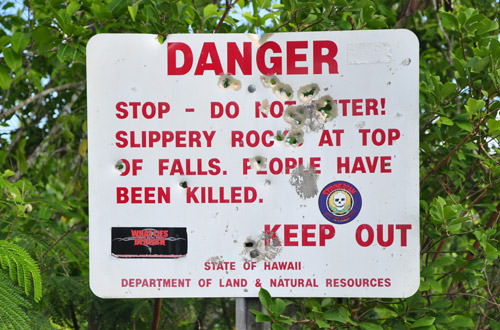 And thus ends my last day on Kauaʻi.
BUT BEFORE I GO...
Chip Zdarsky has a pretty sweet meme on his blog with these rules... "Take a picture of yourself right now. Don't change your clothes, don't fix your hair...just take a picture. Post that picture with NO editing. Post these instructions with your picture."
Since I'm all rested, tanned, and blogging from the lanai of this condo... my name is David Simmer II and I endorse this meme...
Oog. I really should have at least patted down my mussed-up hair before snapping that photo with my Mac's iSight camera, but that would be against the rules, wouldn't it?
One more day of vacation left...