I currently own three cameras, all manufactured by Canon, plus a busted toy Holga "art" camera (modified to accept 35mm film) which I keep for fun.
My first "serious" camera was a graduation present from my parents in 1984... the Canon A-1. This brilliant camera was the first to have electronically-controlled exposure modes to free the amateur photographer from having to figure out shutter speed and aperture settings. Though primitive by modern standards, I can't stress how revolutionary this was at the time. It allowed me to take professional photographs with virtually no effort from day one... I could concentrate all my attention on composing, lighting, and directing my shots. As I became more experienced, I was able to dial back the automated stuff and use the in-camera metering to select my own settings...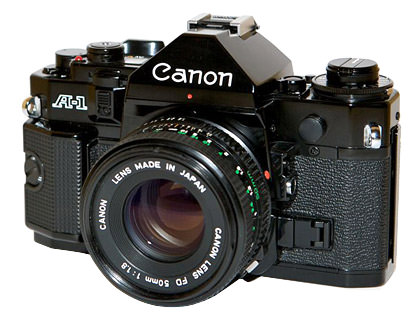 This camera is responsible for me falling in love with photography, and I took it everywhere for two decades. Rugged, dependable, and capable of amazing photos, I spent a good chunk of my income buying and developing rolls of 35mm film over the years. When the "digital revolution" arrived, I played around with a few digital cameras (most notably, the Apple QuickTake 100 in 1993), but they all shot crap compared the the beautiful images coming out of my Canon A-1. Believe it or not, I still burn an occasional roll in it to this day. As good as digital is, there's something primal about shooting film. Images shot with it aren't a bunch of 1's and 0's, but a chemical reaction you have to control. The satisfaction of getting a good shot with film is unlike any other.
But all good things come to an end.
In 2003 I was dragged kicking and screaming into the digital age when I bought the first affordable SLR camera... the Canon EOS Digital Rebel (also known as the EOS 300D). By this time, professional digital cameras were available but very expensive. I coveted the Canon 10D, but it was $1800... no lens included! I managed to get the Digital Rebel for $900 including a decent 18-55mm lens. At 6.3 megapixels, it transcended the "toy" status of other cameras I could afford, and everything I read about it was encouraging...
This has been my primary camera for the past five years. I never fell in love with it like I did my Canon A-1, but the Digital Rebel has been a wonderful camera, faithfully accompanying me on travels around the world. It's rugged, dependable, takes decent photos, and is easy to use with its many automated modes (plus full auto). Once I added my dream lens (the Canon 16mm-35mm wide-angle zoom), I was finally able to take the photos I was imagining in my head.
Because the Digital Rebel is fairly bulky, I bought a Canon PowerShot S400 Elph just one month later. It was an okay camera, but it wasn't until I replaced it with the Canon PowerShot SD800-IS in December 2006 that I fell in love with pocket digital cameras (it was the image stabilization that did it). I carry this camera with me absolutely everywhere and can't imagine life without it.
I never bought into the idea that more megapixels give you noticeably better images (unless you blow them up really big), so I never saw a need to replace my Digital Rebel. With the high-quality optics of my dream lens, the 6.3 megapixels are plenty for everything I need. Even 11x17 prints turn out beautifully, so why spend money on a new camera?
Well...
Not only have I found a camera that has convinced me to "upgrade"... but also to switch from Canon to Nikon after 22 years of Canon loyalty. Introducing the Nikon D90...
Sure it has all the cutting edge bells and whistles that make it an amazing camera. Nikon is a world leader in photography, so you'd expect it to be cutting edge. It even has the ground-breaking ability to shoot video. But adding video... even sweet video that can be shot through SLR lenses and have variable depth-of-field like a movie camera... wasn't reason enough for me to break with Canon and replace my Digital Rebel. Bells and whistles are fun, but they don't magically turn bad pictures into great pictures.
Then along comes "Active D-Lighting."
Far from a gimmick, this miracle feature applies live metering adjustments to an image to assist in opening up deep shadow areas, while also working to recover detail from blow-outs. It's not the ideal solution for dealing with problems like this, but it's an amazing accomplishment that's all happening before you even press the shutter release. The sample on Nikon's site is pushed a bit too far for my tastes, but you get the idea. Here's a shot with Active D-Lighting OFF...
And here's with Active D-Lighting ON...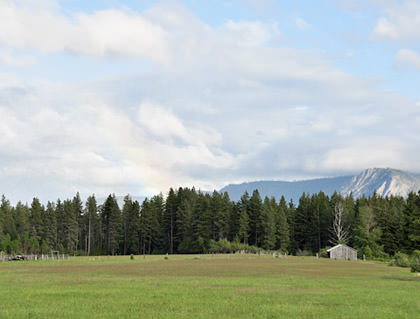 Pretty sweet. Cloud detail has been restored (including a rainbow!), plus some detail in the tree shadows too. A good photographer can always adapt to a scene given a decent camera, enough time, the right filters, and experience... but for random shooting where you're fighting to get a shot in a hurry, Active D-Lighting is an incredibly handy thing to have available (as illustrated here). It appears to be a better, more natural-looking alternative than messing around with the "Shadow/Highlight Filter" and manipulating curves in Photoshop after the fact.
Once you add Active D-Lighting to the many other features of this remarkable camera, it's just compelling enough to make me take the leap. So I'm taking the money I'll be getting from the sale of my motorcycle and sinking it into a Nikon D90. Sadly, it won't arrive in time for my upcoming vacation, but I'm anxious to play around with it when I get back just the same.
Having something to look forward to when you're coming back from vacation is nice.