It's my last day on The Big Island.
I wanted to spend it sitting on the beach and playing in the ocean.
But that seemed like kind of a waste given all the stuff to do here on Hawaiʻi that I haven't yet done. Shouldn't I be seeing and doing as much as possible while I still can? It seemed a dilemma best pondered while sitting on the beach and playing in the ocean.
But eventually I decided to tear myself away from this beautiful sight...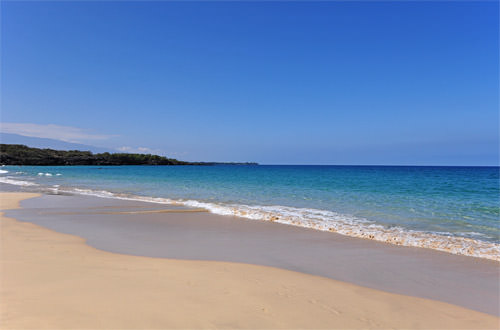 ...and head south into dreary and rainy Kailua-Kona for lunch. While there I decided to wander down to where the beautiful Hard Rock Cafe Kona used to be so I could be depressed that one of my favorite cafes has closed. Somebody should buy the building and turn it into a Hard Rock Cafe...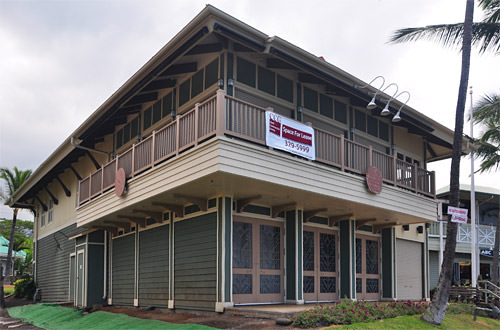 From there I decided to head to the first of two destinations I had in mind for today, The Painted Church (which is actually St. Benedict's Catholic Church). This beautiful little church sits on a hill overlooking the ocean and is famous because of the nifty paintings that cover every available surface inside...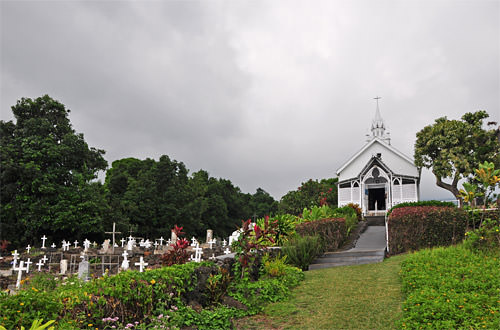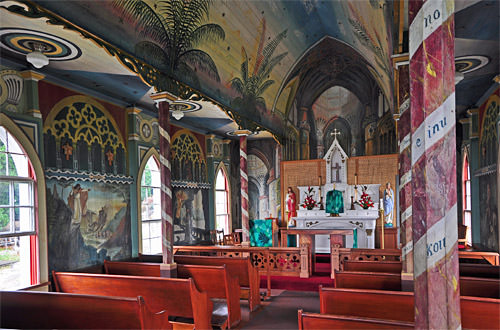 My favorite feature is the guardian cat that sits outside and inspects everybody who enters the church...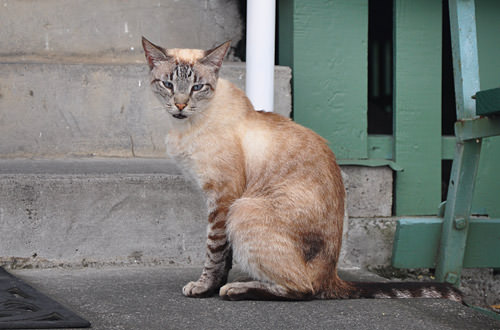 There are some terrific statues on the church grounds including a reproduction of Michelangelo's La Pieta, but I was really intrigued by a nice rendition of The Virgin Mary. She had been lovingly adorned with over a hundred necklaces which did nothing to detract from how beautiful she is...
After wandering around the church and its grounds for a while, I finally proceeded onward to my ultimate destination, Pu'uhonua o Honaunau National Historical Park. This used to be a place of refuge where Hawaiians who broke one of the ancient laws against their gods could escape from a death sentence. They'd show up, be absolved of their sin by a priest, and then go on their merry way... free to keep on living. This is also a place where Hawaiian chiefs were laid to rest.
I just liked it because there are cool structures and nifty statues all over the place...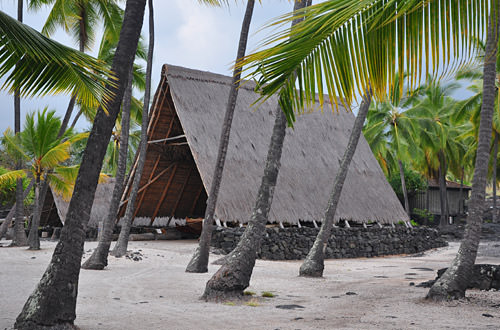 But the best thing about Pu'uhonua o Honaunau National Historical Park is that there's a beach where sea turtles come to have a rest. The ancient Hawaiians revered turtles, and petroglyphs here show "honu" turtles everywhere. I just think they're wonderful creatures. Last Sunday when I was in Maui, I snorkeled with a beautiful turtle for almost a half-hour before he finally decided to take a nap on the ocean floor. They're such trusting and inoffensive creatures that it breaks my heart to know that they're endangered now...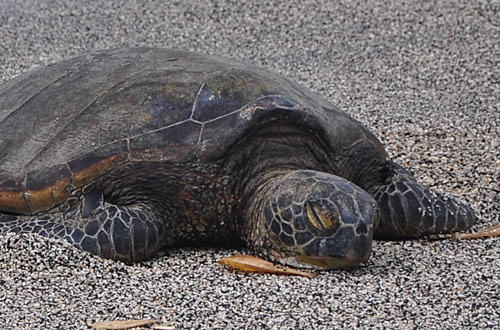 I wish I had another week here.
But before I go, I thought I'd mention that the exclusive design I made for Avitable's Halloween Party fund-raising event will disappear forever in a few short weeks. It's so awesome, that I wore it while frolicking on the beach this morning...

I PITY THE FOOL WHO DON'T BUY THIS T-SHIRT... GRRRRR!
Of course, a picture of me wearing a T-shirt isn't going to convince anybody to buy anything, so I give you the lovely Danalyn, looking divinely hot in her Neverwas Fair shirt...
If you want to get a shirt of your very own, in any style you wish, just visit Avitable's store on Zazzle.