To Big Island, or not to Big Island?
Back in March, a new fissure opened on the Kilauea volcano which has resulted in a tenfold release of sulphur gasses into the atmosphere. Known as "vog" (for "Volcanic Fog"), these emissions can completely obliterate the sky here on the Big Island of Hawaiʻi depending on which way the wind blows. And it's not just Hawaiʻi, but all the islands that are affected. There were a few afternoons on Maui where Mt. Haleakala was invisible because vog had blown in and hidden the entire mountain. This is a big problem, because people expect blue skies and visible sunsets when they visit the islands. If the situation gets much worse, not only will the tourist trade suffer... but crops which require sunlight to grow could start having problems too.
Keeping all of this in mind, I faced a bit of a dilemma when booking my Hawaiian vacation. Do I dare risk spending time on Hawaiʻi when the trip might very well be marred by a volcanic haze blanketing the island?
You bet your ass I do.
If vog happens, it happens. Hawaiʻi is a wonderful island to experience and if I spent all my time worrying about what may or may not occur, I might as well stay home.
And if I had decided to skip The Big Island of Hawaiʻi, I would not have had this sight awaiting me once I got to my hotel today...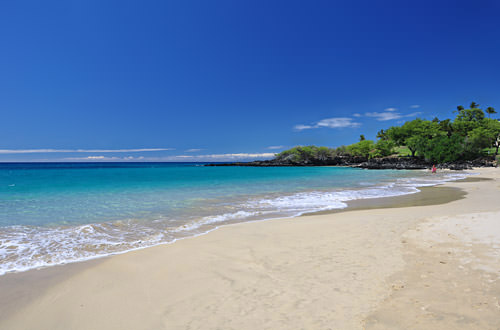 After kicking around the beach for a while (and getting a bit red because I forgot to apply sunblock), I headed to the northern tip of the island to the city of Kapaʻau. It's here where you can find the very first King Kamehameha statue. I'm thinking it was put here because he was born nearby...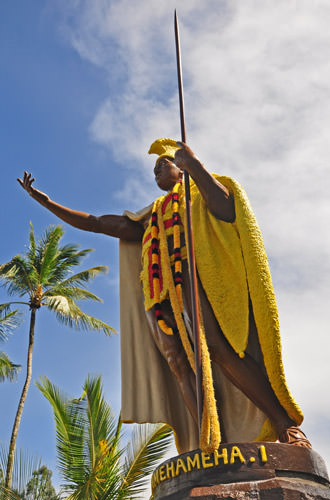 If you keep driving past Kapaʻau, you'll eventually run out of road. It all ends at the Pololu Valley lookout, where you have to turn around and go back...
Which I did, driving back on the upcountry roads of Highway 250. This actually ended up being quite cool, because you could look down on the Kailua-Kona area, where it happened to be raining...
This is one of my favorite shots I've taken so far. It's almost like a painting or something. Hey... it may be raining, but it's still Hawaiʻi!
Deciding that Kailua-Kona might be a good place for dinner, I headed on down. By the time I got there, the rain was in full-force, but it was a nice warm rain and felt great. I wandered around for a bit snapping photos, like this one of Hawaiʻi's first church...
They are doing lots of construction in the area, so traffic is a frackin' mess, but I did get to see a nice sunset on the way back to my hotel. Unfortunately, by the time I found a place to pull over and shoot it, the sun was already plummeting past the horizon. The colors were so vivid (probably thanks to the vog!) that they blew out in my camera's sensor...
By the time I got back "home," the stars were already coming out...
I have no idea what I'm doing tomorrow, but I can't wait to find out! Vog willing, big adventures await...