I fell asleep on the couch last night while watching the Marvel Studios movie for today. Not easy to do when it's Guardians of the Galaxy, which is one of my favorites of the bunch. Guess it just goes to show how exhausted I was.
I woke up again when I got an alert that the security camera in my driveway had gone down.
This is the email I got...
And... look closer...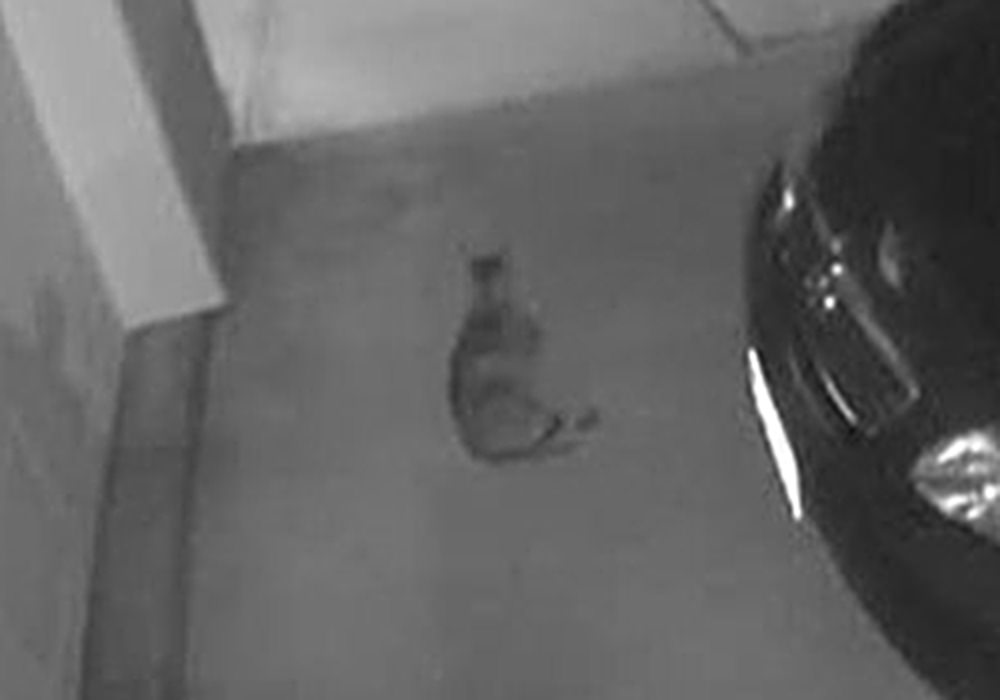 I'm thinking that Fake Jake might be behind my camera going down? The rascal.
I have two more cameras out front, so I was in no hurry to fix whatever it was that was wrong. Instead I finished up my movie and went to bed.
As for Real Jake? Just helping me open my mail this morning...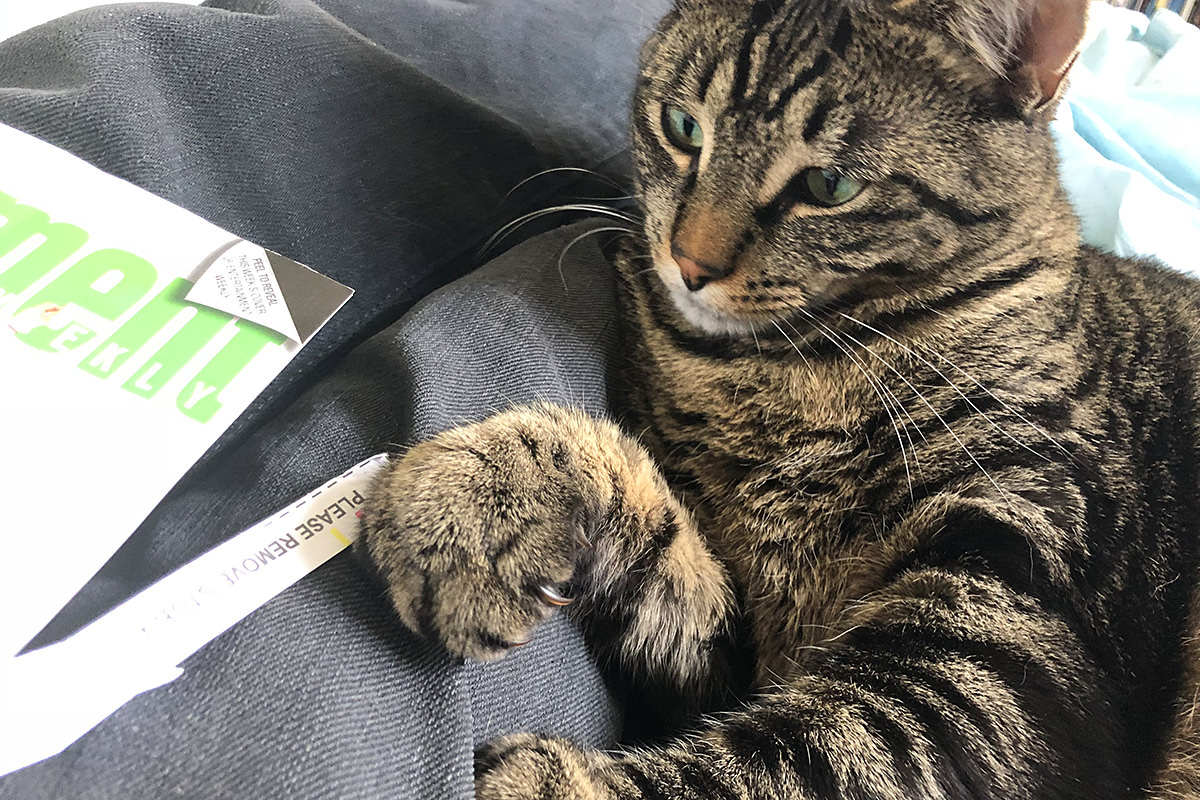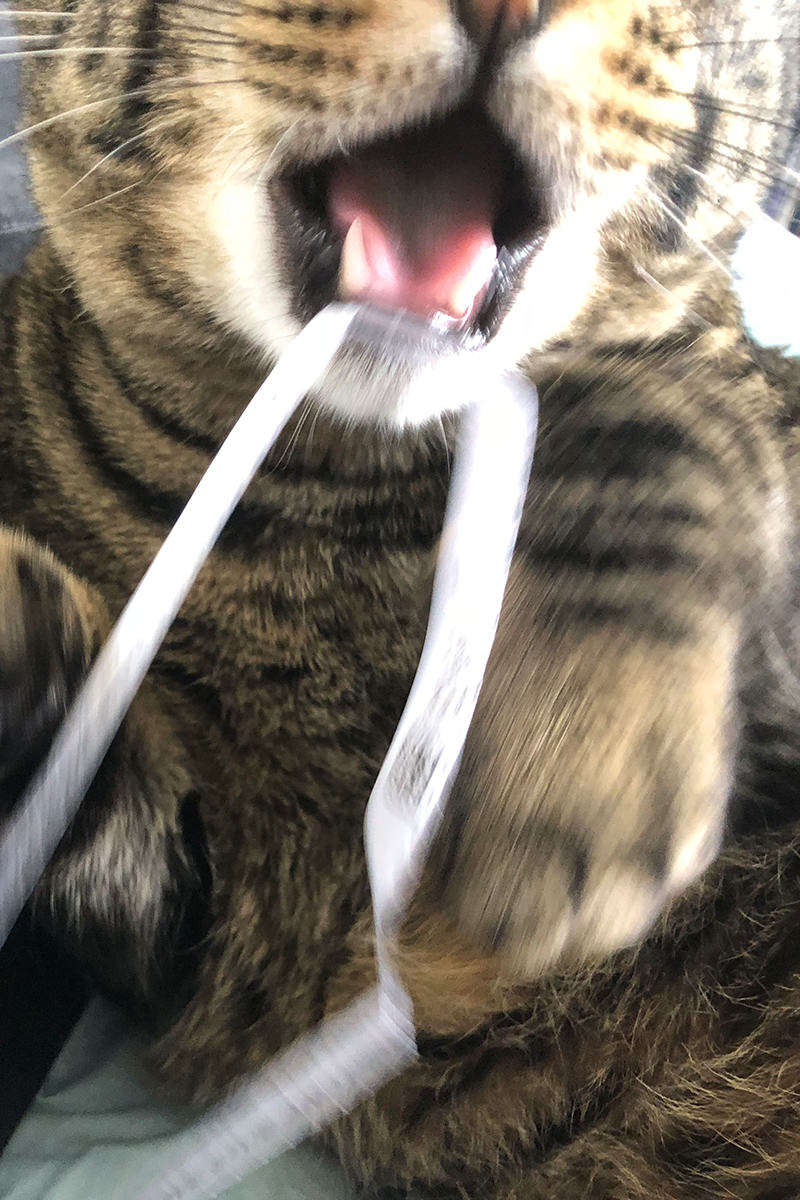 The rascal.
Jenny would rather lay on the floor for some reason...
When I went to Petco for kibble, I saw that the low-carb Tiki Cat dry food was on sale. This was cool... until I noticed that one of the flavors was marked as "clearance," which scares the hell out of me. I really, really hope that they aren't discontinuing this stuff. It's the most affordable food I've found that doesn't overload on carbs. In the meanwhile though, I snagged all eight bags and my cats are set for the rest of the year...
I can probably replace the dry with... something... I guess. But nobody makes the Tiki Cat Velvet Mousse that Jenny eats. And I seriously don't want to have to go back to blending my own. So gross.
Fingers crossed I won't have to.
---
Continuing on with my revisiting of every Marvel Studios movie...
MARVEL STUDIOS MOVIE OF THE DAY, No. 10: Guardians of the Galaxy
Original Grade: A+ • Today's Grade: A+
I re-watched this movie for the fifth?... sixth? time back in June, so I didn't really have to watch it again to jot down my thoughts. But I did it anyway. And I am hooked from the opening scene of Star-Lord dancing through a dead planet every time. If that doesn't sum up my feelings about Marvel's first "sci-fi" entry into the MCU, I don't know what will. The humor... the characters... the settings... the story... the music... all perfect. And perfectly executed, with amazing casting and brilliant special effects (which are so crucial to a film like this). I've admitted that I laughed when I first heard they were bringing this comic book to the big screen, because characters like Rocket and Groot were just an absurd thing to try and translate. But how wrong was I? And after watching Avengers: Infinity War, I'm even more impressed, because they were able to seamlessly mix Rocket and Groot with everybody else to amazing effect.

SCENE TO BEAT: Escape from the Kyln? Escape from Knowhere? The battle at Xandar maybe? I dunno. There are entirely too many good scenes to pick from. I can't even single it out to scenes with one character, because I love them all.

COULD HAVE BEEN BETTER: Ronan the Accuser is a powerful Kree warrior, but I don't get how he was able to wield the Power Stone. I understand that he only touched it for a few seconds, which is why he didn't die... but how was he able to command it after he smashed it into his Universal Weapon hammer? He's an important Kree but, in the end, he's just a Kree. Not a god or ancient being. Or, in Peter's case, the son of an ancient being. It's a puzzler. And I still think the whole "holding hands" at the end was kinda silly.

SIDENOTE: It's amazing how critical this film was to everything that came after it in the MCU. Thanos... Gamora... Nebula... The Collector... and, looking even further forward for next year's Captain Marvel, The Kree. This was also the first time we got a full explanation on The Infinity Stones as well. Doesn't seem possible that such important stuff was set up in what's essentially a comedy, but there's Marvel Studios being all brilliant again.