It's Bullet Sunday and I'm so happy I could crap my pants!

• That Dog Won't Hunt! So Jon Huntsman, the only Republican candidate that I might have voted for, is dropping out of the race. And since the remaining candidates will be hard pressed to sway independent voters to their respective agendas, I guess that we're in for four more years of President Obama. Unless he punches Betty White in the face while wiping his ass with the American flag during a televised White House press conference or something.
Now, if you will excuse me, I shall now go and mourn the loss of what could have been our three First Daughters...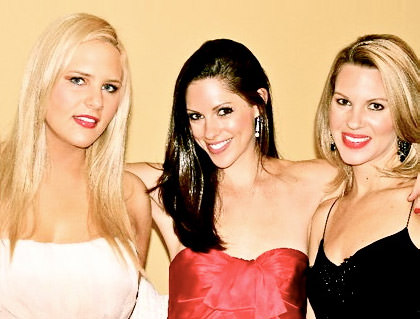 Sadly, Mitt Romney has no hot daughters (that he knows of, I'm sure). Though I'm starting to wonder if he'll even be a factor now that Stephen Colbert has entered the race in South Carolina and these wicked attack ads are airing...
Genius. And it's funny because it's true!

• It's a Fucking Frog! Just when I think that it's impossible for nature to shock me more than it already has... along comes The World's Tiniest Frog...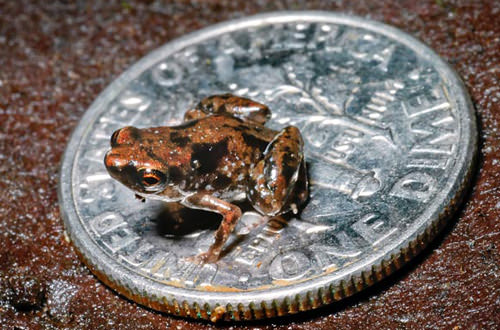 Photograph by Christopher Austin, Louisiana State University
How?
How in the hell is this even possible? That's a DIME! And that's an actual frog sitting on top... not even half the size of the coin. How does its lungs function when they must barely be the size of the air molecules they breathe in? Unbelievable. And cute. Lookat da iddybitty froggy!

• ZOMFG it's Music! After one of my favorite bands, The Shins, kind of imploded... I worried that we'd never hear from them again. Shins mastermind James Mercer appeared to move on to a new collaboration called Broken Bells with DJ Danger Mouse, so I figured that was the end of it. But lo and behold this last week I got an iTunes pre-sale notice for a new band line-up and a new album called Port of Morrow...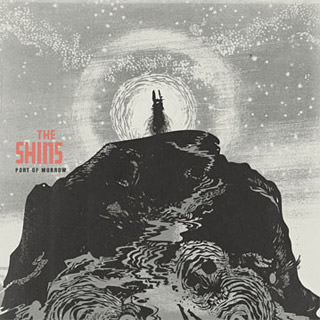 My expectations are high. Fortunately, the preview track Simple Song didn't disappoint. Can't wait until I get to hear the rest of the album in March. You can pre-order your own copy at the iTunes Music Store here.

• Eggxactly Right! Because groceries are so stupid-expensive, I find myself buying foodstuffs not because I necessarily want them, but because they're on sale for cheap. Most of the time, this comes back to bite me in the ass, but every once in a while I stumble across something so delicious that I wonder how I ever survived without it. Such was the case with Crystal Farms' "Three Cheese Chef's Omlet" from the freezer case...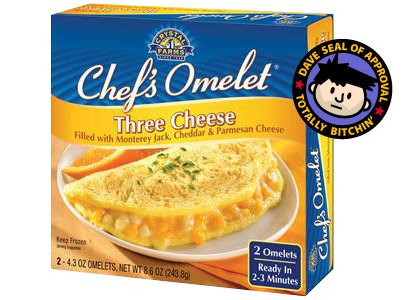 Holy cow. It's the perfect omelet. Light, fluffy, and loaded with quality, flavorful cheese... from a frickin' microwave! When served on buttered toast with a little ground pepper... it's a quick and easy breakfast that's so good. Which means that it's probably being discontinued and the reason it was on sale was because they were clearing out their inventory. Crap.

• Well I'll Be! And so Washington State is dangerously close to passing Marriage Equality legislation. Color me pleasantly surprised. Despite the fact that "The Coast" is decidedly liberal... the view from Redneckistan here on the other side of the mountains is often cloudy when it comes to gay marriage. Oh I'm sure there are many people here who have no problem with everybody getting their fair shot at happiness (as promised when our country was founded). And there's undoubtedly a growing number of people here who are tired of their gay friends and family being relegated to second class citizens. And it's certain that more and more heterosexual couples are realizing that same-sex marriage has -zero- effect on their marriage. And it seems many Conservatives are finally figuring out the smaller government includes getting politics out of bedrooms and keeping religion out of politics.
So maybe.
It just comes down to whether enough politicians will do the right thing and move forward in a way that an increasing majority of Americans want to have happen. Here's hoping.

And now I have to get back to work. And Dune, which is playing as background noise here in my living room. THE SPICE MUST FLOW!