Posted on November 26th, 2012

I have always hated wearing glasses. The frames are distracting in my field of vision and the lenses get smeared way too easily. So once I got my first pair of contact lenses, I was hooked. There was no way I was ever going back to stupid glasses ever again.
Or so I thought.
But then my eyes worsened, and contact lenses weren't giving me vision as good as they once did. I tried several different brands and styles, but to no avail. The best I could find were a disposable astigmatism lens, but they made my near-vision drop out completely.
And so now I'm back in glasses again, which give me pretty good vision near and far... certainly better than any contacts I tried...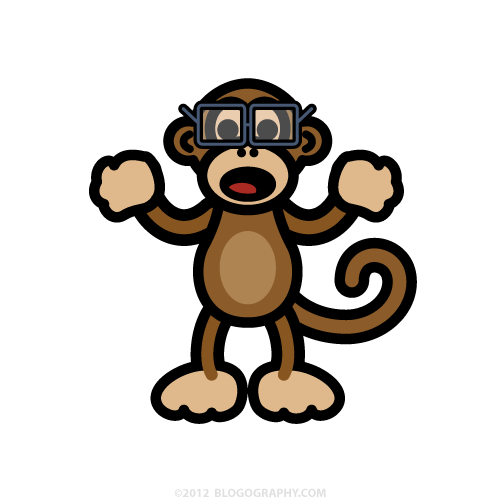 Except I still hate them.
Because no matter how often I clean my glasses, it always seems as though I'm looking through smeary, dirty lenses with a nasty frame getting in the way. Apparently my brain has lost the ability to ignore such non-essential visual information.
Or maybe it's an ability I never had.
Because, come to think of it, I've never been able to ignore such non-essential visual information as Carson Daly or those stupid ads that networks put on top of their television shows...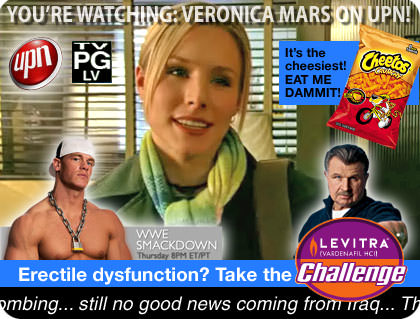 Life is pain.
Anyone who says different is trying to sell you something.
But, more often than not, it's because somebody is trying to sell you something.
Posted on October 20th, 2012

I really, really don't like being sick.
And over-the-counter medication is not doing it for me.
I need to make friends with a doctor who can hook me up with the good stuff. And by "good stuff," I mean something that will put me in a medically-induced coma for 3 or 4 days until this cold has worked its way out of my system...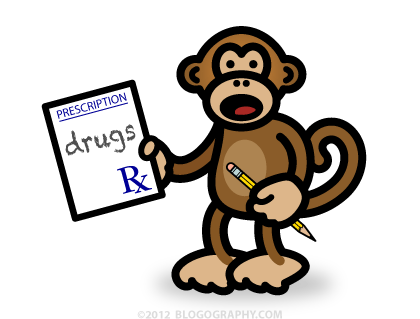 Scientists are making incredible medical advances every day. But the common cold is still here.
AND WHERE IS MY FRICKIN' FLYING CAR?!?
Posted on October 5th, 2012

One year ago today I was in Fiji. I had been out snorkeling with sharks, sea snakes, and fish. I had been on a boat following a pod of dolphins. I was heading to shore when my mobile phone beeped with a message. I didn't look at it because I rarely get texts when I'm traveling, and usually when I do get a text it's bad news.
Eventually I looked. It was a text from my brother. Despite the fact that I had prepared myself for something less than good, I was completely unprepared for what I saw...

Steve Jobs was gone.
And because of the time difference, I was hearing the news while in the future and half a world away.
It would have been nice if this cheat in time and space would have lessened the blow, but here I am a year later and it still hurts. One of the people I most admire on this earth and whose work has had a huge impact on my life isn't around anymore.
There's never going to be "just one more thing" ever again... and some days it's more than I can take.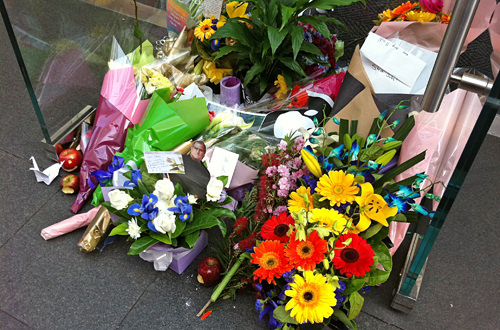 Flowers left at the Sydney Apple Store.

Maybe next year will be easier. But today I can't imagine that there's any amount of time and space that will make me feel better about waking up and remembering that Steve Jobs is no longer here.
Posted on October 4th, 2012

Orlando was ridiculously hot and humid. Any time spent outdoors was miserable.
Which is why a part of me was actually happy to come back home.
At least until I went out to my car this morning and found frost on the windows. And started wearing a jacket. And threw a couple of blankets on my bed. And swapped short-sleeve shirts for long-sleeve shirts in my closet. And made sure my boots and gloves were unpacked.
So now I'm wondering if I was a bit too hasty in wanting to leave Florida.
In another month I'll be certain of it.
Posted on September 28th, 2012

Second verse, same as the first.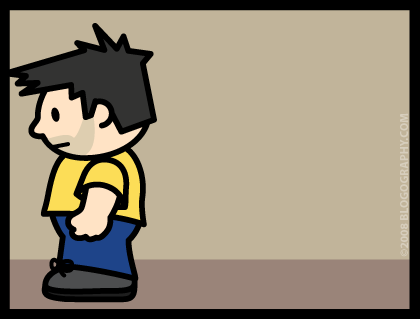 Monday really can't come fast enough.
Posted on September 27th, 2012

You know how once things start to go downhill they continue to go downhill... but faster and with less control?
Yes. That.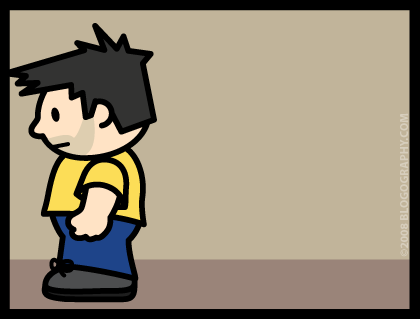 I found myself saying "Are you kidding me?" quite a lot today. I am amazed how people seem to have -zero- sense of responsibility anymore. They just don't seem to care how their actions affect other people. They break promises at the drop of a hat and never seem to give it a second thought... no matter how many people were counting on them.
And now I'm thinking of joining the irresponsibility party. Why should I continue to honor my promises and obligations if nobody else is going to?
Oh yeah... I'm not a piece of shit. That's why.
Posted on September 18th, 2012

And so on top of everything else, I have laryngitis now.
The icing on the cake of my day, really. Pretty much just want to climb under the bed and stay there. But the show must go on. And on. And on.

And on my way to work...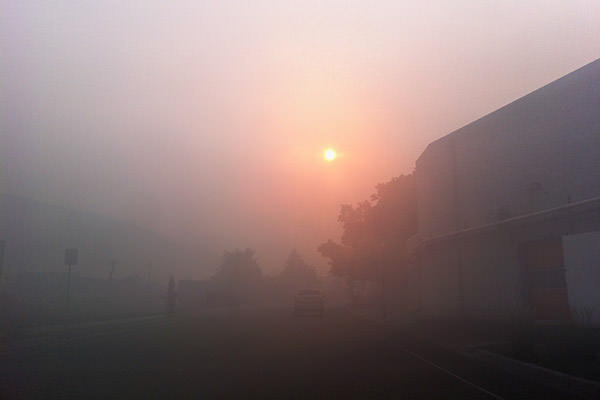 And on my way home...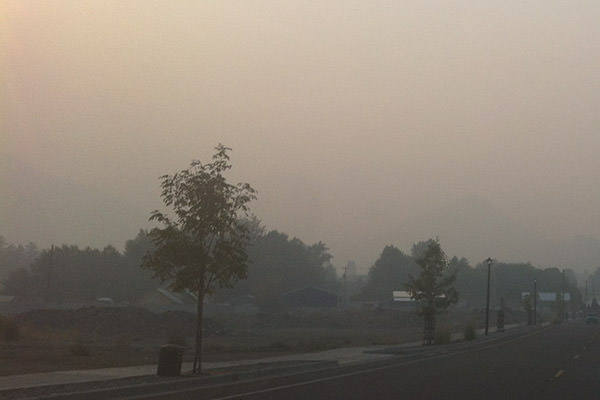 You'd think that Washington would be running out of stuff to burn by now.
Though, even if it's not... for the sake of all those people whose homes are in danger here (not to mention all the animals that are being displaced by the flames)... it would be great if the state would stop burning for a while anyways.
Being able to speak again would be nice too.
Posted on September 17th, 2012

So this is what hell is like.
The inversion that was trapping smoke in our valley lifted on Saturday, which means the air was clearing up yesterday. Unfortunately a new inversion descended last night, which means all the smoke was back by the time I got home this morning. The minute I rolled over the mountain pass, my heart sank as I saw a massive haze obliterating the countryside.
So here we go again.
Misery. I knows it. I sit at a desk staring at a computer screen with eyes swollen, watery, and itchy. My throat is raw because my nose won't top running no matter what I do. I spend every other moment trying to decide if I need to run to the bathroom. The moments in-between are spent trying to figure out what I do when I get there... puke or poop. I am doped up on everything from ibuprofen and Pepto Bismol to antihistamines and Imodium. When all I want to do is take a handful of sleeping pills and go into a coma until it's all over.
Why I react to smoke this way, I have no idea.
Hopefully I can last six days until I blow this popsicle stand.
Posted on August 29th, 2012

Well this sucks...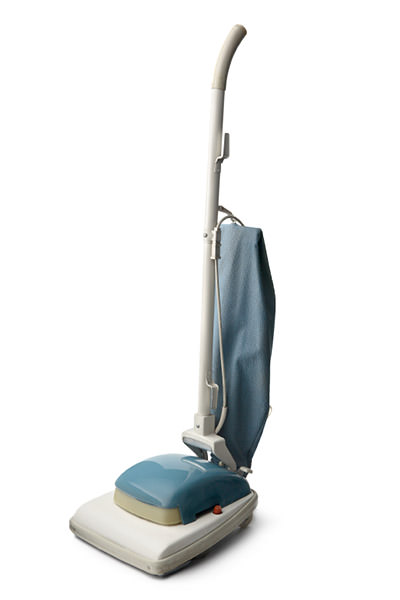 Posted on August 27th, 2012

Tonight I had a craving for a cheese & potato chip sandwich. And since I didn't have any cheese, potato chips, or bread (not to mention toilet paper), I decided to go to the grocery store. Something I most definitely did not want to do, but at least it wouldn't be crowded at 8:30 at night.
As usual, I found tons of other crap to buy... meaning a $10 run to the store ended up costing me $60... but whatever. I had my ingredients for a cheese & potato chip sandwich, so I drove back home.
Where I almost ran over Spanky the cat.
As I mentioned last week, she likes to plop down in the middle of the parking lot for no reason. But I always assumed she went home at night (wherever that is). Now I know she doesn't. Spanky totally hangs around the complex in the evenings too.
This is a very bad situation, because the cat is the exact same color as the pavement and very difficult to see after the sun goes down. I was practically on top of her before I realized she was even there. And she never bothered to move. I eventually had to back up and drive around her.
After grabbing my bags of groceries I went over to tell her that she needs to move so she doesn't get run over, but she was having none of it...

Spanky did not like the flash from my iPhone... nor does she like to have her picture taken.
And then she started rolling around in an attempt to get a belly rub...

Cat aerobics. On the pavement. In the middle of a parking lot. At night.
And since it is impossible to resist giving a belly rub to a cat, I had to drop all my groceries and give her one.
And now I know I'll be losing even more sleep because I'll be worrying about Spanky getting run over. Some of the people living in this complex are not the best drivers.
Stupid kitty. =sniff=