One year ago today I was in Fiji. I had been out snorkeling with sharks, sea snakes, and fish. I had been on a boat following a pod of dolphins. I was heading to shore when my mobile phone beeped with a message. I didn't look at it because I rarely get texts when I'm traveling, and usually when I do get a text it's bad news.
Eventually I looked. It was a text from my brother. Despite the fact that I had prepared myself for something less than good, I was completely unprepared for what I saw...

Steve Jobs was gone.
And because of the time difference, I was hearing the news while in the future and half a world away.
It would have been nice if this cheat in time and space would have lessened the blow, but here I am a year later and it still hurts. One of the people I most admire on this earth and whose work has had a huge impact on my life isn't around anymore.
There's never going to be "just one more thing" ever again... and some days it's more than I can take.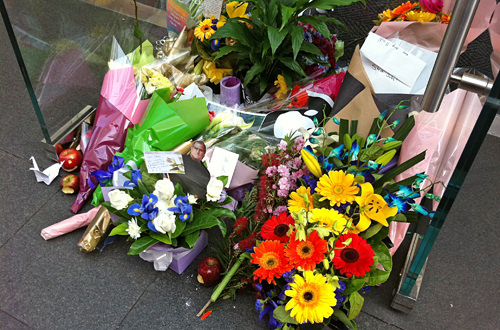 Flowers left at the Sydney Apple Store.

Maybe next year will be easier. But today I can't imagine that there's any amount of time and space that will make me feel better about waking up and remembering that Steve Jobs is no longer here.