I've been watching too much television lately, but never you fear... because an all new Bullet Sunday starts... now...

• UPLOAD! HOW ABOUT THAT UPLOAD SEASON 2?!? This show could have so easily... so very easily.... just kept doing what what it was doing in the first season and stagnated into irrelevance. But they decided to really go for it...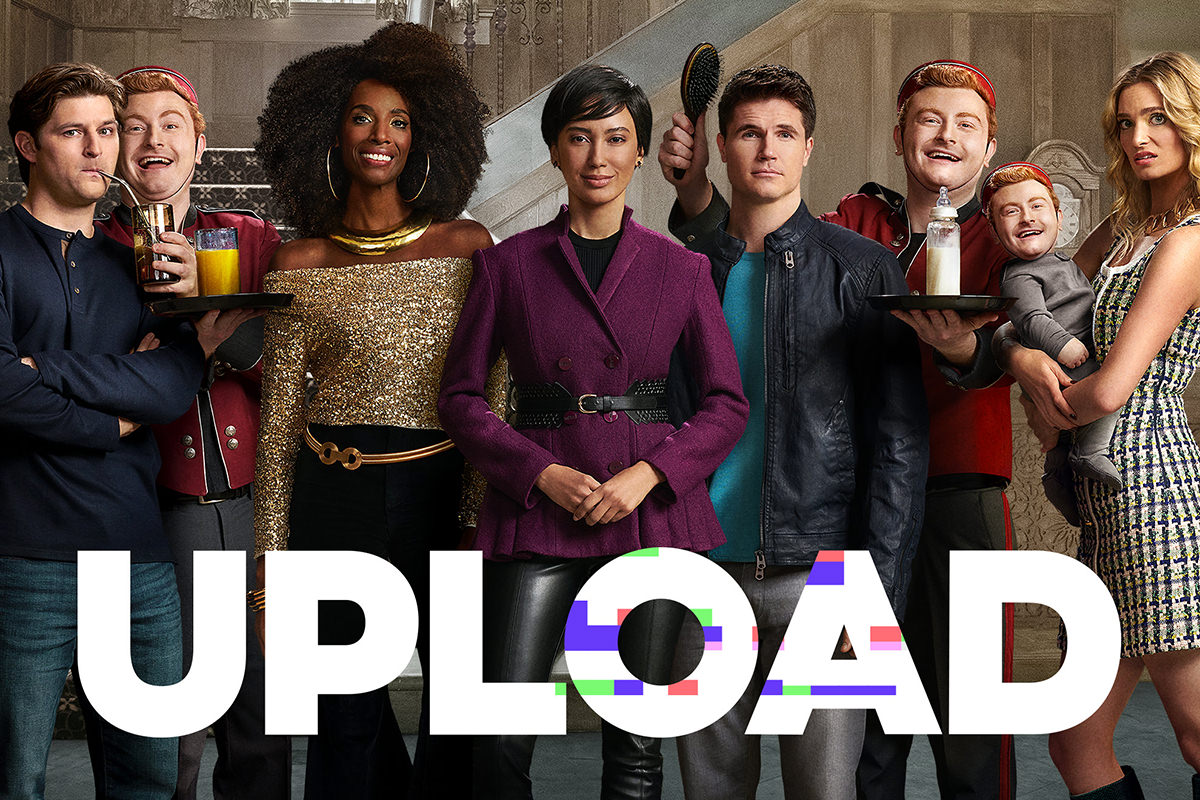 Alas, they dropped it with yet another cliffhanger. Which is fine IF WE GET A THIRD SEASON. But an official renewal has not been greenlit, so who knows. The first season seemed to be just the right length at 10 bingeable half-hour episodes... but we only got seven episodes this time, which seemed a bit rushed. But that's the COVID world we live in, I guess.

• Presence! Well that was unexpected. Easily one of the best Hallmark movies I've ever seen (which is saying something considering I've seen... well... most all of them), The Presence of Love is worth a look if you enjoy the occational rom-com flick...
Gorgeously shot on location in Cornwall and beautifully-acted by Eloise Mumford and Julian Morris, this is a very special film that caught me entirely by surprise.

• Unintended Use! Now that I have a new chair, I've been working on sprucing up my studio so it's more comfortable and productive. A big part of that is getting rid of the cardboard box that's clamped to my drafting table to hold all my stuff. It doesn't really work very well and I have to dig through it to find things. So I bought these little kitchen trays that have just enough friction to keep from sliding around. As a bonus, the soap holder fits inside the tray to organize my pens...
It's always nice to run across something that works for what you need when it's not the intended use of the item!

• Adam! Ryan Reynolds makes even bad movies watchable, so I knew I'd enjoy his latest for Netflix... The Adam Project...
And while not in any way groundbreaking, it was darn entertaining. It also had a story that wasn't terrible, assuming you don't think about it too hard. If you're a fan of Ryan Reynolds and sci-fi fun, this is the movie for you.

• Construction! The guy from Primitive Technology is back at long last. I love his videos...

• ER! The second season of Transplant, which has been playing in Canada for MONTHS has finally been released here in the USA on NBC (I just bought the Season Pass on iTunes again). This is hands-down my favorite medical drama ever (and my third favorite show of 2020 after Ted Lasso and The Mandalorian). If you're not watching it, you're missing out...
If you give it a try, be sure to start with the first episode of Season 01, because it starts out with a bang you don't want to miss.

• Edward! Ever since finding out that Mitchell Ryan passed away on March 4th, I've been rewatching the first season of Dharma & Greg, where he was in top form as Edward Montgomery. He was hilarious in the show, which was really great for a couple seasons...
Rest In Peace, sir.

Until next week there, buckaroo.