Oh wow... hate comments! It's been months!
Yesterday I wrote about the most romantic scene from a movie I've ever witnessed... the dance at the squash festival in the old rom-com Doc Hollywood... then compared it to a similar scene from the new rom-com Dashing in December.
But because the latter film features a romance between two men, that was apparently a bridge too far for some people to take. And so... hate comments! I can only guess that I was put on some kind of watch-list ages ago because every time something like gets posted, whomever it is that's hate-reading my blog apparently tells their entire cadre of like-minded friends to come leave nasty comments that I'll barely read (and never approve) because life is just too short. The IP addresses are from all over the USA, so it must be some kind of online group (One-Dozen Moms... is that you?).
What the issue always seems to boil down to is A) My acknowledging that LGBTQ+ people exist and this is somehow considered offensive and dangerous, because B) My blog has "cartoons" on it which attracts children who might see such unholy perversions as this...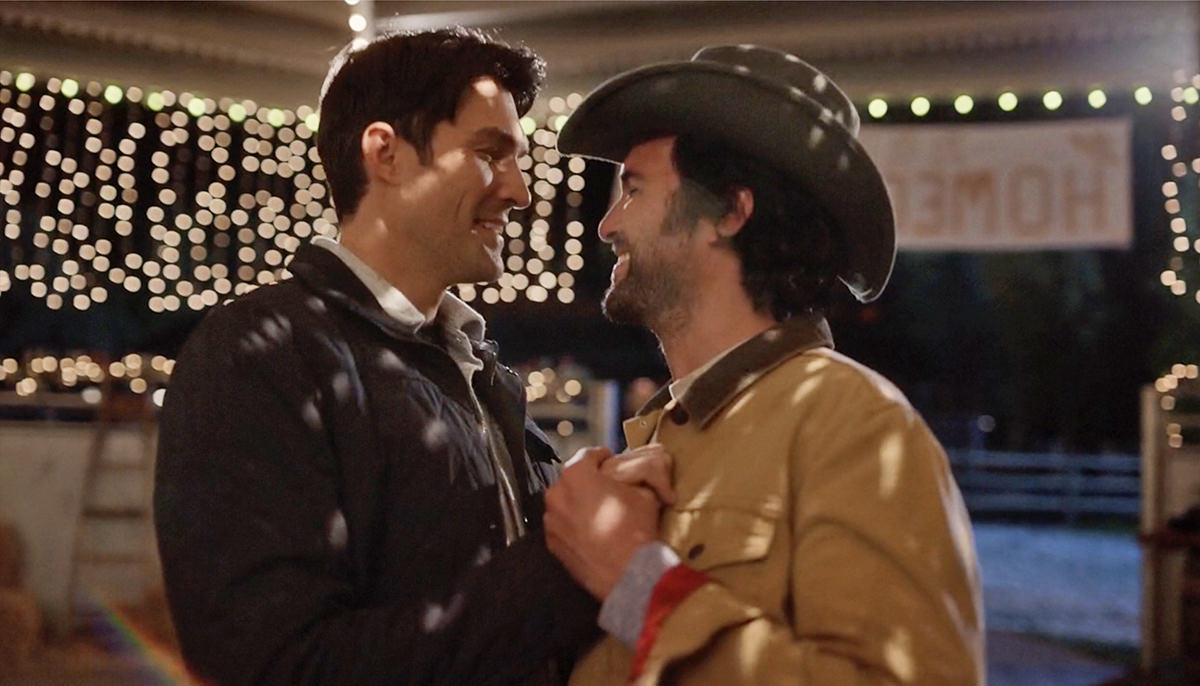 And all I can say is... you're welcome!
Because if your kid happens to be gay and does come across something as innocent as a photo of two guys dancing together on Blogography, then maybe it will be a little ray of sunshine which validates their existence and helps them to deal with the toxic atmosphere you've cultivated which lead so many LGBTQ+ youth into self-harm and even death.
And if you're one of those people who would rather have a dead child than a gay child, then fuck you sideways, because you're everything that's wrong with our society. Nobody "turns gay" from looking at a frickin' photo like this. I mean, you didn't. Or did you?
The truly telling thing about hate comments FOR THE SAKE OF THE CHILDREN on yesterday's entry is the fact that I regularly drop F-bombs in blog entries and never hear a single discouraging word about that. So it's not all the things I write about here... only some things. Maybe before I started blogging I should have asked the internet for a list of things that are and are not acceptable? Well, too late for that now.
I can no more relate to a movie about gay cowboys falling in love than I can relate to a movie about straight people falling in love (apparently, =insert cry emoji=)... but I find them equally entertaining. Actually, I find the gay cowboy romance more entertaining because it's something I haven't seen a million times before (at least not since Brokeback Mountain fifteen years ago). Happy people falling in love are happy people falling in love and I just don't give a crap so long as it doesn't involve children or unwilling animals. And, on top of it all, Dashing in December is GOOD. Really cute stuff if you are into the whole Hallmark Christmas movie rom-com thing like I am.
And if you think that a bunch of hate comments is going to get me to change my mind about posting innocent photos of LGBTQ+ persons merely existing, read this entry and get back to me.
(hint: the answer is "no")
And now, because I love y'all more than sandwiches, here's the song Take Me Home For Christmas by Dan + Shay which plays at the end of Dashing in December. It's a totally great song... and doesn't have gay cowboys in it, if that's important to you for some reason...
Awwww. Santa puppies are the best puppies.