Falling in love is one of those things that most everybody can relate to. And it all comes down to a moment. That one moment when the wind gets knocked out of your lungs, your heart feels like it's going to explode, and you feel yourself falling out of the earthly confines of your body. There's no other feeling quite like it.
I've had my share of love... and loss. Though the one time I fell the hardest was the time it came back to bite me in my ass the worst. She destroyed me in the worst possible way and I don't think I ever fully recovered. I'd rather never fall in love again than go through that hell again.
The Hallmark rom-coms I have playing for background noise rarely have any kind of authenticity to them. You never see that moment where you feel that the characters have fallen in love. Forget Hallmark movies... you rarely see that in any films.
There are exceptions, however.
The most romantic moment I've ever seen in a movie comes from the most unlikely of places. A Michael J. Fox rom-com called Doc Hollywood. They give you that moment where you feel the characters have fallen in love. Up until that point, there was some clumsy flirtations and you get the sense they might like each other, but there's nothing really past that. Then Michael J. Fox asks Julie Warner to dance as Patsy Cline's Crazy starts to play. It's just a casual social kinda thing...
But then the mood of the scene changes. Colorful lights from the carnival rides start exploding in the background and their posture becomes more intimate...
The dance floor is crowded, but you feel that it doesn't seem that way to them...
And then... the other dancers start to twirl away...
All of a sudden they're the only people left in the whole world. Everybody else has... vanished...
And there's the moment. Their relationship has changed utterly, and there's no doubt they've fallen for each other because you feel it. Then, just like that, the song is coming to a close and the world fades back into existence again...
But they can't even see it. To them, they're still the only two people on earth...
I'm not the most romantic guy in the world, but that scene is about the most romantic thing I've ever seen. Director Michael Caton-Jones and cinematographer Michael Chapman knew exactly what they were doing when they crafted that scene. Something that good doesn't happen by accident.
Doc Hollywood was released in 1991. In the near-thirty-years which has followed, I don't think I've ever seen its equal.
And yet... I did see something recently which comes close. It's in the new gay rom-com Dashing in December (streaming from Paramount Network). And it doesn't matter how gay you aren't... or whether you can relate to their relationship at all... it's still dang romantic.
Peter Porte is a New York financial whiz who returns to his home at a small-town Colorado ranch so he can convince his mother to sell it because it's gotten to be too much work for her. Much to his surprise, his mother is being helped out by Juan Pablo Di Pace, a ranch hand that's living on the property. Naturally, they butt heads immediately. But after they start spending time together, you get the sense that they might be interested in each other.
Then one night after dinner, Juan Pablo Di Pace leads Peter Porte down to the gazebo where he's decked it out like a homecoming dance because he found out that Peter Porte had never danced with a boy before...
As if the setting wasn't romantic enough, one of my most favorite songs... Oh What a World by Kacey Musgraves starts playing on the radio. Despite having been out of the closet for years and having dated a string of guys, Peter Porte is clearly uncomfortable with the idea and goes to get a drink after telling Juan Pablo Di Pace to start without him...
But changes his mind pretty quickly...
Then they pan down to those boots again as they Peter Porte walks up to him, and you know their relationship is about to change...
Peter Porte is nervous, unsure, and every inch of it is written right on his face...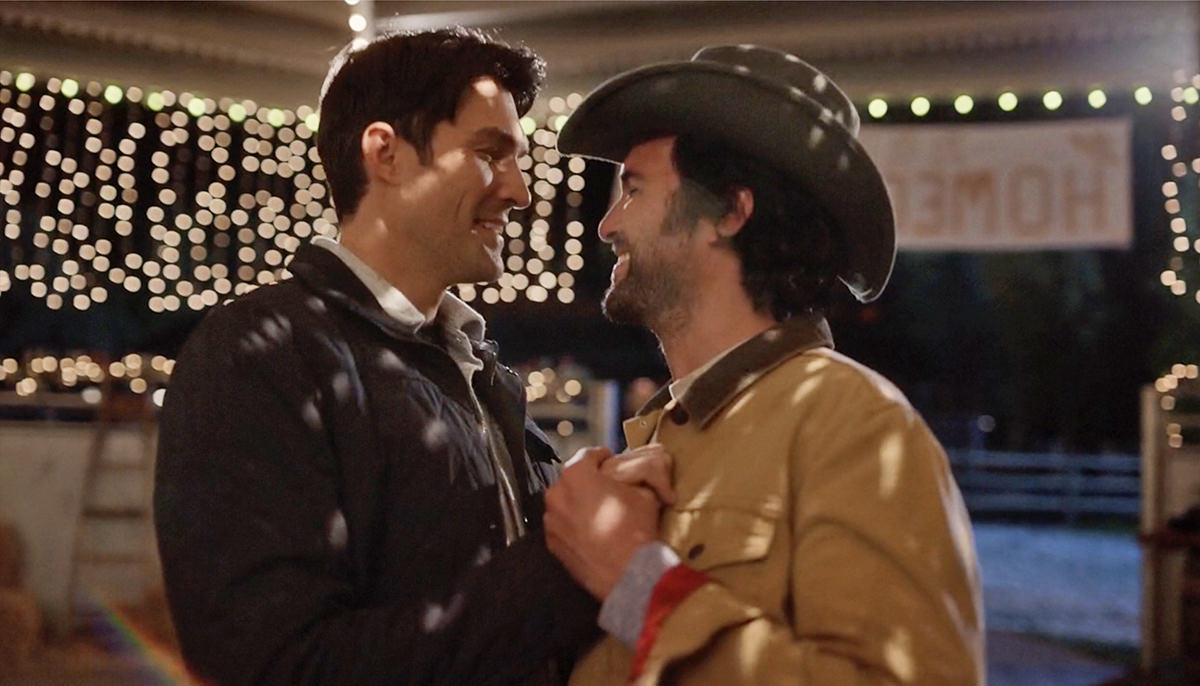 And there it is. There's that one moment...
"Your heart is beating so fast" — "Yeah, that's on you."
I think the reason that this hit me so hard is because it has such a resemblance to the dancing scene in Doc Hollywood. The difference being that, unlike in Doc Hollywood which takes its time, the Dashing in December scene was cut way too short... it's just a brief moment in the film. Less than two minutes. Which seems criminal for such a pivotable moment (not to mention the price they paid for that Kacey Musgraves track which is barely there). I guess either the editor made a terrible decision... or it was truncated so as not to get people too upset that two men would dare to dance together on television. Regardless, it hurts an otherwise good "Hallmark-style" flick.
It's a shame that we don't get more holiday movies with LGBTQ+ characters... or Person of Color characters... or anything other than the same straight, white, Christian stories we've seen a million times before. Because, like I said, the different is what makes it interesting.
Oh well. Hopefully having boundary-pushing movies like Dashing in December getting greenlit will lead the way for more new and different stories to be told.
Dashing in December is playing on Paramount Network or you can buy it for $6 on iTunes.