This is an entry in two parts. First I am going to go insane. Then I am going to cry.
Let's start with the insanity, shall we? In response to my entry yesterday about voting no on Proposition 8 in California, a reader brought to my attention the even more outrageous Proposition 1 happening in Arkansas. This truly vile ballot item facing voters in "The Natural State" would prohibit cohabitating couples from adopting or providing foster care to children. Put another way, only a married couple would be allowed to provide a home for a child in need. To put it still another way... unmarried sinners and God-hating faggots need not apply.
Even when facing unbelievably ludicrous shit like this, I honestly do try very hard to see an issue from all sides.
But how in the hell do you do that when somebody honestly thinks that being stuck in an orphanage is a better environment for a child than a home where they are wanted, loved, and cared for? Even in a Prop 1 supporter's most depraved homosexually-themed nightmares, how is an unmarried couple for a family or a gay couple for a family worse than no family at all? How is it that being married automatically makes you perfect caregivers for children? As I read through mind-boggling comments by scary homophobes on Prop 1 news sites, it apparently has to do with exposing innocent children to "perverts" and turning them gay by example. I can't even dignify this with a response except to ask "if being raised by a straight couple guarantees a child won't 'turn gay'... where do the gays come from?"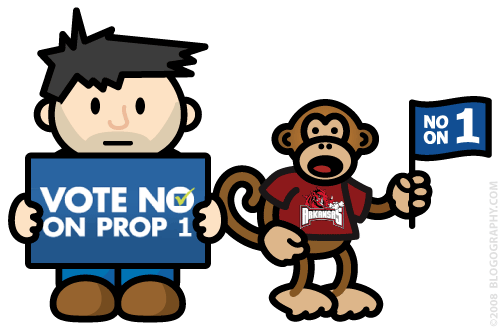 Study of the issue has brought me no closer to understanding how children are better off if Prop 1 passes, thus denying them loving homes that are all too rare.
I mean, seriously, WHAT THE FUCK?!? Shit like this makes me insane.
See, I told you so.
And then...
It seems whenever I write an entry in support of gay issues, it opens up the question of "why" as in "Why do you care about gay rights when you're not gay." Sometimes readers guess it's because I've met bunches of gay bloggers, which is indeed part of it (I also have gay "real life" friends and people I work with who are gay), but it's not the driving force behind my activism. Others assume it's because I'm gay myself, which I've already addressed... or because I somehow think it's funny, which I assure you I do not.
The simple answer is because I am a human, and believe that nobody should be treated differently because of how they're born. Whether it be because a person has blue eyes... or freckles... or is tall... or is short... or is gay... or whatever. That's how they were made, that's how they are, and that's how they're going to be. To punish somebody or treat them as a lesser person because of who they are is discriminatory cruelty and not very human at all.
The long answer is a little more complex.
I've never written about it before because it's also a lot more personal.
If anybody cares, I've done my best to explain it all in an extended entry.
Back in March of 2004 I wrote an entry called The Bears of Berlin where I talk about getting an email from somebody who was hurting and confused and wrote to me because my life seems so great on my blog. This person thought that I had all the answers, and my life was a non-stop party of travel and good times. I wrote The Bears of Berlin to explain that the more personal aspects of my life don't get written about on my blog. Behind the scenes I have struggles, problems, and failings just like everybody does.
But that was just a very superficial recounting of what actually happened to get me to write that entry.
Here's the full story... or as much as the story as I'm willing to tell on a blog.
Five days before I wrote about a bear statue wearing lipstick, it was my birthday. My readership was pretty small back then because I was still in my first year of Blogography 2.0 and nobody knew who I was. But I got a couple comments and a half-dozen nice emails, which made me feel like the most popular blogger on earth. One of the emails from a reader I'll call "Henry" was not only wishing me a happy birthday, but also asking a lot of questions. Dozens of questions. Mostly about my work as a graphic designer, but also more personal questions about what I like to do when I'm not blogging, working, and traveling. I wrote back and answered his questions the best I could without going into too much detail (I don't dump the private details of my work or life on my blog, I'm certainly not going to email them to a stranger).
Within an hour, Henry had written me back, and he was positively thrilled to have received my reply. He then went on about himself... telling me about being a freshman in high school and about how he one day he wanted to be a graphic designer and travel the world just like me. I guess I'd describe his email as "charming" because of the way Henry was so hopeful about his future plans (even if they were a bit naive). He asked a few more questions, reiterated his thanks for my reply, and signed off with a drawing he made of his cat that was quite good. I wrote back to answer his queries, and thought for sure it would be the last I heard from Henry. I had been down this road before, and most of the time people disappear after they get the information they were looking for.
But Henry didn't disappear at all.
He wrote me back again that day. And the next day. And the day after that. Multiple times.
With each email, Henry had more questions and more details of his life. It was kind of an awkward email relationship seeing as how the guy was less than half my age, but he was genuinely nice kid, so I tried to be encouraging of his dream to become a graphic designer. But the volume of emails grew from awkward to disturbing, so I stopped replying to all of them and delayed my replies so as to discourage Henry from writing so much.
It was a plan doomed to failure. Henry was not deterred, and continued to write.
But the emails started to take a very different turn by day four. The hopeful emails I first received were now slowly turning to thinly veiled despair. By the time I received an email asking me if I would be Henry's friend because he didn't have any friends, I was understandably concerned. Being as delicate as I could be, I wrote an email asking Henry if everything was okay and sent it just before going to bed.
The reply I got when I woke up on March 28th changed my life forever.
I am not a very emotional person. I don't cry when I hear a sad song or get all teary-eyed watching Beaches. But reading Henry's email that morning destroyed me. My heart broke in my chest as I read about a young life filled with such misery, despair, and hopelessness that it was impossible to comprehend. By the time I had finished Henry's email, I felt like crying but was too shattered to do much of anything. I didn't work. I didn't eat. I didn't leave the house. I didn't write in my blog. I just sat there as I poured over the horrors in front of me, not knowing what to do.
Turns out Henry didn't have a very happy life.
Henry didn't have much of a life at all.
What he did have was a non-stop existence of suffering that would challenge even the strongest person.
In one of Henry's earlier emails he was asking his usual round of questions, one of which was "Are a lot of graphic designers gay? I think I read that somewhere." At the time, I didn't think anything of it because it was just one more question in a list of many. In response I wrote something like "I know graphics designers who are gay, I know graphic designers who are straight. It doesn't matter one way or another, because all anybody cares about is the work you do."
Little did I know that this one question was the entire reason Henry was writing to me.
This one question meant everything. This one question explained everything.
Henry thought he was gay but didn't know for sure. Everybody at school was certain Henry was gay, and teased him mercilessly about it. Not a day went by where Henry wasn't humiliated, belittled, made fun of, or even beaten. But that wasn't the worst part. The worst part was that Henry lived in a highly conservative town where he could find nobody to turn to for help and no place to seek refuge. Approaching his family was out of the question and would mean certain banishment. The one time he tried to talk about his troubles with somebody he thought was a sympathetic teacher, he was told he needed to pray for God to "fix" him. I don't doubt Henry prayed for this a lot, but seeking help at his church would undoubtedly lead to confronting his parents, which scared him so badly that he would rather die than attempt it.
And he wasn't kidding.
Fear ruled Henry's life, and finding a way to escape from it was his only desire.
Becoming a graphic designer and traveling the world was the best option for escape Henry had on his mind, but it didn't take a genius to see it wasn't the only option he was considering.
As I sat in bed reading Henry pour his heart out about the abject misery he had to endure, something changed inside of me. You don't read something this heartbreaking and not have something change inside of you. Yes I had gay friends. Yes I knew that being gay wasn't always a piece of cake (Matthew Shepard made this painfully clear six years prior). And yes I knew there was more to a person than just their sexuality. But I just didn't get it until that day Henry's email landed in my inbox. It was as if "gay" was some kind of wildly abstract term that had no real meaning to me until that moment.
Not knowing what to do... and I mean truly, honestly, deeply not knowing even remotely what to do for probably the first time in my life... I gathered my wits and contacted somebody I could trust to advise me in an impossible situation. I called one of those "God-hating faggots" who somehow managed to be a kind, decent, honorable man and valued friend... despite the fact that he was a "flaming queer." Barely able to speak, I read Henry's email over the phone and voiced my concerns over past emails I had been sent. I then had to sit through horrifying statistics about suicide rates for young homosexuals, and find out that all my fears for Henry were not only justified, but an entirely realistic outcome to his situation. Things went from bad to worse when I learned that helping Henry in any way could very likely result in my being sued, imprisoned, or even shot, if the parents felt I was "encouraging Henry to be gay" by way of "corrupting a minor."
Not only was Henry all alone in real life, but my not being able to help meant he was going to be alone online as well.
Or would have been if not for my "man-loving fag" of a friend who also happened to be incredibly brave (on top of kind, decent, and honorable). He gave me permission to pass his phone number along to Henry and have him call collect from a safe place. So I hung up the phone, then wrote back to Henry with all the understanding and compassion I could muster... begging him to call my friend for advice. I assured him that my friend was trustworthy over and over again, hoping against hope that Henry would trust me and pick up the phone.
Agonizing hours later, Henry wrote back and thanked me for trying to help and promised to think about calling my friend.
The next day I wrote about The Bears of Berlin and was finally able to cry. Not really for Henry, but for myself, knowing just how lucky I was to have had a life that didn't include wishing I was dead on a daily basis. Worrying that my "Bears" entry was too weepy, I cranked out two additional entries that day in a poor attempt at humor. The next day I worked even harder at being funny and ended up unleashing one of my favorite blog entries ever (though reading it now that you know what's behind it casts an entirely different light on things). I may have been changed forever on the inside, but I was doing my best to not let it show on the outside.
Just as I had come to terms with the fact that I would probably never hear from Henry again, my friend rings me up that weekend to say that he finally got a call. He starts with the bad news... Henry is a very confused and deeply depressed young man, and I have every reason to be concerned. The good news is that he felt sure he had convinced Henry that he needs to get help, and hooked him up with some support options. A follow-up call came a couple days later, and my friend said things sounded encouraging.
I did get one last email from Henry a couple months later. It didn't really say much past "I am gay, and it feels good to finally be able to tell somebody" which, in retrospect, says everything.
What happened after that I do not know. But I think about Henry more than I'd expect, and often wonder where he's at and how he's doing. If he was a freshman in high school then, that means he's undoubtedly graduated. Maybe he managed to escape to the life he dreamed about, and is even now out there living a life which has the happiness he was denied earlier. At least I hope so.
And now you know.
Now you know why I don't say idiotic shit like "that's so gay" when I think something is stupid.
Now you know why I think making fun of gays and lesbians isn't very funny at all.
Now you know why I don't give a crap if people want to hate on me for being gay-friendly.
Now you know why I stand up for gay causes when I'm not gay.
Too many people just like Henry are struggling every day with how to deal with their sexuality when being a teenager is already hard enough. They deserve a world that embraces who they are instead of discriminates against them for their very existence. Four years ago somebody turned to me for help because there was nowhere else they could go. That saddens me more than I could ever put into words, but it also inspires me to make this world a better place... not just for Henry, but for everybody. And if telling Henry's story in any way convinces people to feel the same, then how can I not?
If you live in California, vote NO on Proposition 8 and make this world a better place.
If you live in Arkansas, vote NO on Proposition 1 and make this world a better place.
Because the person you help out by doing so may very well end up being your son or your daughter or your niece or your nephew or your neighbor or any of the people you hold dear. Even a reader of your blog. Making a better world for them makes a better world for everybody.
I think we're due.
UPDATE: Just in case anybody reading this is looking for help themselves, here are some resources...