Ever get the feeling that the government is actively working against your best interests and is happy to endanger your health by pandering to ignorance, denying science, and covering up the data that reveals how badly they are fucking over the American people?
Call me paranoid, but it's tough to see it any other way when you follow the headlines...
Florida tops its single-day record for coronavirus deaths as the UK and France seek to mandate mask wearing. — The Chicago Tribune, Posted July 14, 5:11pm Eastern
Trump administration cuts CDC out of data collection on hospitalized COVID-19 patients. The move has immediate effect. — USA Today, Posted July 15, 9:27am Eastern
Coronavirus data has already disappeared after Trump administration shifted control from CDC. — Posted July 15, 9:31am Eastern
COVID-19 power shift: Experts have 'deep worries' about hospital data sent to Washington. — NBC News, Posted July 15, 2:19pm Eastern
Out of View: After Public Outcry, CDC Adds Hospital Data Back to Its Website — for Now. — ProPublica, Posted July 15, 2:38pm Eastern
Did Trump Admin Remove CDC as Overseer of COVID-19 Hospital Data? • TRUE. — Snopes. Posted July 15

If the pandemic is such a huge hoax involving a conspiracy of doctors and scientists around the globe, then why try to control infection data unless it contradicts your claims? THIS DATA IS HOW STATE AND LOCAL GOVERNMENTS MAKE DECISIONS AS TO THE HEALTH OF THOSE PEOPLE THEY REPRESENT!
Not that some State and local governments give a shit...
Data shows new COVID-19 cases steadily climbing in Georgia. — FOX 5 Atlanta, Posted July 16, 8:47am
Report: As COVID-19 cases continue to grow, Gov. Kemp sues Atlanta for requiring masks. — Decaturish.com, Posted July 16
Kemp is so far up Impeached President Cadet Bone Spurs' ass that he can give Trump a colonoscopy just by looking out his fucking window. And the people of Gerogia are suffering because of it. Just goes to show that you get what you vote for.
The truly awful thing is that people who trust our government to do the right thing are subsequently finding out the hard way that the government can't be trusted. Former game show host Chuck Woolery infamously declared the COVID-19 pandemic as some kind of hoax by the CDC, the media, Democrats, and doctors... then had to backtrack the very next day because his son was diagnosed...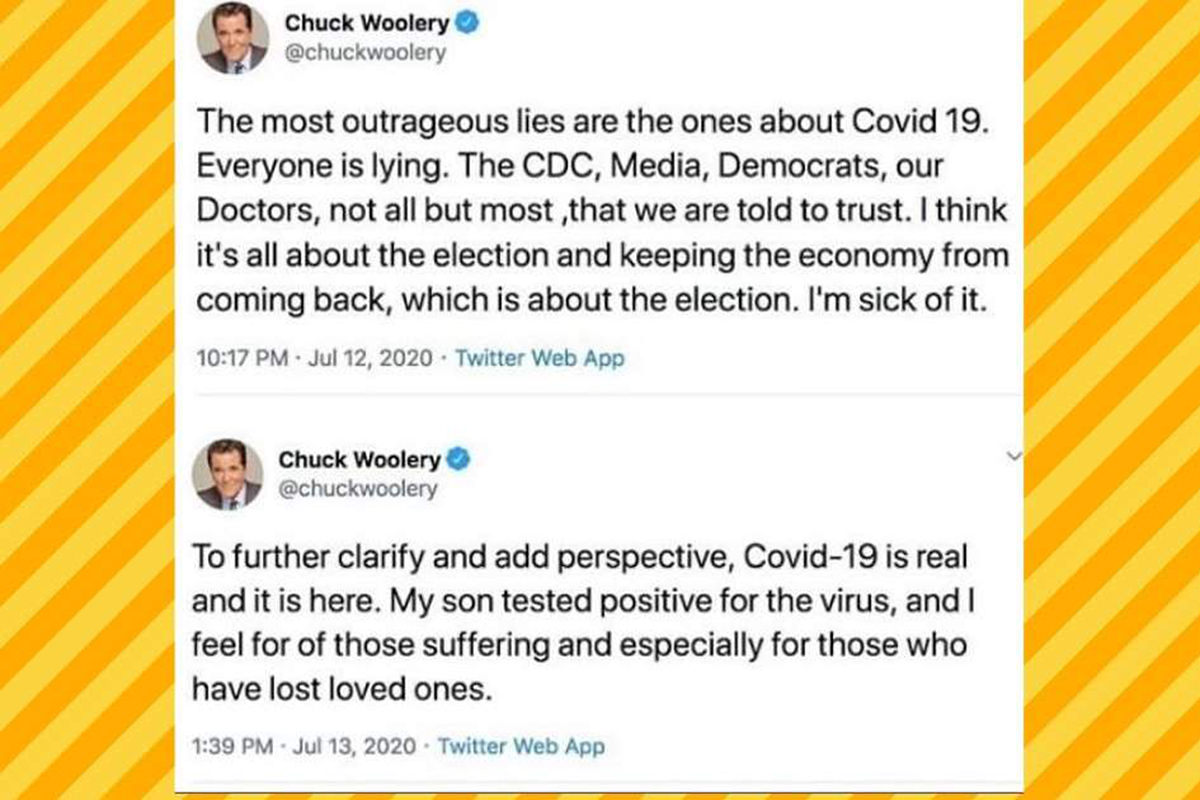 SOURCE: Snopes: Did Chuck Woolery Say His Son Tested Positive for COVID-19?
Do people or their loved ones REALLY have to be infected with COVID-19 before they take this shit seriously? People like Chuck Woolery are why this country is so fucking fucked. I wish his son the best... not just for recovery from the coronavirus, but for having to deal with having a fucking ignorant piece of shit for a father.
Masks help prevent the COVID-19 virus in the moisture we expel in our breath from infecting others. Masks don't weaken you or cut down on your oxygen intake. Countries which have mandated masks have drastically cut their infection rates by as much as 90%! And then there's this...
Hairstylists with COVID-19 didn't infect any of their 139 clients. Face masks may be why.
People who deny masks are working... or bitch and complain because a mask is uncomfortable so they shouldn't have to wear one... are assholes. WEARING A MASK SAVES LIVES! SO WEAR A FUCKING MASK!
Or ignore the headlines and keep dying, I guess. It's entirely in your hands.