=sigh= I've drastically cut down on the number of political posts I drop on my blog because there's nothing new to say. On top of that, it always makes people mad because I am critical of politicians no matter which side of the political divide they get their lobbyist money from.
But recently something has been dominating the news cycle which has really bothered me, so I'm just going to dump my thoughts here for all the world to see and let the chips fall where they may. And that "something" is Impeached President Trump bragging about being able to pass a cognitive test like it's certified him as some kind of very stable genius.
As the caregiver for my mother through her dementia, it's a test I'm painfully familiar with.
Far from an IQ test, the test our impeached president is referring to is designed to be a screening tool for diagnosing cognitive decline and brain-related problems. It looks like this...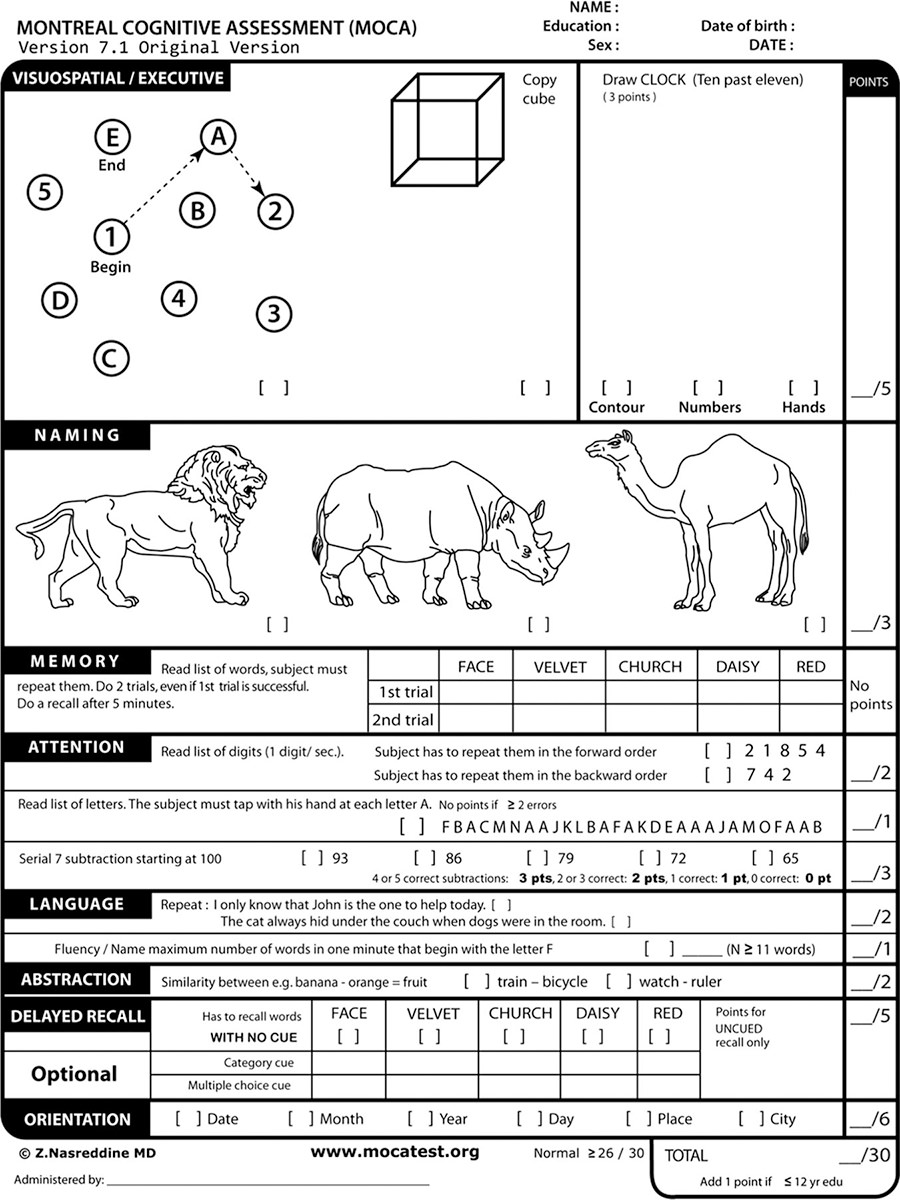 This is the Montreal Cognitive Ability Test. I'm not positive this is the version of the test my mom took but, if it wasn't, it was very close to this. She took it twice. And watching her struggling to get through it is something that still haunts my nightmares. The first time she attempted it she pretty much failed at everything, and it was all I could do to not break down into tears right there in the doctor's office. I was so close to her problems that I wasn't seeing them for what they were. It was this test that put everything into perspective for me, and it was gut-wrenching. I am having anxiety just remembering back to it.
The second time we got through question three and there was really no point in going any further. That time I did break down in tears, but it was after I had excused myself and somehow made it to a stall in the men's bathroom.
Ironically I remember her taking the tests like it was yesterday because my cognitive abilities are (assumably) mostly okay.
The first question has you running through a maze of characters which are alternating numbers and letters of the alphabet. The challenge is to get them in alternating order, which anybody with a brain can manage easily. Except people with an injured brain, of course. Despite having it explained to her twice, my mom connected the numbers and ignored the letters. The next question asks you to draw a 3-D cube. Even if you don't have artistic talent this is something people can copy fairly easily. My mom managed to get a square okay, but then it was just random lines.
Next you have to draw a clock with the time set to 10 past eleven. This might be tricky for some but, again, a person with normal cognitive function can draw a circle, put a tick at 12 O'clock and 6 O'clock, draw in the 15 and 45 minute ticks, then put two ticks between the ticks you have. Then you draw the little hand and the big hand at the appropriate time. This had my mom completely flummoxed. She got a kinda-oval shape, but then just started drawing random lines really close together, and she had to be coached to get that far. I think the hands she drew weren't even on the clock face.
Then you have to name some drawings of animals. Mom blazed through these with no problem. At the time of her first test her long-term memory was in pretty good shape.
Next is a memory test where you are given five words and asked to repeat them back. This is where things can get tricky. If you just throw five random words at me, I won't remember them at all... likely not even five minutes later. But if you tell me I have to remember five random words, then I can do that no problem because I use memory association. FACE • Okay, I am picturing a woman's face. VELVET • Okay, the FACE is Isabella Rossellini and she is rubbing a piece of blue VELVET on it. CHURCH • Okay, we pull back from Isabella Rossellini's FACE being rubbed by blue VELVET and she's sitting on the steps of a CHURCH. DAISY • Okay, Isabella Rossellini's FACE is being rubbed with blue VELVET as she sits on the steps of a CHURCH which has a DAISY growing in front of it. RED • Isabella Rossellini's FACE rubbed by blue VELVET as she sits on CHURCH steps with a DAISY growing in front of it and a PeTA nut job just drove by and threw RED paint on everything. FACE, VELVET, CHURCH, DAISY, RED. Got it. My mom, of course, couldn't get through the list at all. She couldn't remember a thing, and this was all really confusing to her.
Then you repeat some numbers and have them repeated back... and have to clap when you hear the letter "A" when a series of letters are read to you. Then you have to count backwards from 100 by sevens (which, is something I can do easy enough, but it takes a minute!). My mom just kinda stared blankly and couldn't be coaxed into even attempting any of this.
And now we're finally to those last five VERY HARD QUESTIONS which has Impeached President Trump thinking he's some kind of medical miracle.
Repeat a couple sentences back to the reader. How is this in any way "very hard" if you have full cognitive functionality?
Name as many words as you can which begin with the letter "F" in one minute. The goal is greater than 11 words. Granted, this may be a challenge with somebody who doesn't use communication skills much, but what is so "very hard" about this?
Find the similarity between two words. Yeah, knowing what's similar between "train & bicycle" and "watch & ruler" is a real brain twister.
Recall the five random words you were given. This might be a challenge for somebody if they don't have a good memory or they don't know to use memory association to remember stuff... but, yeah... not rocket science here: Isabella Rossellini's FACE rubbed by blue VELVET as she sits on CHURCH steps with a DAISY growing in front of it and a PeTA nut job just drove by and threw RED paint on everything.
Name the Year, Month, Day, Place, and City. Okay, I admit the date stuff could totally be a challenge for me. Since I work long hours seven days a week, the dates just blend together. But I would absolutely know the date if I was taking my mother to an appointment on that day. And a president who has appointments all the time would (hopefully) know this too. But how is knowing WHERE you are and what CITY you're in a challenge to anybody with a functional brain? If that's a "very hard" question for Impeached President Trump, then we have a serious problem.
When Impeached President Trump brags about five fairly simple questions being "very hard," I am understandably concerned. Everybody should be. But more than being concerned, I am very, very pissed off. Whether your brain is cognitively functional or not has absolutely nothing to do with whether you're an evil asshole or not! Do I think Joe Biden could run through this test and get 30 out of 30 correct? No. No I do not. Do I think that Impeached President Trump actually got 30 out of 30 correct? No. No I absolutely do not. We will never see that test. And even if we saw that test, there's no guarantee whatsoever that it's the actual test or that he wasn't coached all the way through it. That's politics. And as thrilling as it might be to see Joe Biden and Impeached President Trump go head-to-head in a cognitive test when I think that they both have demonstrated that they have cognitive issues... that isn't going to get us anywhere. It's not going to tell us which special interest groups are buying them off. It's not going to tell us what they'll be fleecing off the American people's hard-earned tax dollars. It's not going to tell us what back-door deals and shady cronyism their administration will be party to.
All it will tell us is whether they can remember what a lion, rhino, and camel are.
But my biggest takeaway from all this brouhaha is that there's a serious stigma against people with brain and memory problems. I read the comments on these news stories and it's mostly people making fun of Impeached President Trump or Joe Biden because they (allegedly) have cognitive decline. Which is to say that they're making fun of my mom. And as I sit here and type these words my heart is aching.
I am not going to lie, though. I absolutely do this too.
I try not to. I know better. And it's never necessarily to make fun of people, but more to offer armchair assessments as to somebody's mental state or cognitive abilities from a clinical perspective when it comes to the responsibilities they have. I've said that Joe Biden looks like he's sundowning, which may be true... but it could just be him attempting to speak when he suffers from a stutter. I've said that Impeached President Trump scares the shit out of me because everything he says is insane and he's got his finger on the button to unleash the nukes... but it could just be him being an evil, disgusting excuse for a human being. I honestly don't know.
As always, all I can do is try to be better about not stigmatizing mental health.
Even if I fail in the attempt.
Which I do a lot.
Take my trying to eat better, for example.
Yesterday I had to go to the grocery store because I needed an onion and a few other items. While I was there I passed by a display of sugary bakery products that were on sale. These are things that I just can't eat any more... most of the time I don't even want to eat them any more... but I saw a box of raspberry jelly donuts and was immediately intrigued. When I was in college, I was eating a box of these things a day. But as of now? I haven't had a raspberry jelly donut in decades.
I bought a box of course. If I'm careful and eat them in moderation they're not going to kill me, right?
Yeah... I ate half the box that afternoon and downed the other half this morning for breakfast.
But I'll try to do better tomorrow, I promise.