Don't let the prelude to holiday madness get your down, because an all new Very Special Video Edition of Bullet Sunday starts... now...

• WW84. My first instinct is to trust that Patty Jenkins will deliver an awesome sequel to her amazing Wonder Woman movie. But this new trailer... I just don't know. Apparently this is not actually a "sequel" but instead "the next iteration" of Wonder Woman. Which seems like a cop-out... especially since Steve Trevor looks to be alive(?) after dying in the first movie. Or, if not alive, a figment of Diana's imagination? Or something. And while I'm excited at the prospect of Kristin Wiig playing long-time Wonder Woman adversary The Cheetah, I'm a little less thrilled at the idea of Maxwell Lord factoring into all this as some kind of maniacal infomercial villain...
The music and action scenes look stellar. I guess we'll find out if this is a Wonder Woman worth watching when the movie is released on June 5th, 2020.

• Guy. I had heard absolutely nothing about Free Guy until I saw this trailer...
The concept is great. Casting Ryan Reynolds and Taika Waititi is fantastic. The visuals are amazing. I hope all that adds up to a really good movie. I guess we'll find out on July 3rd, 2020.

• Life? And... tonight was yet another bizarre (yet completely watchable) episode of HBO's Watchmen. And with just one episode left, I am anxious to see how everything comes together at the end. And yet... I'm willing to be that the haunting version of David Bowie's Life on Mars by Trent Reznor and Atticus Ross from last Sunday will still be stuck in my head...
Because nothing ever ends.

• LEGO! Two guys after my own heart with their LEGO groom & groom decorations! Their story reminds me of the movie Yossi & Jagger. WHY CAN'T WE HAVE THIS AS A HALLMARK MOVIE?!?
I mean, come on... how sweet is this...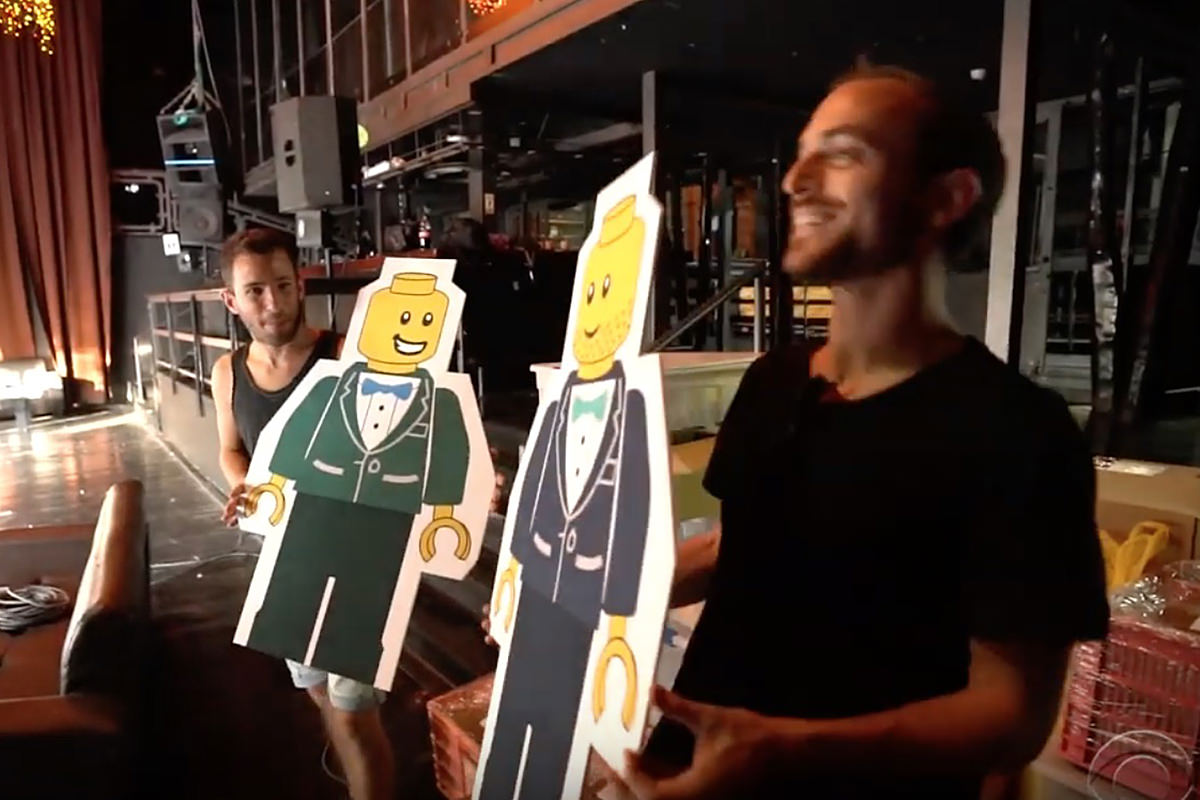 Maybe one day nobody will give a crap what other people want for their marriage since it has absolutely no bearing on their life. But, until then, I guess the needle keeps moving.

• Masters. Speaking of LEGO... how in the heck is a competition show like the only just now happening?
It's kinda a no-brainer concept. But that doesn't mean it will make for good television even though it should make for great television.

• Ad Aware. I love a good advertisement, and am always amazed when somebody creates a truly great ad without the help of an ad agency and a lot of money. Case in point...
The ad was created for £100 by the shop owner, his kid, and his best friend... in one day. I've seen million-dollar ads which were far less memorable and even less effective.

And that's probably enough videos for one day. So until next time...