Having been to The Crescent City many times, I know how crucial it is to pack minimum 2 changes of socks and underwear and 3 changes of shirt every day. When the heat and humidity makes you sweat like I do, anything less is just being irresponsible.
Work yesterday ran me pretty ragged and I had been eating all day long, so my ambitions for dinner were low. I made my run to Cafe du Monde and that was all I needed...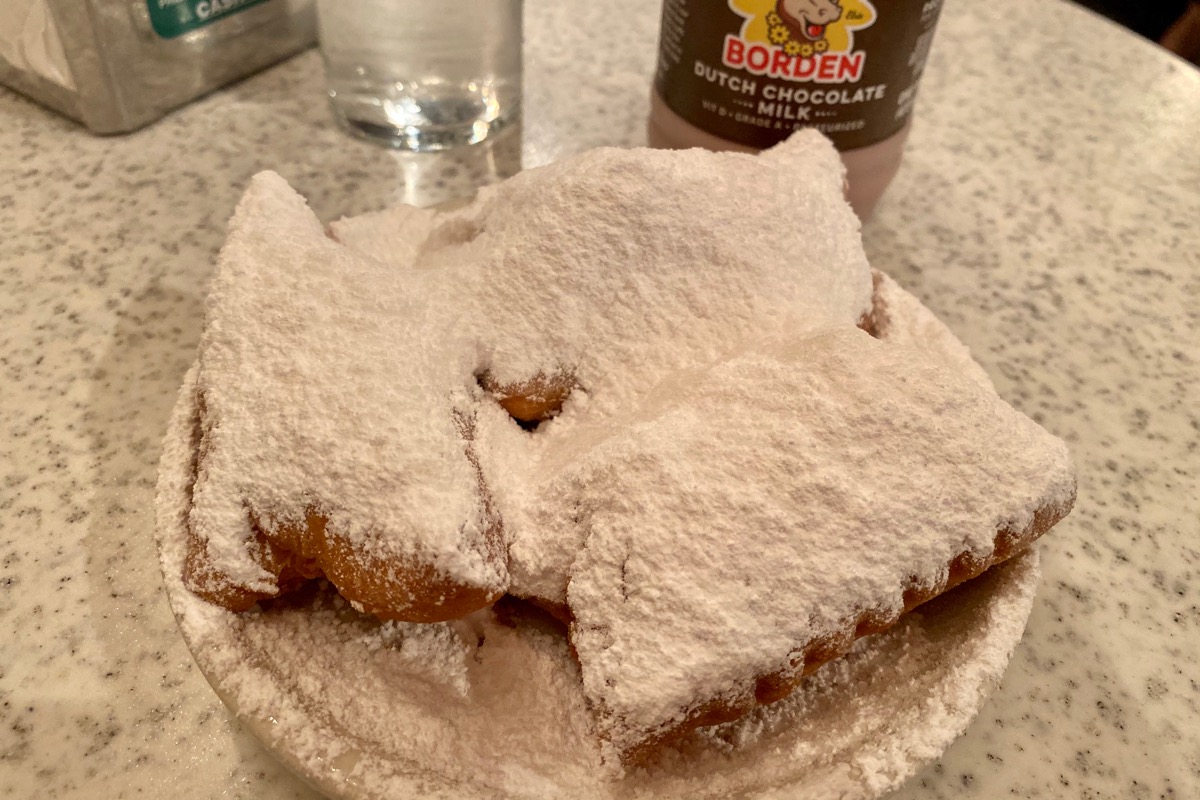 When I sat down to eat, I was overwhelmed with the feeling that something was wrong. Something had changed. After a minute I realized that the painting "It seemed like an ordinary day, until I had coffee with Jesus at the Cafe du Monde" which had been hanging on the green-stripes wall was missing. Just a blank spot there now...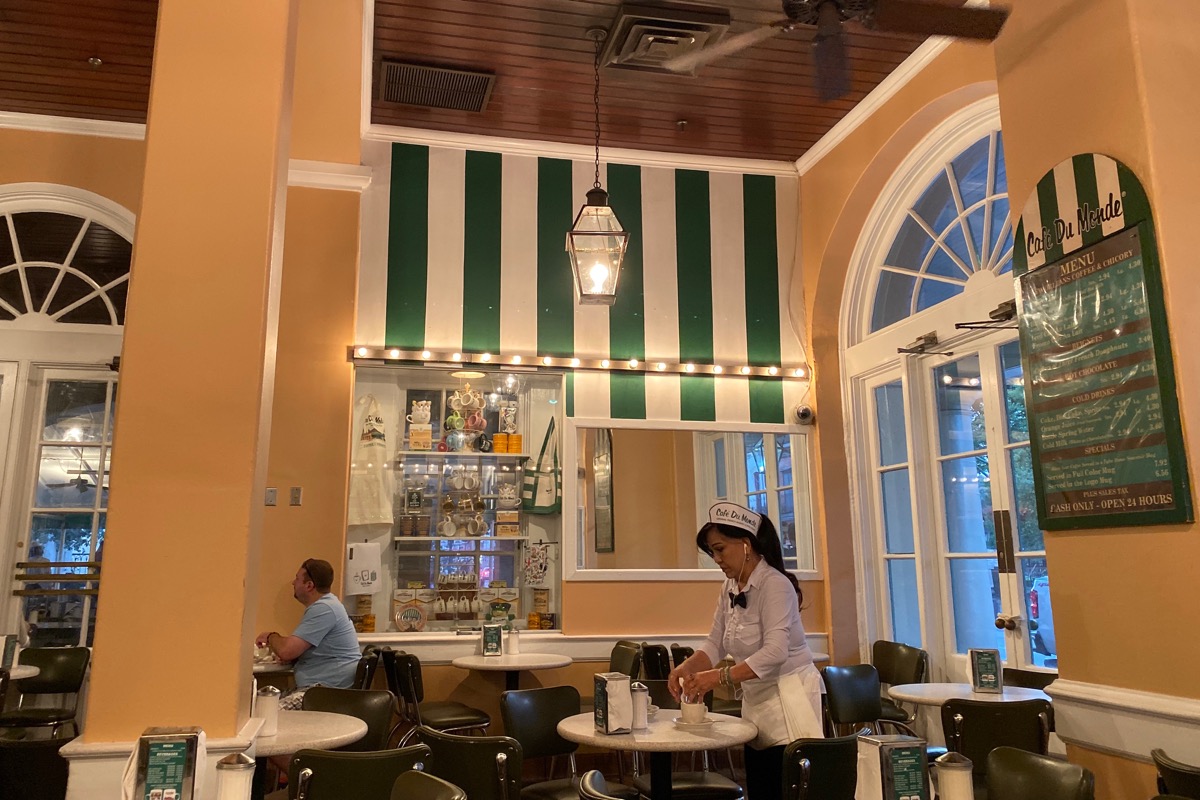 I've blogged about the painting and how much I like it two or three times now...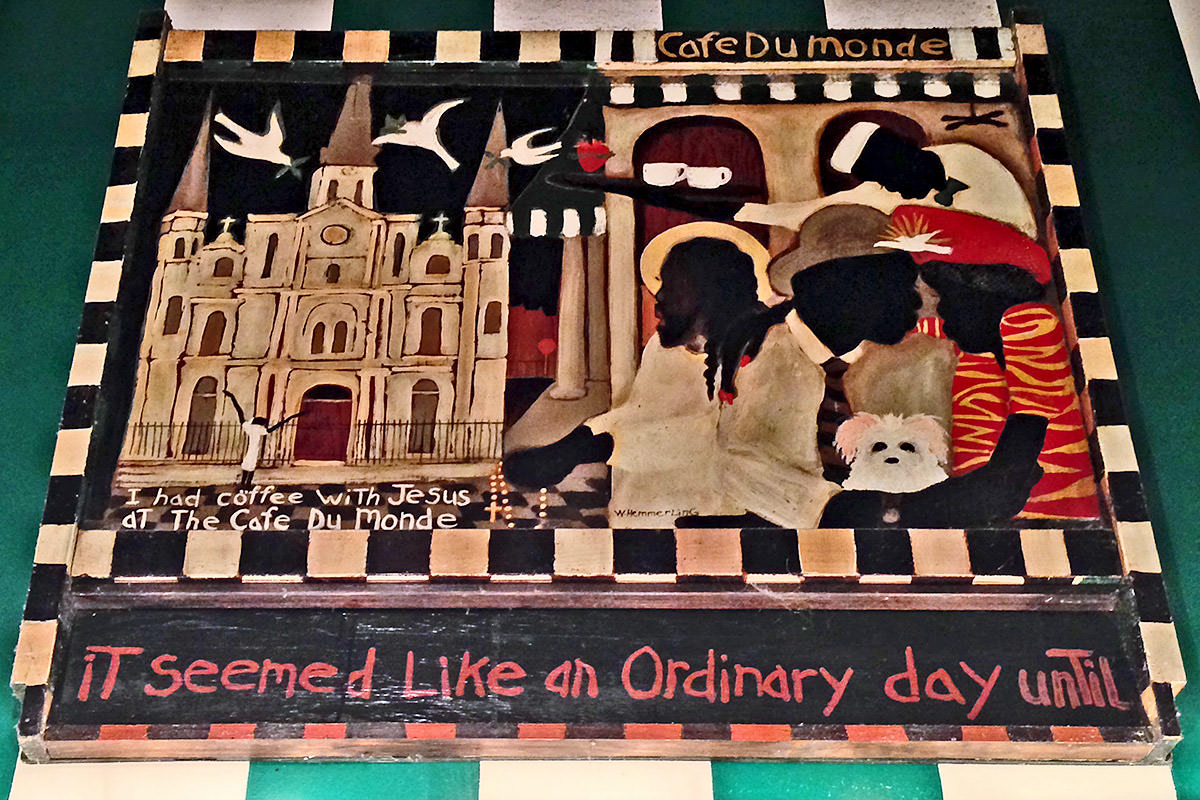 I asked at the counter and all they would say was that it had "been moved to a new location." I hope that's the case, because I will be sorely disappointed if some religious zealot asshole complained and they had to take it down.
Then I just wandered so I could take a few photos with my iPhone 11 Pro to see how it handles things when the light is fading. And to play around with that magnificent wide-angle lens, of course...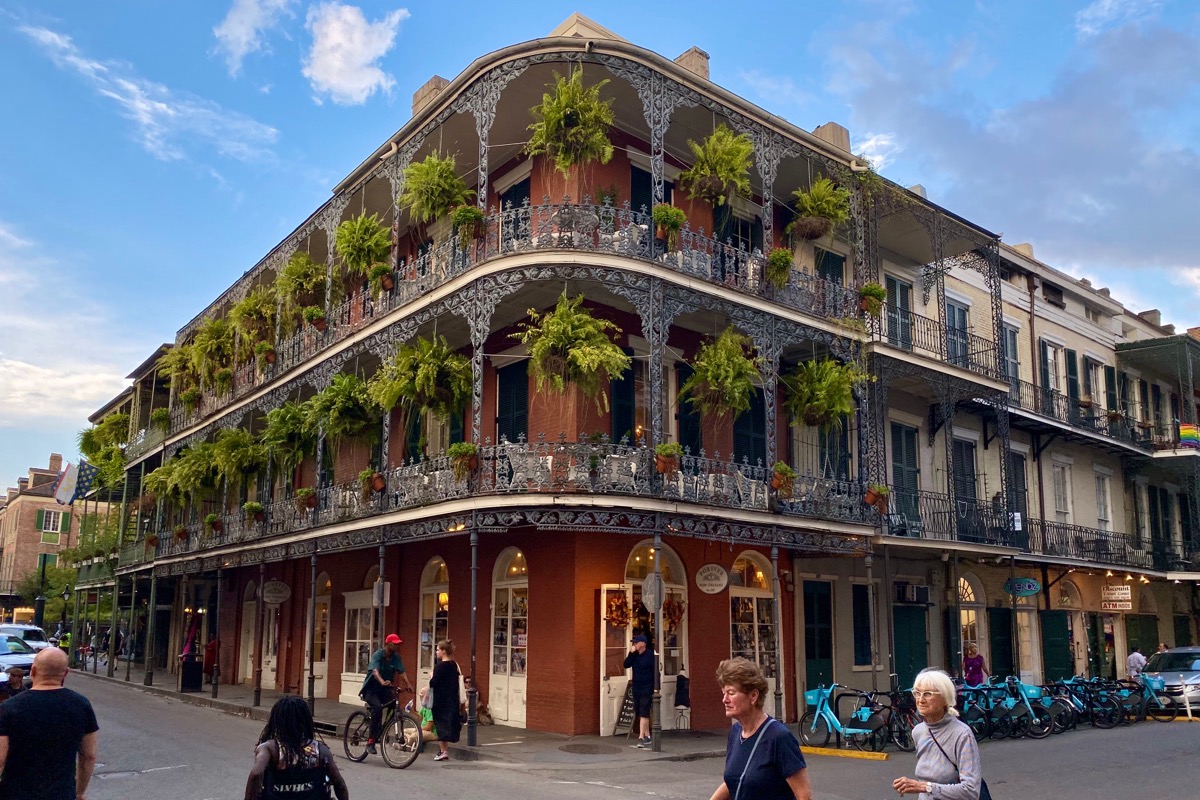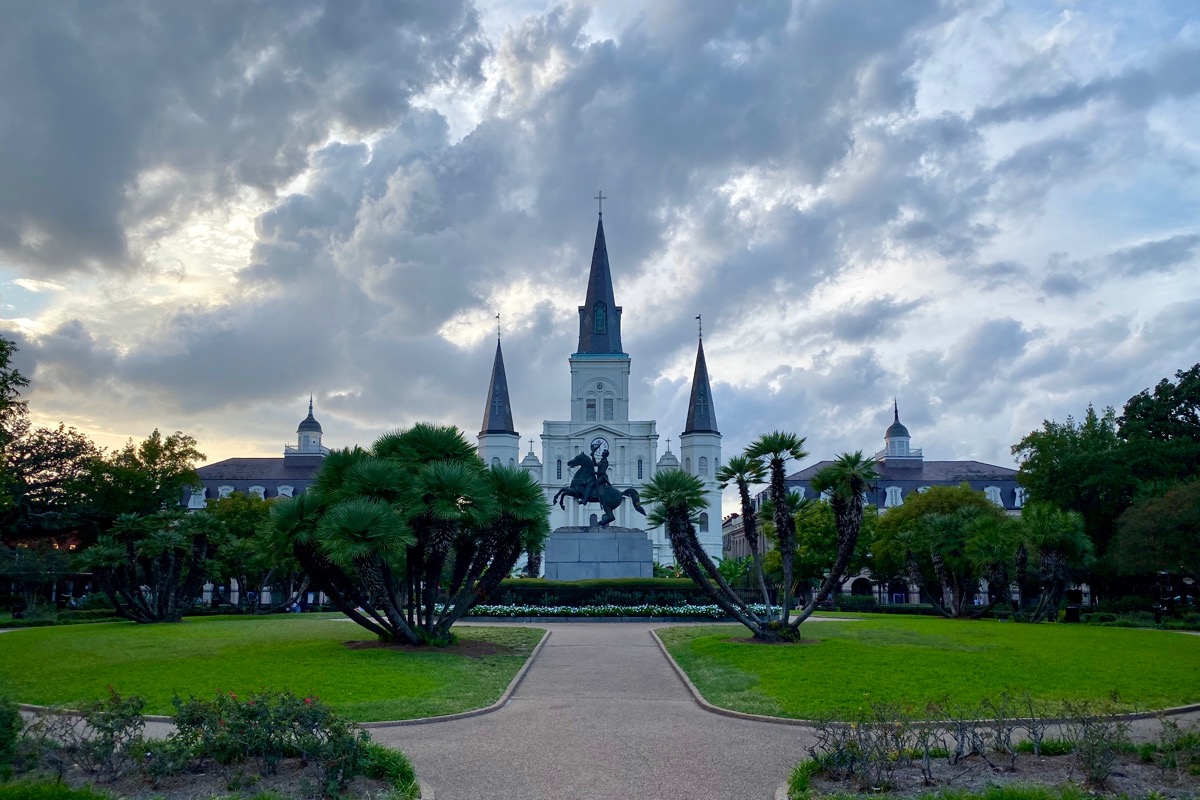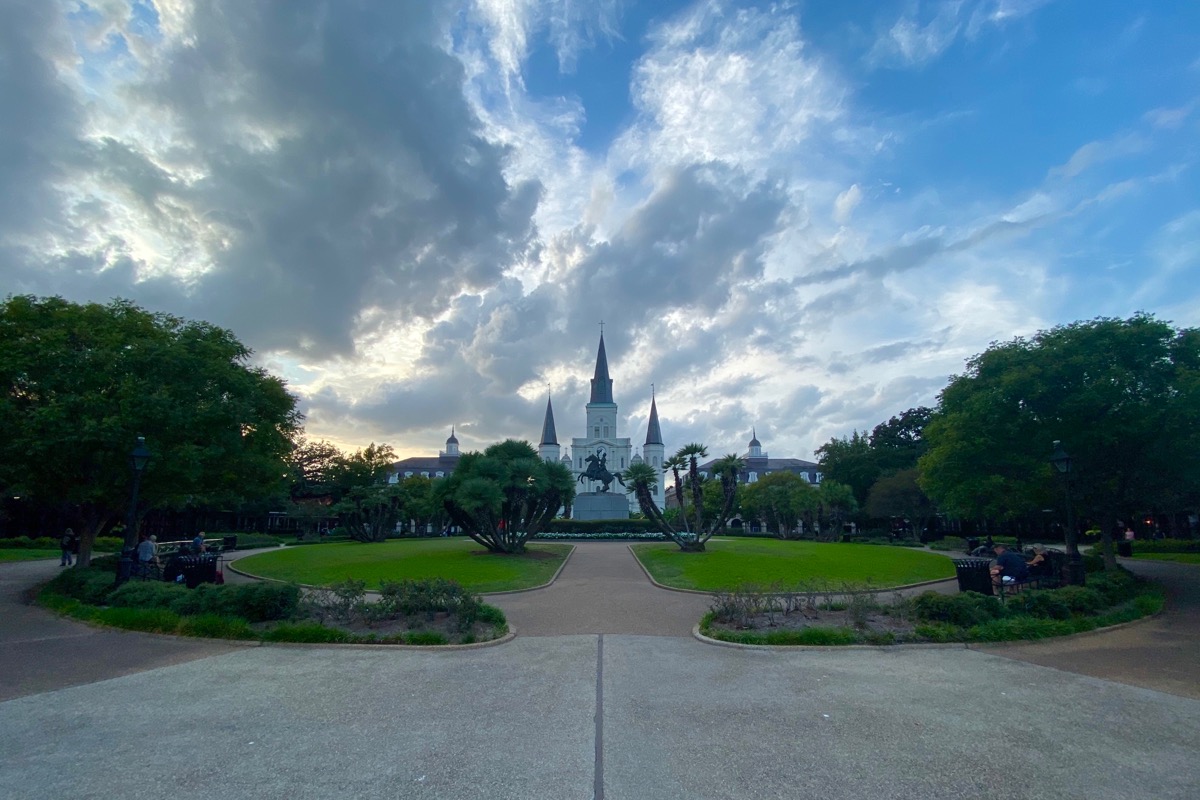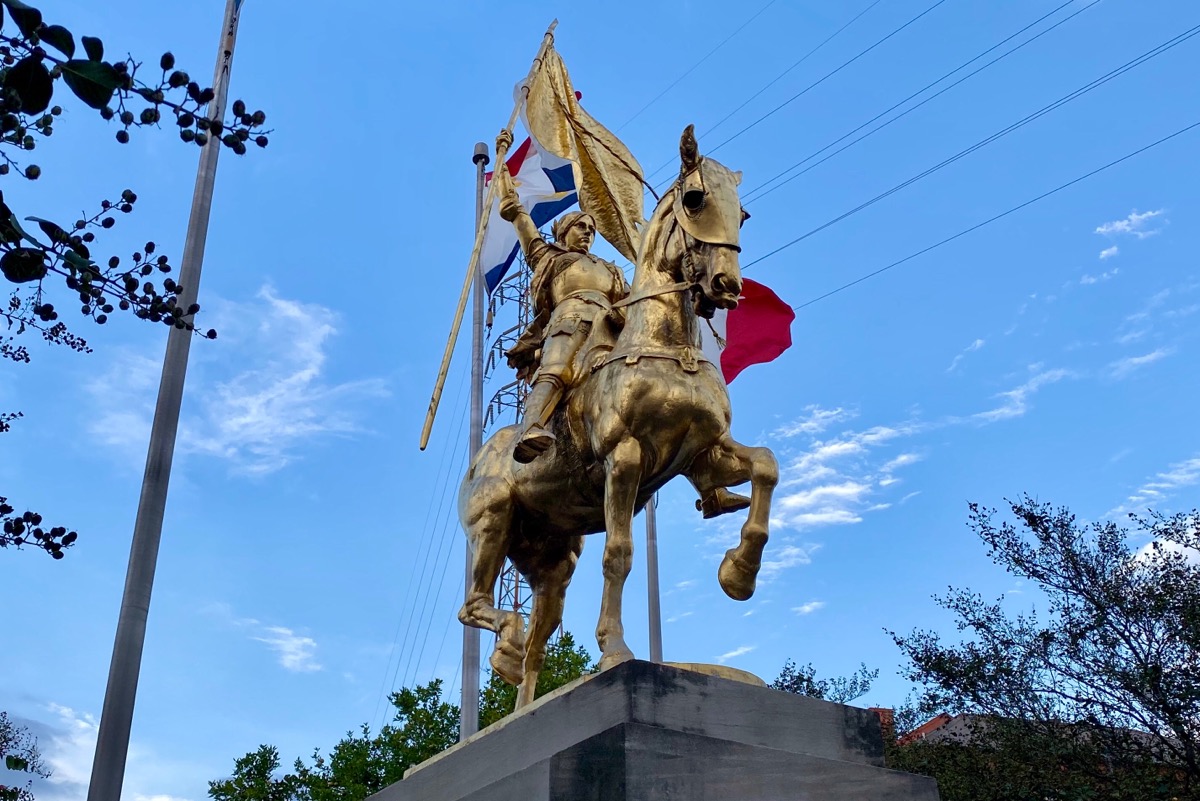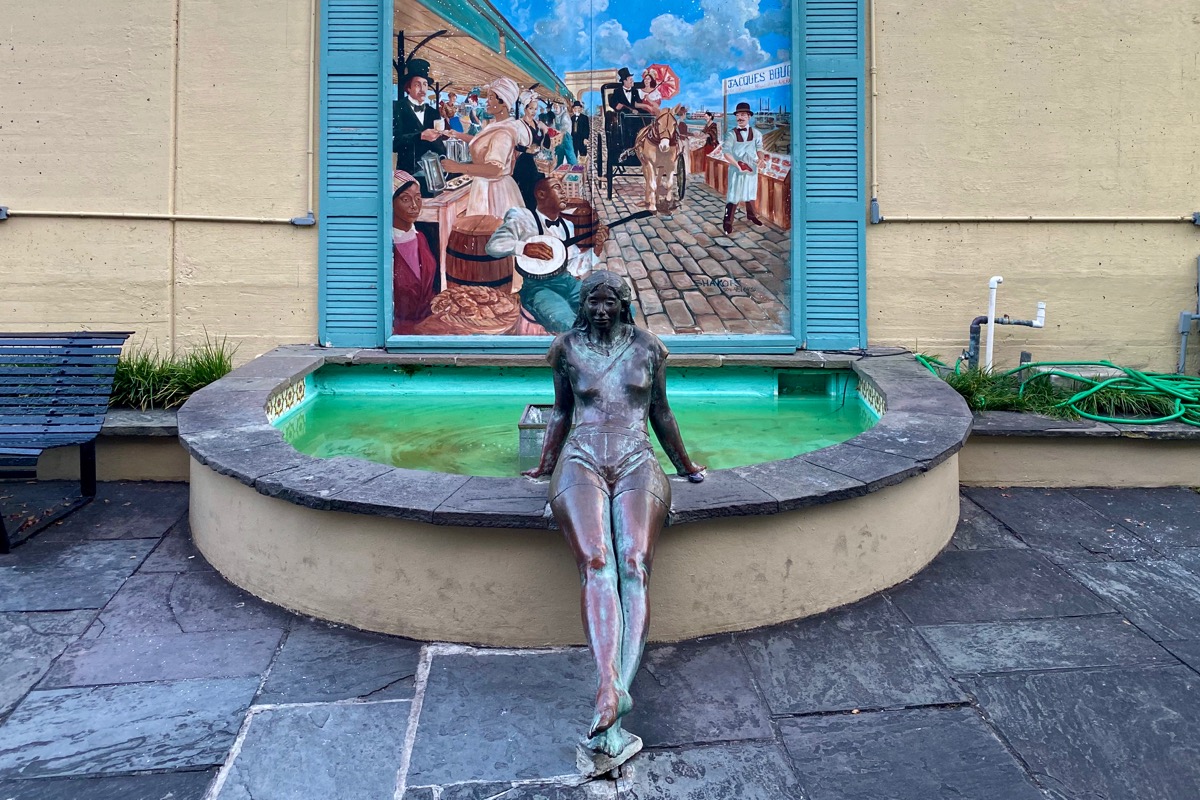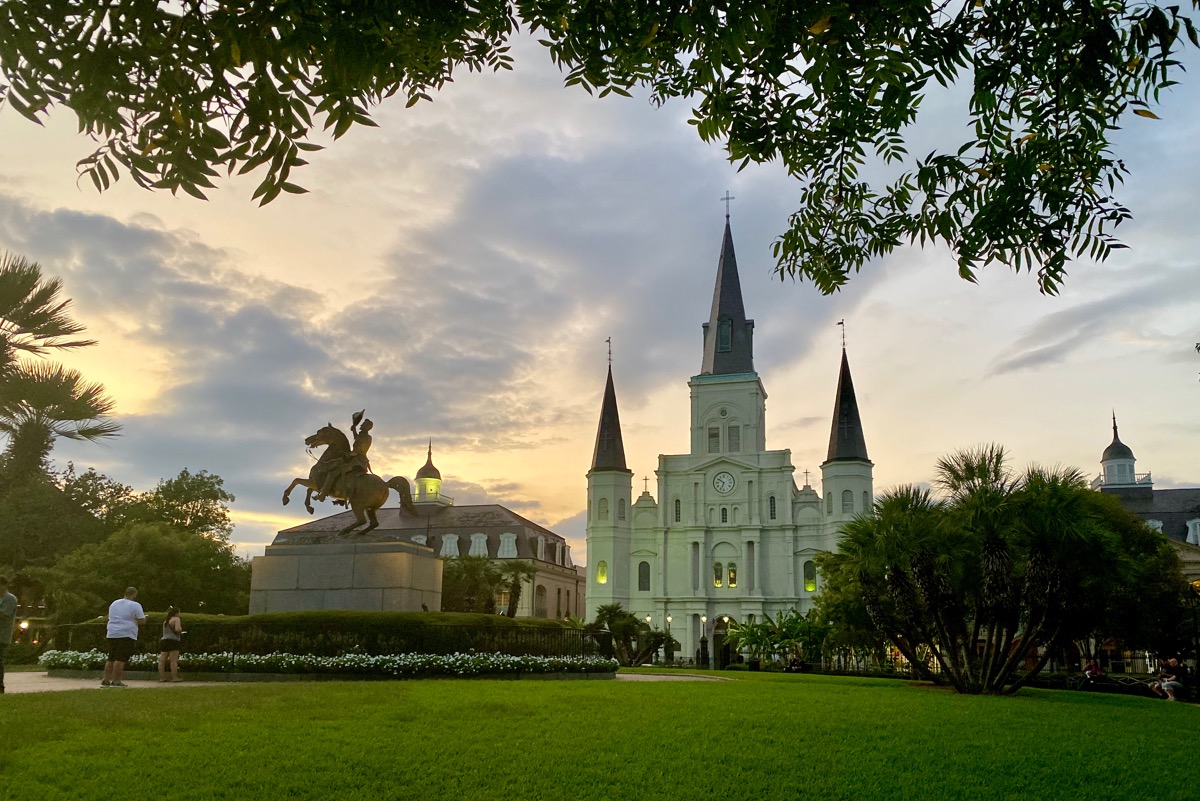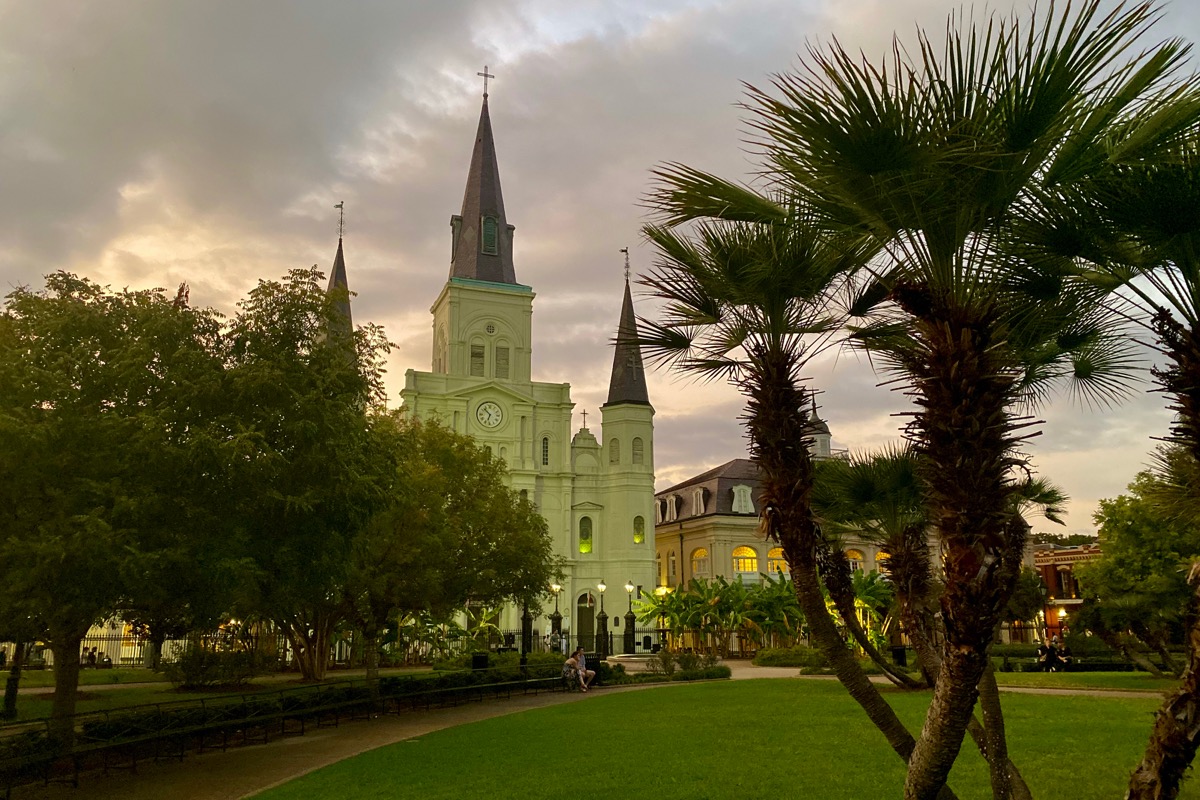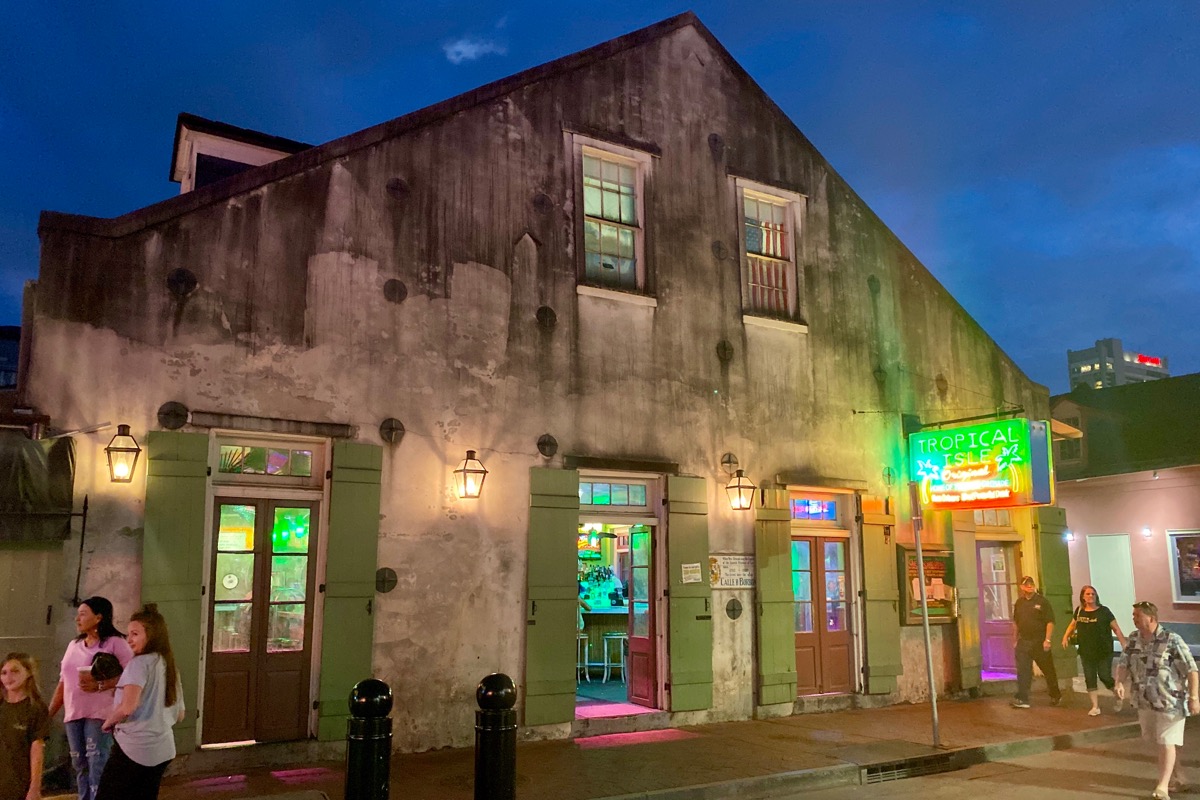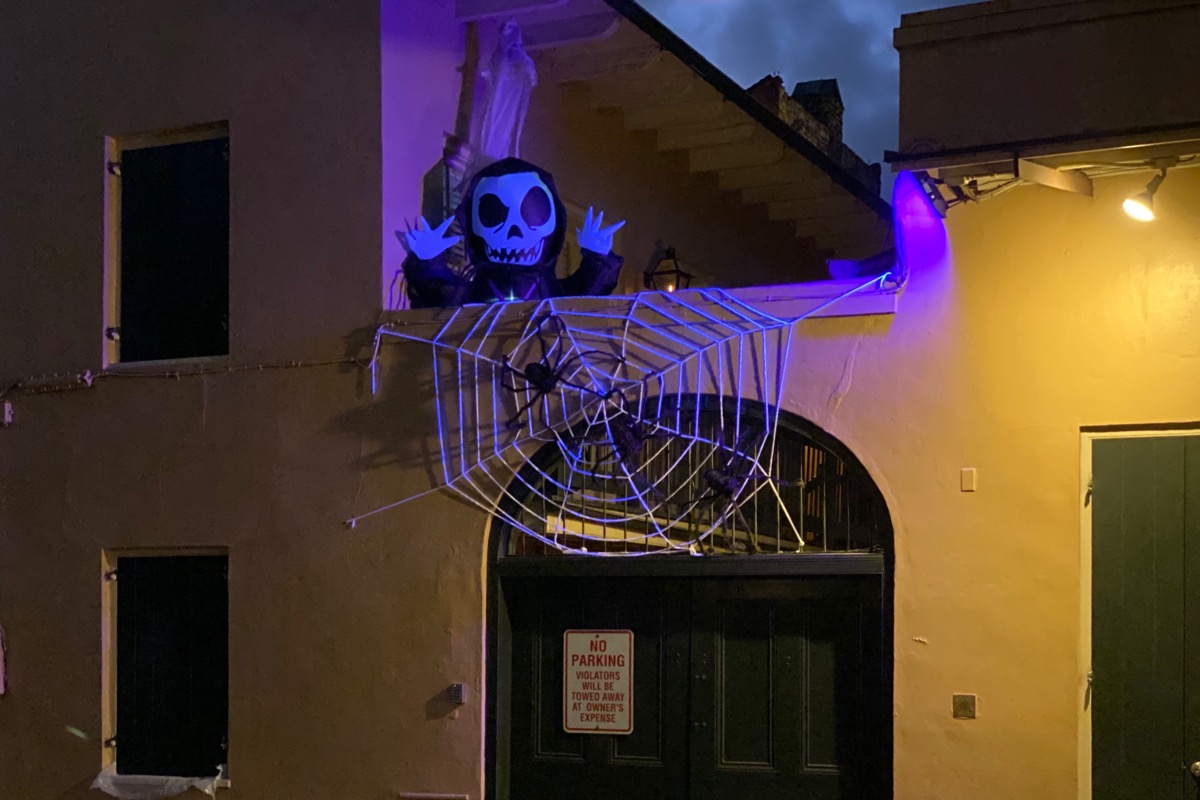 Alas, I'm old now, so I was headed to my hotel just before 9:00. I was past my limit of sweating for the day and didn't feel like drinking my way into a coma. Sure it was an early night, but I got a great sleep in, so it's all good.
This morning was spent in bed working. Not because I had to, but because I wanted to enjoy my air conditioned hotel room until they kicked me out. I am on my last pair of underwear and socks, so going out and having nothing to change into after sweating through my clothes was the last thing I wanted to do (you are welcome, people on the plane sitting next to me).
With three hours to kill, I decided to have a leisurely lunch at Attiki. They have a fantastic falafel wrap, which sounded all kinds of amazeballs. Then I couldn't resist one last stop at Cafe du Monde for dessert...
This time I had a guest...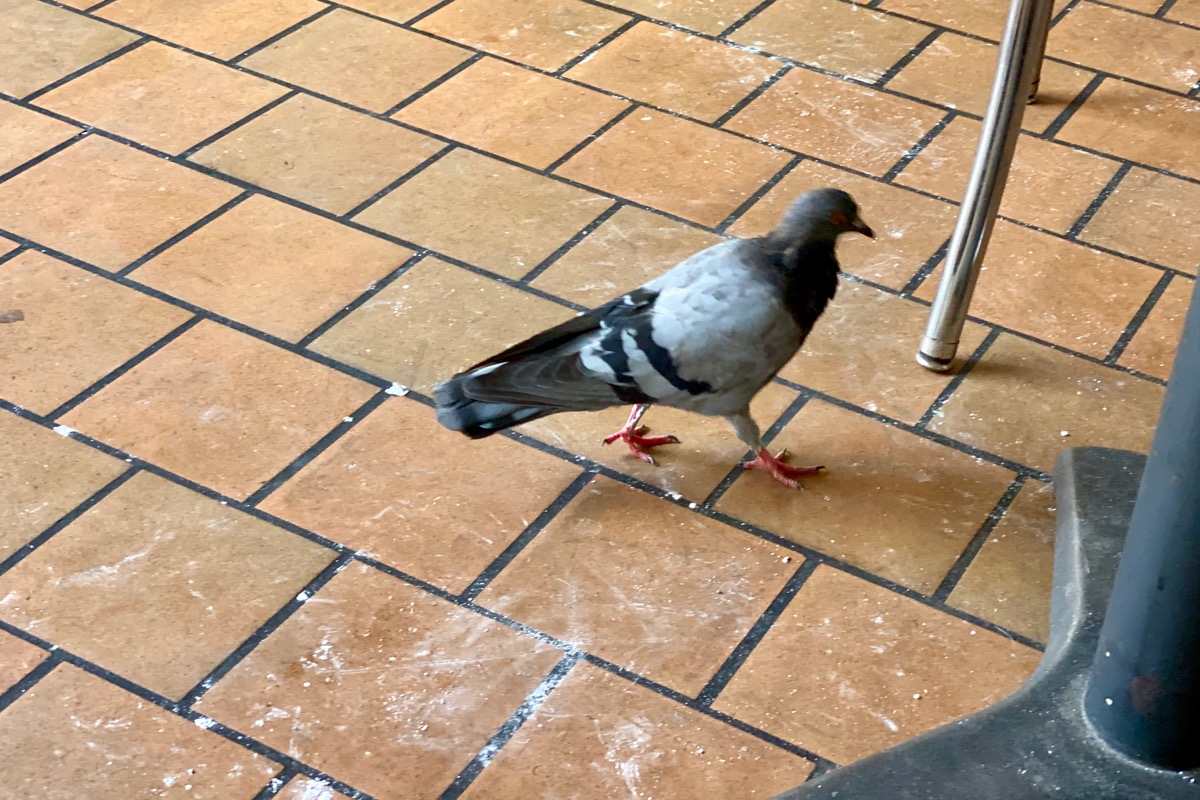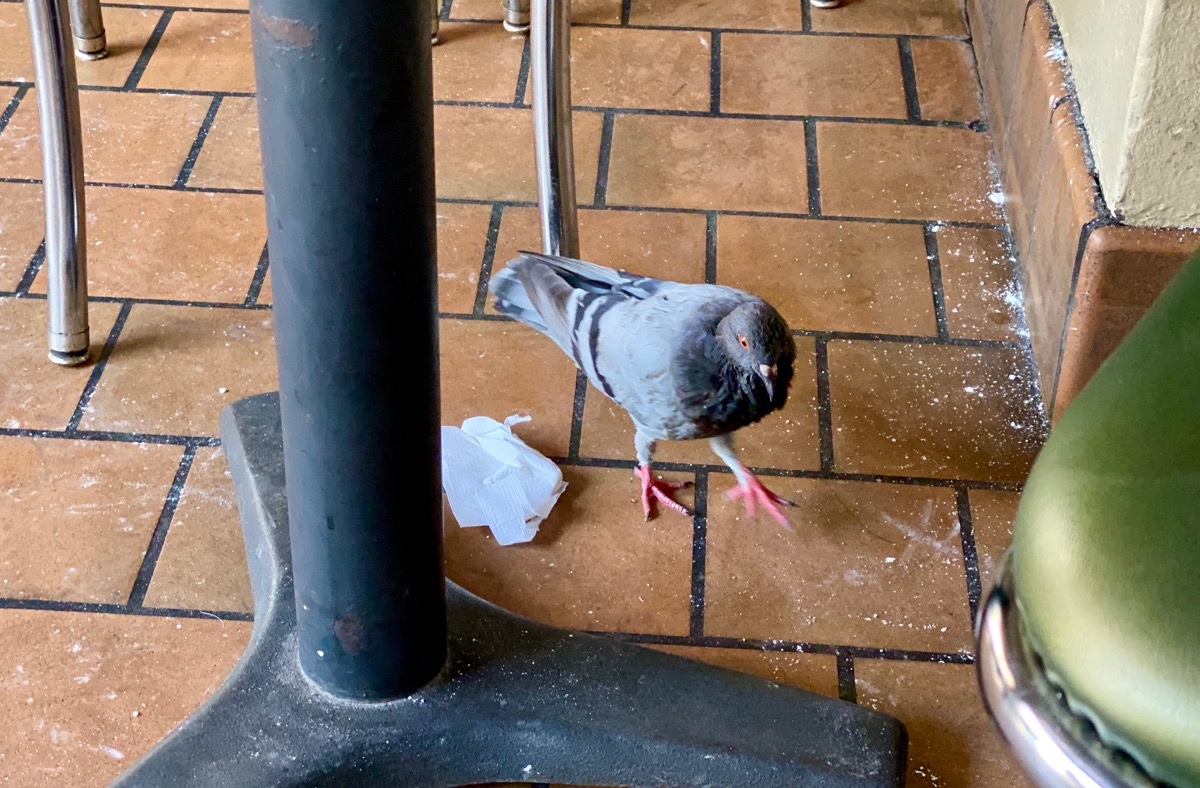 After second lunch, I stopped by the Hemmerling Gallery to ask about the painting that used to hang in the Cafe du Monde (which I mentioned above). They told me his painting was moved across the street to a general store owned by Cafe du Monde. They also told me that the painting was inspired from when Bill was sitting at the Cafe du Monde drinking a coffee and a man sat down at his table who looked like Jesus. This scared him, so he got up and moved to another table, finished his coffee, and left. As he was walking away, he started feeling bad about the way he had acted, so he went back to apologize. But the man was gone. As he was walking through the square, he saw the man again sitting on a park bench. He sat down and tapped the man on his shoulder and asked him if people tell him he looks like Jesus. When the man turned around, he had the most beautiful face Bill had ever seen. He went to his preacher and said he thought he met Jesus at the Café du Monde... then painted it.
So I walked back to the store and, here it is. So sad they moved it from its rightful place at Cafe du Monde! Mystery solved though...
And now I am waiting for my shuttle to the airport for my flight home. Hopefully we land in Seattle early, because I've still got a long drive ahead of me after the flight.
And there are cats at home waiting for me.