This afternoon I had to leave the office early so I could run home and wait for the people to come clean out the dryer vent so my home doesn't burn down in a lint-related disaster. It is a lot of noise as a metal wire with a brush on the end reams out the pipe leading to the vent (which is all the way across my home). Jake and Jenny were not happy about this intrusion on their nap time. At all.
After that was over, I boiled eggs and cooked Simply Potatoes so I could make potato salad. I then proceeded to eat potato salad for the rest of the evening because, let's face it, I make pretty dope potato salad.
But let's back this up for a second.
If you are not aware of Simply Potatoes, they are pre-peeled, pre-diced potatoes that cost ten times what regular whole potatoes cost. I refer to them as "luxury potatoes." Usually I don't have the money to be throwing away on such conveniences, but they were on sale for only five times what regular whole potatoes cost, so how could I say no to not having to peel and dice them?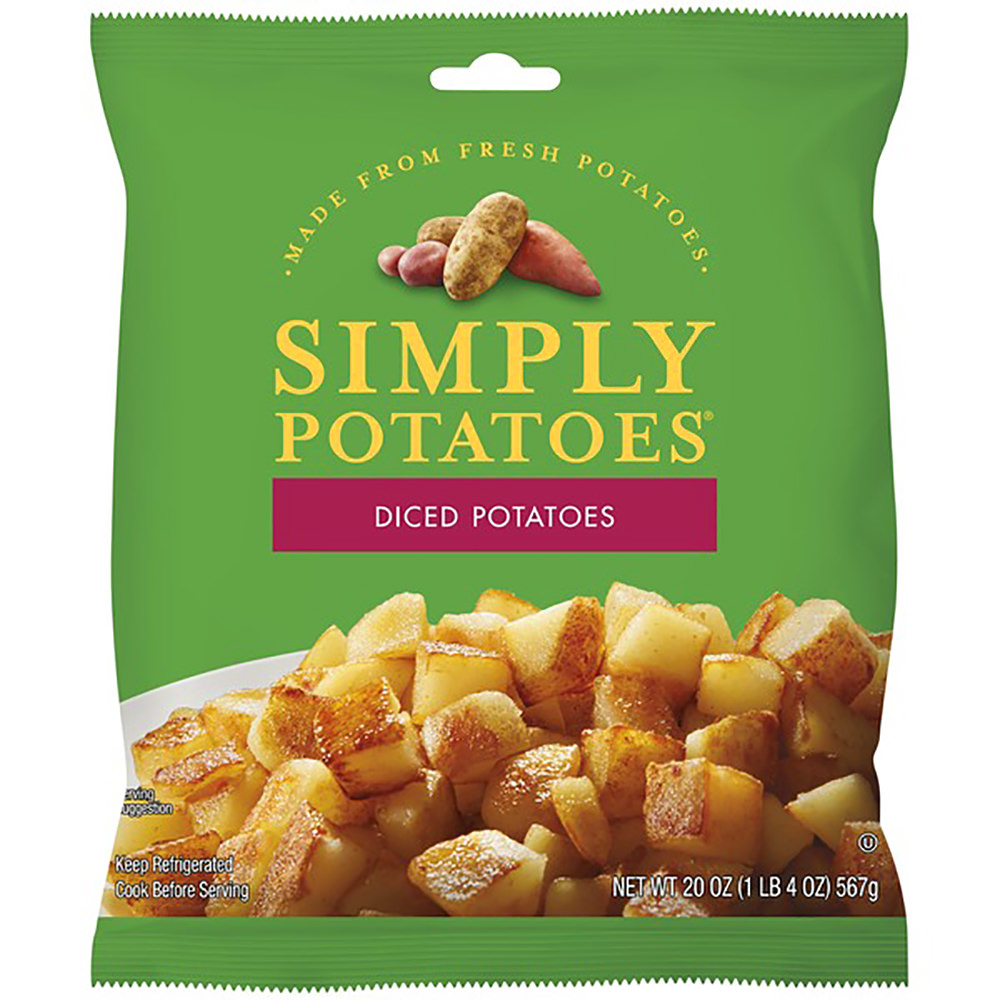 I could not.
Hence the unnecessary expenditure and the loads of potato salad I've been eating...

Dave's Potato Salad Recipe
Cook one bag of Simply Potatoes Dices in a 2-1/2 quart covered dish for 10 minutes, 20 seconds with 1/2 cup of water in the microwave on high. Microwaves vary so you will need to adjust the cook time accordingly, as you do not want tough, gummy potatoes.
Peel 4 hard-boiled eggs, then slice into small cubes in a large-ish bowl... then blend together the dressing ingredients in a separate small bowl...
1/2 cup Mayonnaise
1/2 cup Sour Cream
1/2 tbsp. Yellow Mustard
1/2 cup Dill Pickles (diced small)
1/2 cup Purple Onion (diced small)
3/4 tsp. Ground Black Pepper
1/4 tps. Salt
1/4 tsp. Celery Seed
1 or 2 tsp. White Wine Vinegar (to taste)
Add cooled potatoes to the bowl with the eggs, then gently fold in the dressing until everything is evenly coated. Garnish with paprika and diced scallions (green onions) or chives.
NOTE: Some people who have tried my recipe like less onion or... God help us... prefer something totally gross like celery instead. Or they want no crunch and leave the onions out entirely so they can use onion salt and garlic powder for flavor. Some people prefer dill weed instead of celery seed. Some people prefer sweet pickles instead of dill pickles. You do you, of course, but this it the recipe I've developed after trying countless others and I loves it just like it is!
Hmmm... now that I think of it, I really should have bought Luxury Eggs instead of fresh eggs. Pre-hard-boiled and pre-peeled, and only double the cost of boiling them yourself!
Or I suppose you could just skip making potato salad entirely and buy pre-made at the grocery store. Except... I don't know about where you live... but pre-made potato salad where I live is a grotesquely bland excuse for food which I avoid at all costs. I mean, sometimes they put celery in there! Yes, abhorrent celery... IN POTATO SALAD!
If your potato salad has celery in it? Then YOU, dear reader, are what's wrong with this country!