When it comes to cats, I truly lucked out. Jake and Jenny are wonderful animals and rarely give me any trouble. They don't chew on my stuff. They don't scratch anything they're not supposed to. They rarely puke. They leave me alone when I sleep. They're affectionate but not too clingy. They don't meow constantly. They're just the greatest most perfect cats.
99.9% of the time.
Every once in a while though...
I've been bitten three times.
When I first got my cats, they came with hospital collars from having been fixed. My cats were absolutely terrified of me, so I couldn't get close enough to cut them off...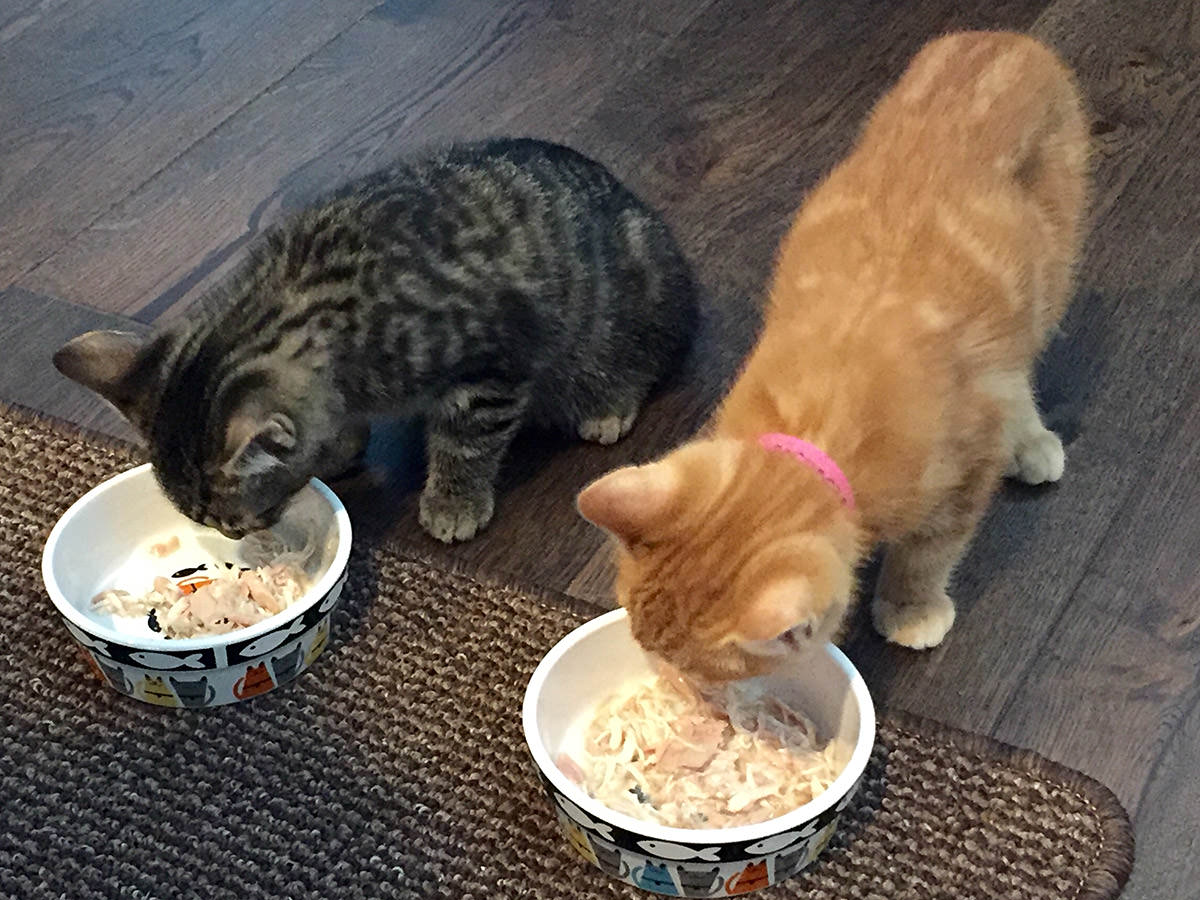 Calm Before the Storm.
After a few days, Jake would be distracted enough while eating that I was easily able to cut his off. Jenny though? Not on your life. And it was scaring me. They spent a lot of time hiding under stuff, and I was worried the collar would get caught and she'd hurt herself. Finally I managed to grab her and cut it... except she was not having it. She clawed my arm so badly I still have marks. And she bit my nose repeatedly, resulting in blood gushing down my face. Not fun for me... and Jenny hid under the couch for two days.
The second time I got bit was when Jake escaped from the catio. Eventually he made his way back to the door, but he wouldn't come inside. So I grabbed him...
Jake, who is usually a very mellow cat, went full-on psychotic. He was a Tasmanian devil of fury... biting my arm and clawing at my abdomen so deep that I thought my guts were going to spill out Hannibal Lecter style.
And the latest time I got bit? TODAY.
With the heat we've been having, my cats have been shedding their fur constantly. It's so bad that I've been brushing them with The Furminator every day. Jenny loves it. She rolls around while getting brushed and purrs like a diesel truck. Jake, however, merely tolerates it. Most times he doesn't mind so much, but there are other times you can tell he's annoyed. He'll "fake bite" me a couple times, but that's as far as it goes. Today was no different. He was irritated, he pretended to bite me a few times, I ignored him as I always do... and then he lashed out. With a real bite. It wasn't all that painful, but it was shocking.
And so...
Lesson learned. From now on when Jake acts perturbed while being brushed, I'll wait for one "fake bite" and then stop brushing.
Because I like having the greatest most perfect cats.
---
As I mentioned yesterday, watching the "Director's Roundtable" extra from the Avengers: Infinity War digital home video release made me want to watch all the Marvel Studios movies all over again. And so I am. Starting today...
MARVEL STUDIOS MOVIE OF THE DAY, No. 1: Iron Man
Original Grade: A+ • Today's Grade: A+

At the time it was released, it was impossible to comprehend just how revolutionary Iron Man would be, nor what it would lead to. In retrospect, it should not be as surprising as it is. All the elements were there. Robert Downey Jr. inhabiting Tony Stark in a way that was beyond flawless... painstaking faithfulness to the source material... exceedingly good special effects... a story that was highly entertaining, laced with humor, and had no wasted moments... and... did I mention Robert Downey Jr. being beyond flawless? As impressed as I was with this film back in 2008, I am doubly impressed today because it holds up so damn well. It was the perfect beginning to the Marvel Cinematic Universe, and I love it as much now as I did then. Of particular note is the raw mechanical nature of the suit, which literally had to be bolted around Tony. This was incredibly cool to see and, though the process was streamlined with each new appearance, it always maintained its awesome brute-force physically mechanical nature. Until Infinity War where the suit was "nanite enabled" which completely ruins what makes Iron Man be Iron Man. Bummer.

SCENE TO BEAT: So many. But when Tony first dons the finished Iron Man armor and takes out all the bad guys in Afghanistan... it's movie magic. And when he returns home and Pepper catches him doing "not the worst things she's caught him doing?"... it's LOL funny too.

COULD HAVE BEEN BETTER: While Jeff Bridges makes the perfect Obadiah Stane, I question why the villain always has to be a slightly more powerful duplicate of the hero in these films. Iron Man vs. Iron Monger? Sure. But it set a lame precident for too many Marvel Studios films which followed. So much so that they're only just now breaking free of of that trap.

SIDENOTE: Nick Fury showing up in the post-credits scene to discuss "The Avengers Initiative" is the icing on a very delicious cake. When I saw this movie in the theater, I was leaving during the credits when some guy started shouting to everybody "DON'T GO! THERE'S MORE AFTER THE CREDITS!" and so I stayed. I was already thrilled with the film. After that scene I was downright giddy leaving the theater.