Welcome to Sonos Week here at Blogography! Each day I will be talking about my leap to the Sonos platform for "smart speakers" and how it integrates with Amazon's Alexa assistant. If you haven't read past entries in Sonos Week, you'll probably want to start at the beginning by clicking here.
And now on with the show...
Sonos One speakers are designed to provide great sound in a small package and integrate a microphone so you can talk to Alexa... all while looking good. The speakers, as I mentioned in yesterday's entry, are pretty great for sound. The microphone array for Alexa, on the other hand, could use some improvement. Apparently things were much worse when the One was first released, and they've since improved it with software updates. My hope is that they continue to work on this, because it's irritating how ambient noise can obliterate any Alexa commands you might make. My Sonos One in the living room sits on my media center... exactly where my Echo used to sit. With Echo, I could have the television blasting and Alexa would still respond to commands easily. With One, that's not the case. Both my living room and kitchen speakers will hear me say "Alexa..." (I get that "beep" from both) but, if the television is on, half the time it's the kitchen speaker which is the One to reply. This sucks because I can't hear it with the television on.
Yes, this is a testament to just how good the microphones are at picking up when I ask for Alexa from across the house, but their ability to recognize where I'm at when I'm saying it is really poor. Sure I can disable the microphone on the kitchen One so there's no confusion, but that kind of defeats the purpose of having a One in my kitchen in the first place.
Another issue which may or may not be tied to the design of the Sonos One... there seems to be more lag between when I say an Alexa command and when the speaker will respond and act on that command. It seems faster on Echo and Echo Dot. No idea what that's about, because you'd think Alexa is Alexa no matter where she is. Perhaps Amazon prioritizes commands from the units they sell over third party devices? No clue.
And then there's Alexa not responding to Sonos control commands on the Sonos One speakers, but that's such a complex topic that I'm saving it for my final installment tomorrow.
When it comes to Alexa on Sonos One, the microphone problem and lag are annoying, but it's just the tip of the iceberg. If you listen to Audible audiobooks with Alexa, you can't do it on the Sonos One. At least not yet. If you use Alexa for drop-in (intercom between your Alexa units) or calling, they're not supported on a Sonos One. At least not yet. Some Alexa skills also don't work (like Sleep Sounds). At least not yet. Maybe it's Amazon that's refusing to allow these things, I have no idea. But it's scary to think how the Alexa features people rely on might one day disappear from their Sonos One speakers if Amazon decides to axe them for one reason or another.
As for the physical appearance of the Sonos One speakers, they're very pretty. Also... the design of the touch controls and indicators on the top of the unit are wonderfully unobtrusive. Rendered all in black, it's much better-looking than the multi-toned PLAY:1. Real thought went into making this a gorgeous piece of hardware.
Unless you want to mount it to a wall.
Then you have to add a bunch of shit which destroys the sleek lines of the product.
Because there's no screw mount on the back, all the screw-mount hardware used to hang the very similar Sonos PLAY:1 on a wall won't work. You have to use a specialized mount which has stupid restraining wires to hold on to the unit (something which seems ugly, flawed, and unsafe). I have run this over and over and over in my head trying to figure out why the screw mount was omitted, but keep coming up empty. This is profoundly stupid. Your options for mounting hardware goes from dozens to one or two, and neither are that great (the Midlite cable-conceal mount is not compatible, which is the one I wanted to use, but can't). Perhaps this was a ploy by Sonos to get kickback money? Maybe Sonos hates their customers and wants everybody replacing their PLAY:1 speakers with One speakers to have to buy all new mounts? Maybe they think the Sonos One is too pretty, so they want you to have to ugly it up if you mount it on a wall? I mean, come on... just look at this janky crap hanging off the back...
&nbsp
That stupid wire will never stay straight, as you can see if you look close. Maybe Sonos just hates OCD types like me? And it takes two wires... TOP AND BOTTOM to restrain the damn thing...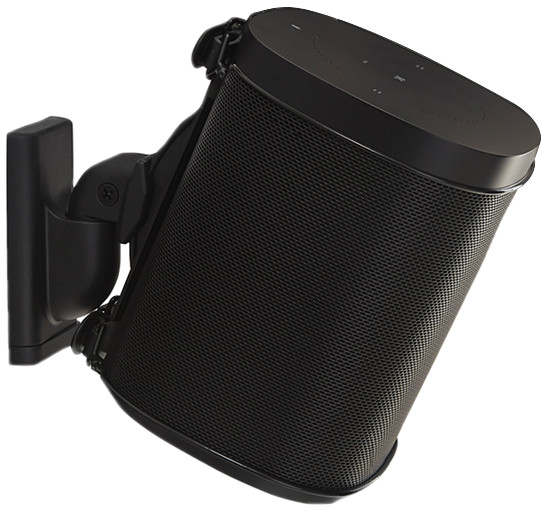 This idiotic shit is rage-inducing. Why even bother designing such a pretty speaker if you have to fuck it up to mount it on a wall?
Regardless of how ugly or stupid, I'm sure more mounts are coming. Hopefully somebody can find a more creative way of solving this which doesn't require a big ass wires and massively ugly clips hanging off the back.
Another design decision which may be problematic... you cannot create a stereo pair between a Sonos One and a Sonos PLAY:1, or any other Sonos product other than another Sonos One. While this may be a bummer to some, I don't know that I'd want a stereo pairing between two speakers that aren't identical anyway. I'm OCD like that. What Sonos should do is come out with a Sonos One "Lite" speaker which looks the same as a Sonos One, but doesn't have Alexa in it. That way it would be cheaper (no Amazon licensing fees or additional microphone hardware) and a much better option for those wanting to create a stereo pair. It's not like you need two Alexas in the same space (you'd probably turn one of the microphones off anyway), so this seems like a no-brainer.
But it's hard to give much credit to Sonos for brains when they screwed up the mounting so heinously bad.
And tomorrow we wrap all this up on an even more sour note, so be sure to tune in for that.