It must be Sunday... because Bullet Sunday starts... now...

• Paws. It won't be easy to watch... but if you care about our furry feline friends, you'll want to see The Paws Project, now available to stream on Netflix. It documents the horrifying effect of declawing cats, which is far worse than taking off a nail on a human. It's more like taking off the finger-tips down to the first knuckle on a human...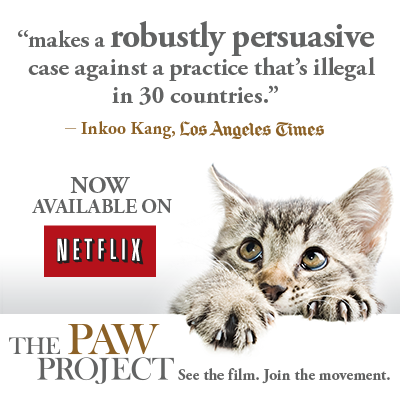 Declawing is just awful. And yet there are still veterinary hospitals that promote it because it's profitable... even though there are far more humane alternatives. Hopefully this barbaric practice will be outlawed nation-wide if enough people start speaking up about it.

• Pledge. I have no idea where this photo comes from. But it's genius, and every time I run across it I love it even more. Because: 'MURICA!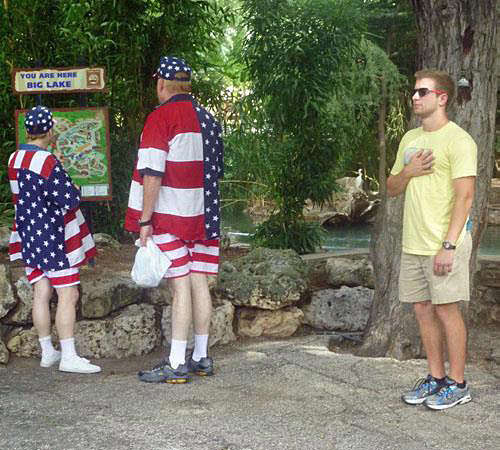 I've finally decided to blog it so I can look it up easily every time I need a laugh.

• Silence! As if this video wasn't already freaky as hell with the sound...
Of course, anything featuring Jagger and Bowie is bound to be freaky as hell.

• Kare! As a huge, huge, mega-huge fan of Susan Kare's work, I was thrilled when Foodiddy sent me this link...
I wish she would have had time to go a bit deeper into her creative process, but this is a must-watch video for anybody interested in graphic design.

• Cozy My Ass. Of all the "Hitler Dubs" floating around out there, THIS is by far my favorite: Hitler tries to rent an apartment in San Francisco...
Oh, Hitler!

• Perry! I've grown so accustomed to Texas Governor Rick Perry being a raging douche that the insane shit he says doesn't phase me any more. Comparing homosexuality to alcoholism... while repugnant, ignorant an fucking stupid... is a relatively mild offense for him. I'd argue his pathetic attempt to write that off as a mistake after doubling down on it is even more ridiculous. Regardless, Funny or Die has a brilliant commentary on this particular bit of Rick Perry idiocy...
Can you believe the piece of shit is probably going to run for president again in 2016?

And... that clicking sound you here is me out of bullets in my blog-based six-shooter. Until next week...