Bullet Sunday on Friday? YOU DRUNK, BLOGOGRAPHY! GO HOME! Except I was too traumatized from nearly getting ran over this past Sunday to blog, so prepare yourself... because Bullet Sunday starts now...

• Dog! I just gotta get this out of the way before I forget... Chicago Veggie Dog? Awesome. Chicago Veggie Dog in San Francisco? Not so much...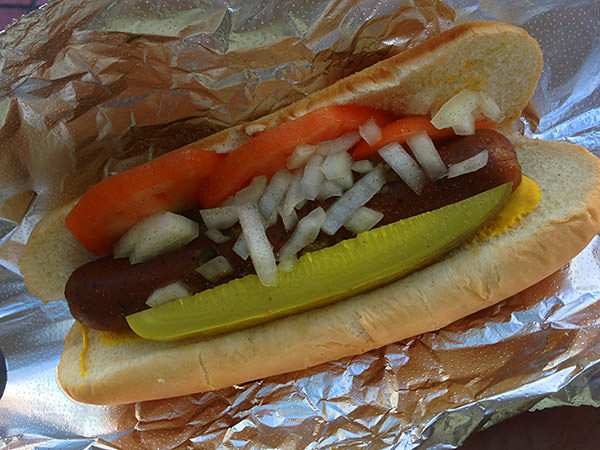 Not that is was bad... but, just like bagels outside of New York, it just wasn't the same. Of course, now I want nothing more than to fly to Chicago and get a real Chicago Veggie Dog, which is a tough craving to get out of your head.

• Closure! Usually, the drive from San Francisco to Oakland is a breezy 15 minutes over the Bay Bridge. But since the bridge is under construction over Labor Day weekend, getting from one side of the Bay to the other is a bit more of a challenge. Whether you go north over the Golden Gate then on to the Richmond-San Rafael Bridge... or you go south over the San Mateo-Hayward Bridge... you've got an hour drive ahead of you...
But the good news is that BART (Bay Area Rapid Transit) is still running. So if you don't mind public transportation, you can park at a station and go by rail. The interesting thing about that is having a lot of people who don't normally ride public transportation riding public transportation. The entertainment value is pretty high, but so is the frustration level. The line to get tickets is long, and people not accustomed to the machines take forever. You have people walking on the wrong train, then then blocking you from entering because they're trying to get turned around and escape after somebody tells them it won't take them where they need to go. It goes on and on. Usually I love BART, but this trip it's been driving me crazy. People need to stay home... or maybe I should have.
And in other news... Google Maps is aware of the Bay Bridge closure, and routes you accordingly. Microsoft Bing Maps, however, is not so smart...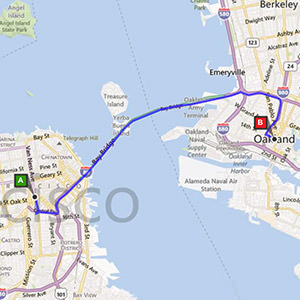 But (and here's the kicker) Apple Maps DOES re-route you...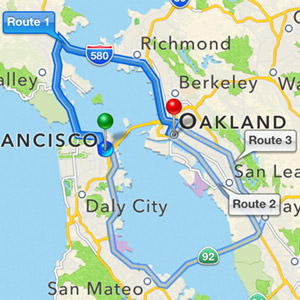 Which begs the question... how bad does your mapping service have to be in order to be considered a worse option than Apple Maps? And, can I just say, both Google and Bing could learn something from Apple here... map labels are so much more useful WHEN THEY ARE LARGE ENOUGH THAT PEOPLE CAN ACTUALLY READ THEM!

• Phoneless! This morning I did the unthinkable... I forgot my iPhone in my room because I was late for work and rushing around without my head attached. After my meeting, a co-worker was kind enough to drop by my hotel so I could grab my phone on the way to running some errands. I was incredibly grateful, because not having my iPhone feels like a part of me is missing. As we were speeding away, I noticed that my battery was at 5%, despite the fact that it had been plugged in all night and I just took it off the charger. So before heading back to work I had to drop by my hotel room AGAIN so I could plug it in AGAIN. Which is when I found out the power outlet on the desk was dead. I don't know why the world was conspiring against me having an iPhone today, but I do not like it. You never realize just how dependent you are on something until it's taken away, and today I found out I don't even know how to EXIST without my iPhone. As I told my co-worker, I had forgotten that before mobile tech happened everybody just kind of stumbled around in the dark banging rocks together to communicate. And it sucks.

• Cookies! Saying "I had to stop for fortune cookies" is a totes legit reason for being late to a meeting... amiright?
Sorry... but even more important than visiting my tattoo artist when I'm in San Francisco is stopping by Golden Gate Fortune Cookie Company when I'm in town. I've been doing it on every trip to the Bay Area for nearly two decades, and it simply cannot be missed.

• Sports! Jester and I wandered to The Castro after dinner so we could drop in on a goodbye party for Justin. Like most bars in The Castro, it's a gay bar. Unlike most gay bars in the world, it's a sports bar called Hi Tops (home of cold pitchers and hot catchers!). This is not a big deal for me. I ended up in many a gay-bar when the brother of a girl I dated in Portland would invite us out to go bar-hopping with him and his partner. Except... one visit to the Hi Tops Facebook page told me that I had been fairly sheltered in gay bar world, because I ain't seen nothing like this...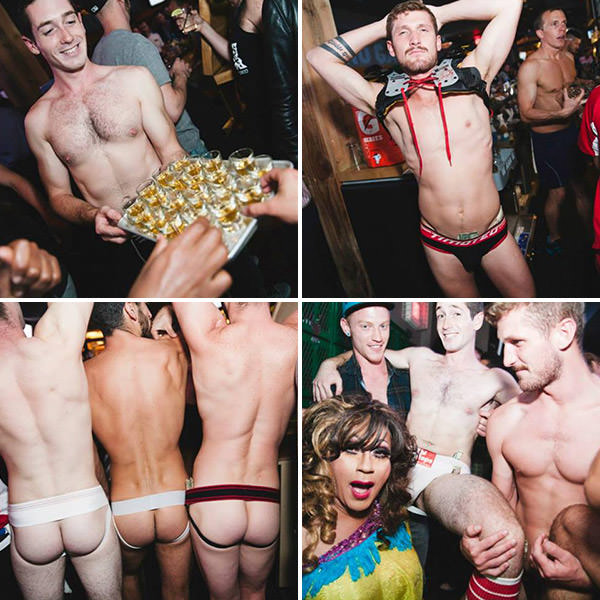 Call me old-fashioned, but I just don't think shots should be served with a side of hairy ass.
Fortunately (unfortunately?), guys in jock straps serving free shots only happens on Thursdays, which meant I got to spend a great evening out sans hairy asses. Seeing homo-erectus-erectus (the Common American Gay) in their native habitat is always fun, and Hi Tops ended up being a really nice place with a terrific crowd of friendly people. That being said, this sports bar was a bit... different... from other sports bars. For one thing, the sports being played on the televisions include golf and women's tennis. For another, the music is awesome. One thing is for sure though, any sports bar I end up at from here on out is going to be pretty boring by comparison.

• Quotable! And now, for your reading pleasure, the TOP FIVE QUOTES from my night at a gay sports bar...
ME: "Most guys would be pretty upset if another guy grabbed their ass. I'm just glad to know I have options."
ME: "Could be he's into straight guys, but I'm not even straight-acting."
JESTER: (Pointing to two guys making out) "Well that's something you won't see at a regular sports bar." — ME: "You were obviously not in Chicago when the Blackhawks won the Stanley Cup."
ME: (Looking around at dozens of guys who look like they've stepped out of GQ) "I really need to start dressing better."
ME: "I'd say I'm glad that all these incredibly good-looking guys are out of the hetero dating pool... but none of the hot women they'd end up with would give me the time of day anyway."
And... that's a wrap for a completely misnamed Bullet Sunday.