"With the president's signature, agriculture giants that deal with genetically modified organisms (GMOs) and genetically engineered (GE) seeds are given the go-ahead to continue to plant and sell man-made crops, even as questions remain largely unanswered about the health risks these types of products pose to consumers." — RT.com
So much for transparency in government decision-making... and transpareceny with the food you buy. I can only guess that Barack Obama will be taking a job at Monsanto at the end of his term. This is hard to see as anything less than a government conspiring against its citizens so that they are uninformed about the foods they eat.
I once again have to wonder what it's going to take for Americans to finally get fed up with a government that is BOUGHT AND PAID FOR by increasingly powerful corporations. No longer are we a government of the people, for the people, by the people... we're just up for the highest bidder. Republican... Democrat... whatever... political parties are just a tool to keep Americans at each other's throats while the real people in charge continue to shape the country to serve their interests.
And that does not include us.
This is exactly the kind of thing I was talking about just three days ago... politicians being bought-off in plain sight without consequence. Pieces of shit like Senator Roy Blunt who worked overtime to fuck the American people get to keep smiling and keep getting paid with taxpayer money with no mark of shame for the massive betrayal he's party to.
If it were up to me? I'd tattoo that shit on his fucking forehead...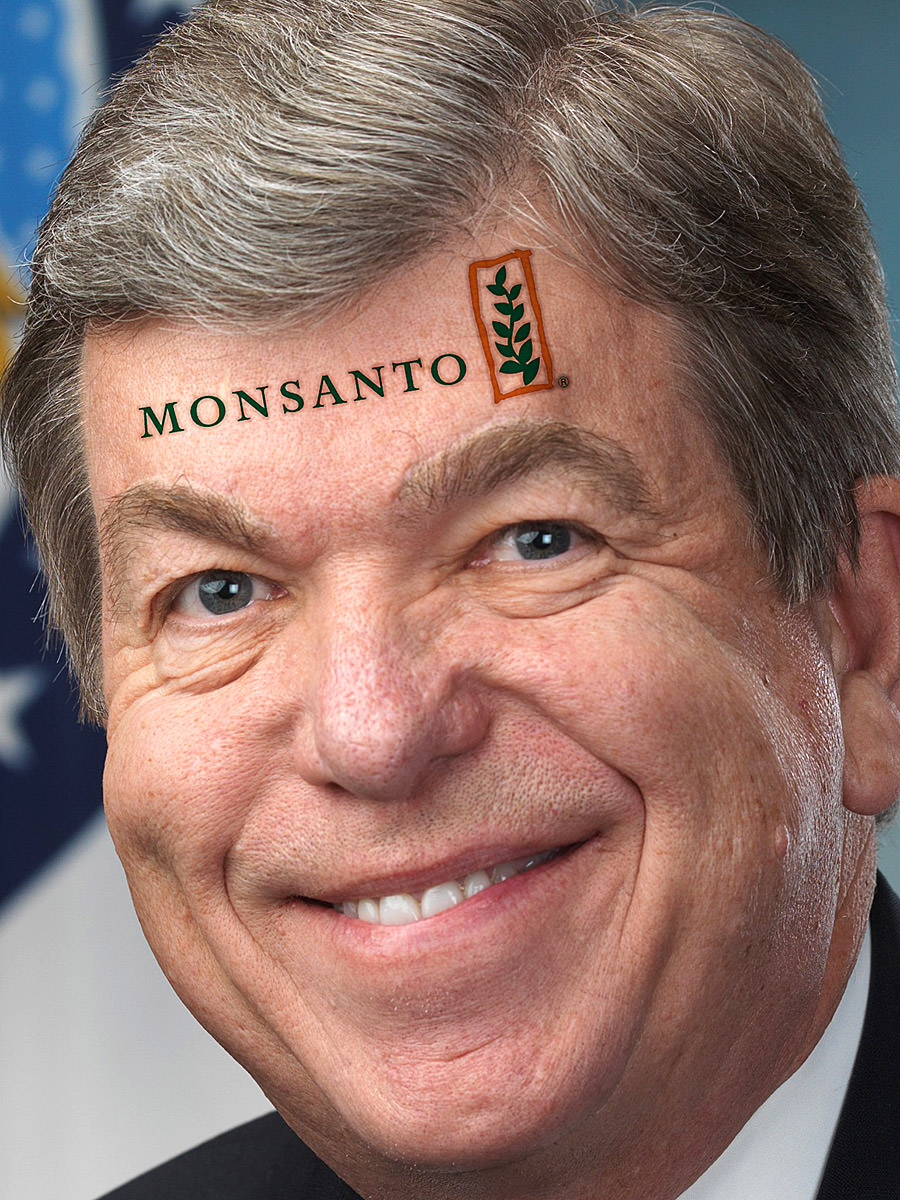 I DON'T GIVE A FUCK BECAUSE I'M RICH, BITCH!!!
Seriously... go read that article on Blunt... it is far worse than you're thinking. He's sucked so much special-interest dick that I have to wonder how much Photoshop it took to erase the scabs from his lips. This shit-stain is neck-deep in special interest money that fucking BOUGHT AND PAID FOR HIS SORRY ASS. He doesn't work for the people of Missouri or American citizens... he works for the bio-tech industry and just happens to be a Senator on the side so he can be more effective at his real job.
What does it take to be hung for treason in this country any more? This worthless piece of garbage CONSPIRED AGAINST AMERICAN CITIZENS AND THE US GOVERNMENT! All with -zero- consequences, because that's how we roll in this pathetic joke of a "democracy."
I wish this bullshit could surprise me anymore.
But I digress...
Many happy congratulations to President Obama and Congress for once again fucking over the country and selling out its citizens! I wish there was some kind of award we could give all of you to recognize this unprecedented level of caving to the special interest lobby... but, apparently, you're just doing your job. I wouldn't want to embarrass you.