ZOMG, YOU GUYS! PEE-WEE HERMAN WAS ON TOP CHEF TONIGHT!
I'm a huge fan, and he did not disappoint. Have to say though... Tom Colicchio saying "I've gotta agree with Pee-Wee..." is something I never thought I'd hear.
And speaking of things I never thought I'd hear (at least in this decade)... Washington State's Senate passed a Marriage Equality Bill tonight, which means we're one step closer to becoming the seventh state to allow same-sex marriage. That's a pretty big deal for a lot of Washingtonians being able to fulfill this country's promise of pursuing happ...i...ness...ss... and... HOLY CRAP THERE'S A SPIDER CRAWLING UP THE WALL!!!!!
GAH!
Poor spider. He probably came inside to get out of the cold and I had to catch him and throw him back outside. Probably not a lot of food for him out there. Wah! I wonder if it would have been less cruel to smoosh him than to let him starve to death. But I can't bring myself to kill anything if I can help it. Argh.
I hate it when stuff like this happens.
Anyway...
My new work computer arrived today (thank you for the speedy delivery, Apple!). I admit that when I ordered it I was a little worried about how an iMac would fare for professional use. But, now that I've had a chance to play with it for a while, I have to say that I am very happy with the machine...
For anybody who's interested, I've put my thoughts on the iMac in an extended entry...
The model I bought was the 27-inch 3.4GHz Quad-Core iMac with 16GB memory, 1TB hard disk, and 256GB Solid State Drive (around $3400).
Display
The display is large and gorgeous though I still don't care for the glossy, highly-reflective glass. Every once in a while I am bothered by reflections showing up, and it takes me a second to process the distraction. Hopefully I'll eventually get used to it (as I have with my laptop), but the large screen size may make that difficult. One thing I can say is that the detail level and sharpness is stunning. I always thought it was my aging eyesight that was the problem with my previous screen, which could be blurry and hard to look at. Now I know that it was, in fact, the old Apple Display's fault all along. Probably because it's almost twelve years old.
Sound
Not even going to clutter my desk with a pair of speakers. The ones built into iMac are really nice. The bass is surprisingly rich. Sound is crisp and clear. This is a pleasant (and wholly unexpected) surprise. I'm not saying I'd want them for my home stereo, but they're more than adequate for my workplace.
SSD (Solid State Drive)
Since I was buying a "cheap" iMac instead of the "expensive" Mac Pro, I wanted all the speed increases available. So in addition to getting the faster Intel Core i7 processor, I also got an additional 256MB "Solid State Drive" to go along with the 1TB of standard hard drive storage. When Apple builds your machine, they set up the SSD as your primary drive and load the Mac OS and all your apps on it. Since the SSD is faster than a "regular" hard drive, this is pretty smart. And I'm here to tell you, the speed difference is absolutely something you notice. Launching apps is stupid-fast. And if you have any apps that need drive space for caches and such (like Photoshop), they are noticeably faster too. The results are so mind-blowing that I'm seriously considering dropping the money to get an SSD for my MacBook Pro. This is probably the best $600 I could have spent, and anybody who is planning on doing serious work on their iMac should give it some thought.
Magic Trackpad
I love my Magic Mouse because the touch-surface allows some gesture shortcuts to make life easier... but for non-drawing stuff, I prefer a trackpad. I've grown so accustomed to all the gestures available on my laptop that I wanted them for my desktop Mac as well, so I ordered a Magic Trackpad. I can tell already that it's going to be a great addition to my "computing experience." Configuration was dead-simple, though I always forget that the "tap-tap-drag setting" I love isn't in the "Trackpad" System Preferences but instead in the "Universal Access" System Preferences. Oh well. At least it's available. Trackpads are SO much nicer to use with dragging enabled. It really should be "on" by default...
Display Redux
My old Mac has a 23" main display and a 19" secondary display. I thought I would greatly miss having that second display, but the massive 27" on the iMac is fine. When coupled with MacOS virtual desktops (which they call "Spaces") and the swipe gestures on my Magic Trackpad/Mouse, the single monitor actually feels more productive to me. The only negative I've found so far comes when running apps in "full screen" mode. Unlike a laptop where this works great, on a jumbo 27" screen it's ridiculous. To make things easier, I'm using a wonderful utility called "Moom." It turns the "green button" on your windows into an auto-sizing tool. I just set a 30-pixel margin in the preferences and, BOOM!, Moom fills my Spaces perfectly! Moom is also astoundingly handy for a laptop, and has my highest possible recommendation...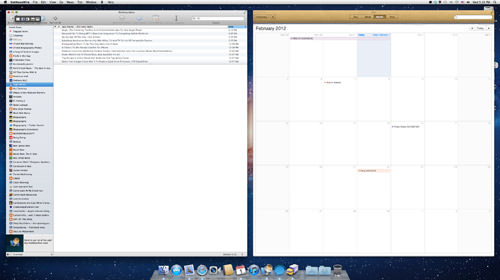 Cloudy
Overall, I am loving iCloud. The sync services it offers are really well done and (for the most part) operate flawlessly. It certainly made setting up my new machine a heck of a lot easier! The problem is that iCloud is incomplete compared to Apple's previous "cloud" incarnation (MobileMe). First of all, you can't sync your system keychains, so I have to get all that stuff entered from scratch. Fortunately, I use a third-party app called 1Password to sync the majority of my passwords via DropBox, but still… Apple needs to add keychain syncing to iCloud with everything else. But what's even worse is that third-party apps (like Yojimbo and Transmit) can't currently sync their settings via iCloud like they could in MobileMe. This is a huge pain in the ass, and Apple desperately needs to address it.
Networked
My previous Mac had two ethernet ports. I used one for my internet connection and the other for my LAN (local network) connection. iMac has only one ethernet port, which is kind of harsh. I thought I could just get a USB to Ethernet adapter, but apparently the one Apple sells will ONLY work on the MacBook Air. A cursory Google search shows that there are third party options available, but getting them to work reliably is a mixed bag. Herein lies the problem of buying an "all-in-one" system like iMac… it's not very expandable. Eventually I'll figure it out, but it's frustrating that I can't just pop in an ethernet card to get the extra port I need.
Design
The iMac may very well be one of the most beautiful computers I've ever seen. It is elegant and sexy in a way that only Apple seems to be able to create stuff. The seamless aluminum enclosure is painfully beautiful. The tapered pedestal is so unobtrusive that the display seems to float above the desktop. I hate to use the word "stunning" a second time, but that pretty much sums up iMac. About the only downside to the design is that you need a very solid desk to put it on. Otherwise, the finely-balance design ergonomics of the machine make it a bit wobbly. My Anthro Cart desk is pretty sturdy, but even a small bump causes the display to jiggle a little. Luckily, it's not too bad... but I find myself wanting something even sturdier. Like a concrete slab.
Thunder
iMac is now armed with Apple's new "Thunderbolt port" which is meant to replace all other ports (like USB and FireWire)... even for displays. From what I read about it, the technology sounds fantastic. Unfortunately, peripherals for Thunderbolt are rare right now, so I can't really take advantage of it. Maybe one day.
Included
As with all Macs, the incredible iLife Suite (iTunes, iPhoto, iMovie, and Garage Band) is included. As are standard apps for email, web browsing, calendar, contacts, and backup. You also get a very nice camera built-in for awesome FaceTime video chatting. Another extra I did not know about and was surprised to find... an SDXC card slot for importing photos direct from your camera's memory card. And though I rarely use CDs or DVDs anymore, you get an Apple "SuperDrive" which can handle DVD±R DL/DVD±RW/CD-RW formats. An Apple Remote is not included, but iMac does have an infrared receiver so you can buy one and control your iMac for fullscreen video/audio playback. Lastly... WiFi, USB, FireWire 800, and Bluetooth are standard, of course.
Half-Assed
Graphics performance is a mixed bag. The AMD Radeon HD 6970M chip-set is leagues above the graphics you'd get in "All-In-One" computers from any other manufacturer. But, come on, this is a chip originally designed for laptops. I paid the $100 extra to double the 1GB standard memory to 2GB, which will certainly help with my more graphics-intensive tasks... but that's still pretty weak. Would I have like to have more power in the graphics department for the work I do? Absolutely. Did I want to pay thousands of dollars more for a Mac Pro to get it? Not really. So here we are. Good enough... but not exactly great for what I do.
Missing
Along with lacking the second ethernet port and an expansion bus I mentioned above, iMac comes up short in a few other departments. You get just ONE FireWire 800 port, and that's it. Kind of crazy considering Apple invented FireWire and pushed hard for its adoption. As usual for Apple, there is no Blu-Ray support (no big loss, in my opinion... the format is SHIT). Another missing feature you'd think Apple would be folding into their iMacs is a touch screen. Given how popular they are on iPhones, iPads, and iPods, it would seem that a touch-interface on your Mac would be a natural... but, alas, no. Less of an issue, but still nice, would be to have a USB and FireWire port on the front (or at least the side) so you don't have to walk around your computer to use a flash drive, security dongle, or other temporary peripherals. For people still clinging to physical media, iDVD (for burning your iMovies to DVDs) is not included anymore (but can be bought with the physical copy... not the download copy... of iLife for $29).
Summary
I cannot complain. In almost all areas my new iMac is exceeding my expectations and I think I got pretty good value for the money (especially considering this is a Mac we're talking about). As Apple moves further and further away from "Pro" equipment, I have a feeling that iMacs will be filling the void for graphic designers like myself more often. Fortunately, it's not a bad fit. Sure I'd like to have a matte screen, more expansion options, and better graphics power, but this is not a deal-breaker. iMac is going to work quite nicely for my work... and hopefully for a nice long while.