It's Bullet Sunday in the middle of Winter... except the sunny days and complete lack of snow makes if feel a lot more like Spring. I'm seriously starting to wonder if we're ever going to get a winter. Hope everybody in the Valley is fond of water shortages come Summer.

• Doodle! The "Google Doodles" are always interesting, but the Charles Addams birthday doodle from yesterday hit it out of the park...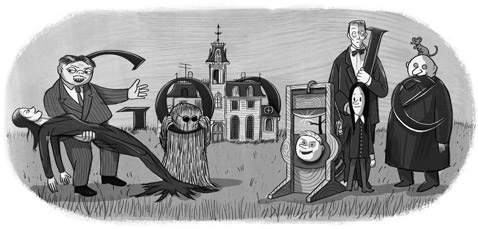 The original cartoons were genius. Still are. And this was the perfect tribute. If your only experience with The Addams Family is the old television show and the Barry Sonnenfeld movies, then you owe it to yourself to check out the original cartoon collections. Not only are they funny as hell, but the artwork is absolutely beautiful. Even the most simple drawings have lush details and textures...
Besides, who doesn't love Uncle Fester?

• Taco! As the Doritos flavors keep getting more and more "extreme" I find myself liking them less and less. Nacho Cheese Doritos are so caked with cheese powder that you can barely taste the corn anymore. Which is why I'm such a big fan of the "retro" re-release of the original-flavor 1960's Taco Doritos. I thought they were going to be a temporary thing, but they keep showing up at the grocery store...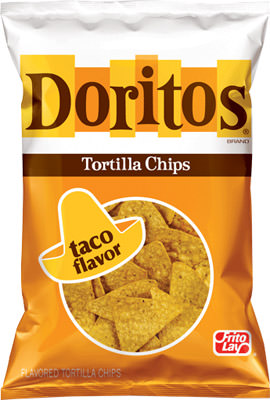 The flavor is nicely "taco-like" but not at all overwhelming. You can still taste the corn chip. They also make an incredible topper to a veggie taco salad. I have my fingers crossed that they continue to be popular so Frito-Lay will keep making them.

• Ojo! I've worn glasses for what seems like forever... but it's the "vitreous floaters" that are the real problem with my eyes. For those lucky enough not to know what "vitreous floaters" are, they're tiny particles floating around in the goo that's in the middle of your eyeball. They cast shadows on your retina which makes little blurry spots that move around your field of vision. Most of the time I don't notice them. But, as I get older, more and more of them are forming. This makes them more noticeable more often.
Every once in a while, I do an internet search to see if there's any new technology for dealing with the problem. Maybe they've found a laser than can vaporize the floaters. Or maybe there's a new medicine that can disintegrate them. But, alas, no. The only solution seems to be to suck the goo out of the middle of my eye and completely replace it with saline water. It sounds horrific. And dangerous. And I'm not nearly desperate enough to let somebody suck goo out of my eyeball. At least not yet.
But now the reality is setting in that one day I may actually be that desperate.
Holy crap.

• Firm! I'm a fan of nearly all the early John Grisham books. They're not deep by any means, but they are darn good entertainment. The Pelican Brief, The Client, The Runaway Jury... all good fun. But it's The Firm (the first Grisham book I read) that I like the best. It was a really good story that had some genuine suspense built-in. Sure the Tom Cruise movie fucked all that up, but I still always wondered what happened to the characters in the book. Instead of that, I got this...
NBC Television has a new series called The Firm which picks up ten years after the FILM ended (not the book). And, despite starring the talented Josh Lucas, it's kind of a mess in the way it bounces around. Mitch McDeere is no longer on the run... he's just a lawyer with a sketchy past doing regular lawyer stuff (like most every other lawyer show on TV). In other words The Firm has become boring and unoriginal. Sure there's hints that things are going to ramp up, but in a totally redundant way. Mitch is involved with yet another evil law firm! Not enough of a retread? Oh yeah... here comes the mob. Again. What the hell? Oh well. It's not like I had time to fit a new show in my television-watching schedule anyway.

• Debate! The Republican Debate last night was... interesting. You get the sense that the candidates reeeeeally don't like each other. At all. Indeed the only thing they seem to hate more than each other is President Obama. I guess this is understandable, but they blow it way out of proportion. I'm not Obama's biggest fan by a longshot, but the level of blame they lay at his doorstep is categorically absurd. In many respects, President Obama is practically a Republican, so it's kind of senseless too. But I guess they gotta play to their voter base however they can, and demonizing Obama is a quick and easy way to do that.
The debate itself was pretty lame... but also a bit enlightening. Mitt Romney comes across as a huge dick when he fails at being clever, which is often. Rick "Piece of Shit" Santorum bounces between being a disgruntled idiot and a whiny baby. Newt Gingrich is just plain bitter all the time. Rick Perry is just fucking stupid. Ron Paul is entertaining, but not always in a good way.
And then there's Jon Huntsman. The only current Republican candidate I can even fathom voting for. He's got Conservative sensibilities. He's got loads of experience in the international arena. He's personable and inspiring. He's smart, quick on his feet, and not overly-reactionary. In short... I honestly believe that he's the only GOP candidate that could move independent voters in a race against Obama. And yet... his own party seems to hate him. Probably because he's not Conservative to crazy enough extremes. It's a real shame too, because nobody else on that stage is going to woo the much-needed middle ground. If things keep going like they are, I guess we're getting four more years of ObamaNation.

Annnnd... I'm spent. Sometimes bullets can really take it out of a guy.