Today while heading home from work I had to slam on my brakes to avoid being hit by somebody pulling out of a parking lot. I stopped so hard that I strained my neck. It was a crappy end to a crappy day... though, now that I think about it, there's still two hours left for something new to go terribly wrong.
In better news, today is the fifth anniversary of the original iPhone...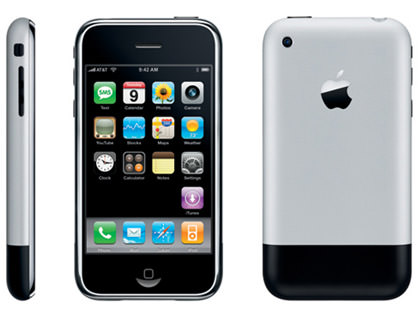 It hardly seems like it was five whole years ago. Partly because it still looks more beautiful and modern than the majority of mobiles on the market... but mostly because I know people who are still using their original iPhones to this day...
And I'm fairly certain I'd rather have a first-gen iPhone than anything I've tried from Android, Microsoft, or Blackberry (are they even around anymore?). Sure I'd miss the speed, the 3G data throughput, and the ability to run the latest version of iOS... but at least it's still an iPhone. Such is the price you pay for being an Apple Whore, I guess.
So happy birthday iPhone, and many more.
Now I'm taking a pill for my neck so I can go to bed. Yay.