I'm a vegetarian.
Because I'm a vegetarian, I am not a huge fan of McDonald's. The one thing McDonald's made I could eat... the TOTALLY AWESOME McVeggie Deluxe... should have been expanded to every McDonald's in the world. Instead they removed it from the menu at the one place you could get it: the wonderful Times Square McDonald's. Oh well. I still stop by for McFries every once in a while, because they're some of the best fast-food fries you can get. They used to have the best fried pies you can get, but now they have shitty baked pies. Bummer.
Anyway... despite my not being a fan of McDonalds (nor being a fan of the subsidized cheap beef they use which is destroying the planet) I still believe they should have a right to sell whatever they can get people to buy. Even if it is unhealthy dead cow products. I may choose not to eat their vegetarian-hostile crap, but a lot of people like it so good for them. If eaten in moderation, there's nothing wrong with treating yourself to a Big Mac every once in a while.
And then today I read in The L.A. Times that McDonald's is being sued because "The Center for Science in the Public Interest" feels the toys in their Happy Meals unfairly entice children into "eating food that can do them harm"...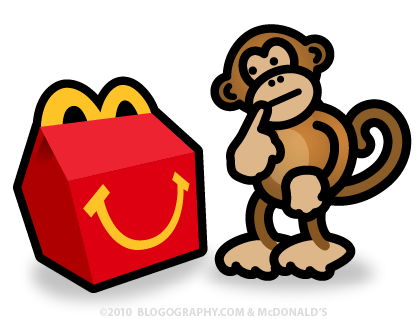 The lead plaintiff in the case, a mother of two from Sacramento, goes one step further by claiming McDonald's "uses toys as bait to induce her kids to clamor to go to McDonald's."
Uhhhhhh...
The word you are searching for, YOU MORON, is "no."
That's right... if you don't feel McDonald's is healthy for your kids and don't want them eating there, JUST SAY NO! When I was a kid I clamored for a flamethrower. My parents, WHO ARE ACTUAL FUCKING PARENTS THAT CHOSE TO RAISE THEIR KIDS INSTEAD OF HAVING A RESTAURANT DO IT FOR THEM, felt a flamethrower could be detrimental to my health and told me "no."
Idiotic bullshit like this drives me fucking insane.
Kids "clamor" for all kinds of crap that can "do them harm."
It's the job of the parent to read labels and research products and do all the stuff parents do to protect their kids from harm. Yes, the parent! If a frickin' cheap-ass toy is enough to totally usurp your parenting authority, you've got bigger fucking problems than a stupid Happy Meal. I hate to think what lawsuit is coming next. Are you going to fucking sue JC Penney for distributing a toy catalog because it entices children into clamoring for toys that aren't healthy to your bank account? Are you going to go after Pop-Tarts because they put Hello Kitty on the box to entice kids into eating toaster pastries that aren't healthy to HUMANITY? What the hell? Do parents want ANY responsibility in raising their kids any more?
The word you are searching for is "no."
If you don't know how to use it to keep your children from harm... or use your brain to figure out a healthier alternative to placate your kids over a frickin' toy... you might want to consider putting your offspring up for adoption. Odds are they'll be a lot better off.