Back to reality for a super-hero-fashion episode of Bullet Sunday! But, before we get there, I need to remind everybody that the best podcast on the internet you're probably not listening to is now on iTunes! Cannot recommend it highly enough: Hey! That's My Hummus on iTunes. And for baseball talk, don't forget Just Talking to the Cornfield on iTunes.

• Wonder Woman! I've had very strong reservations over the whole David E. Kelley Wonder Woman television pilot from the very beginning. From everything I've read, it seems as though he's dead-set on putting his personal stamp on the material, which means we're not going to get Wonder Woman... it's going to be Ally McBeal in bad latex. The first episode's villain is perfume company CEO Veronica Cale (WTF?) which is being played by the incomparable Elizabeth Hurley (who arrived in L.A. a while back to film her scenes)...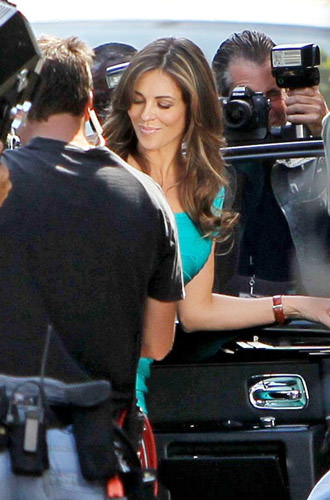 ©2011 Michael Wright/WENN (from AceShowbiz)
Since Elizabeth Hurley is in it, I'm pretty much obligated to watch the show now. Which is a shame, because the official Wonder Woman costume photo looks like crap...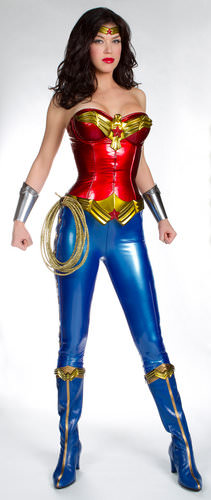 In all seriousness, I've been to comic book conventions where the fan costumes looked better than this cheap-n-glossy joke. She looks like a badly-dressed dominatrix or something. Such a horrible departure from the classic Wonder Woman uniform that was worn so perfectly by Linda Carter in the original TV show...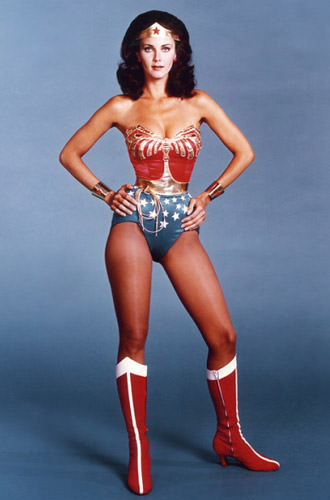 Call it cheesy if you want, but THAT'S what Wonder Woman is supposed to look like. COSTUME GRADE: F

• Spider-Man! And speaking of truly terrible costumes... I loved the first two Spider-Man movies. The third one was awful story-wise, but had really good action sequences. Still, I was hoping for another Sam Raimi/Tobey Maguire installment because I liked the "feel" they gave the character. Alas, it was not to be. So now we've moved on to something new which could be good or could be bad. And if the costume is what we have to go on, this is going to be as bad as it gets...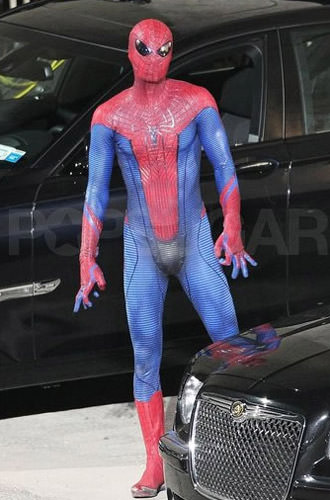 Even if he didn't have an inexplicably black crotch, this would be a horrible interpretation of an iconic costume. COSTUME GRADE: D

• Captain America! The modern-day Captain America comics have never interested me very much. Sure there are good stories that pop up from time to time but, overall, it's a one-note concept to me. But I have to say, everything I've seen for the upcoming Cap film looks flawless. First of all, they set the movie in World War II, which is faithful to the character's origin. Second of all, it seems as if director Joe Johnston is going out of his way to make it a fun and entertaining film to watch...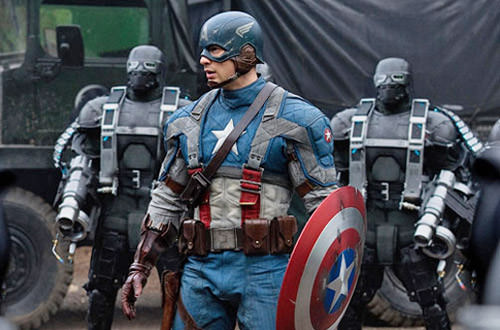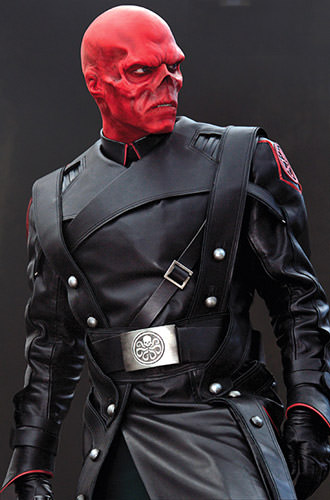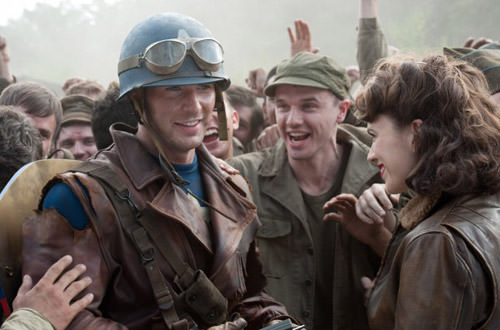 What's so killer about Cap's costume is how you can see they're clearly building up to his modern-day outfit by starting with a WWII era interpretation. He was designed to be a symbol for the guys in the trenches, and its coming across perfectly. And just look at the Red Skull! Cannot wait for this movie. COSTUME GRADE: A

• Thor! Other than Walter Simonson's brilliant run on the character in the 1980's, I've never been a big fan of Thor. He just never seems to work in the context of the super-hero genre very well. But this film has Kenneth Branagh directing, and the trailers look to be pretty epic in scope, so we'll see...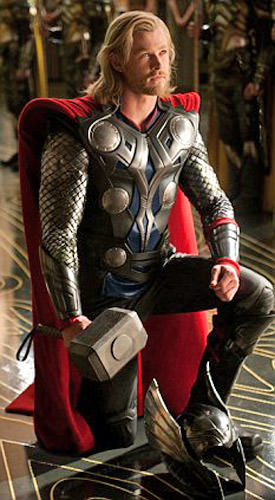 I am the first to admit that translating Thor's costume to the big screen is no easy task... but this looks all cheesy and plastic to me. I'm guessing it's supposed to be metal (maybe it is!), but I'm still not impressed and think it would have looked better with a brushed metal? This is probably going to appear much better on-screen when lit properly, so it's hard for me to be too critical. It is, after all, pretty faithful in "feel" to the original. COSTUME GRADE: C+

• Green Lantern! This is the hardest movie of all to figure out. I think my hetero-man-crush Ryan Reynolds was flawless casting for Hal Jordan, but the movie is looking like a George Lucas CGI party instead of a film of any substance. The special-effects generated costume in the preview trailer looked so bad that I couldn't fathom how the movie could possibly work...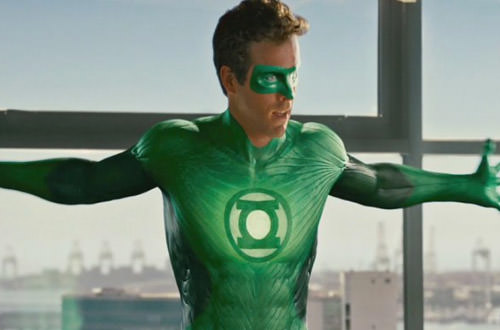 But then I saw this shot of Mark Strong as Sinestro and thought "maybe"...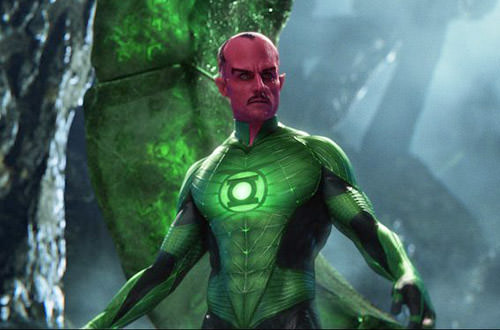 Green Lantern was one of the first comic books I ever read, and so I continue to hope that everything comes together. Out of all the super-hero projects underway, it has the most potential for greatness... or disaster.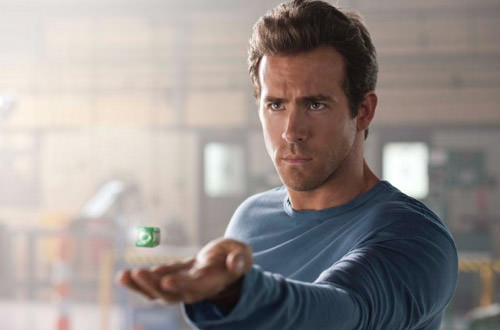 It's pretty hard to get a feel for how the costume works from still images. On Hal Jordan, all the crazy lines look just plain stupid. On Sinestro, they look awesome. I'm guessing that when they're in-motion they'll be all glowing and stuff, which will probably look cool. Or corny. I have no idea. I do think it would have been better to not go with 100% CGI though, which seems like a recipe for disaster. COSTUME GRADE: Wait and C

• X-Men! I should probably get this out of the way... I loathed all of the X-Men films. They were SO BORING. The X-Men were never really given any battles. Sure there were some silly little scrapes here and there, but they didn't have any scope. Everything in the movie seemed so much smaller than life. And while the costumes weren't anything to write home about, I thought they were okay. Sadly, the costumes weren't the problem. And so now we're re-booting the franchise with a prequel...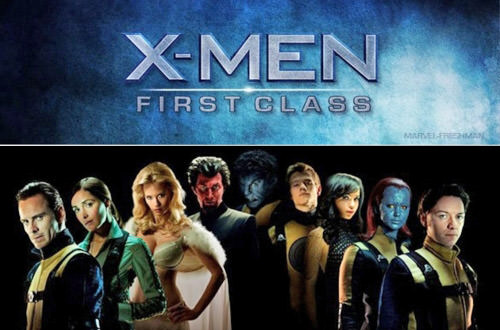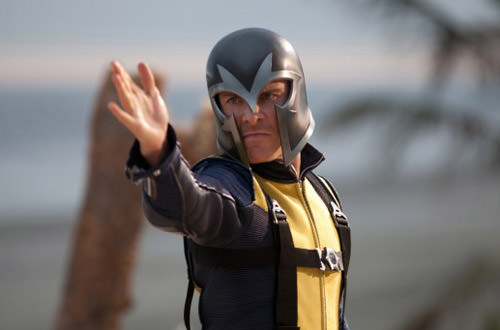 From what I can tell, the costumes here are pretty good. They are a faithful (albeit upgraded) interpretation of the "original" X-Men costumes, which was no easy task. All we can do is wait and see if the movie has the scope and story to make any use of them. COSTUME GRADE: B

That's a lot of super-heroes. And it doesn't even account for the new Superman movie reboot, the third Iron Man film, the third Batman film, The Hulk reboot, The Avengers, and whatever else that's coming up. I hope that people don't get burnt out on comic book movies.