I'm a comic book geek. I have been most of my life. So, for those of you who are not into comic books, I apologize, but I really must talk about the "New 52" event happening at DC Comics. I'll return to my regularly-scheduled chocolate pudding coverage tomorrow.
And so it begins.
In a desperate attempt to make comic books relevant entertainment in their own right instead of mere fodder for creating super-hero movies, DC Comics has decided to relaunch their entire line of comics from scratch. Again. They did something similar back in 1985 with Crisis on Infinite Earths. Basically, the idea is to strip away all the crap that's been saddled on the characters for the past couple decades and start fresh. This way new DC Comics readers can start enjoying these books without having to know all the complicated back-stories they missed.
To put it another way, idiotic editorial decisions like having Superman marry Lois Lane and renounce his US citizenship never happened.
As a comic book collector, relaunches like this piss me off. It's maddening to collect 200 issues of a book only to have it be canceled so you have to start all over again. Even worse, all that time you've invested in following the continuity of the stories and watching characters grow and change are lost.
As a comic book fan, relaunches like this are a good thing because it's a breath of fresh air being breathed into characters so stale that even their biggest devotees are getting tired of reading about them. Of all the comic titles I collect, I read maybe half of them because so many just aren't interesting any more.
Ultimately, I think the good outweighs the bad though, so I've decided to give DC's 52 new titles a shot. Starting with their flagship title, Justice League, written by Geoff Johns and beautifully illustrated by Jim Lee with inks by Scott Williams...

It's a super-hero explosion!
For those who care about this kind of stuff, I've written up my comments and a review in an extended entry...
Before we get into anything else, I have to say how happy I am that they decided to make Wonder Woman actually fucking LOOK a little more like Wonder Woman by getting rid of the stupid-ass LEATHER HOT-PANTS that were in the teaser art released earlier...

No, I don't know how that silver metal manages to flex and conform like that... must be MAGIC!
Anyway...
Since comic book collectors still buy into stupid-ass gimmicky shit like multiple covers, of course DC Comics is happy to oblige with a second cover by David Finch. And a third "sketch" variant by David Finch. And a fourth "digi-pack" variant by Jim Lee (this time with a blue background). If you buy the digital comic, they give you the whole bundle. All versions feature one of the shittiest comic book logos I've ever seen. Apparently clever title and logo design just aren't important to modern readers...

Superman is LORD over the Justice League! HE IS THE PUPPET-MASTER!!
The comic itself retails for $3.99 for both the printed version or the day-and-date digital release by Comixology. Wait a month, and the digital book drops in price to $2.99. If you want both the print and digital release, you can get a combi-pack for $4.99. Personally, I feel that the prices are rediculously high for what you get...

Why, when I was a kid, I got an 80-page comic for a dollar! NOW GET OFF MY LAWN!
To spare you from counting, that's 24 pages of story. You also get four "bonus pages" of character sketches, but I consider that to be four pages of not-story. You'd think with such a massive price-tag that DC Comics would want to devote every square inch of space to story, but modern comic books have considerably more "production values" invested in the art and coloring, so I guess "bonus pages" are a way of keeping those costs down. I don't have a local comic book shop, so I buy my comics at discount from a Mail Order house. This means I pay $2.85 per book. Add in shipping for all the books I buy, and that probably jumps to $3.25. And therin lies a quandary... why am I buying physical books anymore? I have to wait for my monthly shipment, so I'm getting my books a month after release anyway, so why not just buy digital comics a month after release?
It's something I struggle with, believe me.
The PROS of going digital are worth consideration. 1) They're cheaper at the $2.99 late-buy price. 2) Printed comics don't escalate in value like they used to, so they just end up taking up valuable space in my home. 3) I can access my entire digital collection anywhere on earth that I have an internet connection. 4) I can carry literally hundreds of comics with me on my iPad or MacBook with no need for internet access at all. 5) Digital comics don't age, turn yellow, get damaged, and remain perfect whether I read them once or a thousand times. 6) You get a look at all the variant covers without having to buy all the actual variants. 7) If you don't mind paying a premium, you can buy your comics the day they are released and receive them immediately.
The CONS of going digital are kind of deal-breakers though. 1) There's just no substitute for the joy of reading from an actual, printed, physical comic book. 2) You don't own digital comics, so you can't sell them or loan them to a friend.
For the immediate future, I'm probably going to continue to buy physical books. Sadly, I don't see this trend lasting. My guess is that the minute Apple comes out with an iPad which has a Retina Display, I'll be switching to digital comics for all but a few titles. My comic-book-loving friends consider this to be nothing short of blasphemy, but the economics and convenience ultimately have to take precedence over boxes of rotting comics in my closet.
Anyway (again)...
Now to delve into the actual book. I'm not going to spoil the plot, but I am going to show visuals with potential spoilers, so you've been warned. If you plan on getting the book, I'd definitely read it before going any further.
Our story starts out "five years ago" and opens the way that every comic book should open... with a kick-ass spread of Batman doing cool shit!

Is there any super-hero even remotely as cool as Batman? No. I think not.
Now, in the new DC Universe of five years ago, super-heroes were just starting to appear. The general public didn't really know much about them and the heroes themselves didn't really know each other. At the time, Batman was mostly a mythical figure, and people were just beginning to realize that he really exists...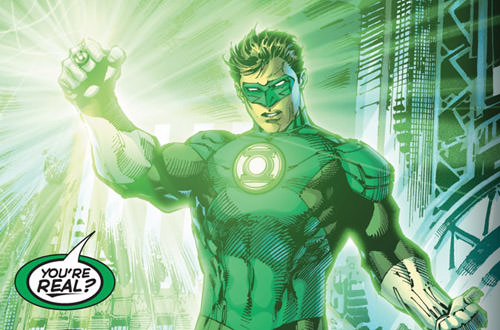 Yep, Batman is for reals, yo.
From a story standpoint, this is kind of cool because it allows for awesome scenes like this, where Green Lantern realizes that Batman has no super-powers...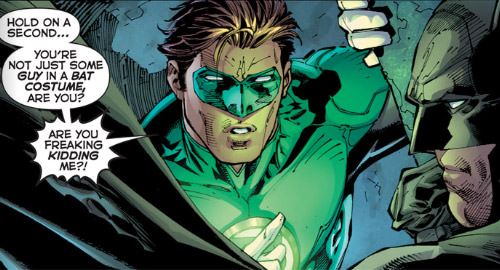 No worries, Green Lantern, Batman can still kick your ass!
Hilarity ensues.
The story that brings everybody together is some kind of alien threat that Batman is tracking down and Green Lantern is investigating separately. Once the two cross paths, they decide to seek assistance of the only other alien they know on earth, Superman...

No, I have no idea how that cape is supposed to be attached either.
From there, one can only imagine that a League of Justice is formed.
The comic itself is pretty good for basically being a set-up book, though the story is hardly original. From all indications, this first arc is going to be yet another massive-threat-presents-itself-and-heroes-have-to-team-up-to-defeat-it kind of deal. The same kind of thing we've been seeing since the dawn of comic-book-team-up time. This is only somewhat less-cliched than the somebody-assebles-a-team-of-super-heroes-to-fight-a-menace-they-can't-battle-alone scenario. Why somebody as enormously talented as Geoff Johns couldn't come up with something even slightly more original is beyond me, but maybe he decided that starting fresh meant starting simple, so he didn't want to begin with anything overly complex. In any event, it's mildly disappointing, even though I did enjoy this first issue of Justice League overall.
It certainly has me excited about these characters in a way I haven't been for years now. And that's something.
In the end, I really have only two complaints...
1) The attempt at adding diversity to the title by shoe-horning in Cyborg is really kind of pathetic. If they really wanted to add a character of color (as well they should!), why did they have to poach from the Teen Titans' roster? One of my favorite characters, Black Lightning would have been perfect here! And what about the new Mr. Terrific? Or the new Atom? Or the new Firestorm? Or maybe... JUST MAYBE instead of taking white characters and making them black or Asian, they could create ethnically-diverse characters that are, in fact, ACTUALLY NEW. From the preview art, it seems like they eventually will be adding Firestorm and the Atom, which is a good thing. But Cyborg in the Justice League just feels "wrong" for long-time comic book fans like myself who were there when Cyborg first hit the scene. His link to the Titans is intrinsic to the character, and I can't fathom the logic in taking this away.
2) As much as I am hopelessly in love with Jim Lee's artwork, his costume design is leaving a bit to be desired here. In addition to the nonsensical collar that makes Superman's cape look rediculous, what's with all the "armor" crap that's plaguing each and every character?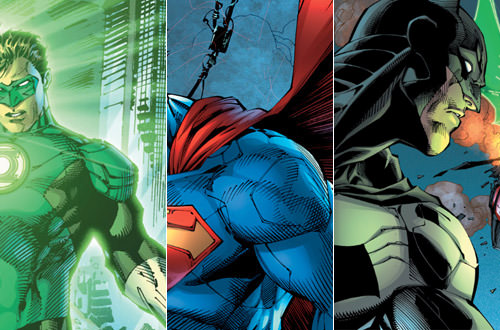 I mean, Batman I kind of get. They guy is merely human, after all, and doesn't have any super-powers. It makes sense that he'd have protection built into his costume. But Green Lantern? His RING is his armor. And Superman? What's super about Superman is the man, not the outfit. To have these characters armored-up like this makes no sense. It smacks of buying into a trend instead of attempting to create an iconic look for the ages. I guess you could argue that Green Lantern's outfit being the product if his willpower and imagination could be influenced by what he sees other heroes wearing, but Superman? Personally, I always liked the original-original idea that his costume was made by his mom. She used the fabric that little Kal-El was wraped in when his rocket landed on earth and created a costume that's as indestructible as Superman and could keep up with his exploits. The fact that his outfit was a combination of both his alien and adoptive earthling parents kept the character grounded somehow. Now it looks like it's just going to be some kind of Kryptonian artifact that mysteriously matches up to the "armor plating" trend in super-hero fashion. Bleh.
And don't get me started on Wonder Woman. Jim Lee already fucked up her costume once and, from the looks of things, was dead-set on fucking things up again by putting her in hot-pants. I'm guessing that somebody finally spoke up and said "WONDER WOMAN DOESN'T WEAR PANTS" so that much could at least be changed at zero-hour. And, hey, at least the 80's disco jacket is gone now... I guess that's something!
There are other little things that bother me, but nothing so major that they need to be mentioned.
In the end, Justice League is getting the "New 52" off to a pretty good start. Sure the story could have been more original, but they're writing for an entirely new audience here. With that restriction in mind, it's actually pretty good stuff. If the remaining 51 titles have this kind of quality, I may just become excited about DC Comics again!
Although any immediate excitement is going to be dampened by the photos coming out of Zack Snyder's Superman movie project... The Man of Steel. Holy crap does this costume look fucking horrendously awful...

Get a load of my super-penis!
No.
Just no.
HELL NO!
What is that stupid plastic appliqué shit cluttering up his costume? Why is he all scaley? Why are the colors so drab and boring? Why does he have that stupid piping around the seams? Who would fucking dress Superman like this? As I said above, Superman is about the super-man. Not the frickin' costume. This embarrassing treatment is RUINING the very foundation of the character! I mean, I may not care for Jim Lee's take on the original... but this... THIS is just gut-wrenchingly horrible.
On the other hand, it does give me a new appreciation for Lee's design...
Obviously, it could have been so much worse.
And on that happy(?) note, it looks like I'm done with comics for the day.