With work and Janet Jackson complete, it was time to fly back home. Yeah, it might have been nice to add a couple days vacation and relax by the pool or something, but Vegas is very different when you're alone as opposed to when you're hanging out with friends, and I'd rather just go back home to my cats (no offense, Vegas).
When I landed on Tuesday, my work hadn't gotten a hotel arranged for me yet. This is not entirely unusual for Vegas where pricing changes based on occupancy. Charities try to save money wherever possible, so waiting to see if there's a deal on a mid-week stay is just being responsible. Since I couldn't leave the airport until I knew where I was going, I decided I might as well have lunch. Burger King was right there, so I decided to see if they had the "Impossible Whopper" available. This plant-based burger is apparently the closest thing to a real burger. I dunno about that (I haven't eaten meat in 33 years, 3 months, and 24 days) all I know is that I do enjoy a good veggie burger.
Funnily enough, the wrapper says "100% BEEF" on it, so they kindly put a sticker on it to let you know that they didn't accidentally give you a meat patty...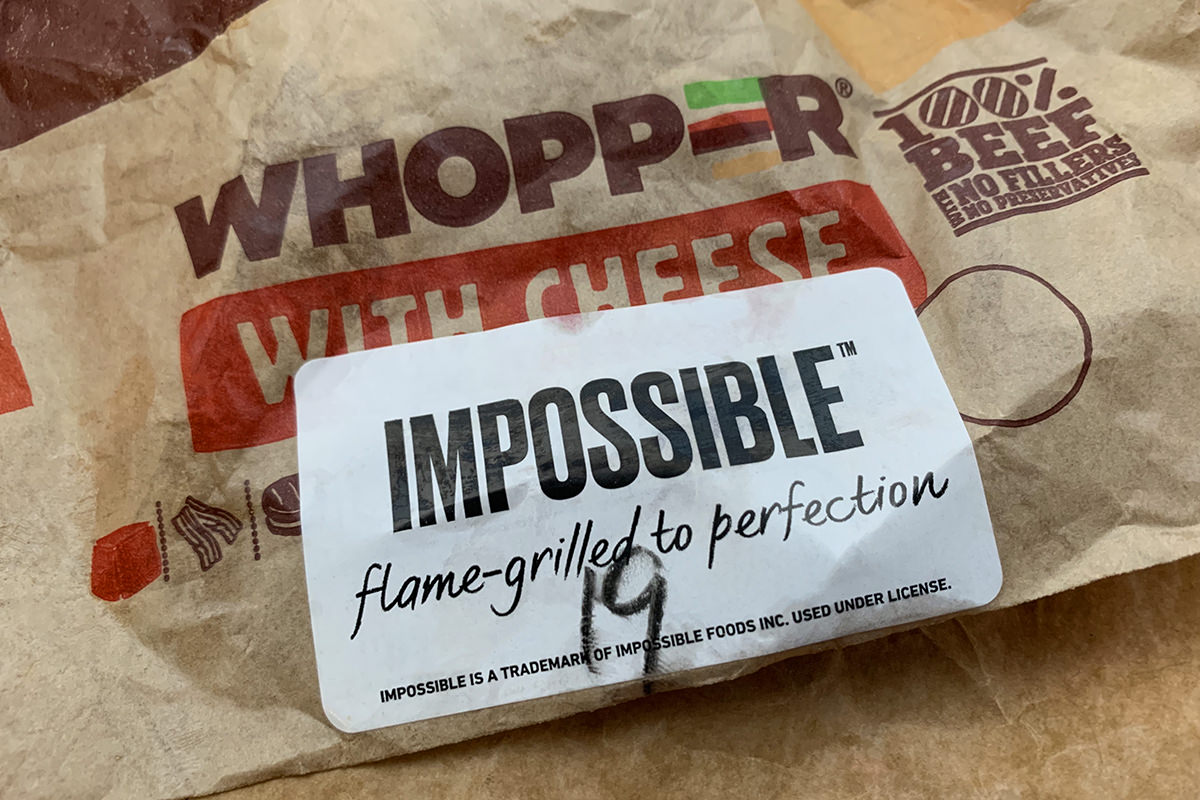 Sure enough, it looks exactly like a Whopper...
The taste is fantastic. Not sure it's worth $7.89, but I liked it a lot and would gladly order it again.
When I ordered, the lady at the register asked if I was "vegan" because apparently they cook the Impossible Burgers on the same flame grill that they cook their meat burgers. I guess if this bothers you they can microwave it or something? All I care about is that a cow wasn't slaughtered on my behalf, so I had no objections.
After loving the burger, I researched how it was made.
The original was wheat-based. The new "2.0" version is soy-based (making them gluten-free, if that's your thing). This is nothing special, as there are plenty of burgers that are soy-based. What makes Impossible Burger so good is that they use "heme" as an ingredient. From what I understand, "heme" is the red-red component of blood that captures oxygen and is responsible for giving meat its meaty flavor. Obviously they can't use blood in a veggie burger, so they are manufacturing their own Franken-Heme in a laboratory by genetically engineering yeast to have a soy hemoglobin. They then extract the plant-based "heme" from the yeast and that's why their burgers are impossibly good.
So... if you're hardcore non-GMO, then this is not the burger for you.
It totally IS the burger for me, however, which is why I had another one before I flew home, this time with cheese...

And that's that. My plane leaves in and hour and then it's good bye Las Vegas.
But before I go, a look at what makes Vegas so totally Vegas...

My hotel room? $30. The stupid-ass "resort fee?" $35. Why the fuck they don't just be honest and charge you $75 for a room is assholery at its finest. Especially since the "resort fee" is just a scam. It includes access to the fitness center (who the fuck cares?), phone calls (doesn't everybody have a mobile phone now?), and internet access (which I could get for free by tethering to my phone). So, basically, we're paying $35 for nothing. But that's Vegas for you.
Until next time, Sin City.