RW was interviewed over at Fictionaut for our efforts with Thrice Fiction magazine. It's RW being RW like nobody else can, so you definitely want to check it out.
And then...
I seem to be running out of time for so many things lately. But, with luck, I'll manage to get caught up with all kinds of stuff this weekend... including doing the drawing for Avitable and my Movember prize package. Can't wait for that!
Today was a day of trying to do too much. This left me completely exhausted by the time I made it home. But do I ever learn? I thought I could manage a couple episodes of Game of Thrones while getting some work done after dinner, but the show is so amazing that you really have to give it your full attention. So now I'll have to re-watch the episodes again. Hopefully soon, because holy crap do I love that show.
The show I am definitely not enjoying is the three-ring circus that has become the Republican presidential arena. I am approaching near-desperation waiting for a candidate to emerge who can seriously challenge President Obama and give the American people the debate on issues and ideals that we deserve. An Obama landslide victory benefits none of us... even his more staunch supporters.
Herman Cain is almost certain to bow out of the race tomorrow. He simply cannot escape the massive level of scandal that's been escalating around him for months. But, then again, this is Herman Cain we're taking about.
Rick Perry seems perfectly content to keep reminding people how stupid he is by ridiculing himself at every given opportunity. Yes, you have to laugh at your mistakes, BUT THEN YOU MOVE ON. Who in the hell is advising him? IS ANYBODY?
Mitt Romney, who at one time "felt" the most presidential of the bunch, is now whining like a little bitch because the press is asking him the hard questions about his historical legacy of flip-flopping on every talking point in the history of politics. And we're not talking the tired old Republican go-to whining about the mythical "Liberal mainstream media" they've fabricated so they have somebody to blame whenever they say or do stupid crap... he's whining about the Conservative agenda mouthpieces at FOX "News"! There's little doubt that the candidacy is his to lose... AND HE'S LOSING IT.
Rick "Piece of Shit" Santorum has now reached a level of insignificance that approaches navel lint. His never-ending attacks on the gays leaves little doubt that he is overcompensating for his massive craving for a big ol' cock sandwich. I wish he's just take a bite and shut the fuck up already.
Michele "Bat-Shit Crazy" Bachmann recently said she thinks that Rick "Piece of Shit" Santorum would be the ideal vice-presidential running mate on her 2012 all-homophobe-all-the-time fantasy presidential ticket. As if that's not enough, she continues to dazzle us with misrepresentation and lies so bold that it's hard to figure out if she even knows that most everything she says is bullshit. This has gone from amusing to hysterical to sad to pathetic. At some point the Republican leadership is going to realize that her non-stop parade of idiocy is no longer a handy tool for making the rest of the candidates look good... but instead a raging embarrassment that makes them all look bad. Anybody who's seen Old Yeller knows how this one ends... it's just a matter of time.
Ron Paul and Jon Huntsman have virtually no support within the Republican party. At least not enough to matter. And that's a shame, because Huntsman in particular seems like he could pose the biggest threat to President Obama in an election. If only he could somehow convince The Right that a "Conservative Light" candidate is far more appealing to undecided voters than the radical Conservative hard-asses they seem to rally behind.
Newt Gingrich gave me hope for the longest time. Sure I disagree with the bulk of his politics but, despite his many scandals, he seemed the most capable of making a serious argument for change and taking it to President Obama's front yard. He's got the vision and drive to make a serious impact, even though I don't think he has a chance of winning the election. But all of that is for naught if he can't reign in his rich bitch arrogant asshole mouth. Newt is almost joyous in his enthusiasm to kick the poor and unemployed when they're down, not seeming to realize that there are plenty of Republicans in that very situation. Who is going to listen to your ideas when you're shitting all over them? You can lighten up your demeanor without compromising your ideals... LOOK INTO IT! Because at some point you have to convince more than just your fan base that you're worthy of being their president.

And that's it! That's all she wrote! Unless somebody crawls out of the GOP woodwork to revive the run for the nomination, it's looking like Gingrich or (perhaps more likely) Romney is what we're going to get. This has me almost hoping that Sarah Palin swoops in and grabs the nomination, because at least that would be an entertaining disaster.
But oh no. If things keep going this route, President Obama is going to win in a cake-walk without having to answer for much of anything. It doesn't get much sadder than that.
Unless you're President Obama's campaign manager.
If you're President Obama's campaign manager, you absolutely live for this shit.

So there I am driving home from work when all of a sudden a pickup truck down the street ahead of me screeches to a halt and starts backing up!
My first instinct was to do nothing. This would be the THIRD time in FOUR months that somebody has backed into my invisible piece-of-shit car. I might as well pick up another insurance check out of the deal.
But then two thoughts hit me at once...
Do I really want for somebody's holidays to be ruined because they crashed into me and couldn't buy Christmas presents for their kids because they had to repair their truck and make higher insurance payments?
What if the asshole doesn't have any insurance? The last time that happened, MY insurance had to pay for it and it was MY rates that went up.
So I honked my horn. They screeched to a halt again (one car-length from my bumper) then pulled forward into a parking spot so I could pass.
And I bet you a million dollars they were cussing me out for daring to honk at them, even though I saved THEM from hitting ME.
The dumbasses.
I tell you, the only thing keeping me from wanting to be abducted by aliens right now so I can leave this shithole planet behind is this...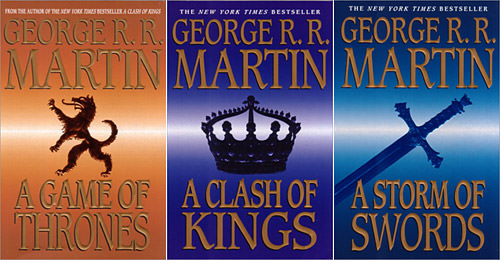 I read the first book of George R. R. Martin's epic "Song of Ice and Fire" series, A Game of Thrones, because of a glowing employee recommendation at Powell's City of Books. I liked it well enough that I bought the follow-up, A Clash of Kings when it came out a few months later. A couple years after that, A Storm of Swords came out. It was supposed to be the last book of a trilogy, but Martin decided he wanted to keep going. I then gave up because it took FIVE years for the fourth book, A Feast for Crows to come out... and frickin' SIX years after that for the fifth book, A Dance with Dragons, to come out (this past July).
The reason I gave up was because the last thing I want is to get all invested in the series only to have George R. R. Martin up and die before he finally finishes the story (presumably with book seven)...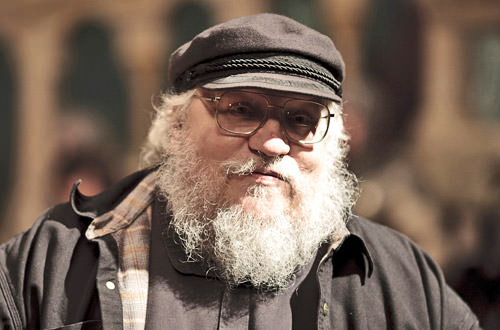 Game of Thrones creator George R.R. Martin — ©2011 HBO/Helen Sloan
But thennnnnnn... HBO unleashed an Original Series based upon the books that has been getting rave reviews and awards. Whenever I travel, I always try to catch it when my hotel has HBO. I've seen roughly half of the ten episodes...
Love it.
I was thinking I'd watch the rest of the episodes when the DVD set was released, but HBO isn't releasing it until frickin' MARCH (and it's priced like EIGHTY DOLLARS or something) so I went ahead and ordered HBO. Now I've been watching it via On Demand, and am pretty amazed at how faithful they are to the book (or what I remember of it).
But now I am back to worrying over whether George R. R. Martin will die before the HBO series can be concluded. Even worse is the thought that Martin will complete the books in a timely manner, but HBO will cancel the series before they've adapted all of them.
The dumbasses.