So there I am driving home from work when all of a sudden a pickup truck down the street ahead of me screeches to a halt and starts backing up!
My first instinct was to do nothing. This would be the THIRD time in FOUR months that somebody has backed into my invisible piece-of-shit car. I might as well pick up another insurance check out of the deal.
But then two thoughts hit me at once...
Do I really want for somebody's holidays to be ruined because they crashed into me and couldn't buy Christmas presents for their kids because they had to repair their truck and make higher insurance payments?
What if the asshole doesn't have any insurance? The last time that happened, MY insurance had to pay for it and it was MY rates that went up.
So I honked my horn. They screeched to a halt again (one car-length from my bumper) then pulled forward into a parking spot so I could pass.
And I bet you a million dollars they were cussing me out for daring to honk at them, even though I saved THEM from hitting ME.
The dumbasses.
I tell you, the only thing keeping me from wanting to be abducted by aliens right now so I can leave this shithole planet behind is this...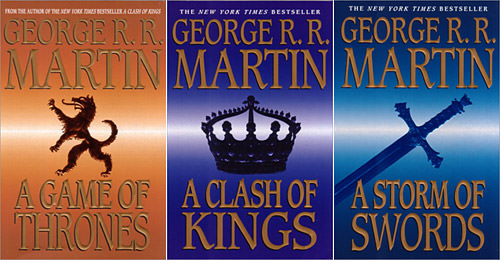 I read the first book of George R. R. Martin's epic "Song of Ice and Fire" series, A Game of Thrones, because of a glowing employee recommendation at Powell's City of Books. I liked it well enough that I bought the follow-up, A Clash of Kings when it came out a few months later. A couple years after that, A Storm of Swords came out. It was supposed to be the last book of a trilogy, but Martin decided he wanted to keep going. I then gave up because it took FIVE years for the fourth book, A Feast for Crows to come out... and frickin' SIX years after that for the fifth book, A Dance with Dragons, to come out (this past July).
The reason I gave up was because the last thing I want is to get all invested in the series only to have George R. R. Martin up and die before he finally finishes the story (presumably with book seven)...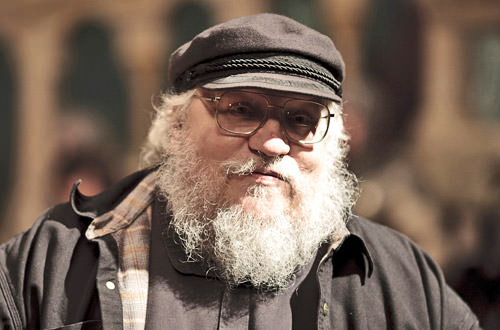 Game of Thrones creator George R.R. Martin — ©2011 HBO/Helen Sloan
But thennnnnnn... HBO unleashed an Original Series based upon the books that has been getting rave reviews and awards. Whenever I travel, I always try to catch it when my hotel has HBO. I've seen roughly half of the ten episodes...
Love it.
I was thinking I'd watch the rest of the episodes when the DVD set was released, but HBO isn't releasing it until frickin' MARCH (and it's priced like EIGHTY DOLLARS or something) so I went ahead and ordered HBO. Now I've been watching it via On Demand, and am pretty amazed at how faithful they are to the book (or what I remember of it).
But now I am back to worrying over whether George R. R. Martin will die before the HBO series can be concluded. Even worse is the thought that Martin will complete the books in a timely manner, but HBO will cancel the series before they've adapted all of them.
The dumbasses.