Posted on October 19th, 2013

After two weeks of jam-packed Disney magic in Southeast Asia, I knew that I would need a day to recover from it all. And so I booked an extra day at the end of my vacation, just so I could lie around the resort and relax for 24-hours before making the long trip back home.
At least that was the plan.
Turns out it is impossible to hang around Cambodia's Angkor Wat region and do nothing. So out I went in the crushing heat so I could see a few things that I had missed yesterday. Starting with an hour tuk-tuk ride out to Banteay Srei. It'a a temple famous for the "pinker" stone used to building it, along with lots of nifty wood-carvings...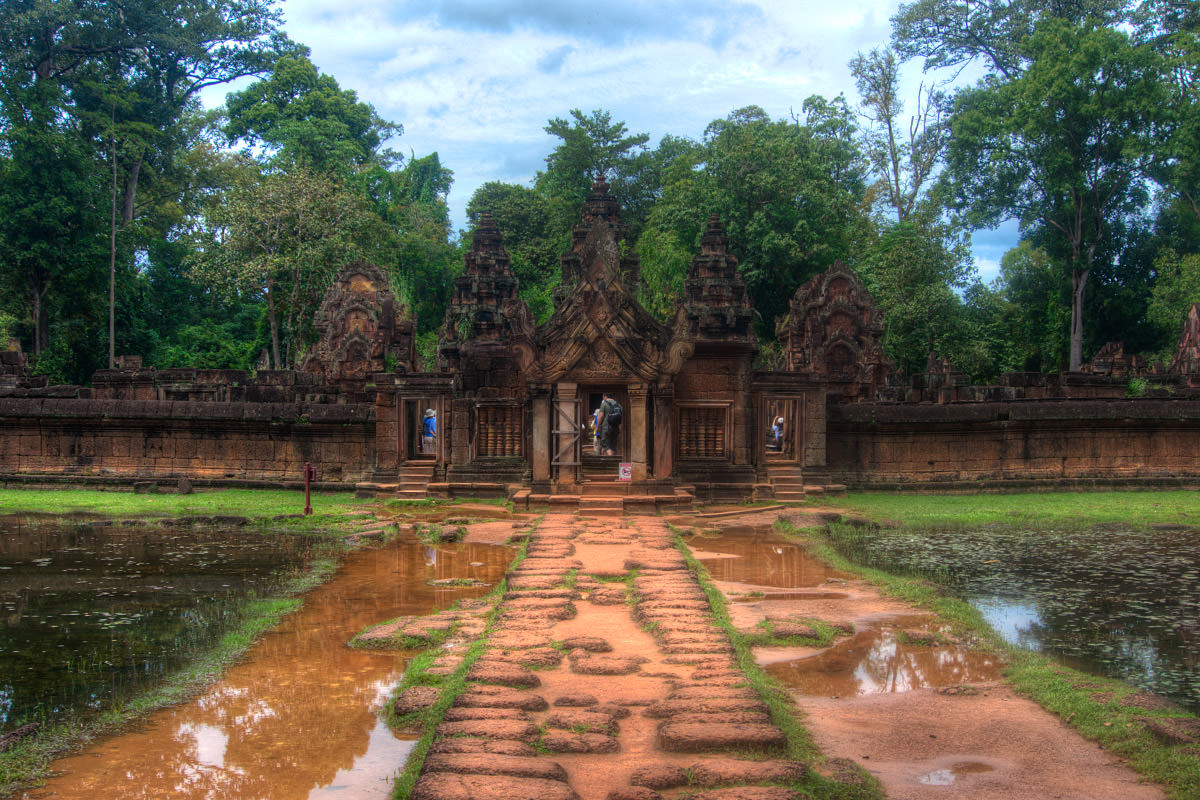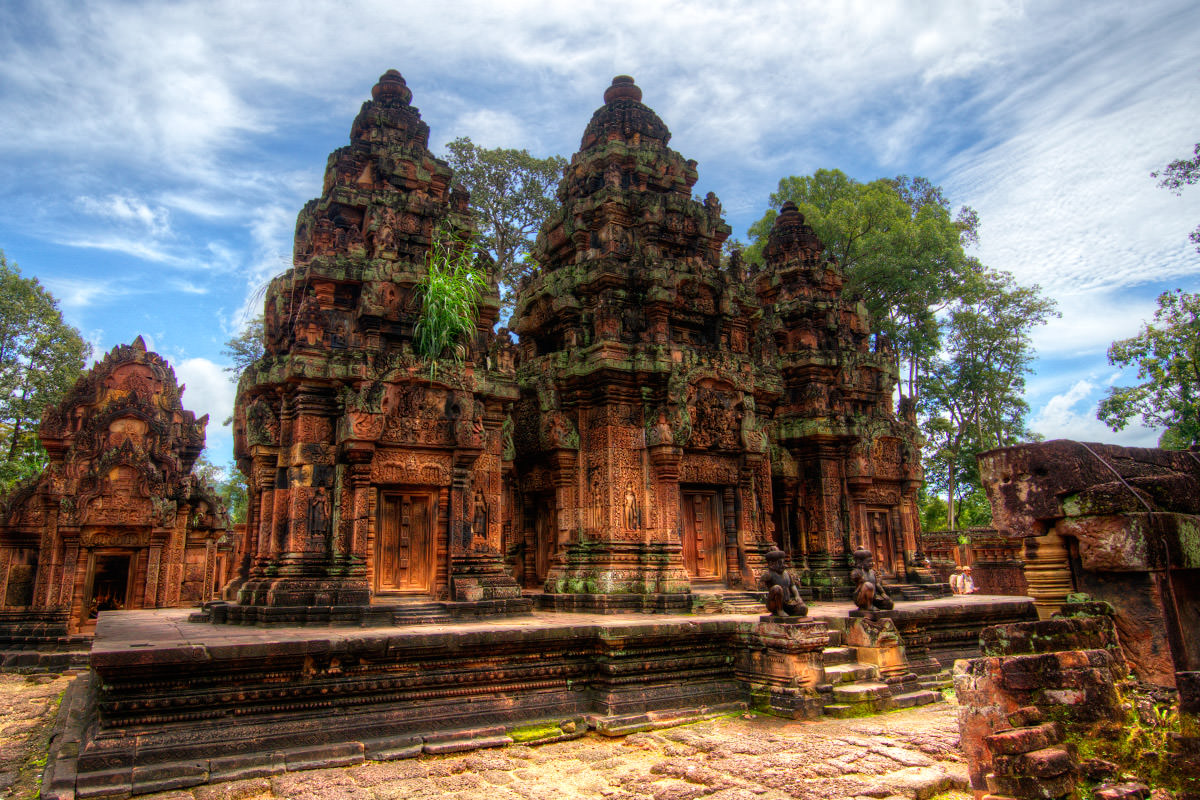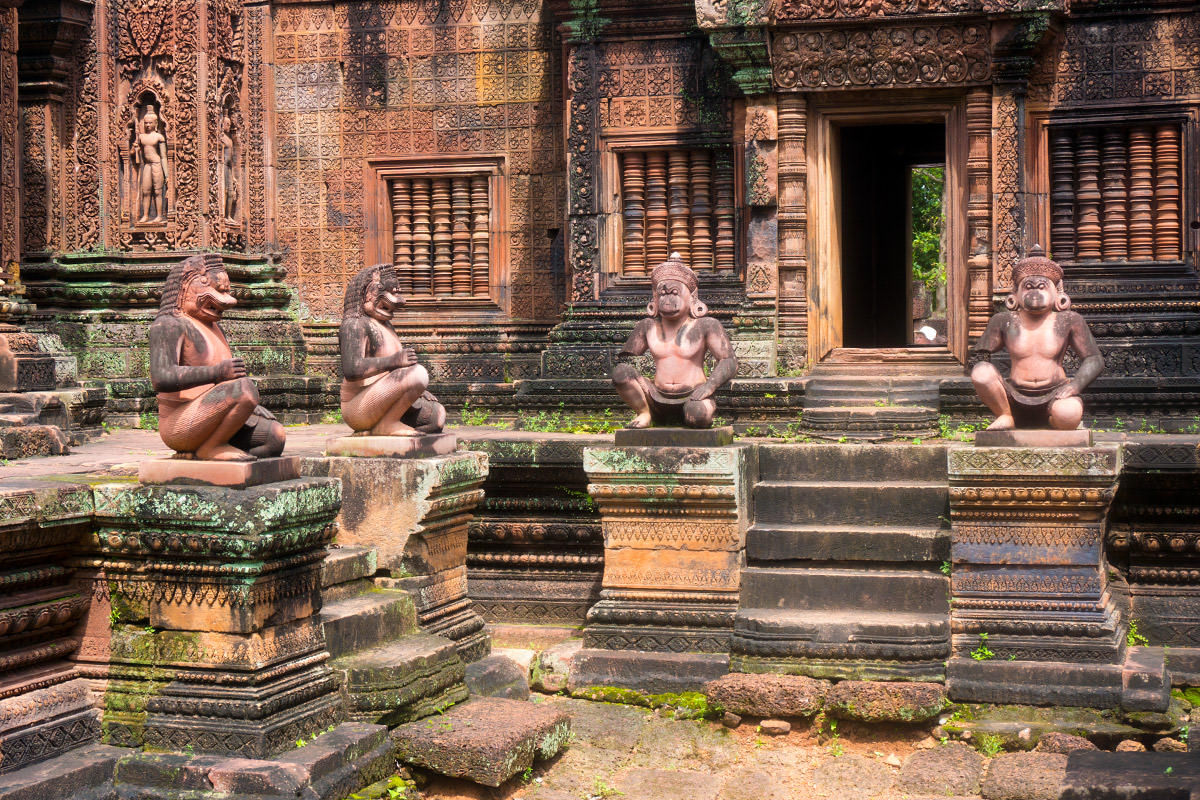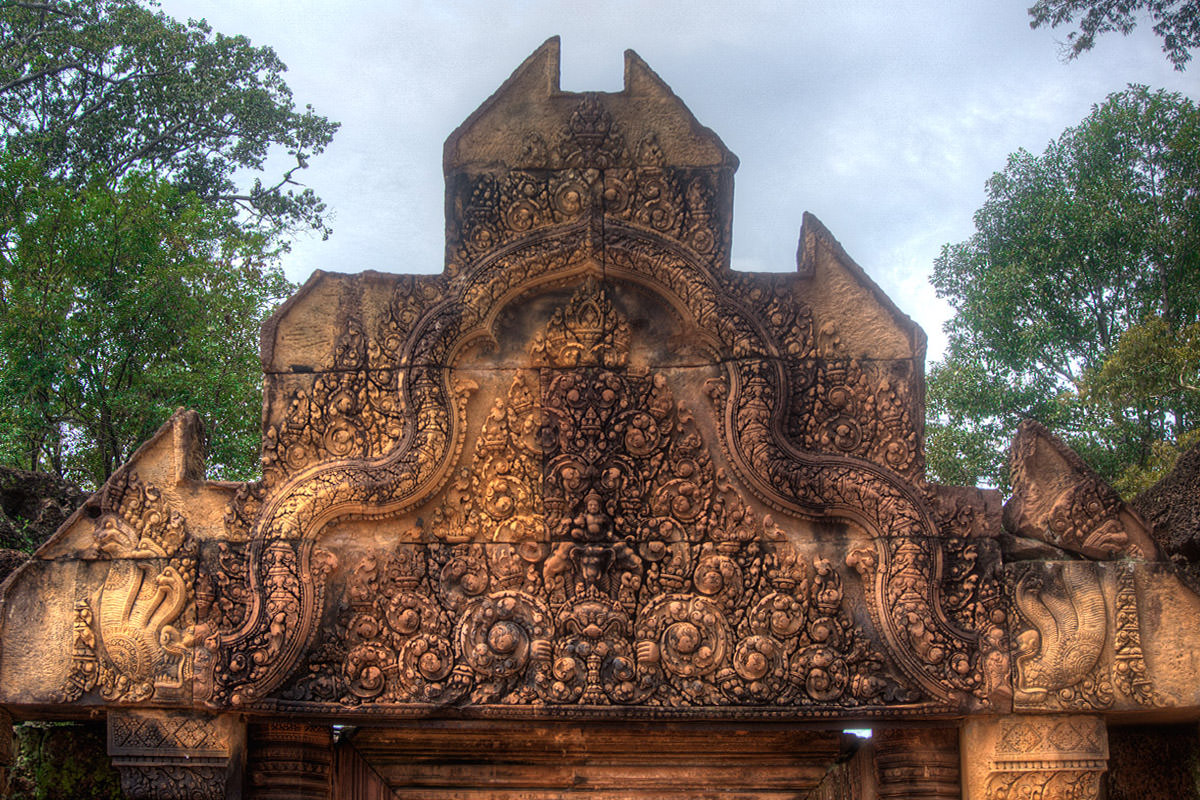 Then a ride back South to the island temple of Neak Pean...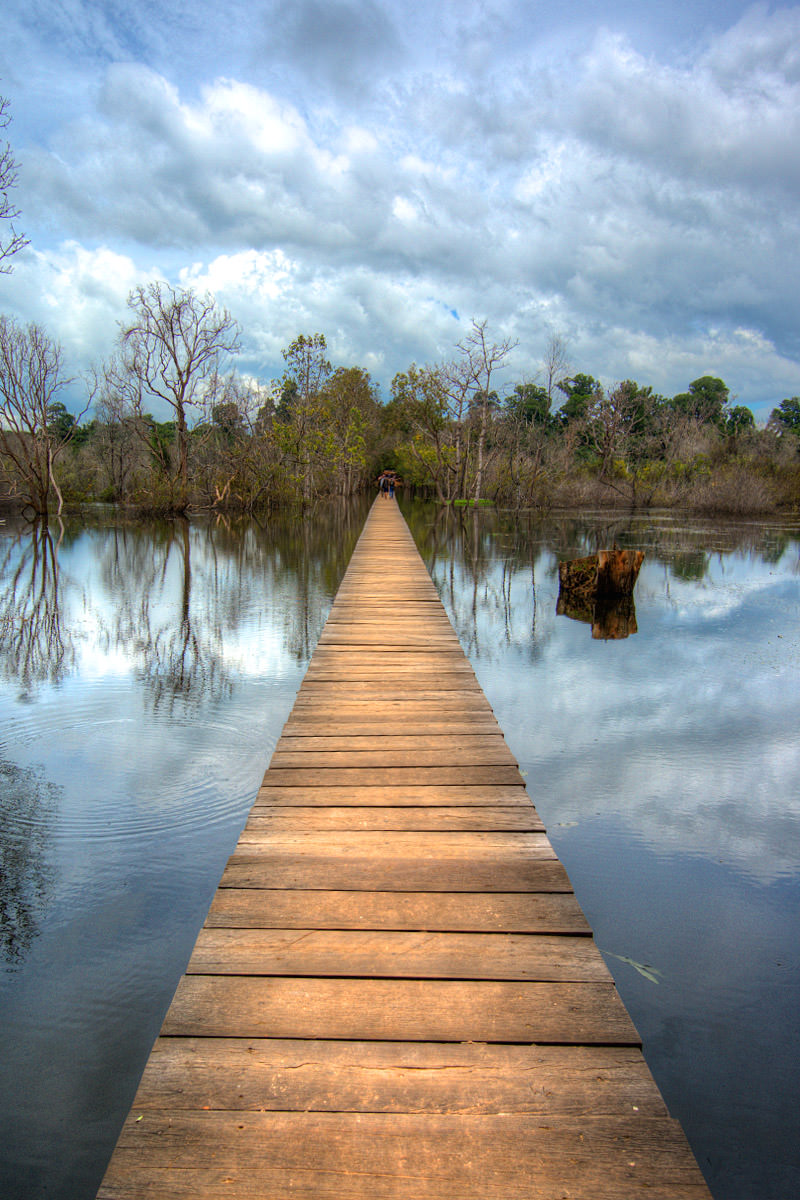 Followed by a stop at Preah Khan...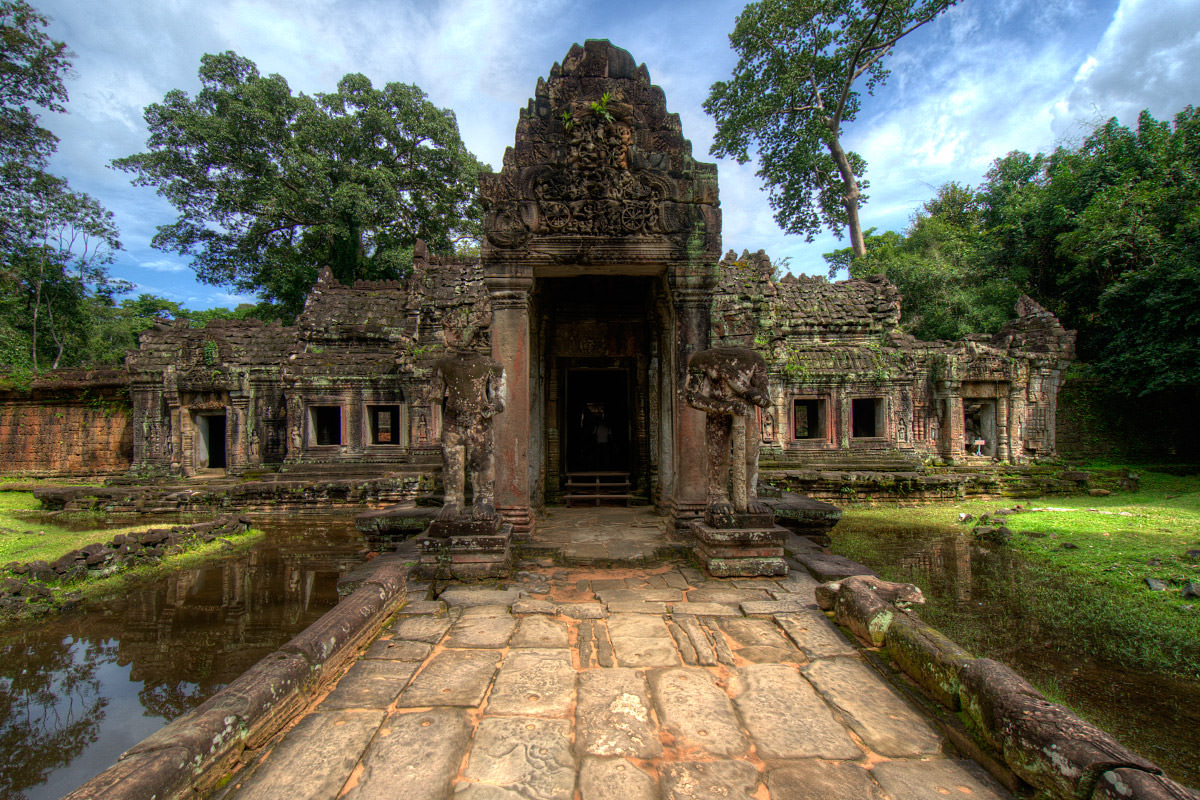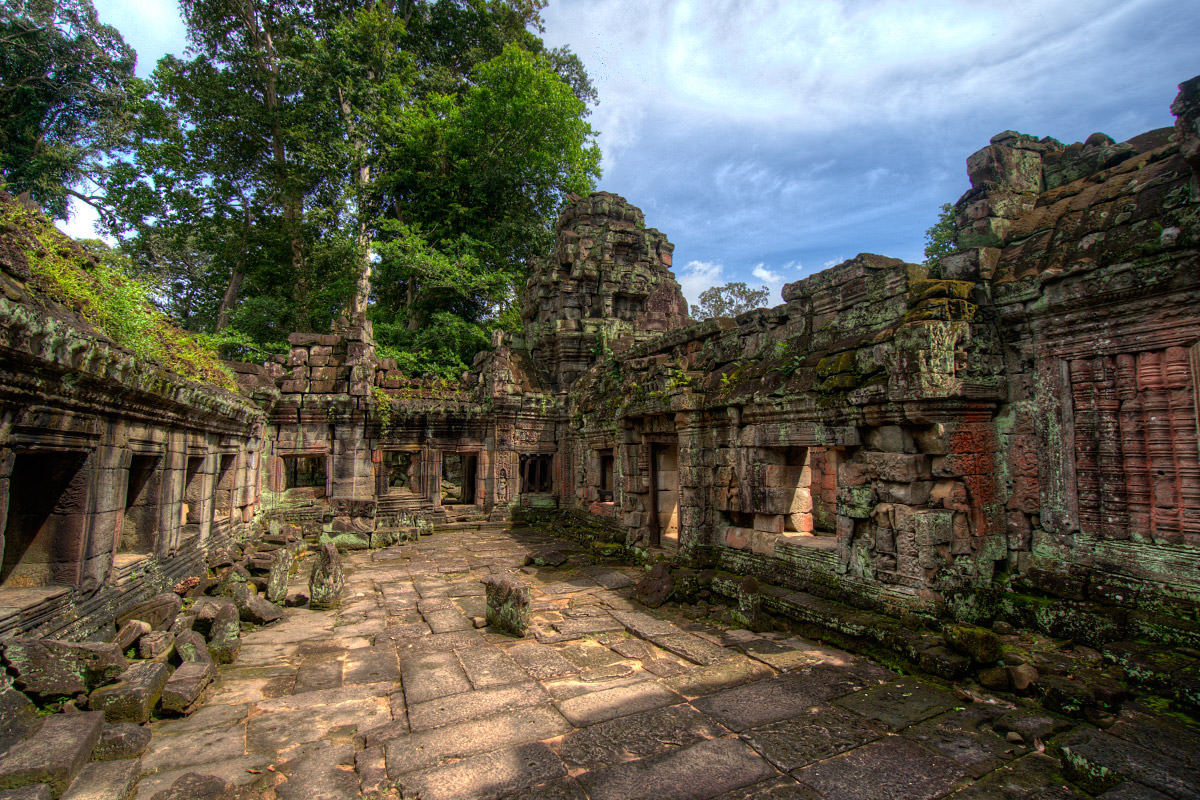 It was here I ran into something very cool... a Cambodian boy painting pictures to sell...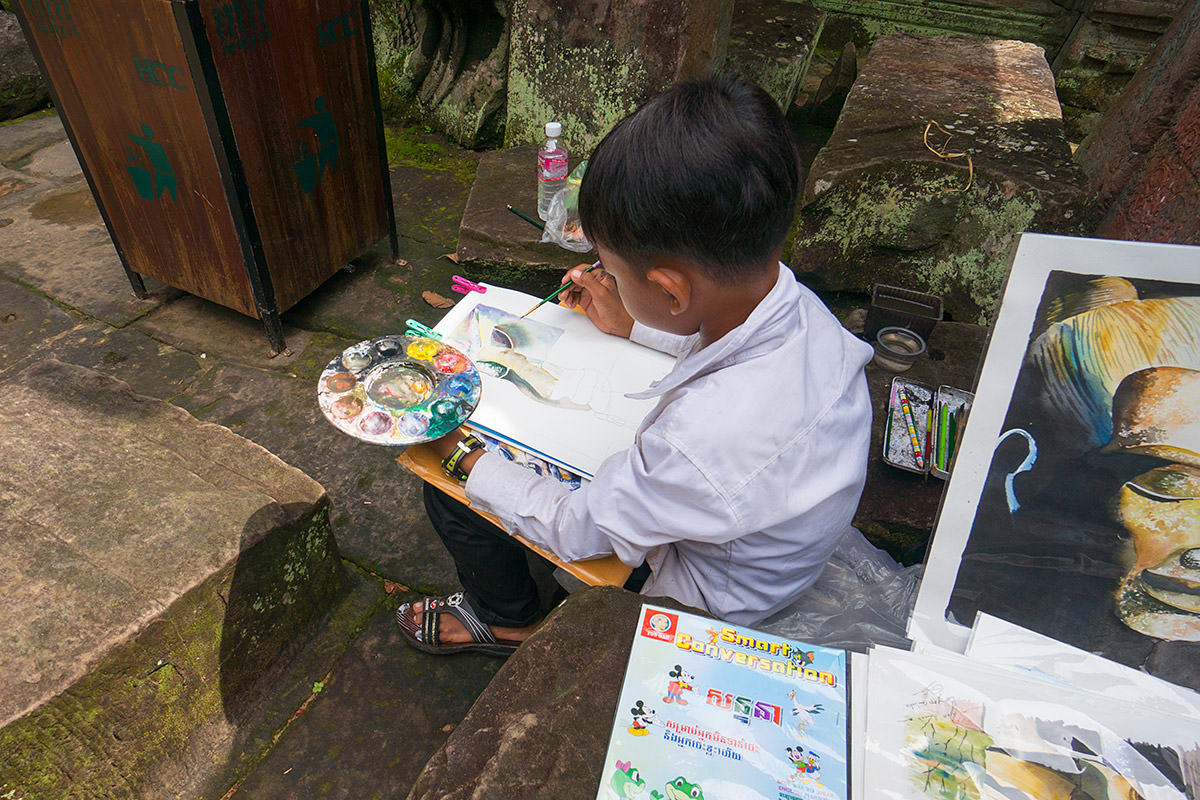 This was such a refreshing change from the throngs of kids selling cheap souvenir crap from China that nobody wants (JUST ONE DOLLAR!!!) that I couldn't pass it up. He was asking $15... I could have bargained down to $10 (or less)... so I paid him $20...
Then into the town of Siem Reap proper for a look at where the new Hard Rock Cafe will be when it opens next year...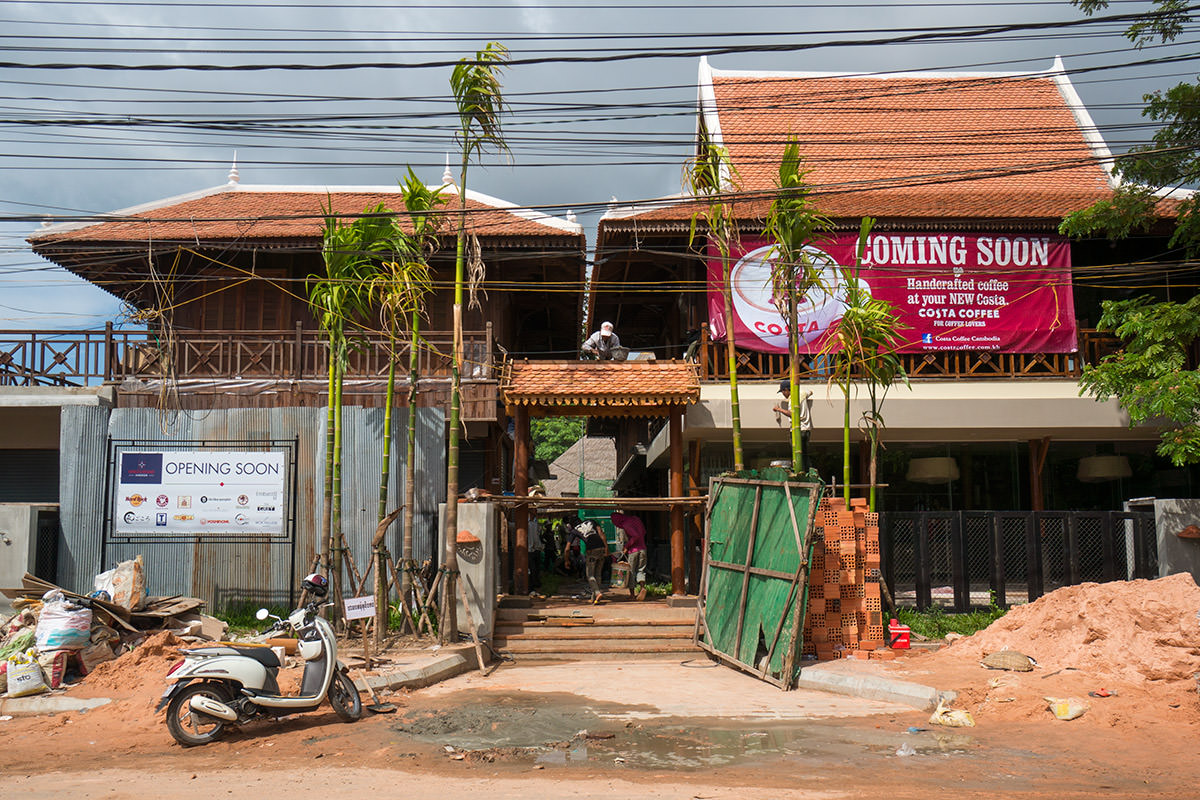 Yeah. Won't be sad about having to come back here in a year or two to see it... that's for sure!
And, lastly, a stop at Peace Cafe so I could eat some amazing (and cheap!) vegetarian food...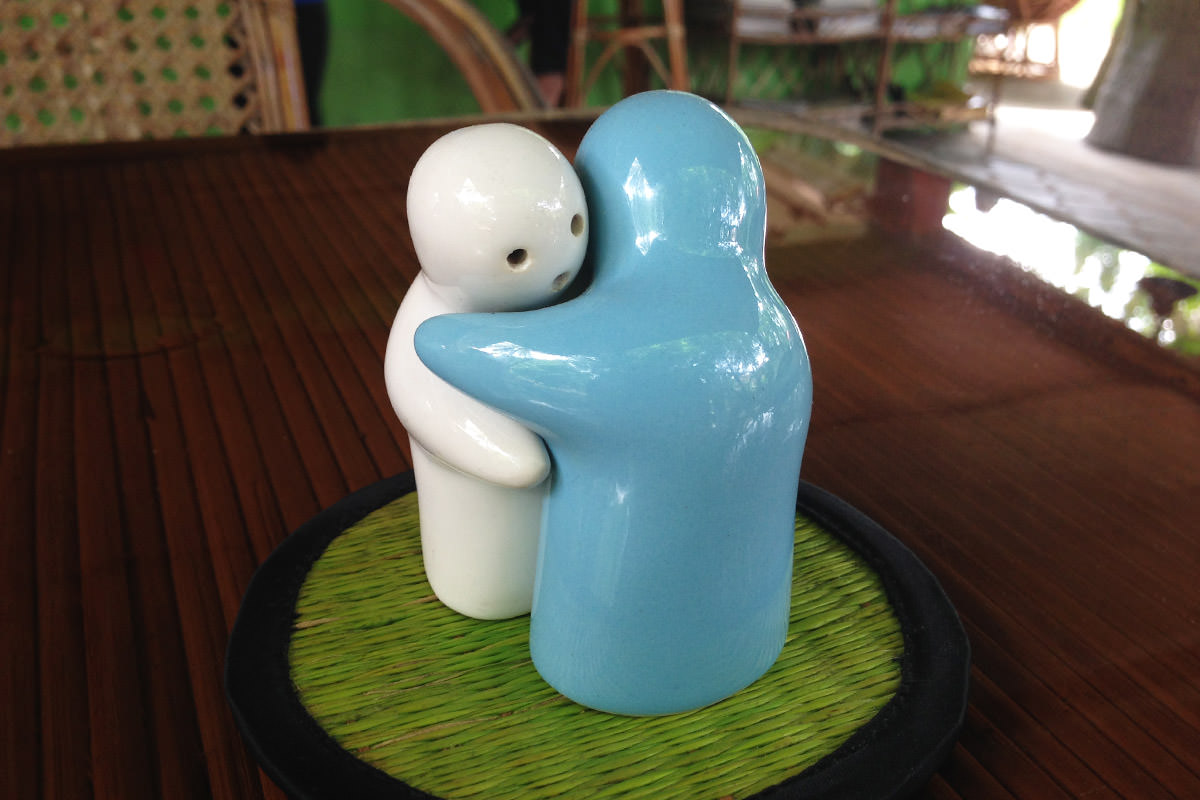 And play with their cat, who was crawling all over me the minute I walked up to take his photo...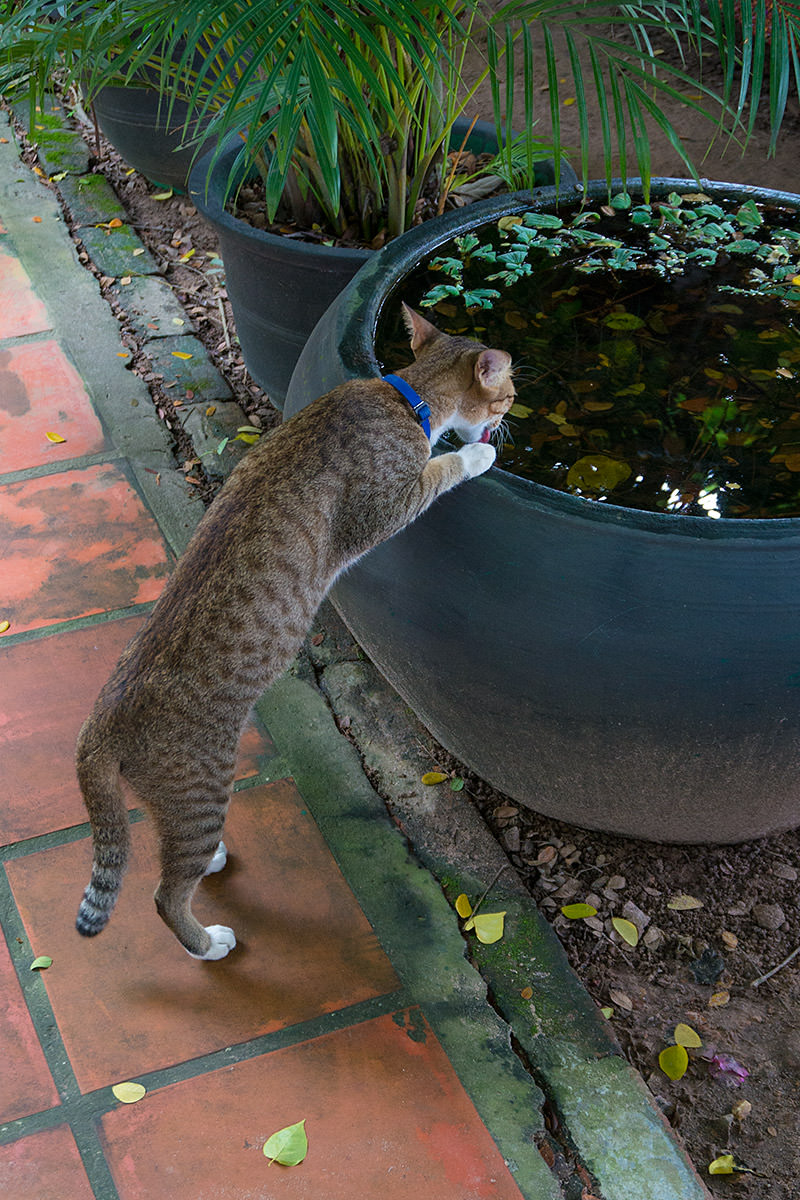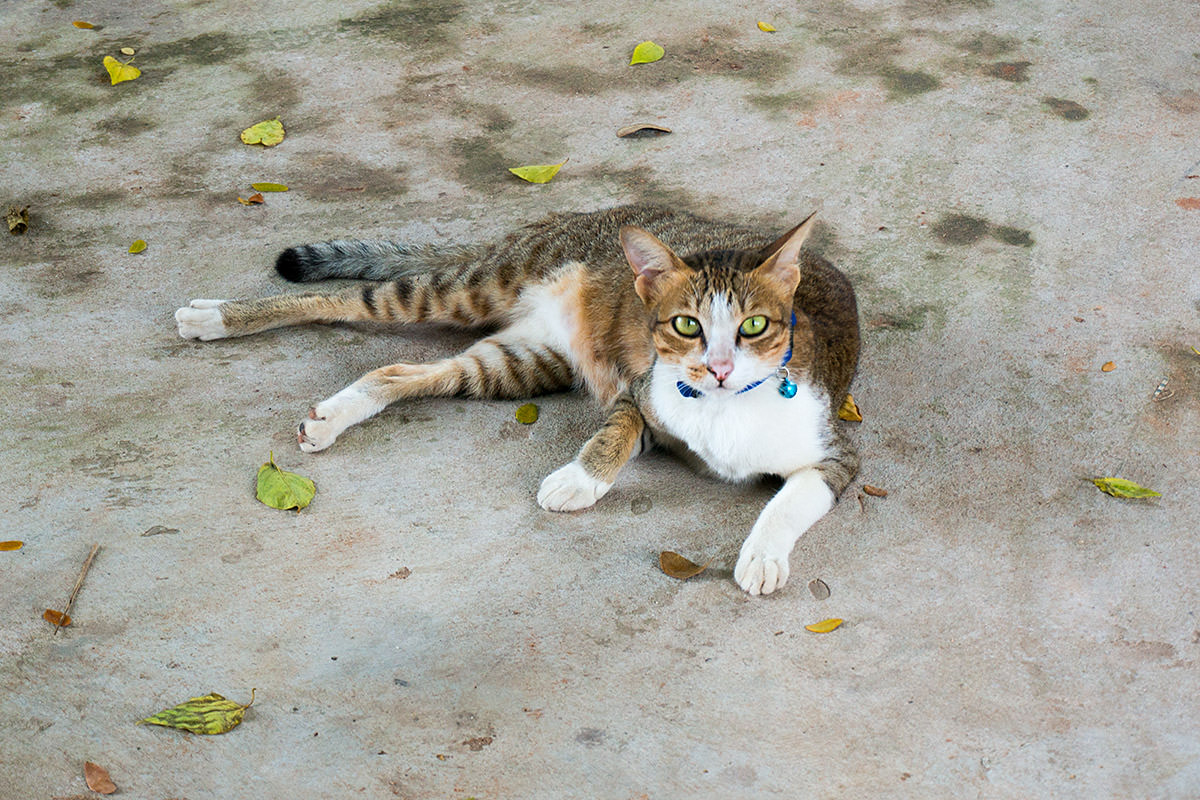 And that would be the end of my adventures through Vietnam, Laos, and Cambodia. I'd do a wrap-up of my vacation, but I have to head to the airport here in a few minutes to begin the long trip home.
Posted on October 18th, 2013

The twelfth day of my Adventures by Disney tour is not really a tour day at all. It's just that most flights out of Siem Reap happen very late at night, so Disney goes ahead and adds this as a "Day on Your Own" to their itinerary. Which means that if you do happen to find an early morning flight out, you're not even getting a twelve-day tour as advertised. This is kind of odd and misleading, but okay. I knew that I would be wanting a full day to explore Angkor, so I added a bonus day to my itinerary, which Disney is happy to sell you.
Anyway...
It had poured rain in the night and early morning. The forecast said it would be a wet day. And it was, off and on, which is nice because storm clouds always make more interesting photos... plus it would be much cooler than traipsing around in a full-sun heat.
At 5:45am, my tuk-tuk driver from yesterday picked me up from my hotel, and away we went. My first stop was supposed to be Bayon Temple but, in a bizarre twist, he stopped before we got there. He pointed up a hill and said "Very pretty. See Angkor Wat. Is pretty up there." I had my heart set on Bayon, but didn't want to be rude, so up I went.
And went. And went. And went.
The climb took much longer than I anticipated, and I began to wonder if I was being sent into the forest to be raped, robbed, or both. As if that wasn't enough, I had to watch out for elephants...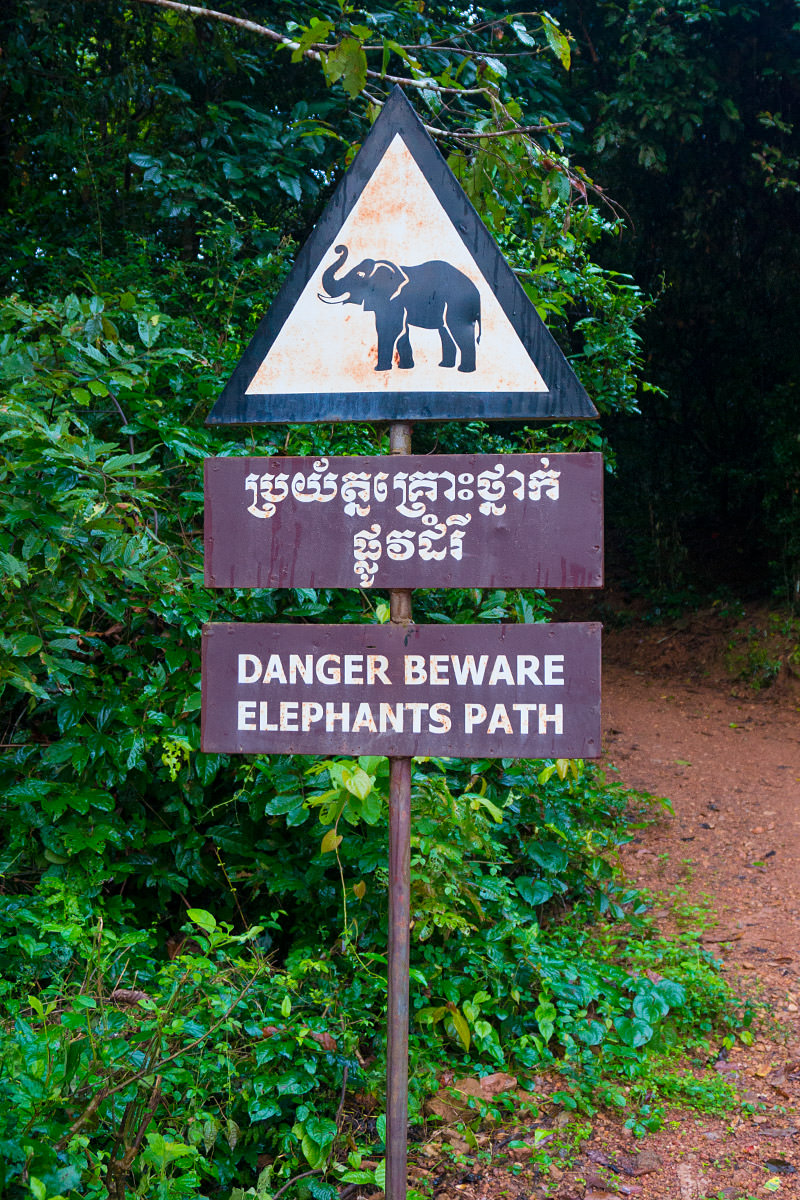 When I got to the top I was pretty disappointed. Everything was under construction, and the temple up there was kinda crappy. And, yes, you could see Angkor Wat from a little platform they set up if you zoomed in tight, but it was hardly the breathtaking experience I was expecting...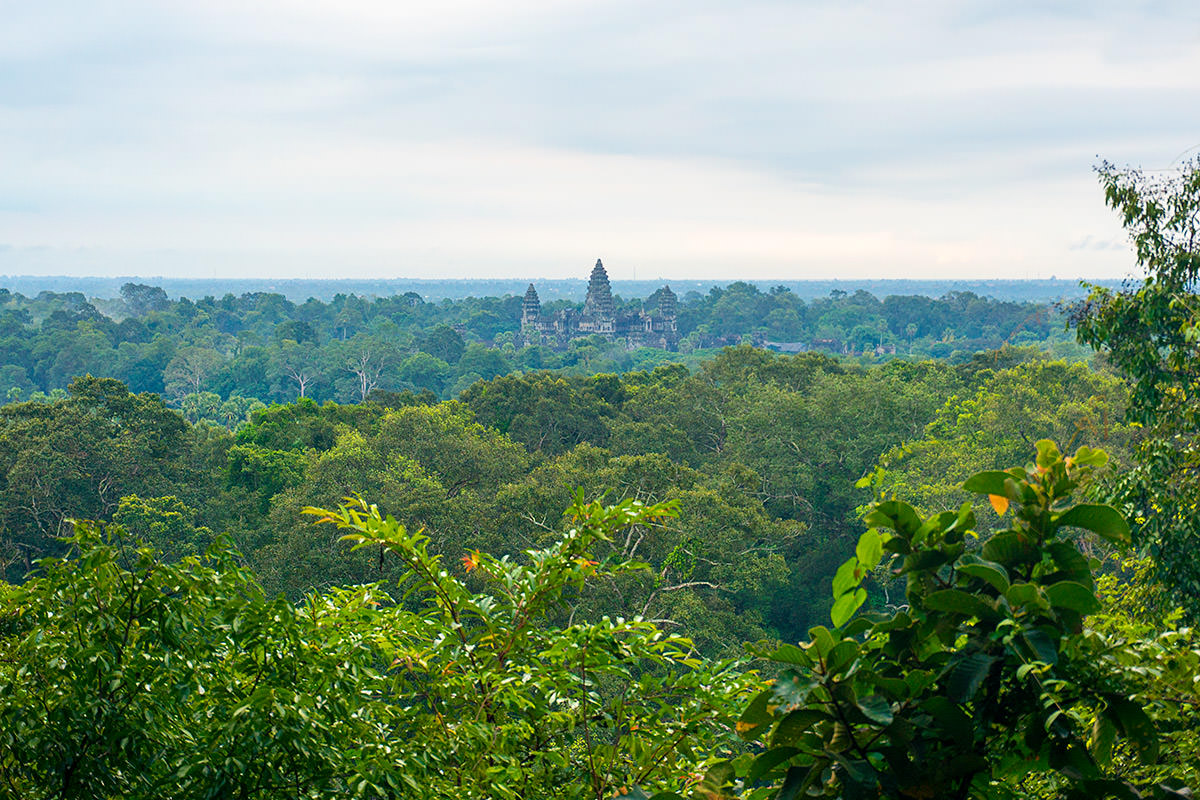 And then I noticed some stairs erected through the construction on the side of the temple. Thinking perhaps the view was better up there, I made the climb to the top...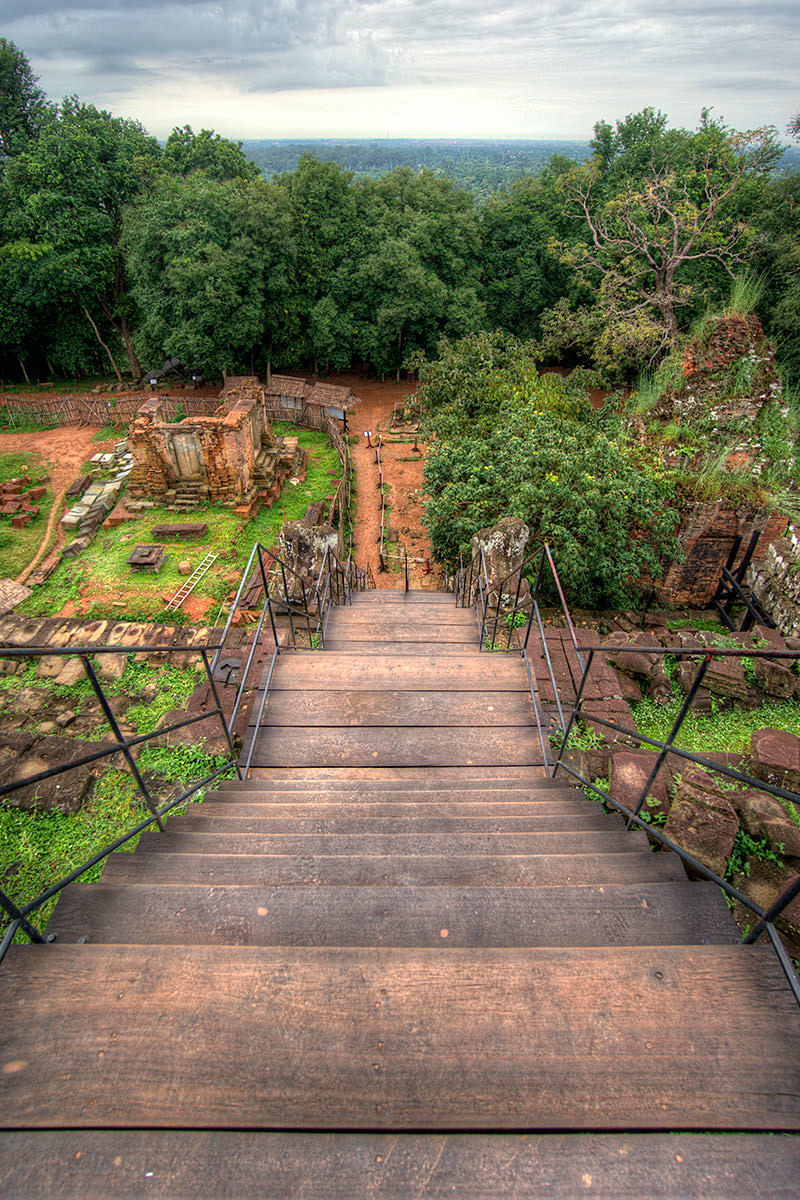 And, holy crap...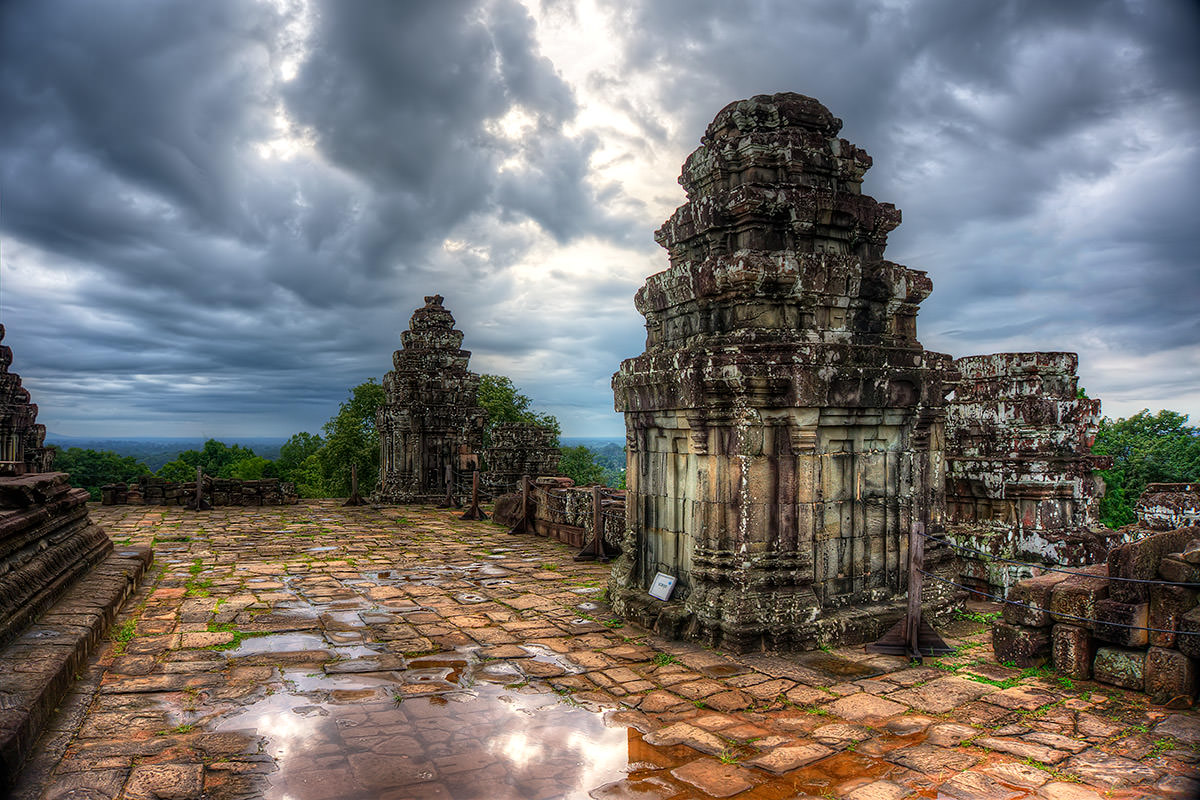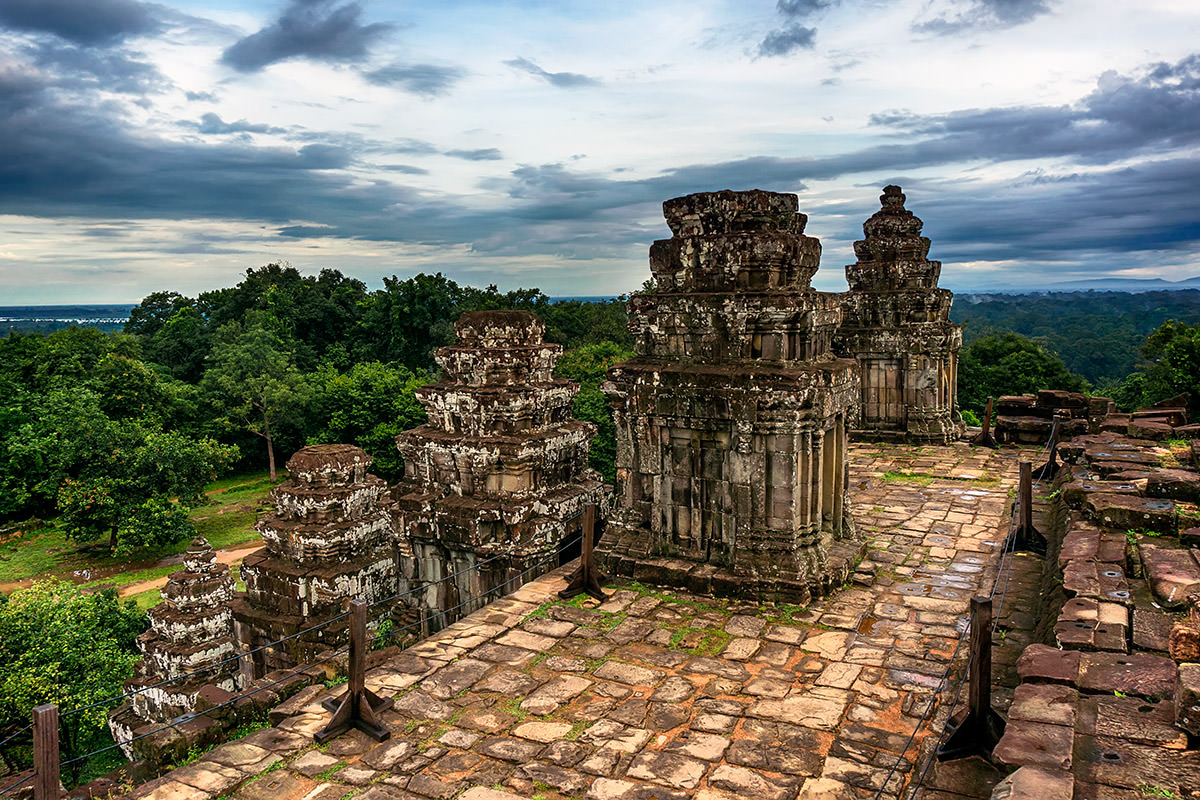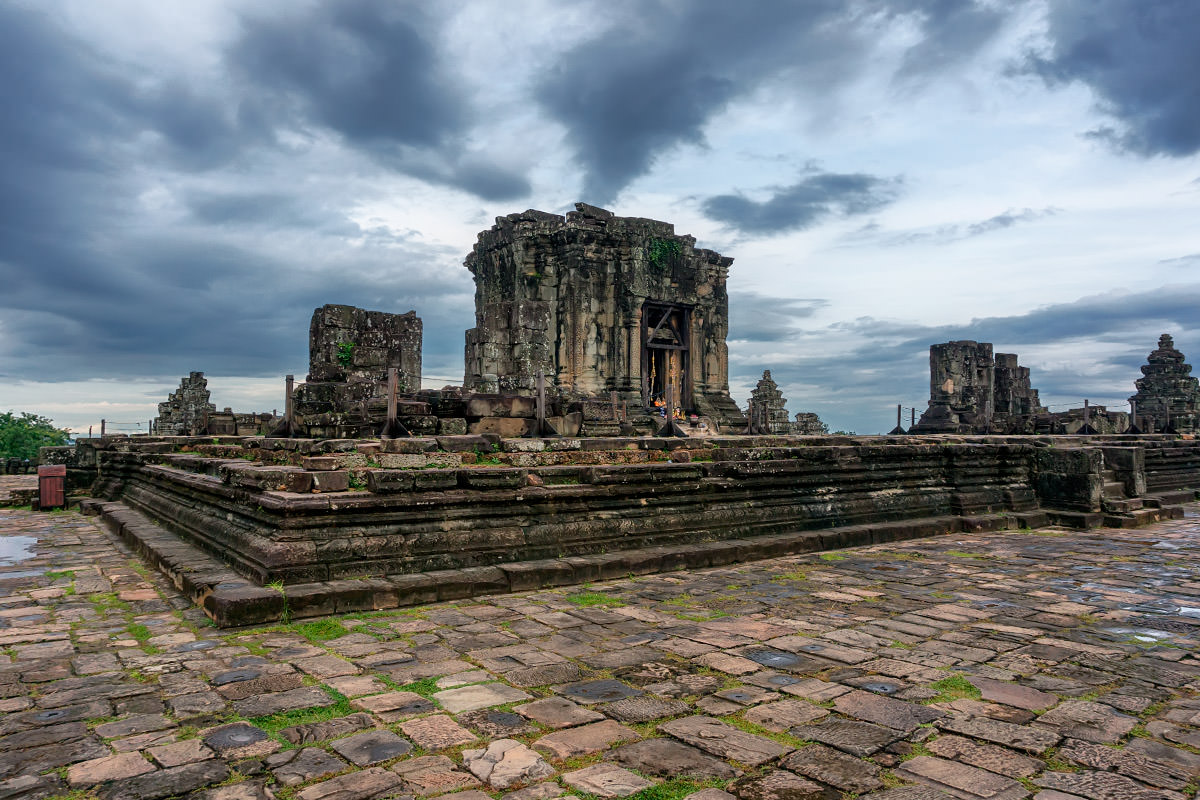 Very pretty indeed. Well played, mister tuk-tuk driver. Well played.
And then we were off to Bayon Temple.
Except we weren't, because my tuk-tuk driver went right past the entrance marked for Bayon. It was all I could do to keep from screaming "YOU MISSED THE TURN, YOU MORON!" but, again, I didn't want to be rude, so I sat and watched as Bayon Temple flew by.
Eventually he made a turn. Then another. Then we stopped at which I'm guessing is the back side of Bayon Temple. WHICH WAS FLOODED! Crap!
My driver hopped off, pointed at the temple and said "Look! Bayon and Bayon in the water! Two Bayon!" And, sure enough, thanks to the flooding, there was a gorgeous reflection of Bayon Temple in the water...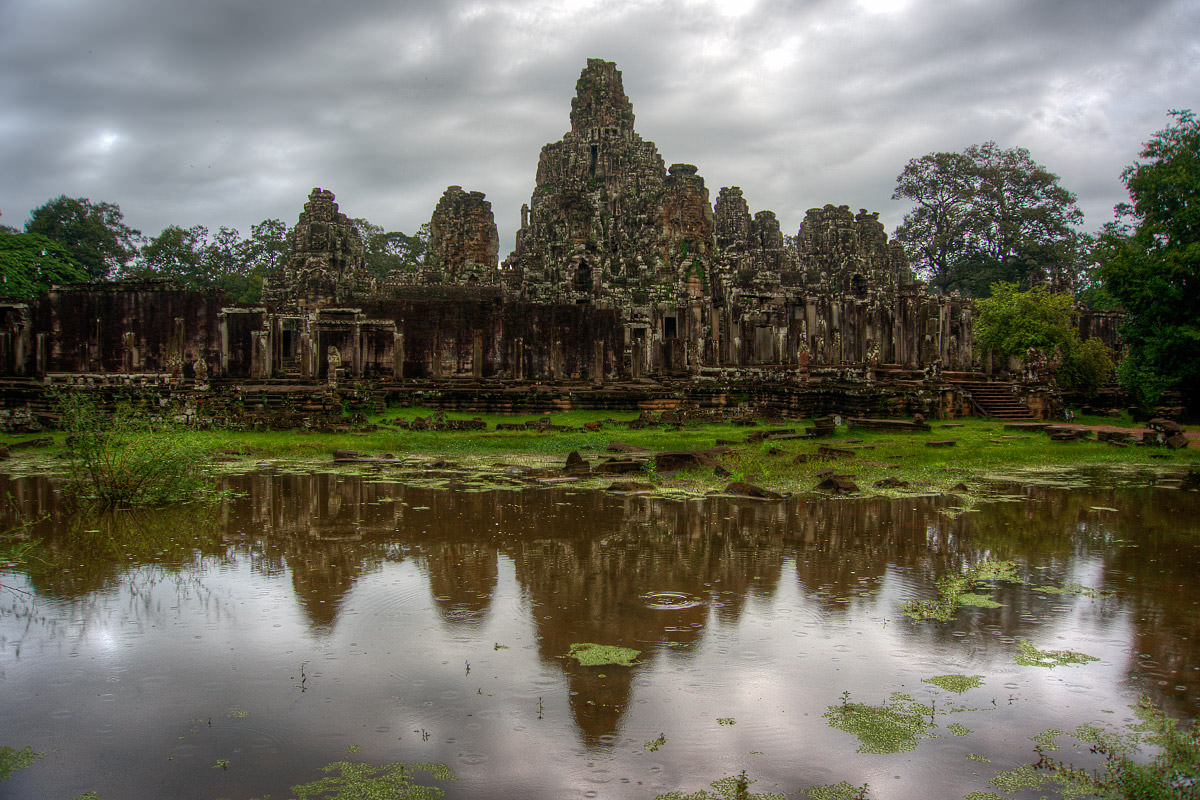 Well played, mister tuk-tuk driver. Well played. Guess I'll just shut up and trust that you know what you're doing from here on out. And plan on giving you a huge tip for this brilliant advice you're dishing out.
Prasat Bayon is a massive temple complex where faces are carved into most of the surfaces. Everywhere you look there are faces looking back at you...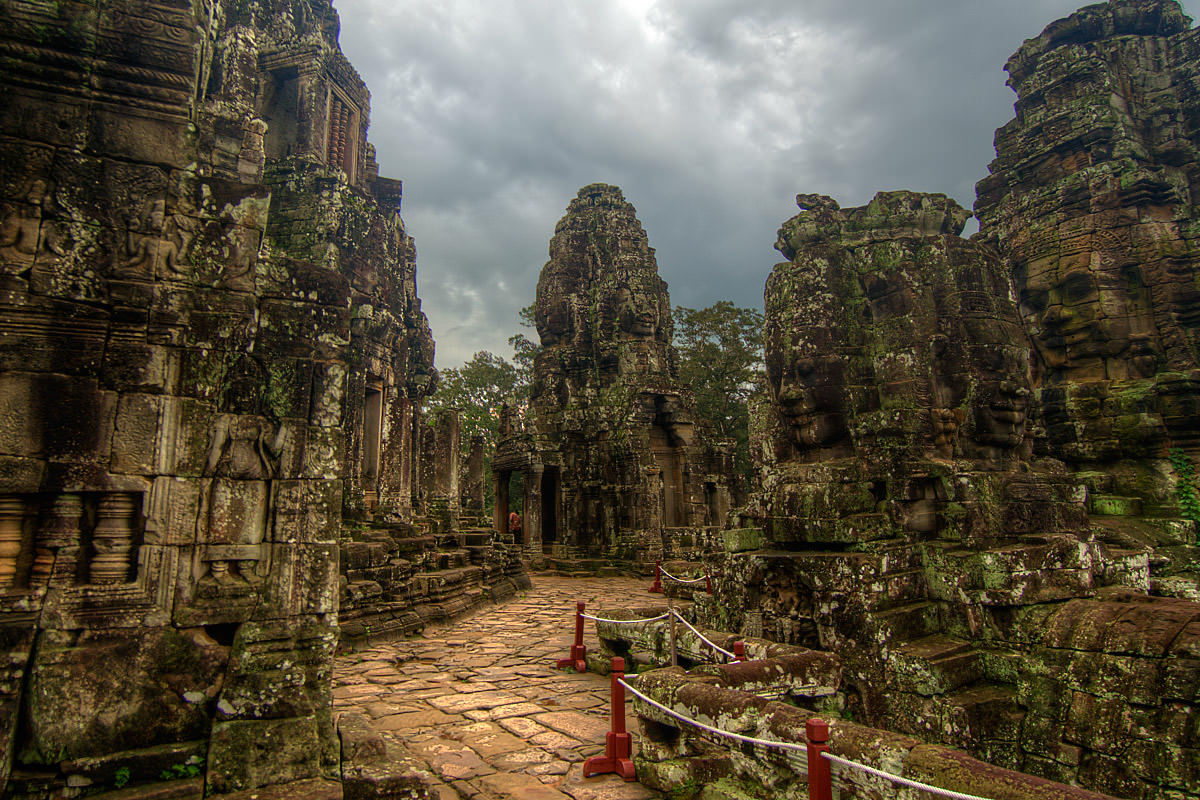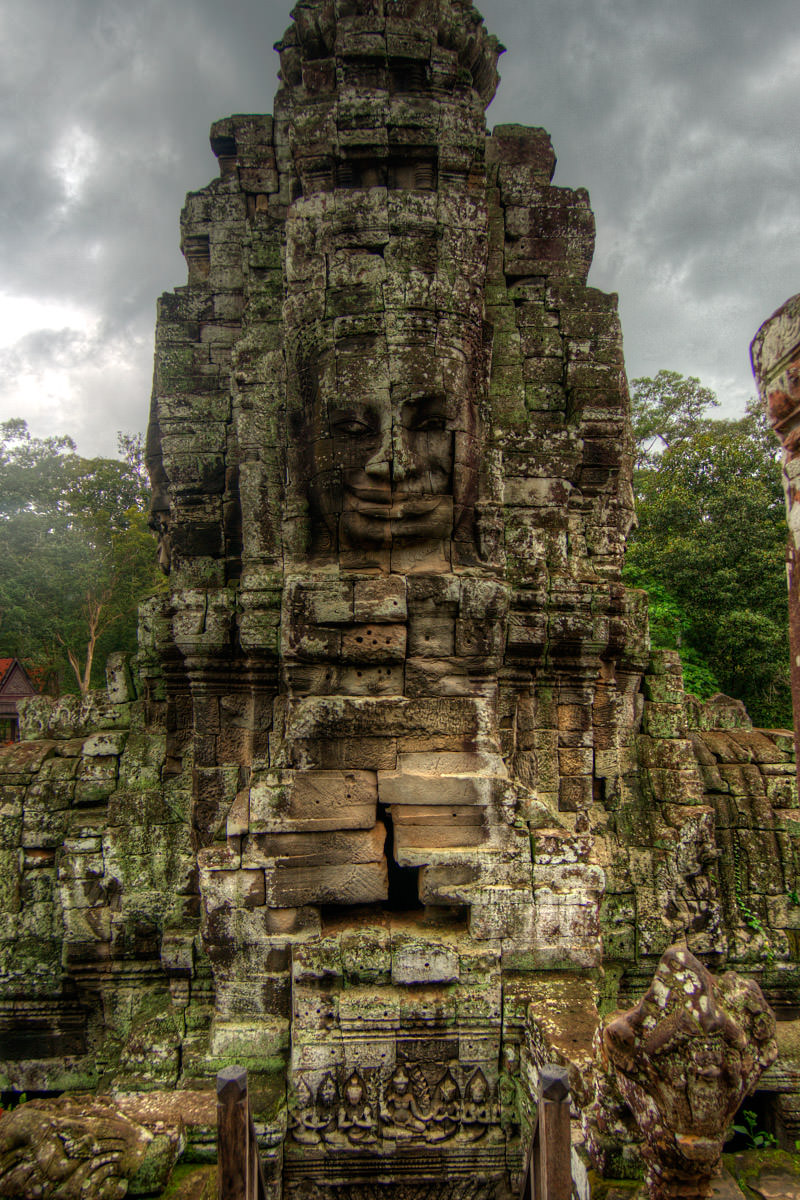 After a hundred photos were taken, we were off to Baphoun Temple which looked promising at first thanks to a beautiful stone pathway leading up to it...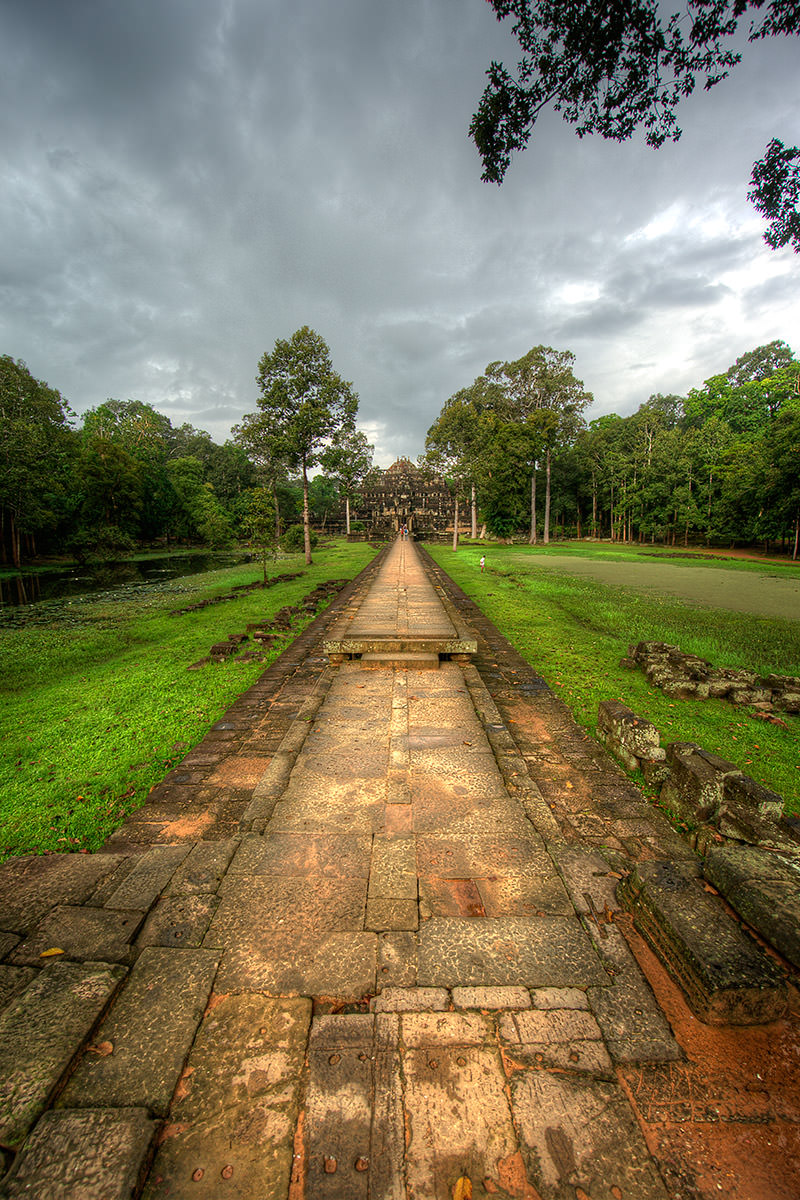 Once you get up to the ruins, however, you find that absolutely everything is closed for restoration. Not only that, but the list of restrictions are more absurd here than anywhere else...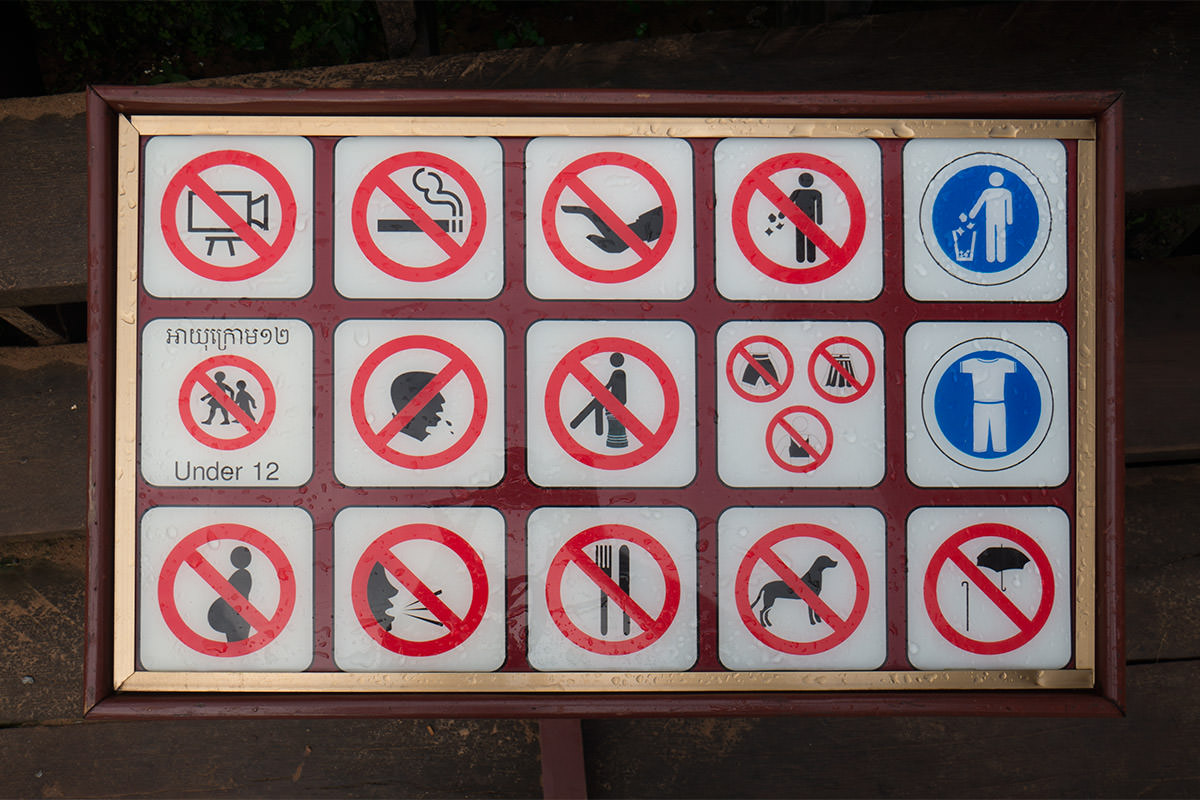 No filming. No smoking. No touching. No littering. No kids under 12. No puking(?). No sitting. No shorts. No skirts. No tank tops or halter tops. No pregnant women. No talking. No eating. No dogs. No umbrellas. No canes. How in the hell all this is necessary when you can't even get near the temple in the first place is mind-boggling. You can't even walk all the way around, so I just snapped a photo and continued on...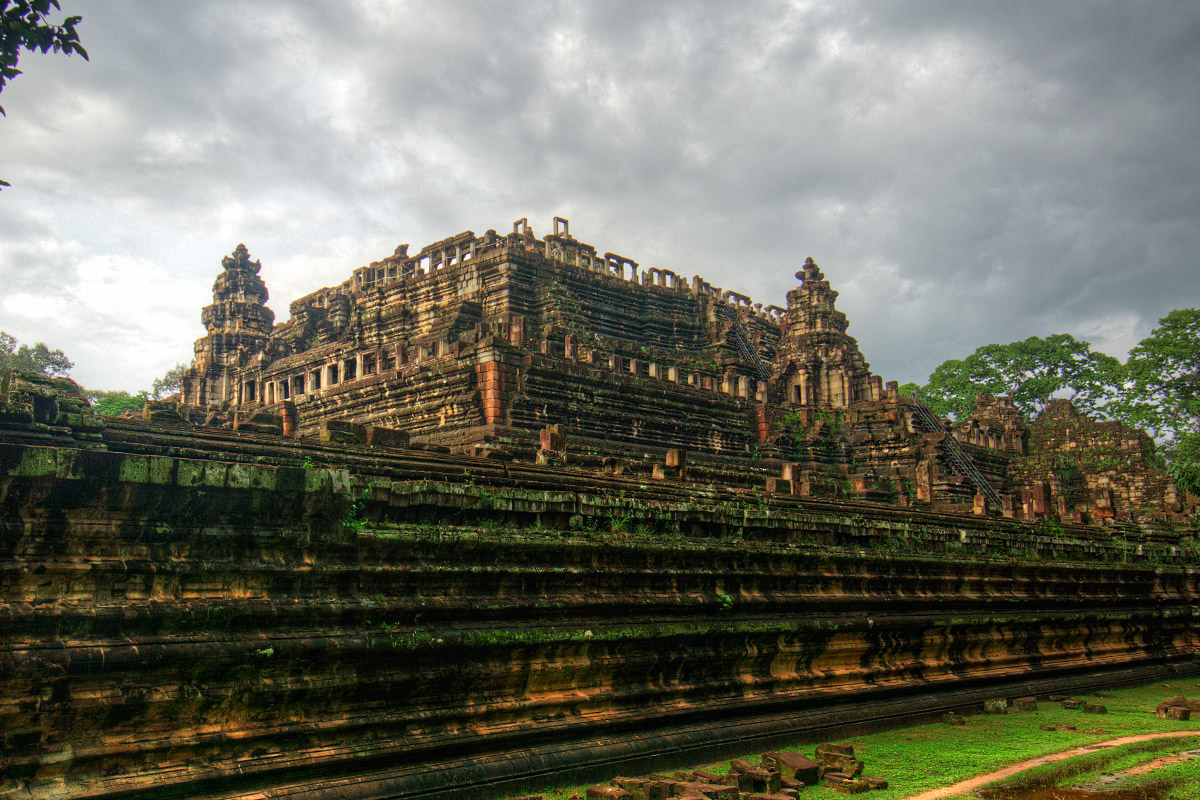 And that's when things get much, much better. A secondary temple not only can be climbed, but the ruins are spectacular to look at...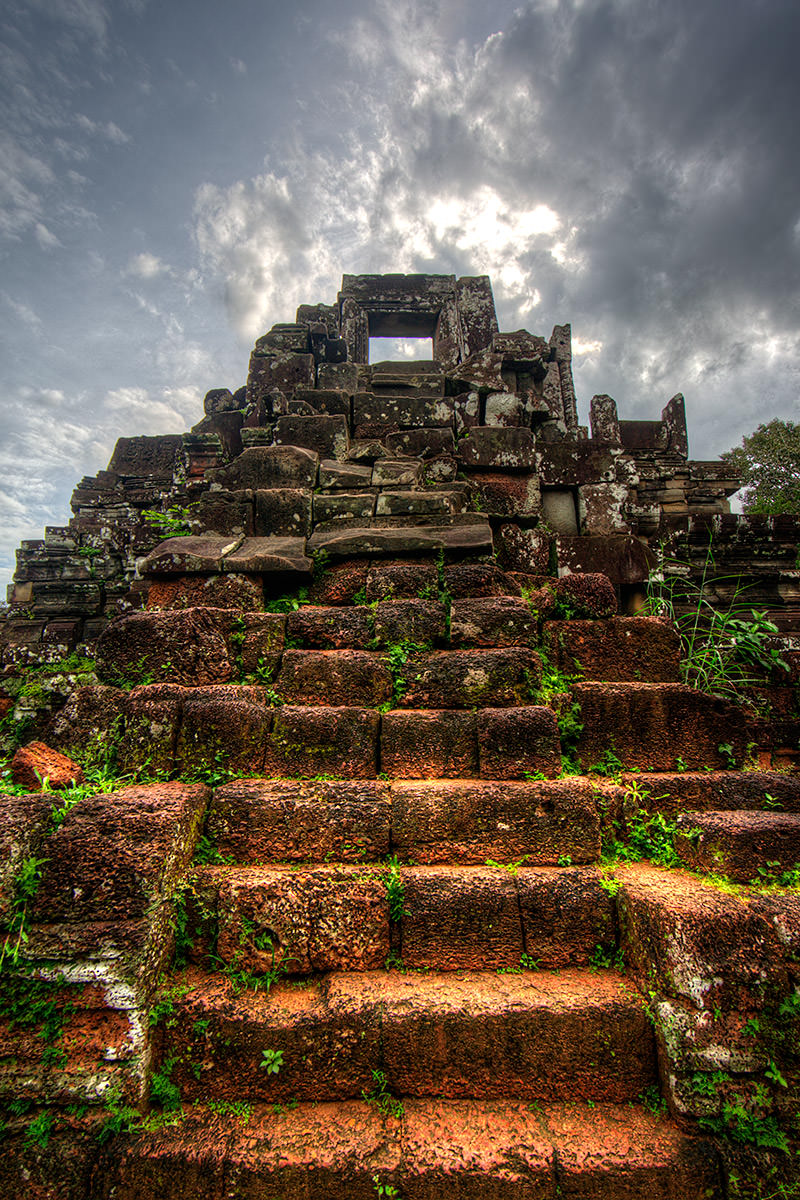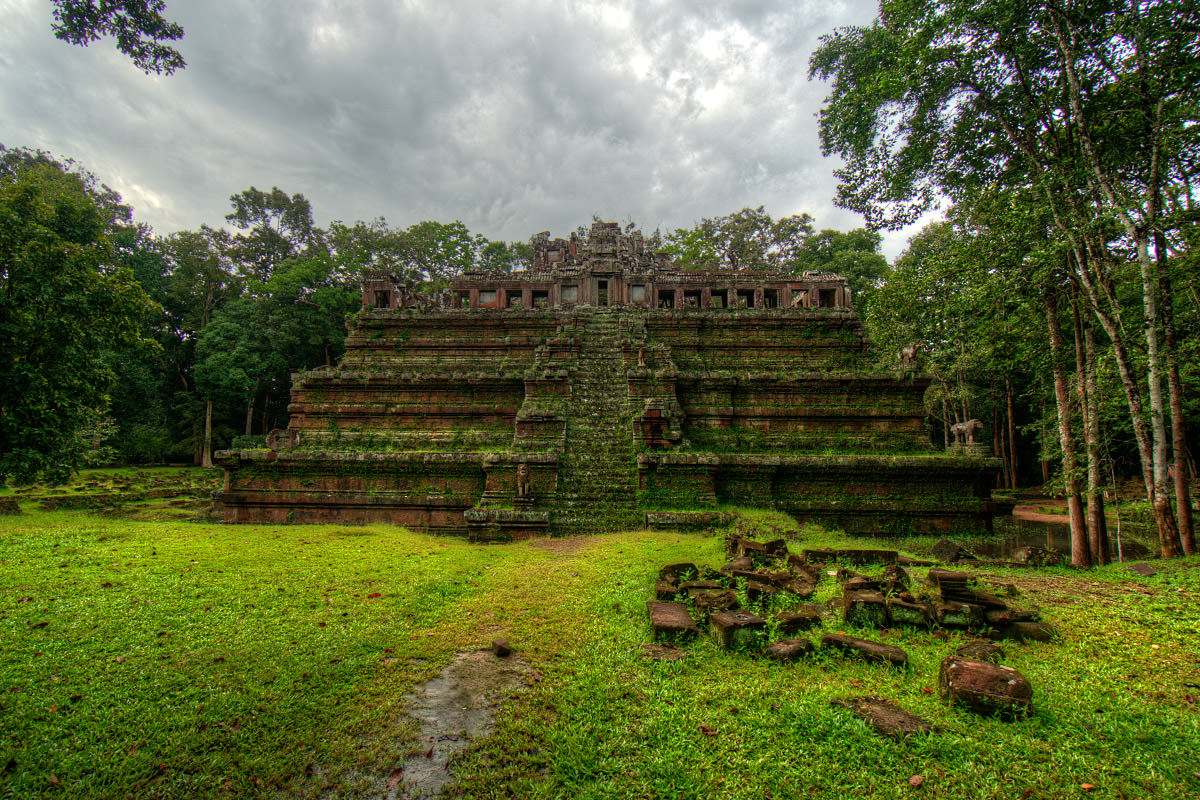 From Baphoun, you can continue to the Terrace of Elephants, which is kind of boring... and then on to the Terrace of the Leper King, which is fantastic. Hundreds of figures line every surface...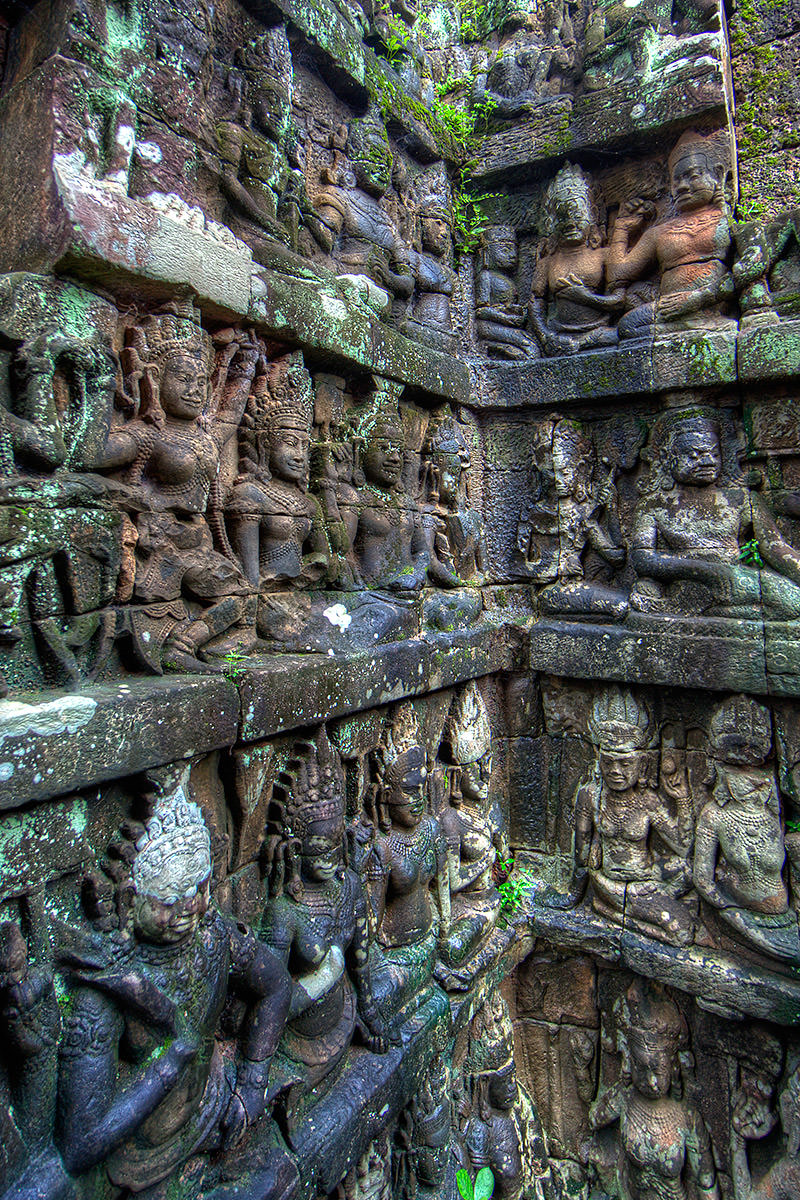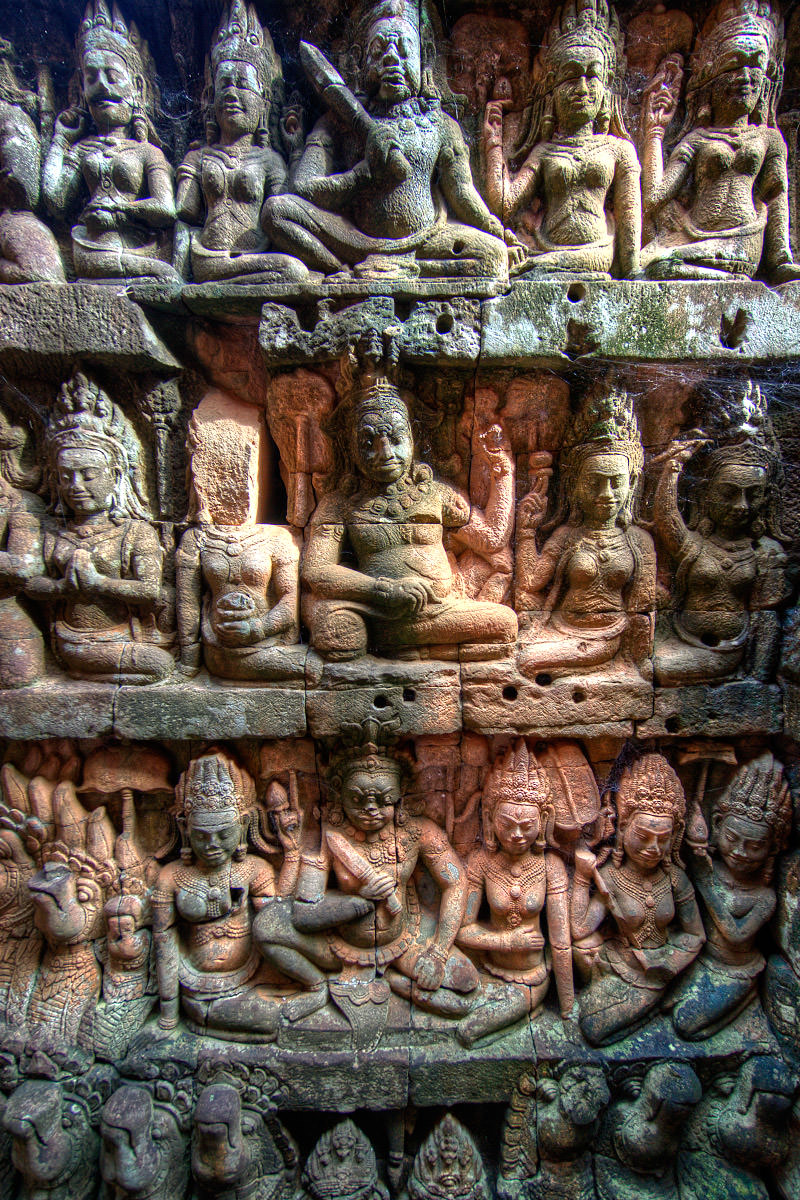 After a full morning of exploring, I returned to the hotel for a nap and some lunch.
And then, my tuk-tuk driver came back at 2:00pm for part two. Beginning with Ta Prohm Temple, made famous by Angelina Jolie and her Tomb Raider movie. Probably because it hasn't been fully reclaimed from the jungle, making it a bit more beautiful and exotic...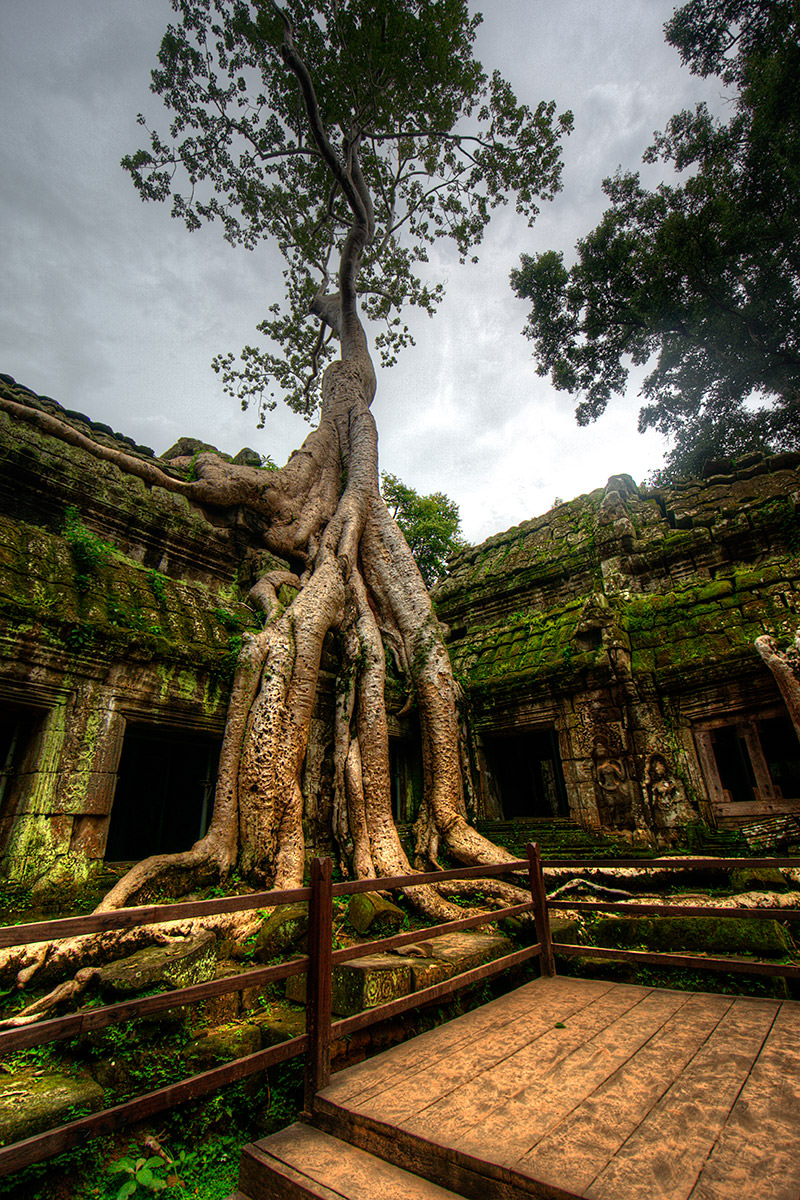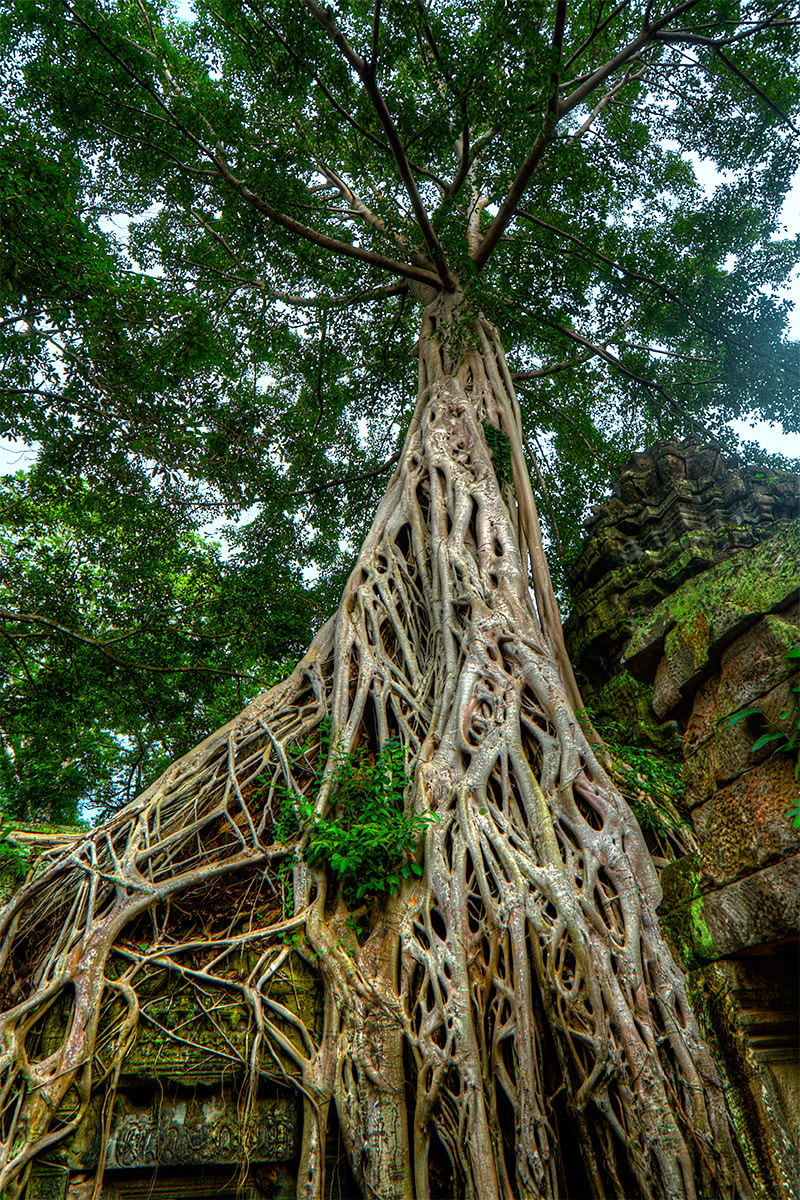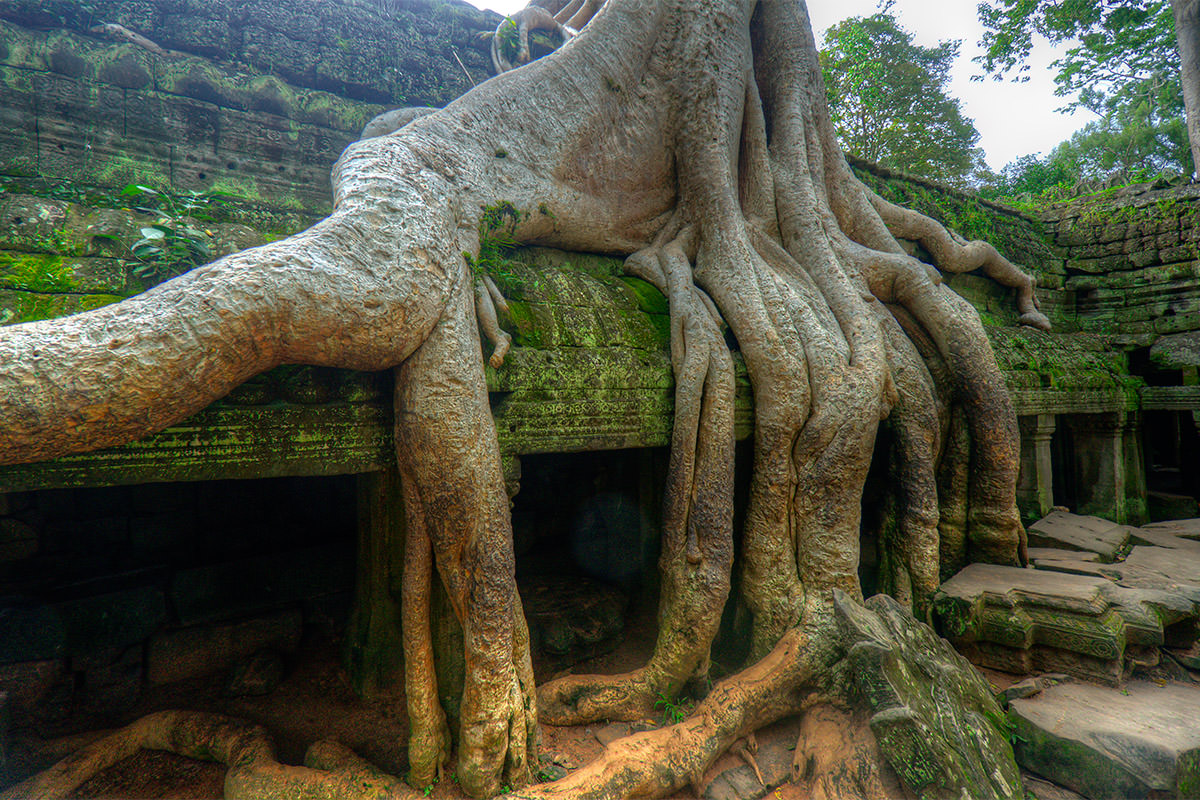 Then off to Banteay Kdei...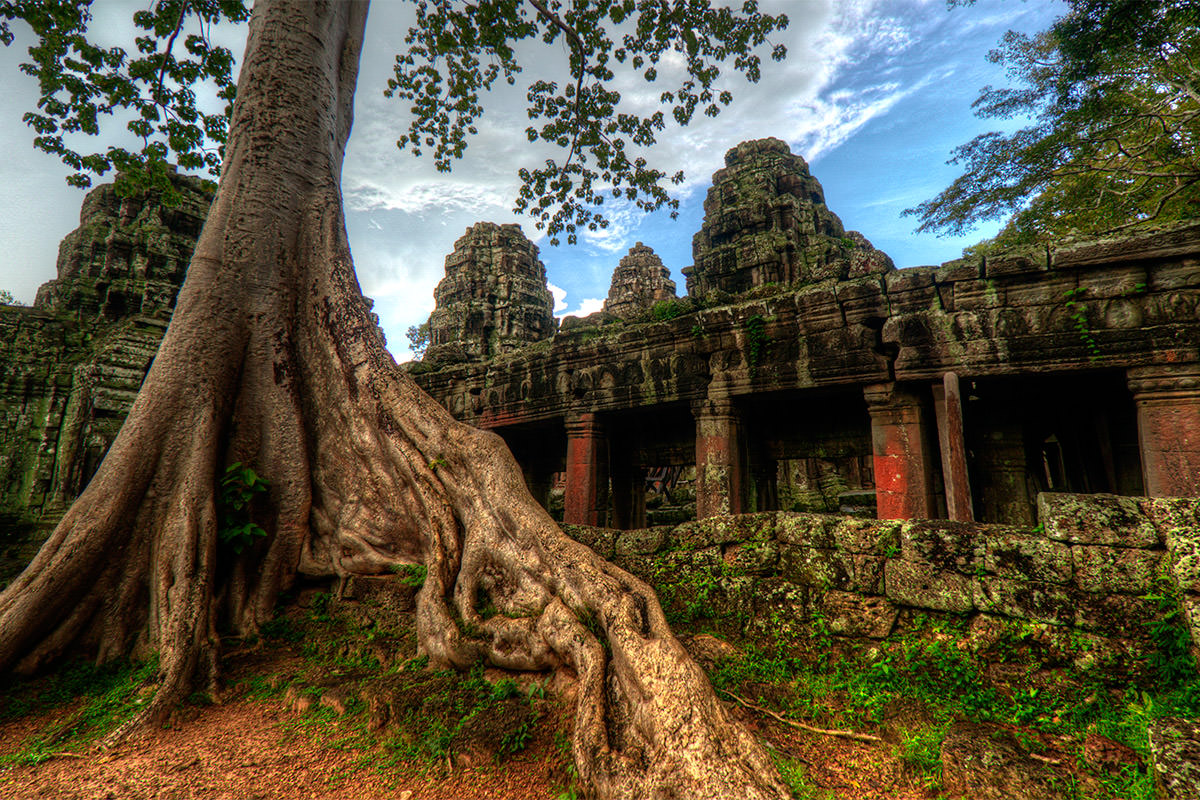 And the stunning man-made lake of Srah Srang...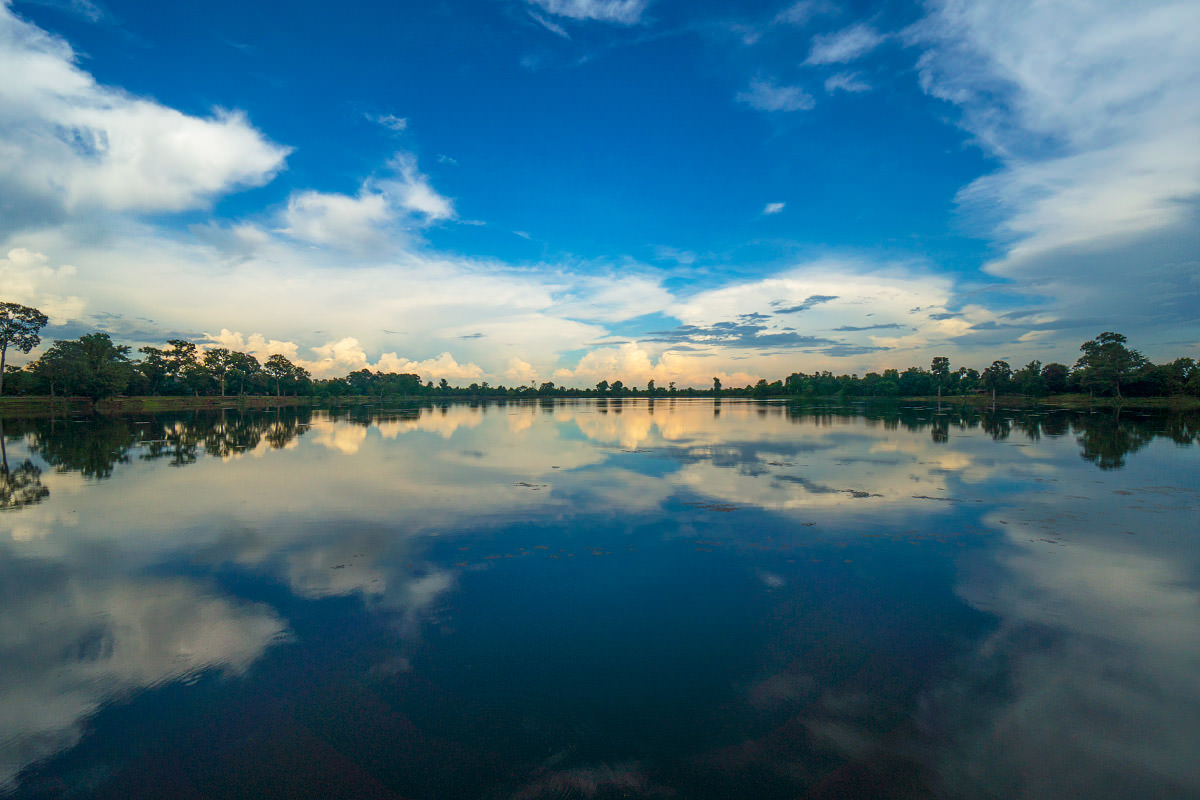 Then Pre Rup Temple...
And East Mebon Temple...
Then Ta Som Temple...
There was a still a little sunset left as we were passing by Angkor Wat, so I had my driver stop so I could get that picture-postcard shot that you see whenever you look for photos of the structure...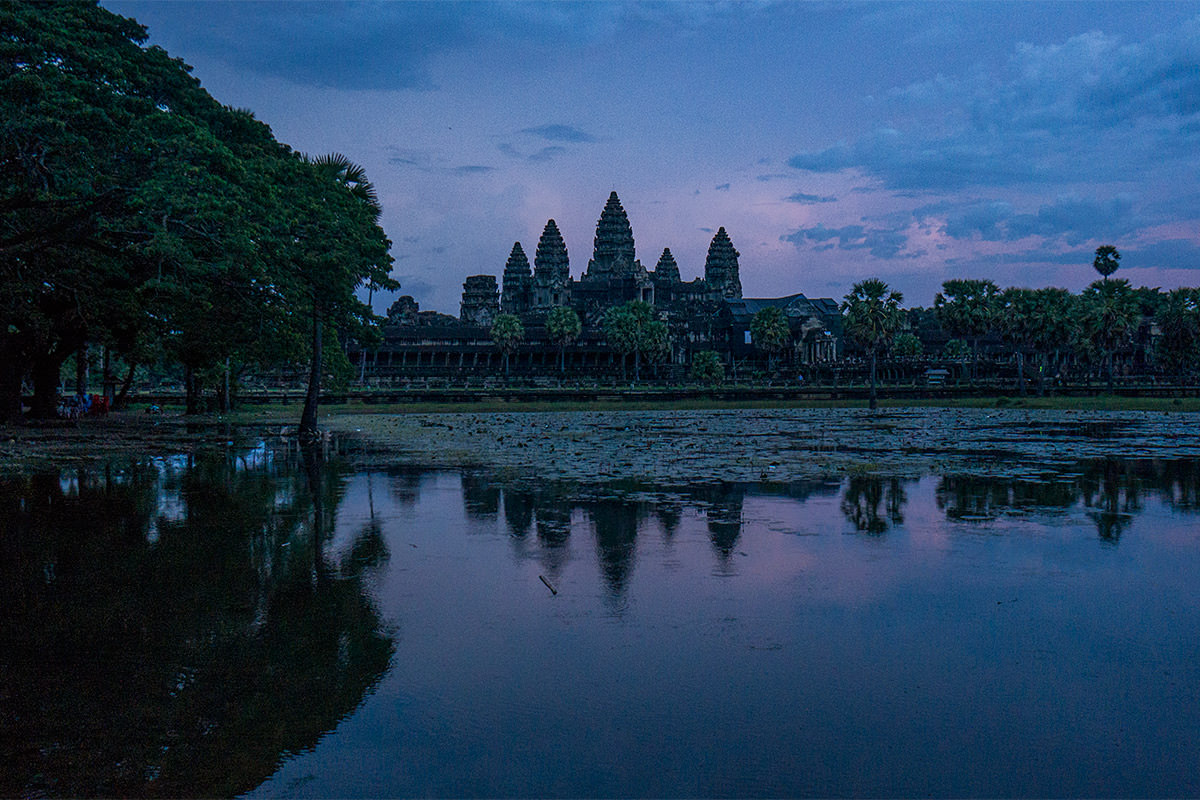 And then...
THEN...
Something pretty amazing happened.
Heat lightning started blasting over Angkor Wat! It was incredibly difficult to capture in a photo, but I got a couple that turned out pretty cool...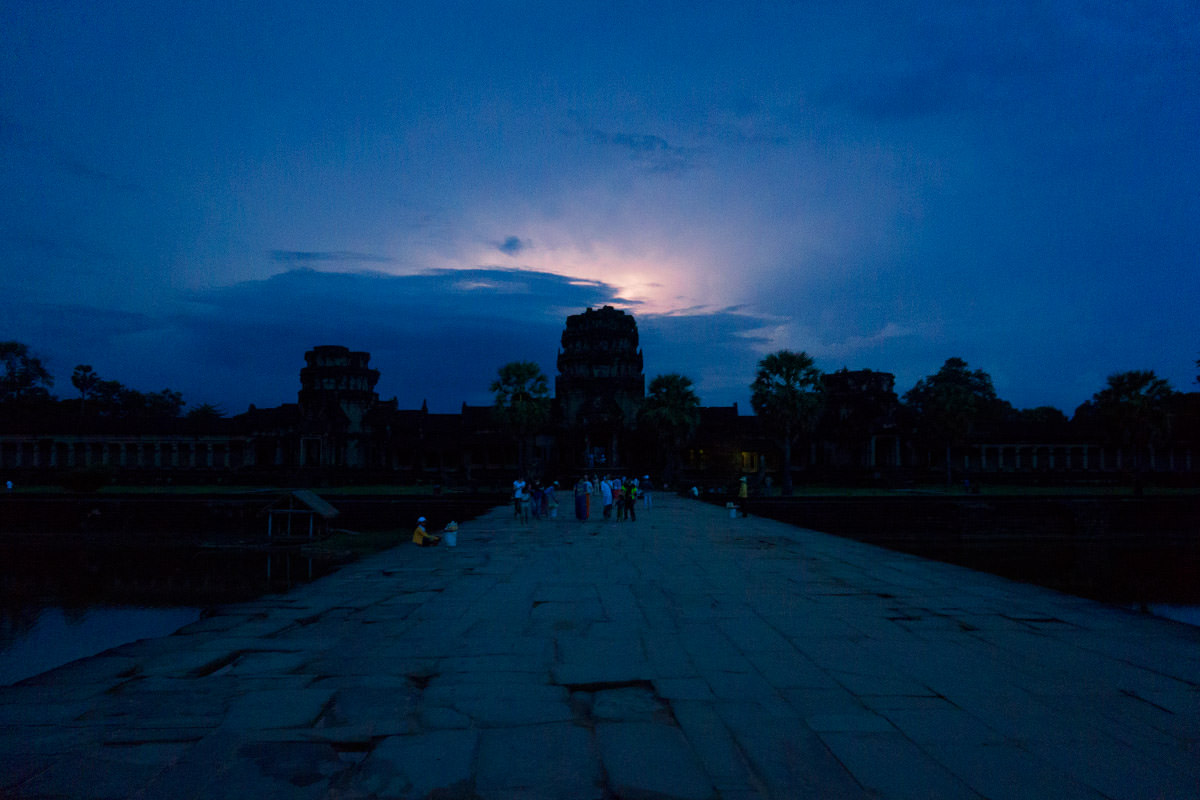 I shot video of it all, but I haven't had a chance to look at it yet. My fingers are crossed that I managed to capture it, because the whole spectacle was pretty cool.
And there it was, my one very full day of exploring a handful of the many temples at Angkor.
But before I go...
Since Disney counts this as a day in their tour... last night I got my final DISNEY PIN OF THE DAY for it...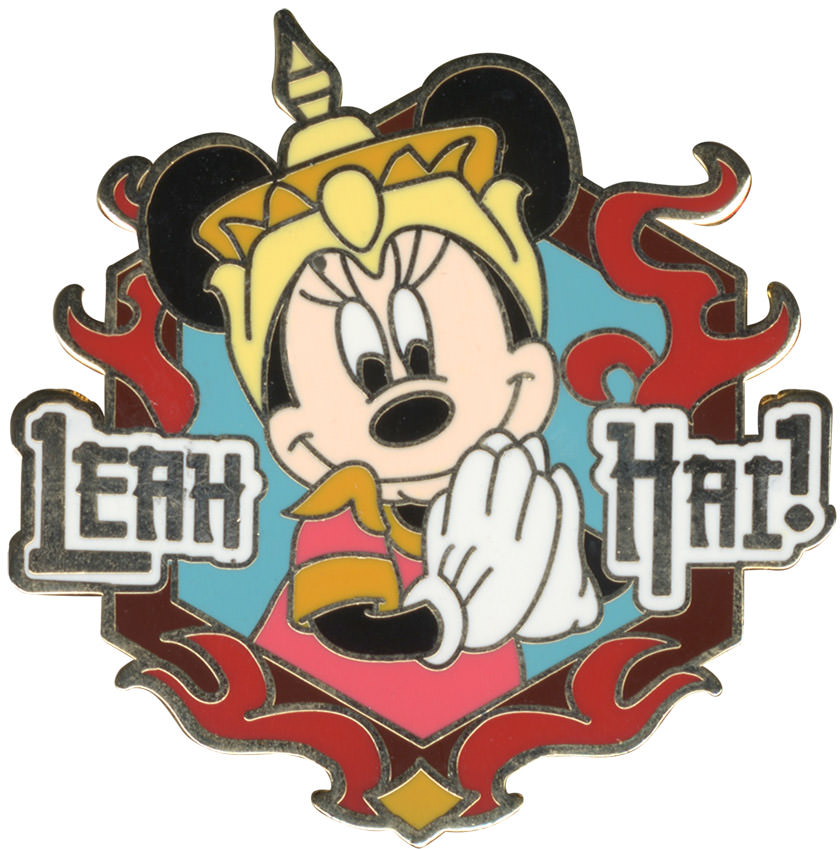 That would be Minnie Mouse saying good-bye... and me as well.
Until tomorrow, that is...
Posted on October 17th, 2013

And today, at long last, I got to check something off my bucket list that has been sitting there for decades... I got to visit Angkor Wat here in Cambodia.
But I'm getting ahead of myself.
The day started when we were informed that our tour group would be competing in an "Amazing Race" kind of competition. We'd get an envelope with a clue which would lead us to a location for the next envelope. The clues were in the form of photos that had been cut up which you have to glue together in a sticky mess so you could tell your tuk-tuk driver where to go.
Now, apparently tuk-tuk driving is a game for the young, but my driver was having none of that. Despite his advancing years, he was pretty skilled at navigating the crazy traffic around the area...
I ended up liking him so much that I hired him to be my driver tomorrow.
But before the race begins, we were off to my dream destination of Angkor Wat. After crossing the moat that we had our gondola ride on last night, you enter the outer gate where you immediately run into a statue of Shiva...
Originally, this statue was at the center of the temple since Angkor Wat was built to be a Hindu place of worship... but when the Buddhists took over, he was moved to the outer gate. Once you pass through, the main temple is in sight...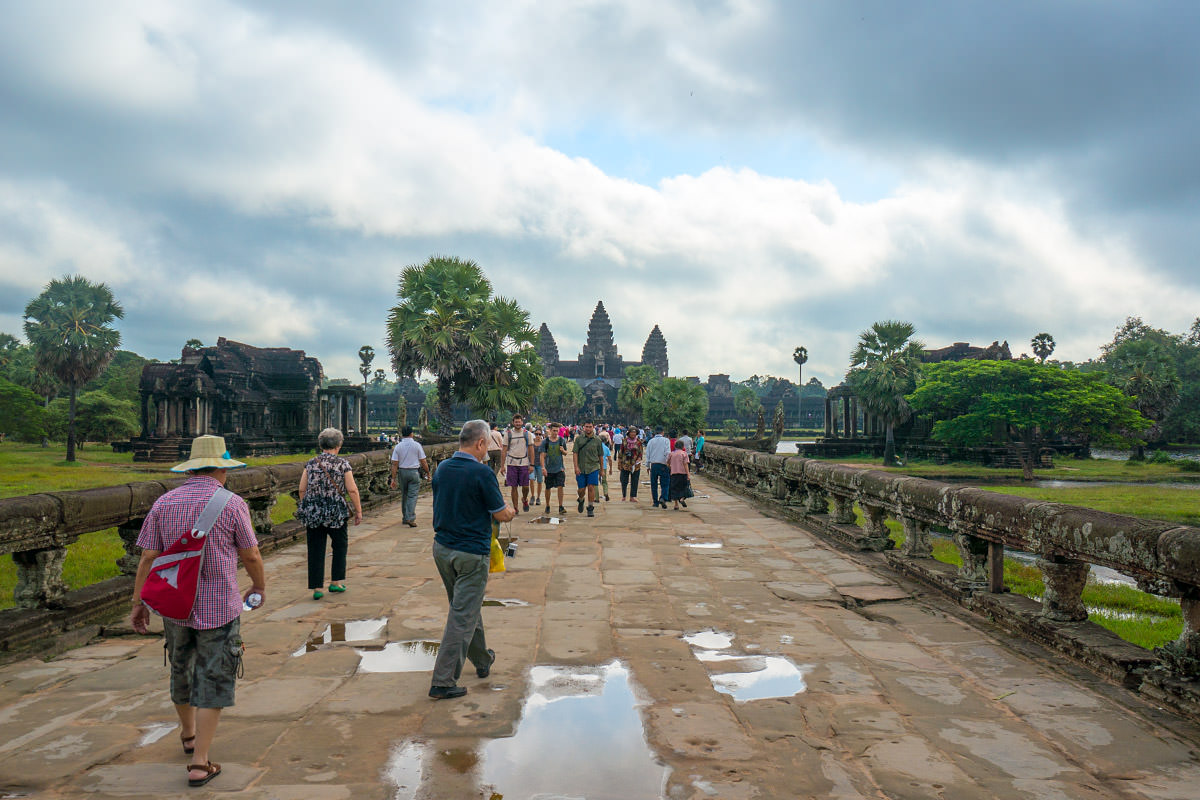 I had always thought that the building itself was fairly plain compared to other temples, but that's not the case at all. As you look closer, there are hundreds or ornate carvings covering the walls and columns...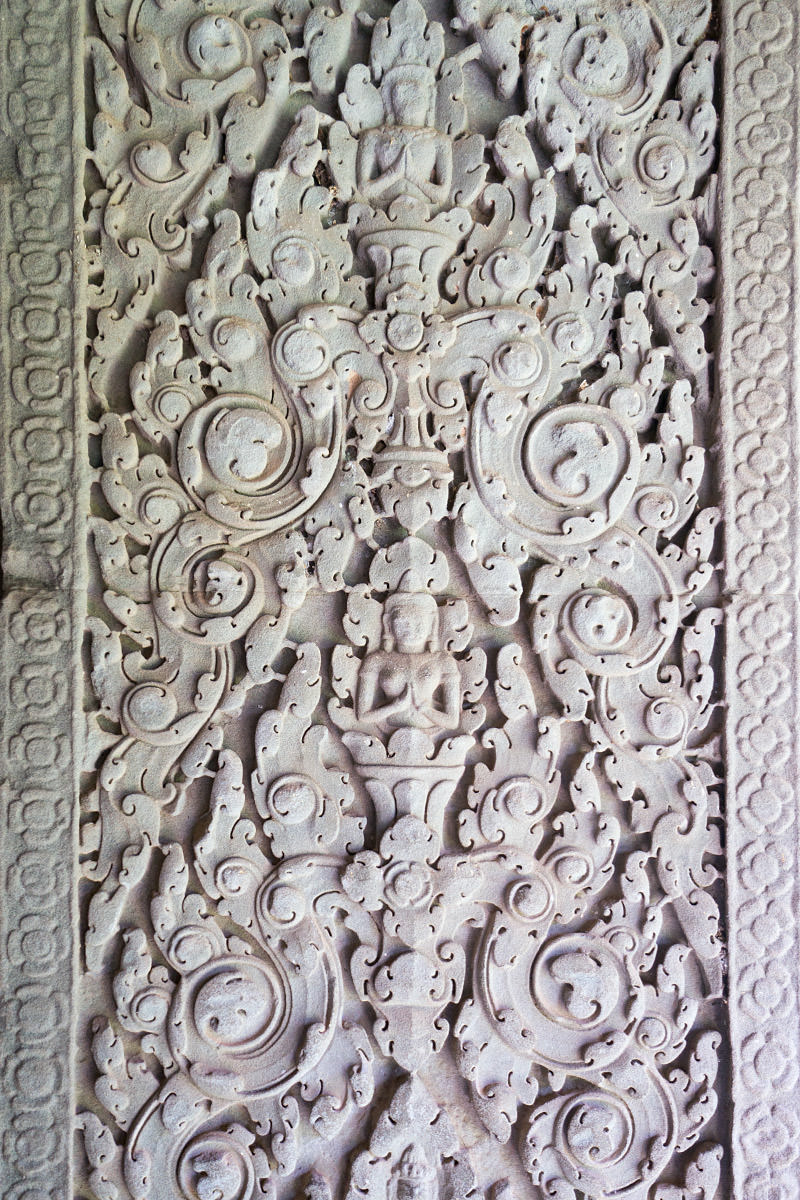 At the center of Angkor wat, you can wander around the ruins for some pretty spectacular views...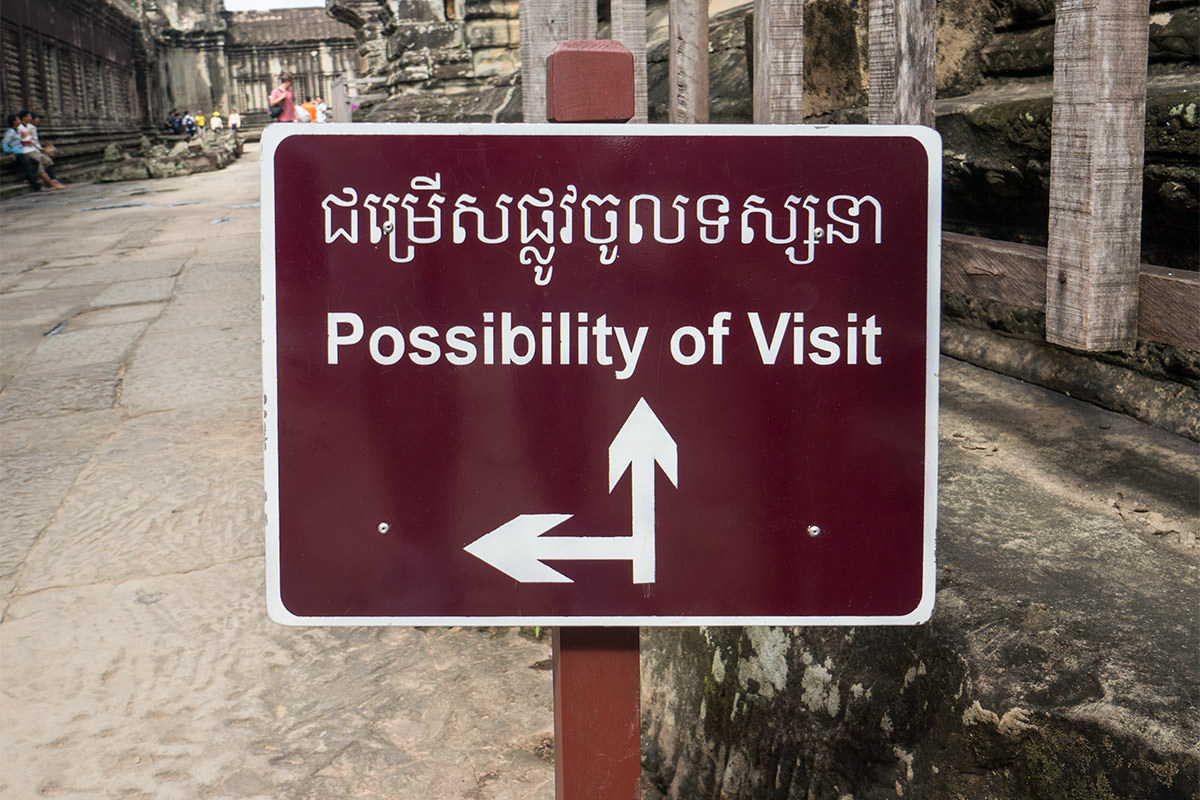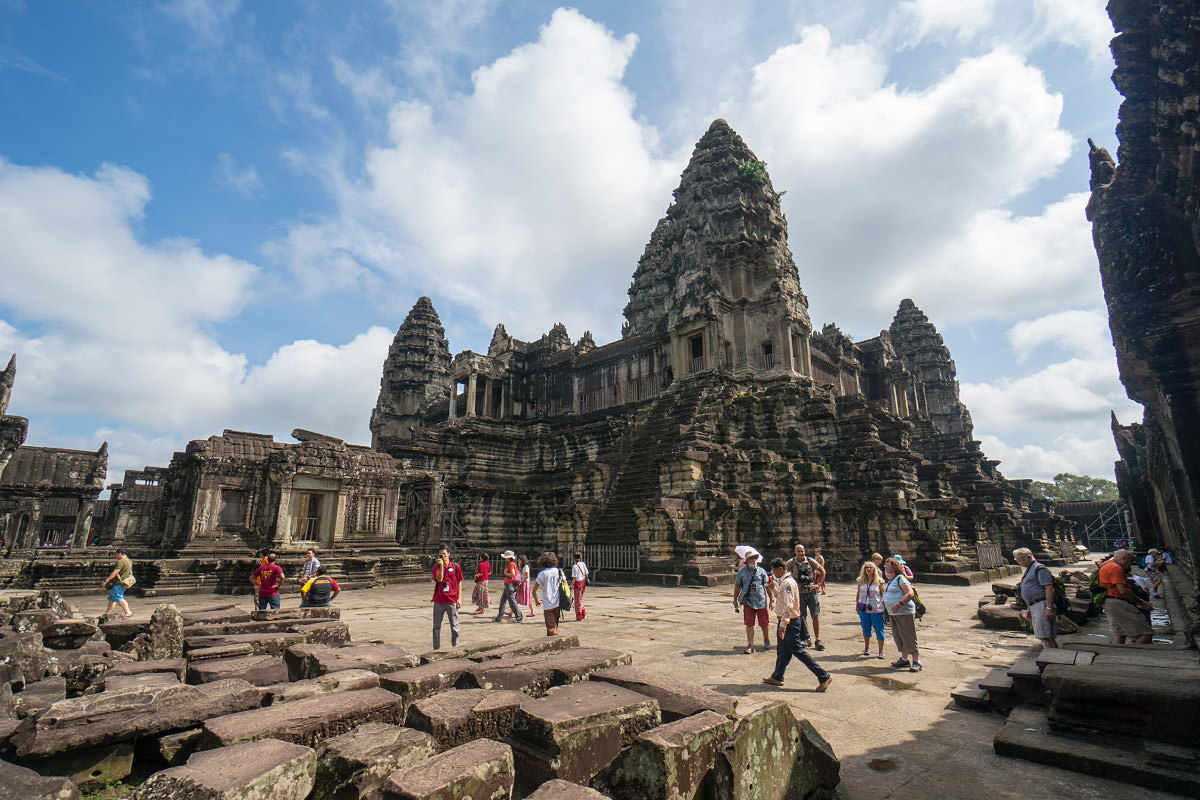 I would have loved to stay here for a couple hours, but there was a "treasure hunt" to get to, so we left Angkor Wat behind...
Disney's "Amazing Race Cambodia" ended up taking us to two temples. Bayon, with carved faces everywhere...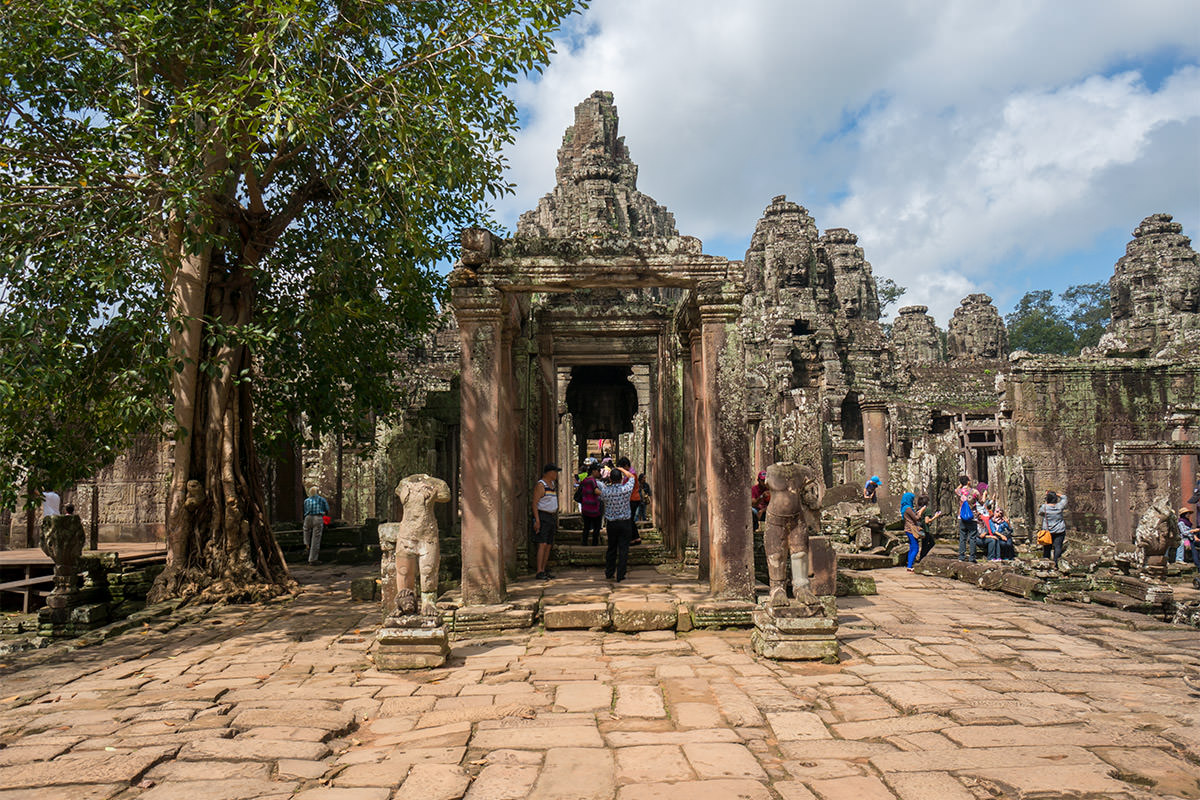 And Ta Prohm, famous for the jungle overgrowth that's taken over...
There was hardly any time at all to wander around and take photos at either stop... so I guess I'll have to get around to that tomorrow.
After a beautiful lunch at the Foreign Correspondents Club, we had an hour to freshen up at the hotel before... ELEPHANT RIDES!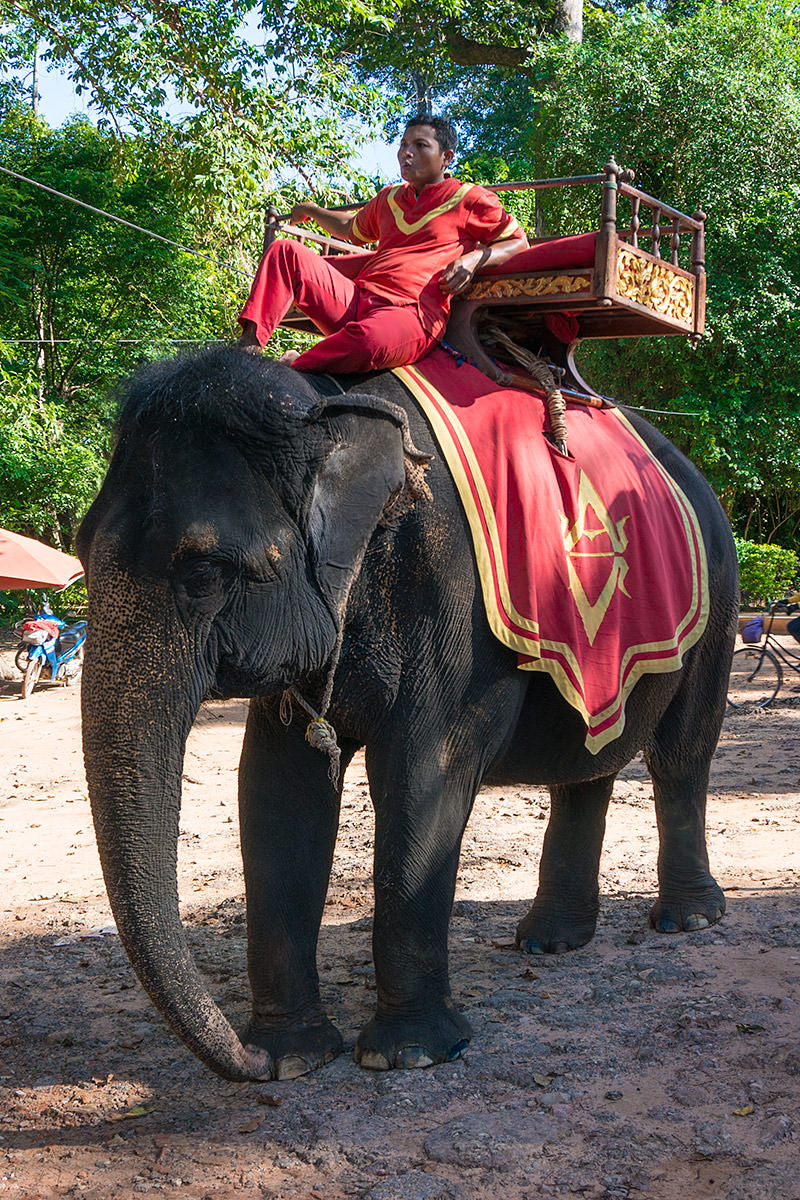 I have mixed feelings about animal slave labor, as I think the elephants should be free to wander around in the wild... but, since elephants are being hunted to the brink of extinction for their ivory, maybe this is how they're going to survive as a species? In any event, the elephants are treated very well by their "drivers." My elephant (named Chitham) was more interested in eating and pooping than anything else, but her handler never punished her for it. When she wanted to eat, she was allowed to stop and eat. Fortunately, she didn't have to stop to poop, or it would have been a very long trip...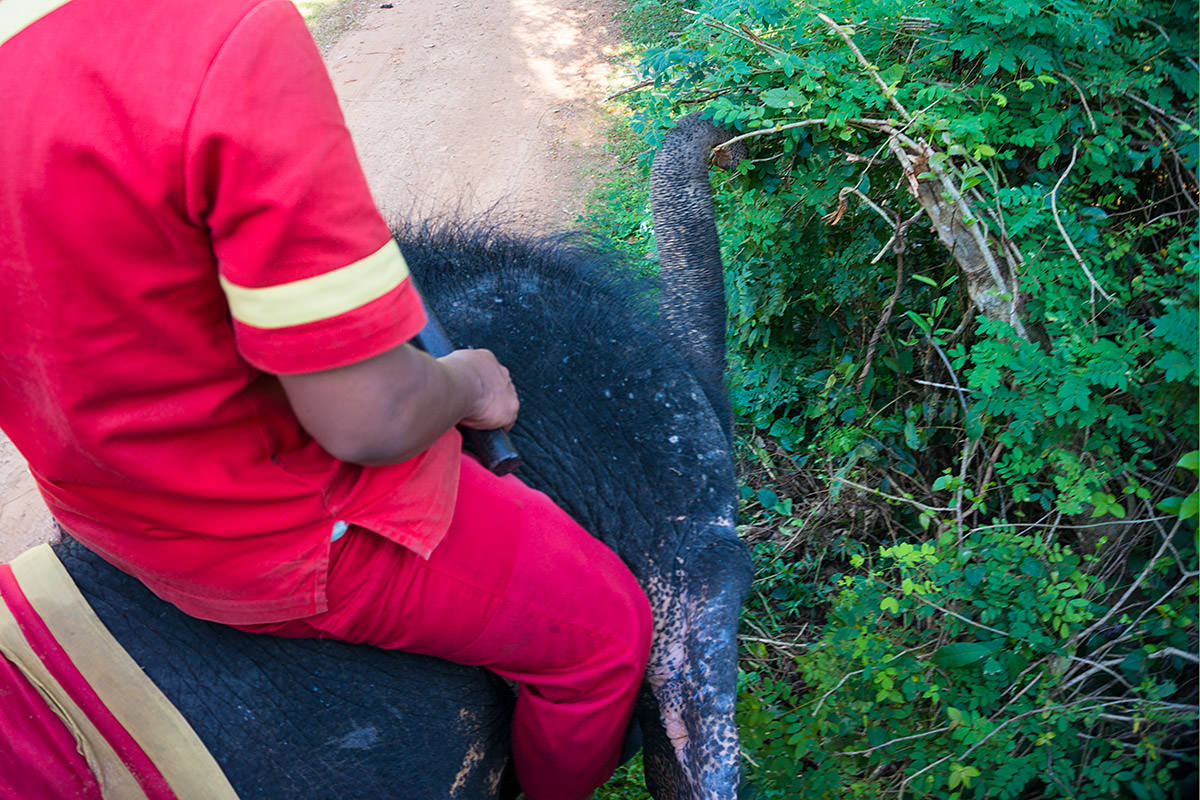 Chitham did not make for a very smooth ride, but she was an entertaining one.
On the way back to the hotel, I passed a motorcycle with five people on it. This does not break the record of six people I saw in Vietnam, but at least I managed to get a photo this time...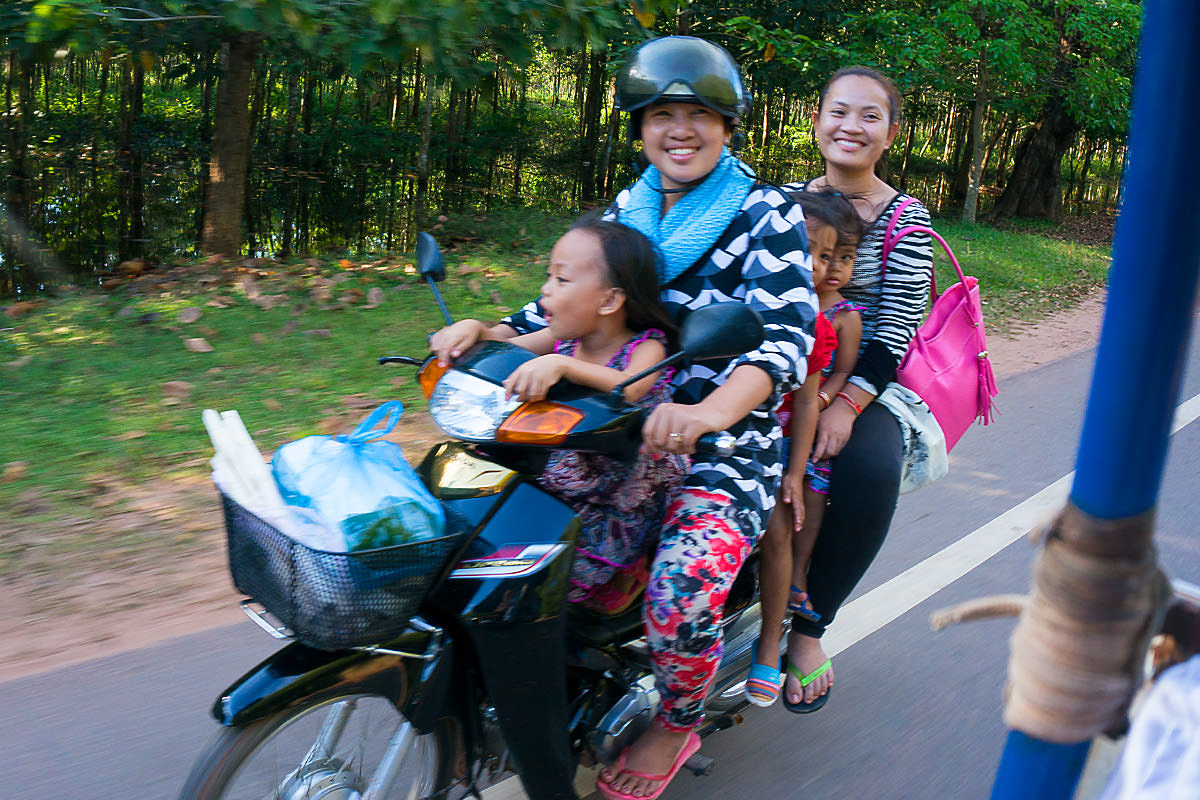 And, just like that, my Disney Travel Adventure was over.
Kinda.
They had a really nice dinner complete with music, dancing, and a slide-show presentation of the trip...
Oh... and of course they had THE DISNEY PIN OF THE DAY!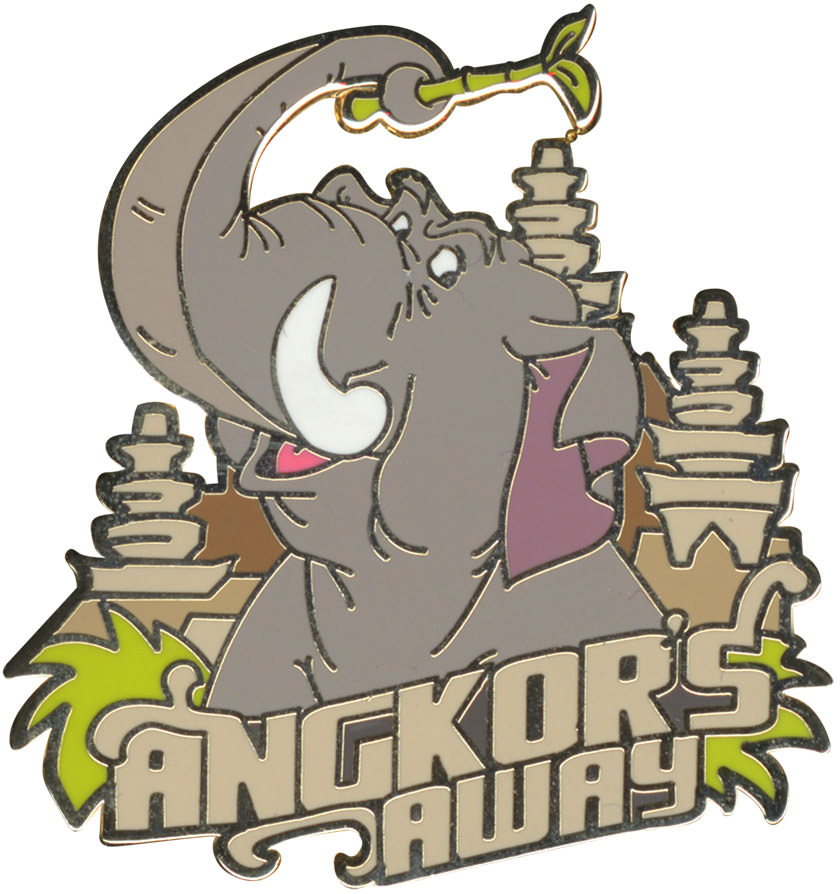 Ha! "Angkors Away!" get it?
And since tomorrow promises to be a very full day of visiting temples and seeing the sights, I'm off to bed.
Posted on October 16th, 2013

Well, thanks to there being no useable internet in my room here at the beautiful Sofitel Angkor Phokeethra Golf and Spa Resort, who knows when this will ever get posted. Sorry, but I'm just too tired to head out to the lobby at the end of the day.
Anyway...
Whatever I say here today is going to be under the shadow of a tragic plane crash that occurred outside of Pakse, Laos... mere hours after my flight from Luang Prabang landed in Pakse for a transfer to Siem Reap, Cambodia. Lao Airlines flight 301 was apparently caught by high winds that blew in shortly after my flight took off. This gives the snapshots I took on the runway a rather sad and ominous feeling, as disaster was just around the corner...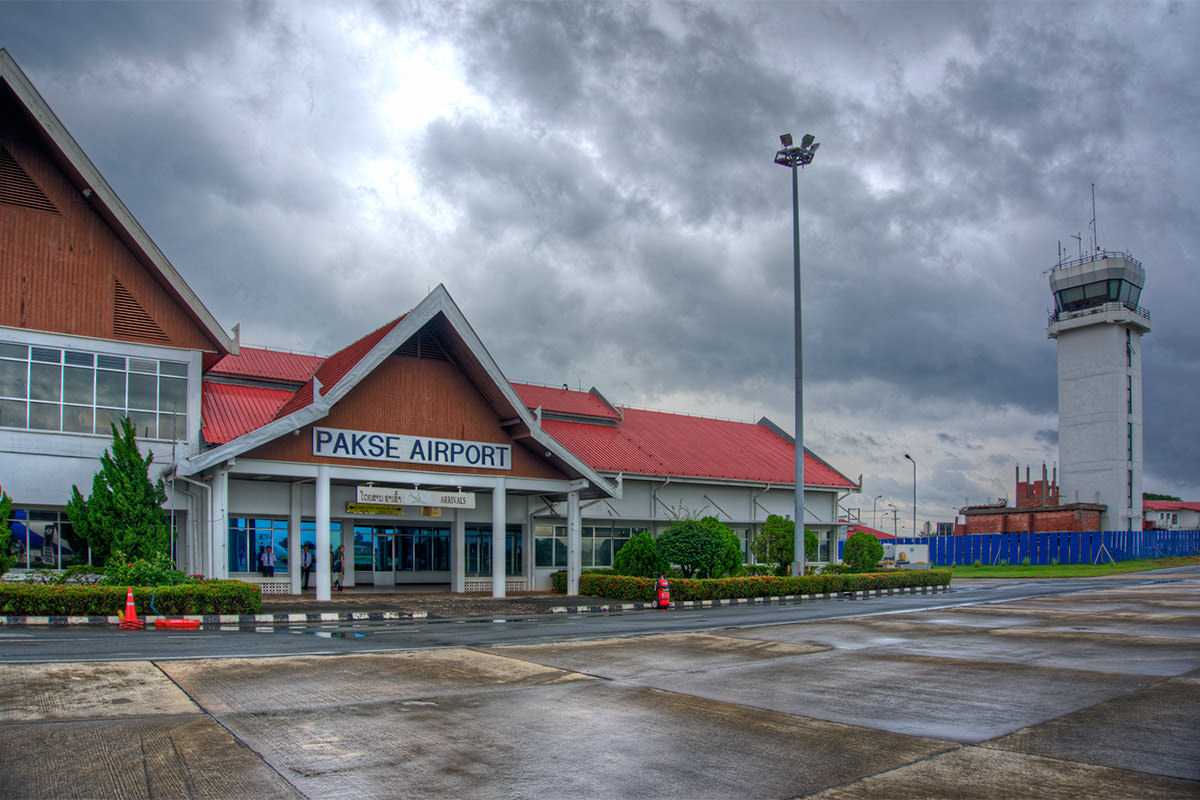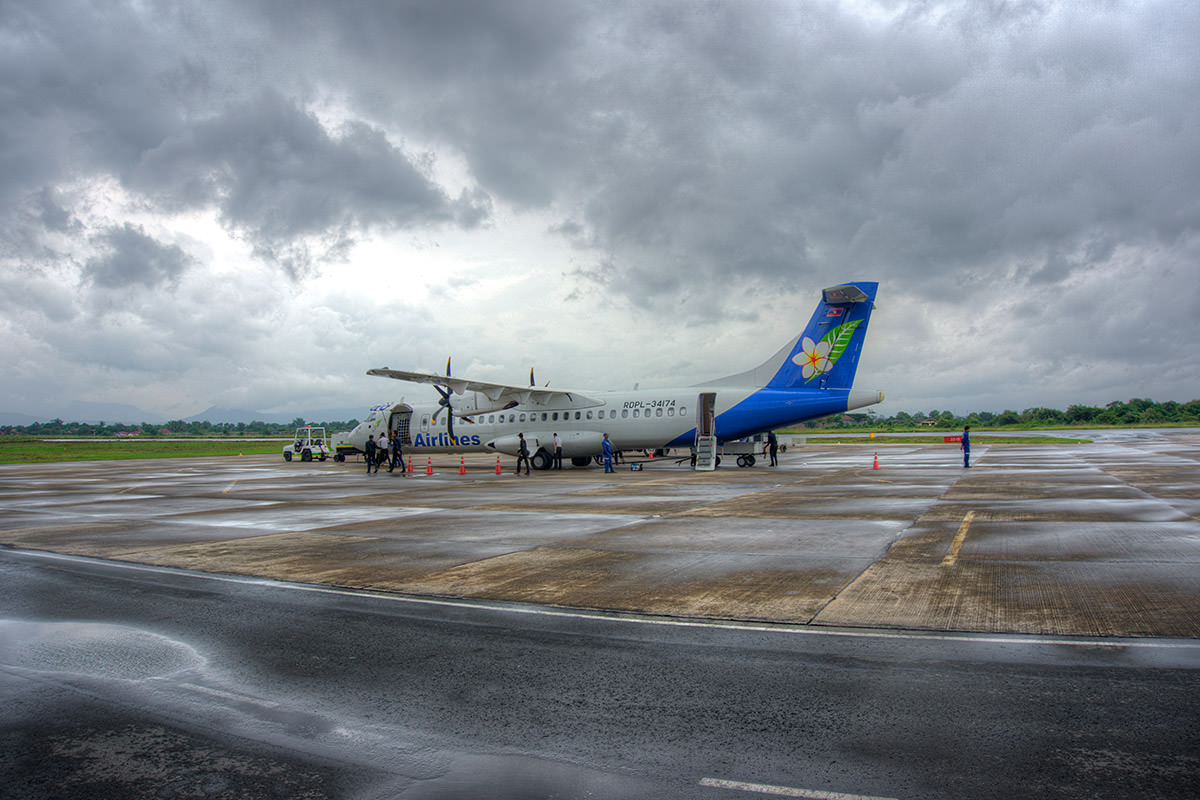 I didn't even know about the crash until 3:30am when I was awakened by a text message from a friend who was wondering if I was safe.
As my flight was landing in Pakse, I was looking outside my window at all the flooding that had occurred the past week... and keeping an eye out for the giant gold Buddha which you can see as you land...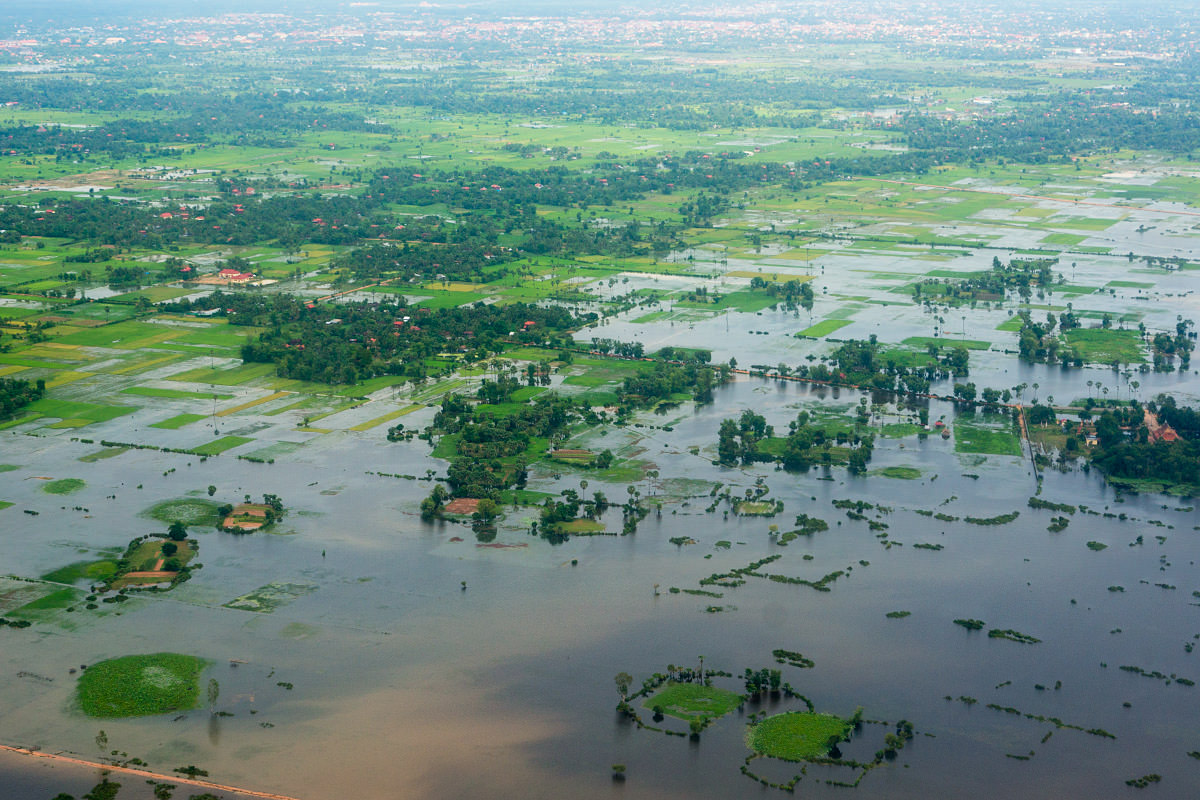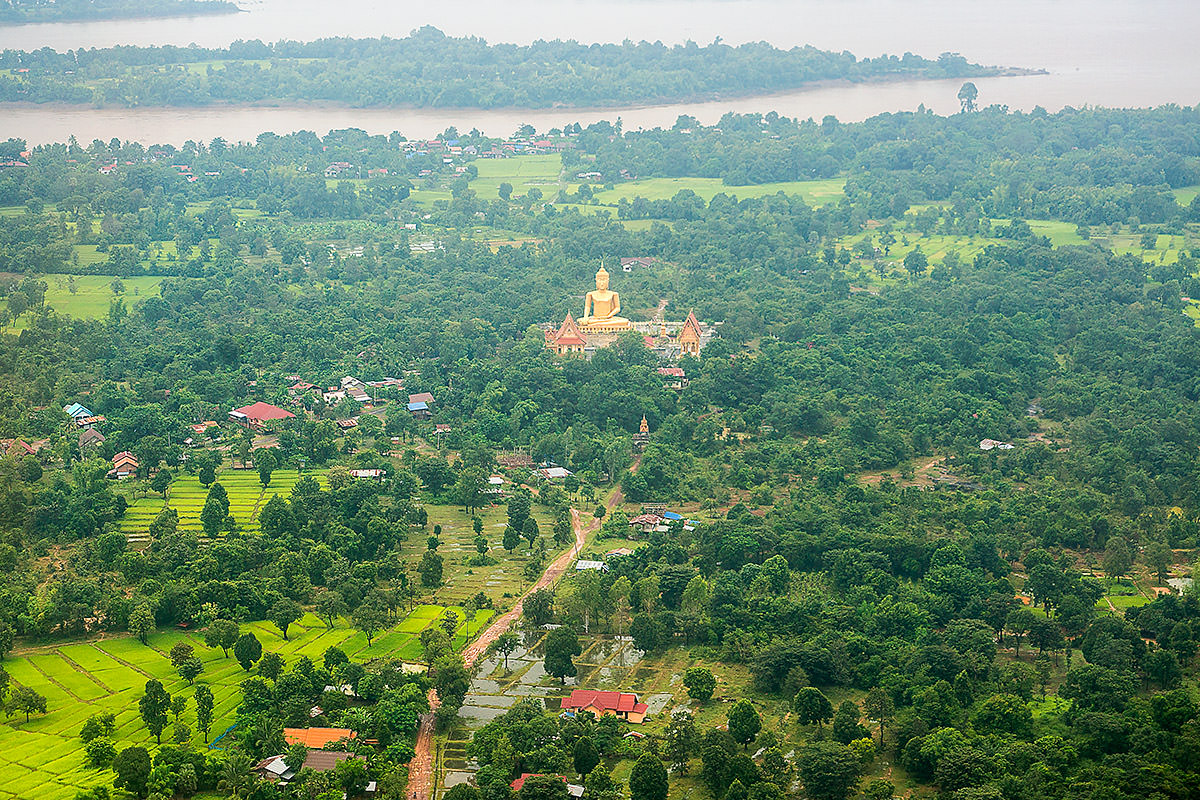 Luckily, my flight in and out of Pakse was without incident, and I arrived in Siem Reap in the Angkor Region of Cambodia an hour later...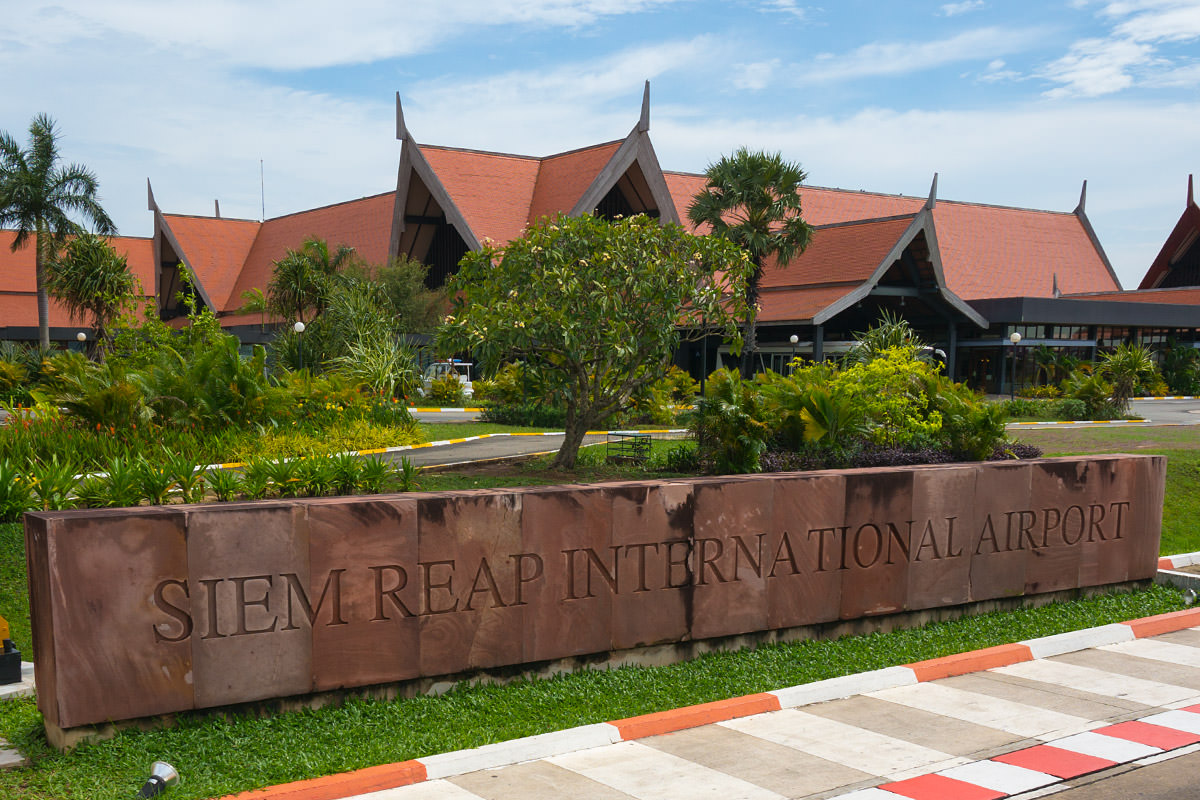 There wasn't a lot of time left in the day once we arrived at the hotel, but Disney took advantage of the impending sunset for a wonderful gondola ride through the Angkor Wat moat... complete with a bar on a boat that would keep your drinks filled as you drifted along...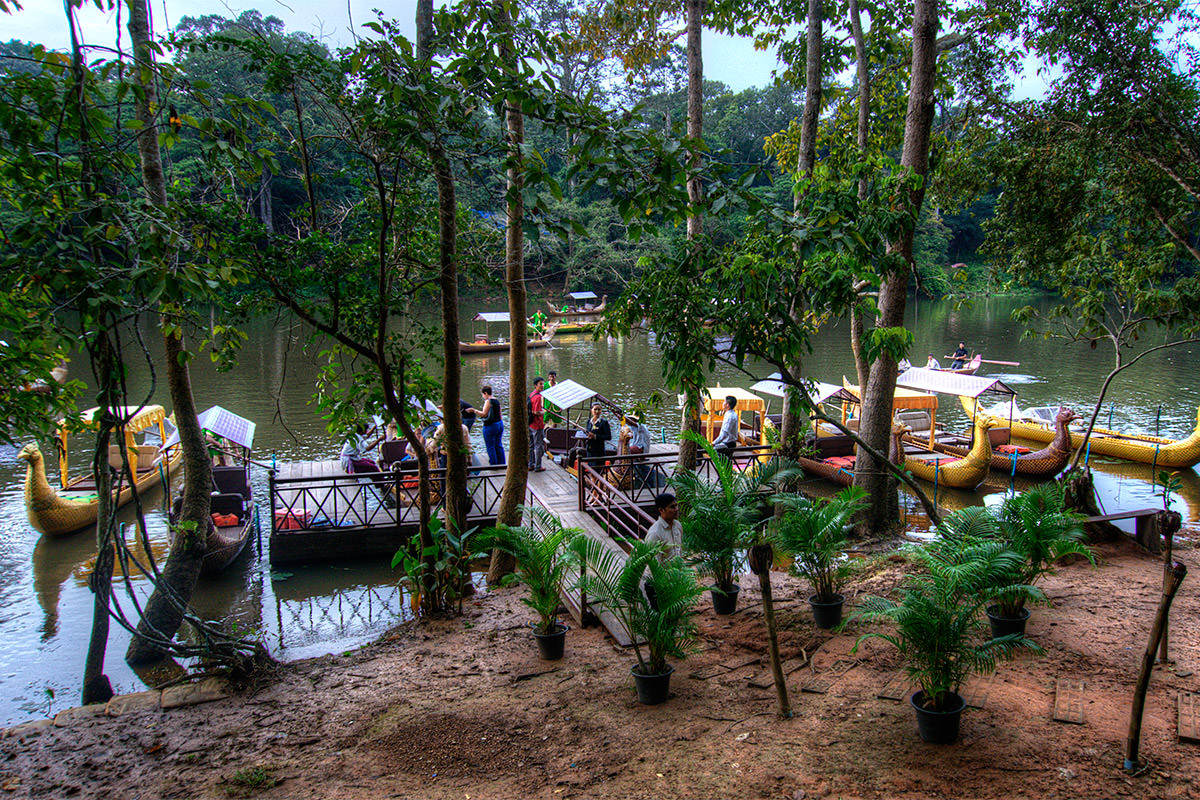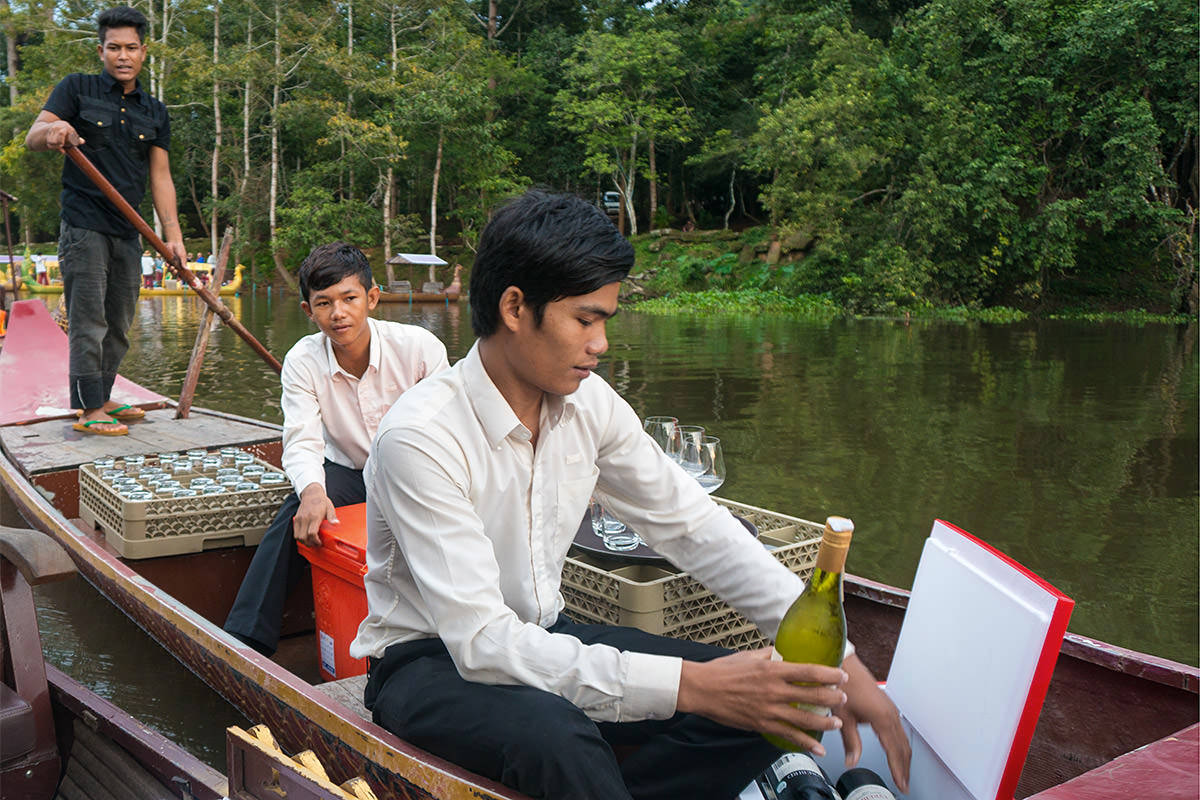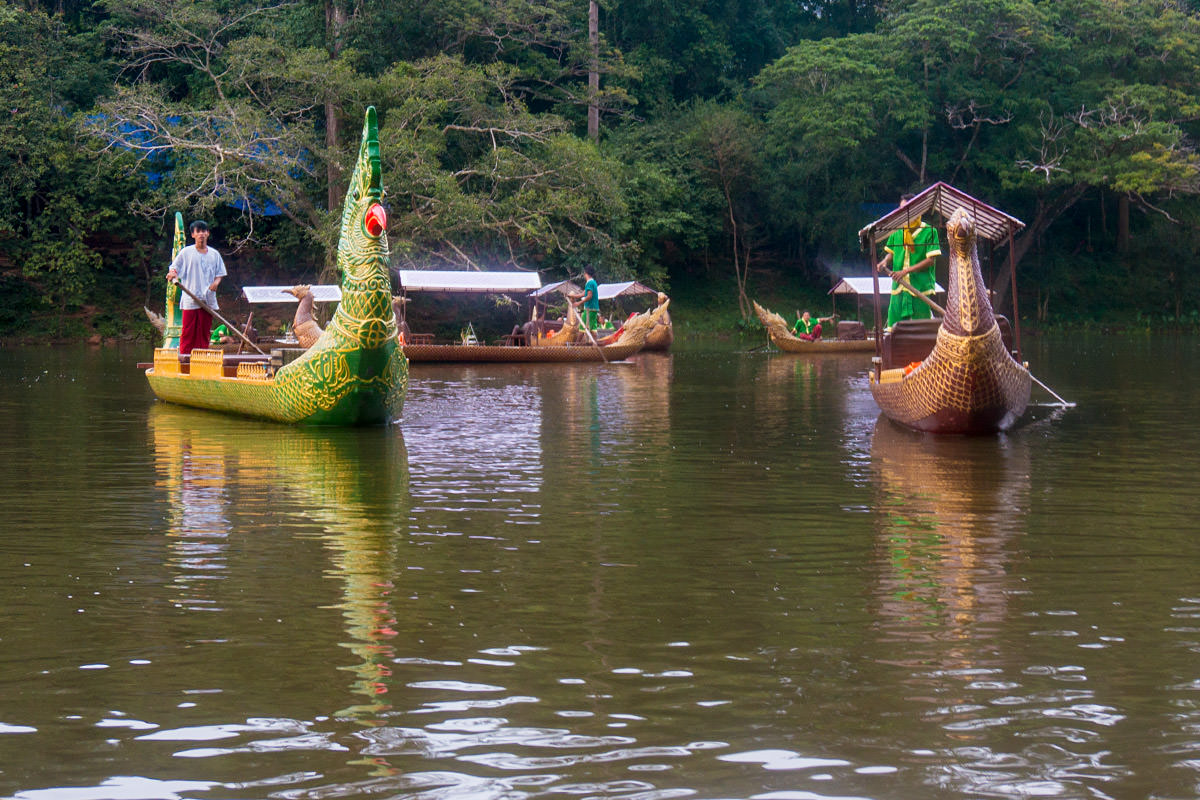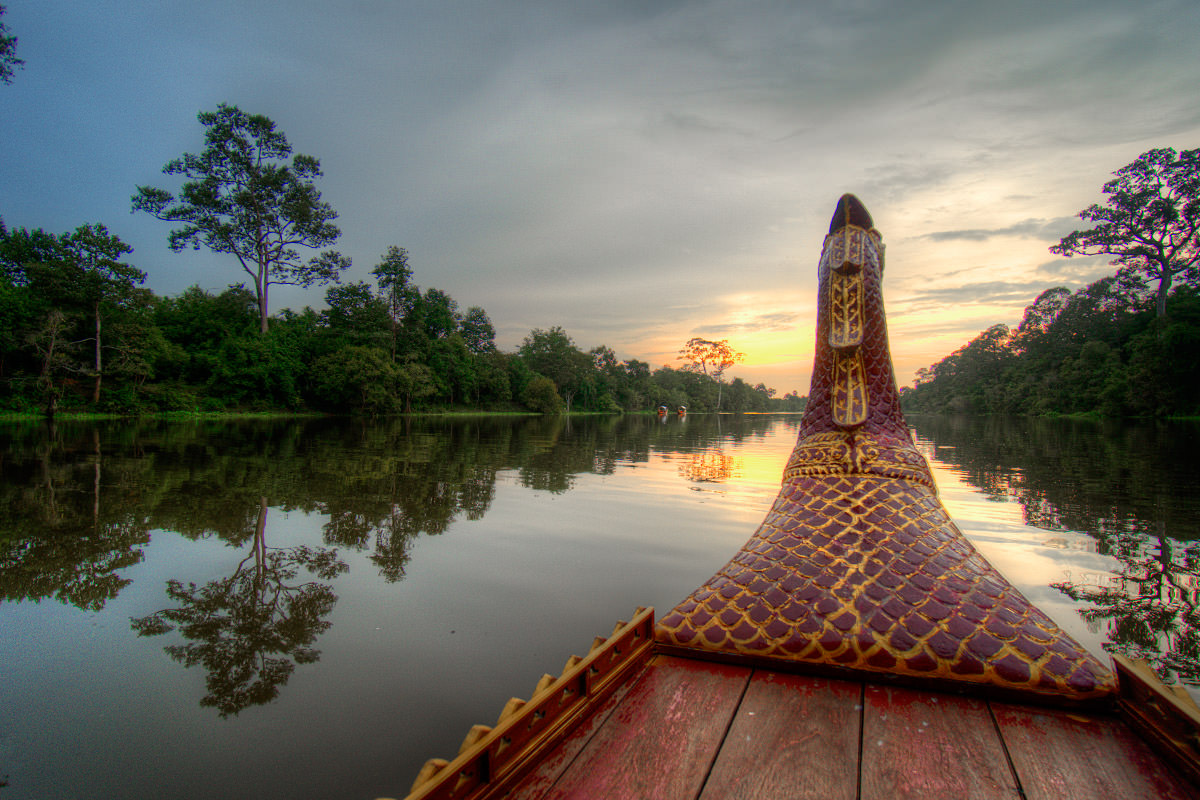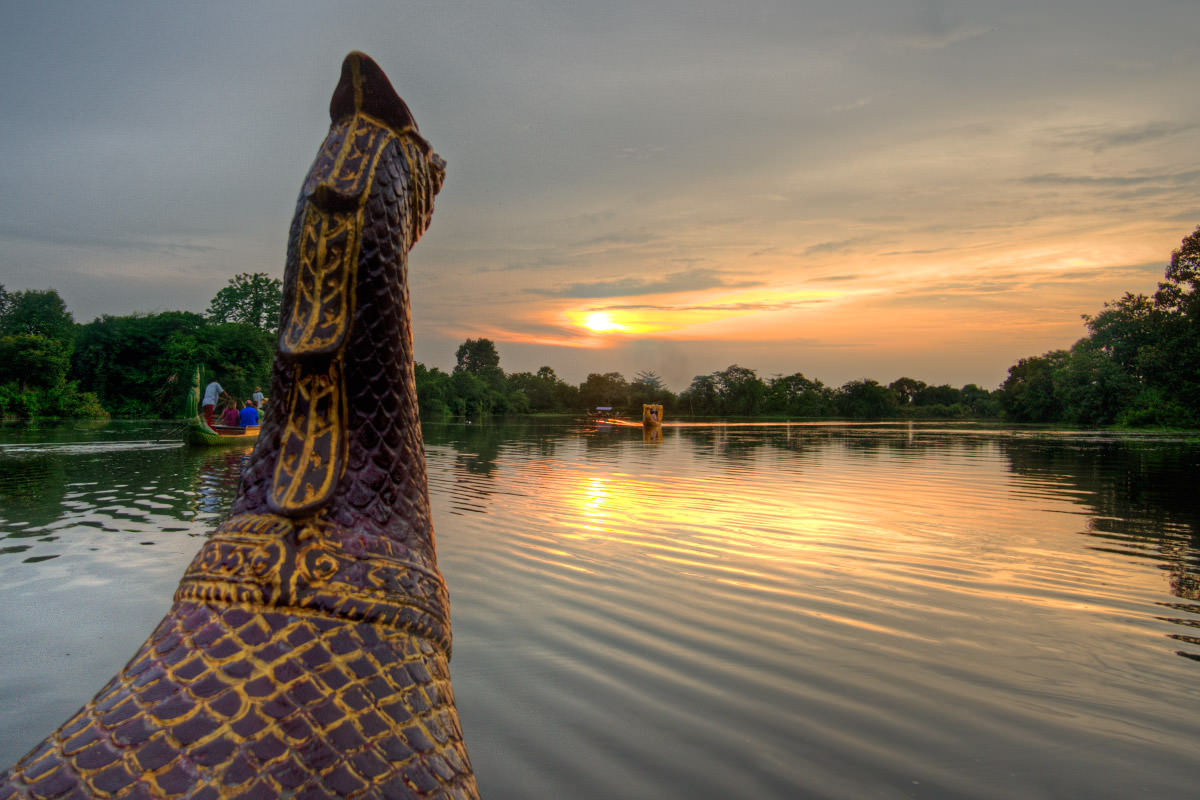 And that was that.
Well, except for THE DISNEY PIN OF THE DAY...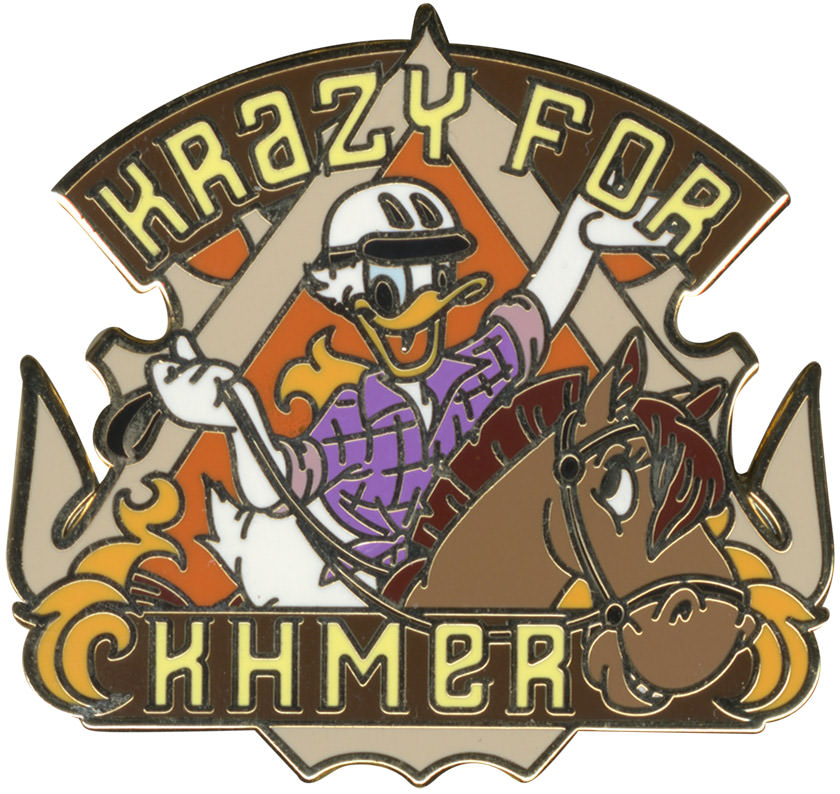 Given my love of all things Donald Duck, I was pretty happy with this one.