Winter may have come back, but there's warmth in my heart... because an all new Bullet Sunday starts... now...

• Two No More! I wanted taco salad for dinner. I had the lettuce, tomatoes, avocado, cheese, salsa, sour cream, veggie crumbles, thousand islands dressing, and frozen corn... I just needed tortilla chips. So I stopped at the store on my way back from Home Depot. The "$2 ONLY!" Santinas Brand I've been buying forever are now "$2.29 ONLY!"
I know that prices for all the food I buy is through the roof, but this shook me. "$2 ONLY!" ain't "$2 ONLY!" any more.

• Cumin! The "Martha Stewart and Marley Spoon meal service has been a huge source of culinary happiness for me. So many new recipe ideas and flavors. But they keep raising their prices which, on it's own is not a deal-breaker... but they refuse to do anything to protect their ingredients, even after I've made numerous complaints. Nor do they compensate you any more. It used to be that when something was missing or damaged... they'd at least give you a token credit on your next order. Not any more! Your sour cream packet was smashed open and smeared everywhere because it was placed under ice bricks? OH WELL! Missing your carrot? SORRY! Tomatoes pulped by a can of beans? OOPSIES! And so I canceled. And replaced them with "The Cumin Club," and Indian-based food service that you prepare from little packets...
So far I am quite pleased. Fairly economical, promised authentic flavors, easy to prepare, and tasty (if a little on the spicy side). If you're interested in giving them a try, here's a link that gives us both 15% off.

• What? A director I like with a movie starring a bunch of actors I like is usually guaranteed to grab my attention. It is not, however, guaranteed to please. Enter The Bubble...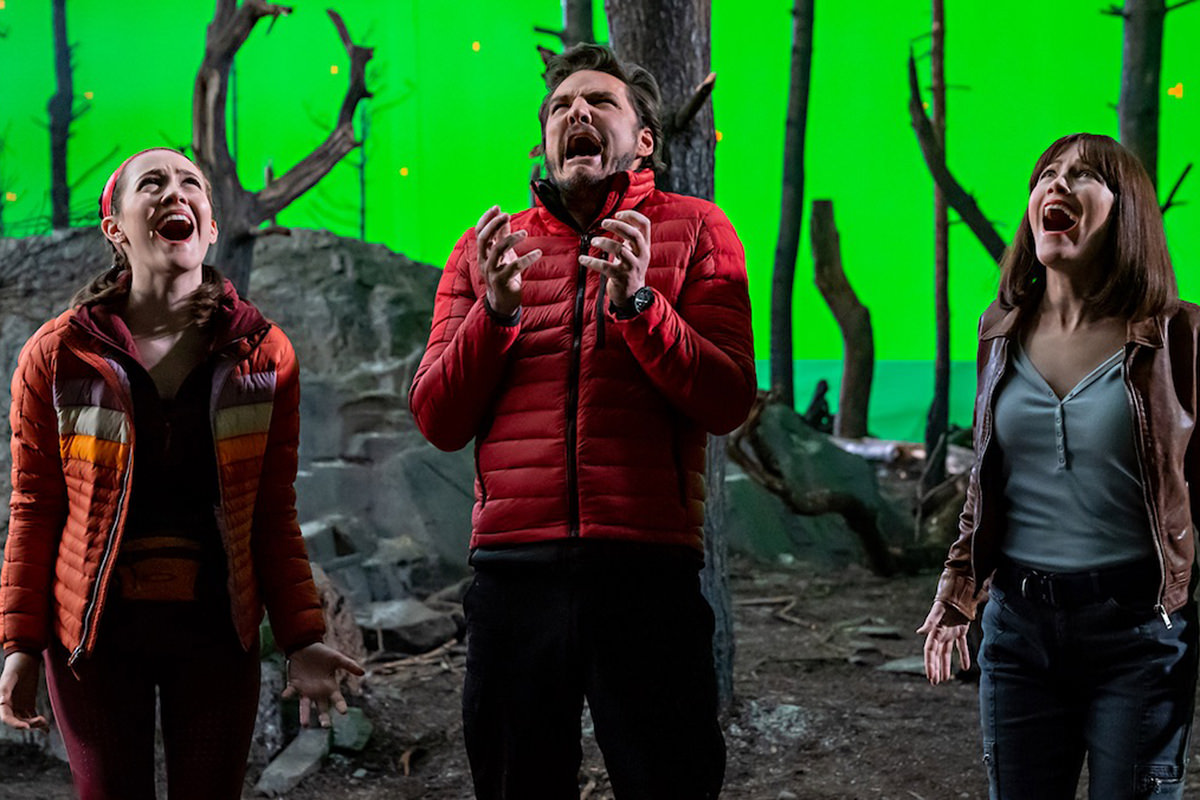 A movie about making a movie in the middle of the pandemic... which is supposed to be funny, but is actually about as unfunny as it gets. What a waste of talent all the way around.

• Gooshing! Chipotle Mexican Grill keeps sending me emails telling me how close I am to getting enough points for a free entrée. I always order a rice & black bean burrito with salsa, sour cream, guacamole, and extra cheese. But the last burrito I bought was INEDIBLE. I always have to order double tortilla wrap so it doesn't bust open while I'm attempting to eat it... but this time even a double wrap wasn't enough because (and I am not exaggerating here) the entire first half of the burrito was entirely guacamole, sour cream, and salsa. That's it. And how can even two tortillas compete against THAT? — I was half-way through before I hit cheese and rice, so it was just gooshing liquid the entire time. By the time I hit beans, the tortilla had disintegrated. It was one of the grossest things I've ever eaten and I had to dump a bunch of it back in the bag so my clothes didn't look like a murder scene...
So... yeah... I guess I'll keep ordering until get my free burrito, but then I'm done. It will just be chips and guac from then onwards. The burritos aren't worth the trauma.

• =eyeroll= Real NASA Astronomer Reviews Flat Earth Simulator...
I mean... holt shit. It defies all possible common sense, yet here we are.

• Discovery! When you read this fascinating story... be sure to read the caption under the photo: Woman Discovers She Isn't The Biological Mother Of Her Own Children.

• Brain Hurty! Veritasium is a YouTube channel that I watch because it's interesting and challenging. Even when Derek breaks down items and concepts into something that I can mostly understand... there's always elements that lay just outside my grasp. This video I've watched at least three times over the years. It's actually not overly-difficult to understand... there's a reference point change that explains things quite well... the thing that I have a hard time grasping is how there exists within science concepts which are absolutely horrifying to contemplate. Such as the idea that there were people thinkning that eventually the earth would flip over...
Now, this turns out not the case... science has an explanation as to why that's not going to happen... but for a while there it seemed like a possibility. And this has me wondering about all the horrifying things that haven't got science to explain it away.

And that's all the bullets for today, buckaroo.