I qualified for the Pfizer booster shot and I leapt on it like a starving lion.
Ever since they announced that the Pfizer vaccine lacked the long-term protection that Moderna offered, I was waiting for my chance. Don't get me wrong... it still does a great job of protecting you from death... it's just that breakthrough cases for the vaccinated can have harsher symptoms than expected. And "harsher symptoms" are something I can't really afford to risk.
And so, I made the appointment at the local clinic's drive-through site (a fiasco in itself, that I'll write about below).
For my previous vaccinations, I went to the mass-vaccination site. For my first dose, barely anybody was there. For my second dose, nobody was there. But at the smaller clinic drive-through, there were at least a dozen people getting shooted. That was unexpected and nifty.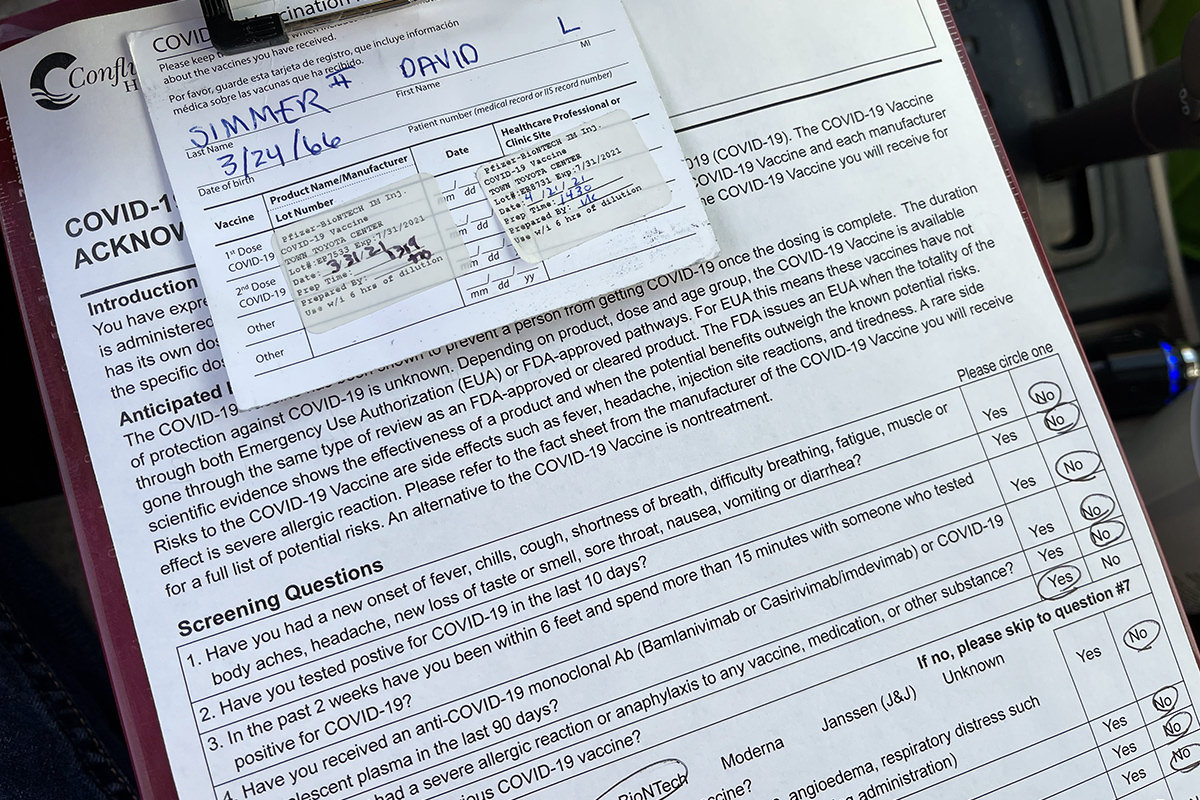 I can hear it now... "Holy shit, dude! You're stupid enough to get a THIRD vaccination? You're going to die for sure now!" — Which is what I'm guessing all the people who said I'd be dead by September after my initial vaccination are going to say. Because of course.
AND YES I ASKED FOR DOUBLE LIZARD DNA!!!
UPDATE: SHIT! NOT ONLY DID I NOT EXPERIENCE ANY PAIN OR SIDE-EFFECTS ALL DAY TODAY, I ALSO DIDN'T START TURNING INTO A LIZARD PERSON! THERE GOES MY DREAM OF JOINING THE ELITE LIZARD PERSON CABAL THAT RUNS THE WORLD!!
And now for the absolute absurdity it took to confirm my appointment (which I made by phone this morning).
Holy crap I wish Confluence Health would move away from MyChart.
It is the most inanely frustrating system to deal with. Nothing makes sense.
They send me an email to check in for my appointment. I click on the checkin link button. I then get taken to their website WHERE THEY WANT ME TO VERIFY THE EMAIL ADDRESS THAT THEY JUST SENT THE CHECKIN LINK TO?!? WHAT THE FUCK?!? And so I click the link to be sent a code that verifies my email... AND IT NEVER COMES. So, essentially, I can't check in as requested by email because they can't verify the email? And I know that if I call tech support the solution will be "check your spam folder." It's always "check your spam folder." Like people don't already know to do that by now. And it's not just MyChart. The Confluence Health website is shit too. Wanna login to MyChart? Well, first you have to scroll down and find the MyChart link. Then you go to the MyChart page and have to scroll all the way down the page for the "LOG IN TO MYCHART" link. Why not just put that fucking link at the top of the home page so people don't have to do all this work? Or, better yet, PUT THE LOGIN AT THE TOP OF THE FRONT FUCKING PAGE! They want you to use MyChart to save on staffing costs, but make it a hassle to do so. Which begs the questions... does anybody at Confluence Health use this shit themselves? Of course not. If they did then it would be a hell of a lot less shitty.
At least one would hope so.
Oh well. I finally got my booster.
I'm assuming that since a ton of people aren't getting fucking vaccinated that COVID will continue to mutate in the anti-vax people and we'll have to get annual boosters like the flu vaccine to handle that shit.
Which ain't fun, but it beats sucking on a tube of horse dewormer.