Last year some friends bought me an Instant Pot when they came to stay with me. This year they followed it up with a new cooking device... even though the pandemic lockdown made it so they couldn't visit.
It arrived yesterday and I've already been playing with it... the Instant Pot Vortex Plus Air Fryer!
TL;DR... It's my favorite thing in my kitchen. It's essentially a little oven which can get very, very hot very, very quickly and fry foods without oil...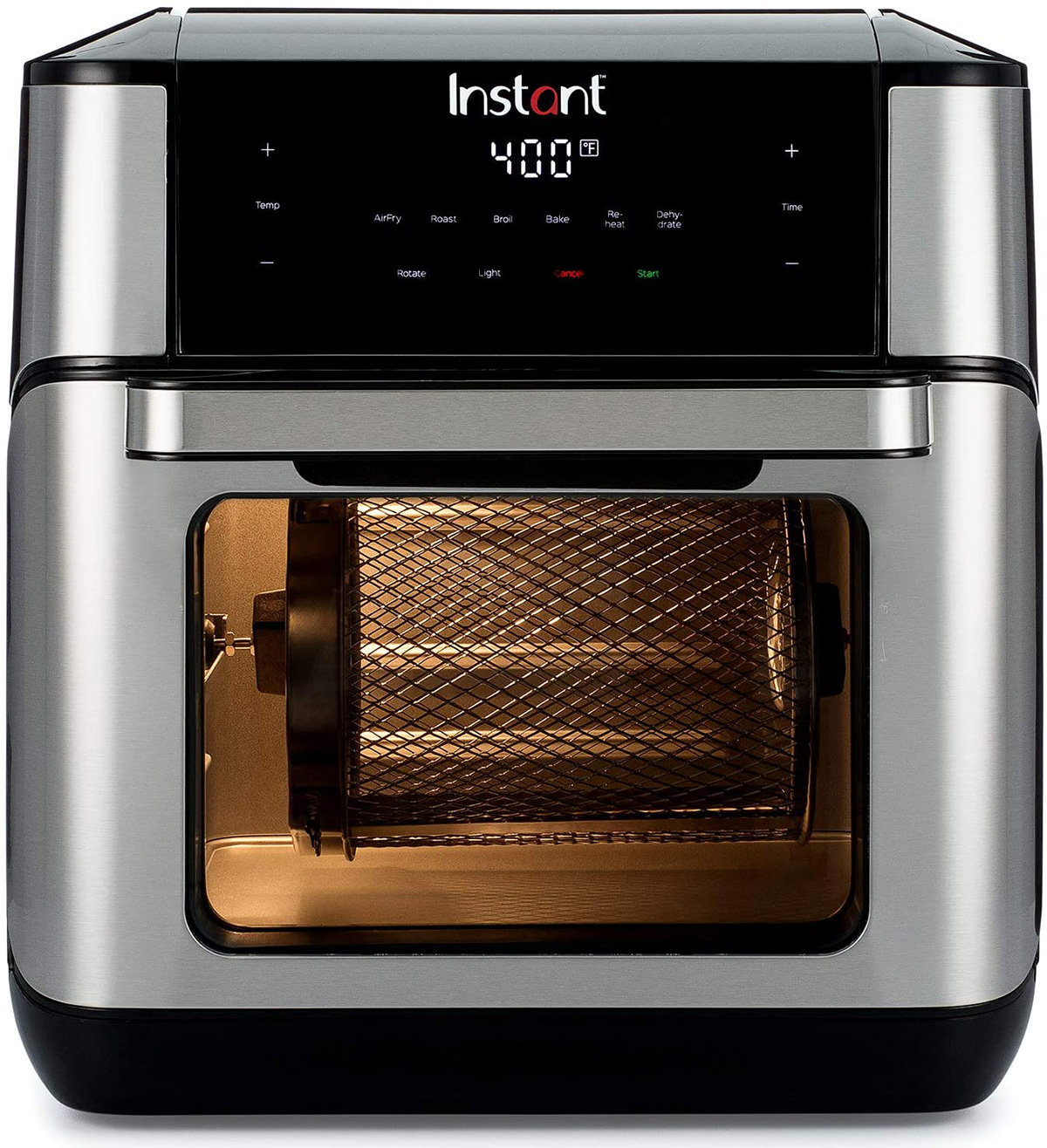 Except I don't want oil-free foods. I just want to be able to fry up some French fries without having to deal with the mess and expense of dragging my deep-fat-fryer out of storage. Fortunately, all you have to do is toss the fries in a bowl with some oil until they are well-coated and you're off to the races.
The air frying hood for my Instant Pot always worked well, but it was a pain to cook fries in it because you had to arrange them on a single layer so they cook evenly and get crispy all the way around. It's also a pain because you just can't fry that much stuff in it. The Vortex Plus completely solves this issue by including a rotisserie basket. You can load it up with fries and it will spin them around so they get evenly fried. It's very, very cool and works amazingly well. My fries were perfectly crisp and tasted fantastic. Practically as good as a deef-fat-fryer! Except a lot less mess and much easier to clean up.
Needless to say, I'm thrilled. It does exactly what I want it to do.
PROS:
Ridiculously convenient because the compact size fits on my kitchen counter under the cupboards and is always ready.
So much more energy efficient than heating up a big oven for a small amount of food... and far faster to heat up.
Unlike other air fryers, it actually "fries" more realistically thanks to the rotisserie basket.
The rotisserie basket and other interior parts are dishwasher safe.
I REPEAT THE ROTISSERIE BASKET AND OTHER INTERIOR PARTS ARE DISHWASHER SAFE! In all honesty, I was not anticipating that, and will likely use it far more often since it's so easy to clean.
Highly flexible to cook a wide variety of foods. Seriously can't wait to dry apple slices in this thing.
Relatively easy to use.
CONS:
THE SADISTIC FUCKERS AT INSTANT POT PLASTER A STICKER WITH

PERMANENT ADHESIVE

ON THE DOOR WINDOW WHICH IS IMPOSSIBLE TO REMOVE WITHOUT SOAKING IN GOO-GONE. WHAT A BUNCH OF FUCKING ASSHOLE PIECES OF SHIT. FUCK YOU, INSTANT POT!!
Smells like burning plastic when in use. I sincerely hope this dissipates eventually, but I've used it three times and it still smells awful.
Cook times are all trial and error while you're figuring things out. The cheese tacquitos I love usually take 10 minutes in my oven. In the Vortex Plus they take 5 minutes. Thank heavens I babysat them the first time I made them, because they would have been charcoal if left in for 10 minutes!
Despite being fairly easy to use, most of the time you're flying blind. When preheating, the display just says "ON"... if you forgot the temperature or time you set? Too damn bad. Until Preheat is over, you won't know. And while it's cooking it flashes between the time left and the temperature, so you have to wait to see what you want for when it shows up. This is just bad design. They could have come up with something far better even if they didn't want to have a larger display (they sell an upgraded model with enhanced display which solves this, but it could have been fixed with better planning on this model).
I'm not understanding the sounds. No, I don't want to listen to the damn thing beep every time I touch a fucking key or open the fucking door... but I do want a beep when it's done preheating or finished cooking. Maybe I'm not giving it a chance, but it looks as though it's "all or nothing?" Perhaps with more use I'll get this figured out.
While roomy enough for one person at 10 quarts... maybe for two people... the interior is still quite small. You won't be cooking a pizza or roasting a turkey in it.
You have to be very, very careful. I burned myself because I reached in to install the rotisserie basket and my hand touched the ceiling of the oven after preheating. Instant 400˚ burn that required ointment. Had I used the basket tool to install it, I wouldn't have got burned. Guess I should have fully read the instruction booklet before use.
Overall, I'm very happy with this little oven. I'm fairly confident that it will be my primary method of cooking from here on out. Whatever can fit in it there is going to cook in there... and I may never use my deep-fat-fryer again. I was hugely disappointed with the previous air fryer I bought (so much so that I gave it away) but the Vortex Plus with the rotisserie basket addresses all the problems I had with air frying. Had I known this unit was this good I would have bought one myself ages ago. As it is, the fact that it was a gift makes it all the better!
The Instant Pot Vortex Plus Air Fryer retails around $120, but I'm seeing it on sale everywhere for less (a Google Search shows that it was $90 on Black Friday). There's a model above mine which has a better display for $20 more, though I don't know that it's an essential feature.