Grey skies are going to clear up... because an all new Bullet Sunday starts... now...

• Hard Rockin'! Life is weird. I'm flipping through channels and see Suicide Squad is on. Not a fan, but I pause when I see Batman chasing Joker and Harley Quinn because they pass by a Hard Rock Cafe. I'm pretty sure it's Toronto (which has since closed) so I Google to find out what's happened to the location. I find an article on CBC talking about it.
I AM INTERVIEWED IN THE ARTICLE...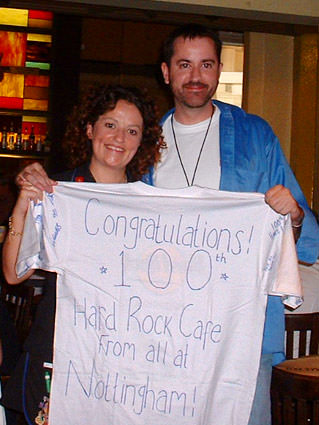 I vaguely remember somebody calling me, but I gave them a better name to talk to, and thought that was the end of it. Turns out... nope... I'm in the article and didn't even know it.

• Angels! And so they're remaking Charlie's Angels, yet again. First there was the original TV show, then the Drew Barrymore films, then the awful TV show revival, and now yet another series of films...
Meh. Maybe. Seems like the main trio is a little low on star-power for a movie. Interesting that there are three actors for Bosley listed at IMDB: Patrick Stewart, Djimon Hounsou, and Elizabeth Banks (who also directs).

• Break! Okay... I am really liking this new show called Reef Break. I expected to like it just because Poppy Montgomery is the star of the series, but it's interesting and well-written on top of that...
I wish they would have just set it in Hawaii instead of some fictional island. But with Hawaii Five-O and Magnum P.I. already there, maybe they were worried about Hawaii fatigue?

• Grand! I like an occasional dip into trashy television, which is why I was intrigued by Grand Hotel... the new ABC show Executive Produced by Eva Longoria...
The first two episodes are pretty decent. Full of mysteries, secrets, and intrigue. The problem is that shows like this usually blow all their best ideas early, then whither away as crappy new ideas are rotated in. I guess we'll see if this one has legs.

• Letterman! Tiffany Haddish, whom I fell in love with after seeing her hilarious role on The Last O.G., is on an episode of David Letterman's My Next Guest Needs No Introduction. She is absolutely fascinating. I had no idea the incredible obstacles she had to overcome to get where she is today... and she's done it all with a humor that is luminous...
Remarkable. I love shows like this.

• Design! Jony Ive, the industrial designer who helped Steve Jobs reinvigorate Apple with such gems as the iMac, is leaving the company to start his own design group. Apple claims that Ive will still have Apple as a client, so apparently he will still be a guiding force in the design of Apple's wares. And that sucks. Ive is so focused on making everything pretty and thin now-a-days that he has forgotten that computers need to be functional. The keyboard on Ive's latest MacBooks is fucking garbage. My hope was that Apple would bring in somebody who gives a shit that you can actually use their products. I guess that's not going to happen. At least not yet.
In another interesting move at Apple, they just hired ARM's lead CPU architect, Mike Filippo. The rumor is that Apple is switching from Intel to ARM as soon as next year. Given how well it's worked out when Apple started designing their own chips for iPhones, iPads, AirPods and the like, this is probably a good move.

• Green! The Oregon "Cap and Invest" bill that Republicans were hiding from this last week is a bit complex. When I was trying to understand what was happening, all the articles I read said that there would be minimal impact on Oregon businesses, because the money collected would go back into helping the same businesses who are having to buy "energy credits" reduce their energy needs or switch to greener options. So it's designed to be a win-win for everybody. There are questions as to whether that would actually be the case. It's not like the corner coffee shop is going to suddenly face insurmountable increases in energy costs... businesses have to be producing 25,000 metric tons of CO2 for it to affect them... but the smaller businesses supplied by larger businesses would have higher costs passed on to them until the energy needs/supply is balanced. That could be a problem (hopefully only in the short-run). It's not the business-destroying Armageddon-painted scenario Republicans are selling (they get loads of money from the energy lobby, remember), but it's also not the cake-walk Democrats are selling. As with most thing, the story is in-between. The only difference being that the fate of all humanity is on the line here. Green energy is the future. The sooner we embrace that, the less painful it will be.

And now... time to draw up plans for a week of fun in the sun. See you next Sunday.