My pricey new Milwaukee cordless M18 Dual Bevel Sliding Compound Miter Saw is choice. I love it. But more on that later. Let's talk about my new Milwaukee cordless M18 Random Orbital Sander. When it was released last year, I took a hard pass because A) It was $99 without battery, and B) My corded sander works perfectly fine, and there was no sense spending money to replace it.
But last night as I was attempting to sand down my latest project, the cord on the sander snagged on a bottle of glue that was sitting next to a pan of kitty litter and both went crashing to the floor of my single-car-garage woodshed. There just aren't many outlets in a garage, so I'm always running into problem like this (as well as running out of outlets).
While attempting to clean up the horrendous disaster that comes from glue mixing with kitty litter, I suddenly realize that "Boy, a cordless sander sure would have been handy." Minutes later I was digging into my savings as I cruised Home Depot's website. In-store pickup, here I come...
I have no idea... none how I survived without this. I thought the battery would make it heavy and difficult to navigate. Nope. Far, far less difficult than wrangling a cord, even with the added weight. In fact, as shown in the photo, I have my medium M18 instead of my smaller M18 battery, and it's perfectly fine. The kit comes with a dust-catcher extender, so I even have the option of using my mega-battery on it if I wanted to!
And it's not just the lack of a cord that makes it so fantastic... it has multiple speeds (my old one didn't) and the random sanding "pattern" seems to do a better job of making quick work of large areas to boot. If you've already got some Milwaukee M18 batteries knocking around, the convenience of cordless is pretty much a no-brainer.
And then there's the Milwaukee cordless M18 Dual Bevel Sliding Compound Miter Saw...
I had no intention of replacing my faithful old Ryobi... until it went out of alignment and I couldn't get good cuts from it (nor get the laser guide to aim straight). Maybe somebody smarter than I could have figured out how to fix it, but I was done. My first instinct was to spend the $220 to get another Ryobi. It provided years of faithful service, was relatively inexpensive, and I was familiar with it. But then I saw that Milwaukee had a kit with an extra maximum performance M18 battery on sale for $600 (down from $850) and decided I'd spend the money on quality now rather than having to replace another Ryobi in 4 years...
My worries were A) A cordless saw would have much less power than a corded version, and B) All the reviews talked about what a shitty job it did of collecting dust.
Turns out that A) It has plenty of power to cut through anything I've thrown at it... including Trex decking and hardwoods, and B) All the reviews were right... the dust collection is so bad that I don't even know why they bother putting a bag on it in the first place since hardly any dust ends up in there.
The dust collection problem is annoying, but not a dealbreaker. No miter saw catches all the dust, so what's a little more? Still, you have to wonder what in the hell Milwaukee was thinking that they couldn't have done a better job of it.
Just as with every Milwaukee cordless tool I've ever owned, the benefits of going cordless far outweigh any drawbacks in the ultimate design. I can move it anywhere in my garage shop without having to unplug/plug which is great. I also have one less cord to trip over and one less outlet occupied, which is really great.
Dust collection aside, there are a number of things that Milwaukee gets right. First of all, they've done away with a laser guide in favor of a shadow cut-line indicator. Before using it, I thought this was a detriment. Because lasers are awesome, yo. But then I used it and realize what a huge boost to accuracy it is. A shadow of the actual blade not only shows you exactly where the cut occurs and how much material the blade will be removing... but it also will never go out of alignment, something that plagued my Ryobi...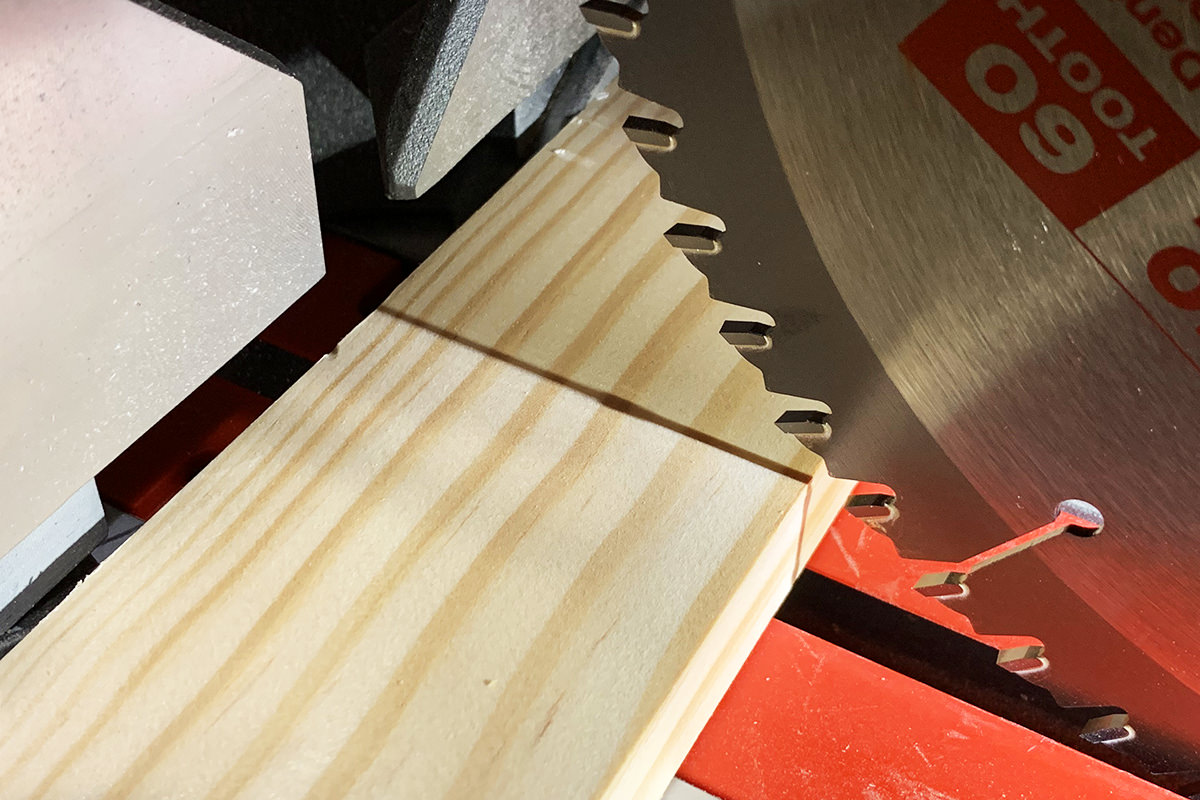 Another thing I like is the design of the slider. With most miter saws, the tool slides along rails that poke out behind the saw on the top. With Milwaukee, the rails are inside the unit and on the bottom. It's just cleaner with less obstruction on top, though I have no idea if this could be a problem after dust ends up on the rails. How would you clean that? I dunno.
As is par for the course with Milwaukee, the little details are nicely accommodated. The blade cover locks open for easy access (I loathed having to fumble with it on my Ryobi every time I changed blades). Changing angle or bevel is not only fast and easy, but seriously balls-on accurate. On my old saw when I had to meet two 45° angles for a corner, there was always a slight error that crept into the mix. But with my Milwaukee, they meet up flawlessly every time on the first try, corner after corner. No more sanding or filler! Another plus? The saw is fairly lightweight and can be carried from the top or side. I keep mine permanently mounted on my awesome Rigid mobile folding stand, but it's nice to know I could transport it easily.
Ten out of Five Stars. Would purchase again.
As mentioned yesterday, I'm building a ledge tray for my banister to (hopefully) keep my cats safe in the stairwell. After work I had time to paint a base coat. All I have now is a light sanding and two more coats and it will be good to go (the carpet for the bottom arrives next week)...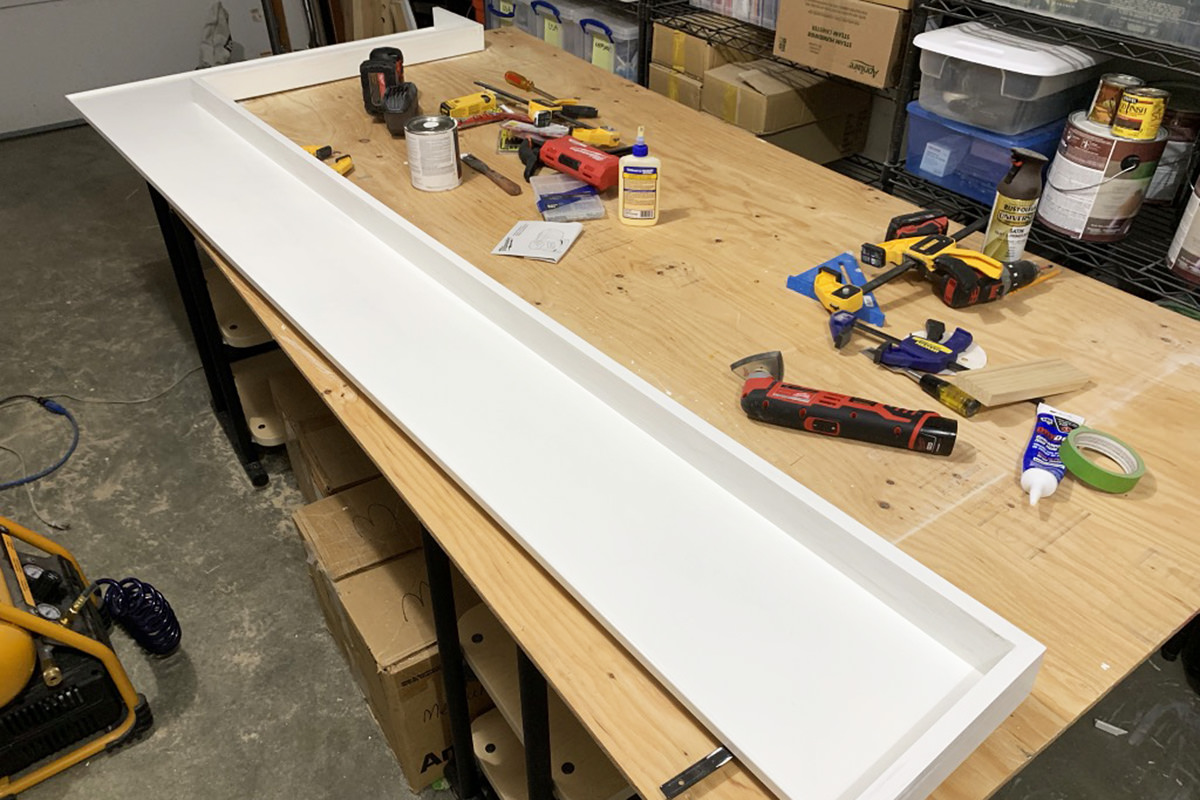 This unanticipated little project has me chomping at the bit to get started on my kitchen cabinets! Now THERE is a job that will make good use of my pricey new toys!