When traveling in the winter... especially a place with the possibility of a notorious winter like Maine... I always add a day before and after my work dates so I can be sure I'll still make my start-time if there's a weather delay. This time I got my start-date too late to have much choice in my flights. This means there was no getting here a day early. If a problem pops up then I'm probably screwed.
So of course air traffic into Seattle last night was slowed down, which meant I'd be landing late and might miss my connecting flight to Boston. Then they moved up the flight to Boston, which made it even more likely I'd miss it.
Lucky for me, my arrival gate was right next to my departure gate and I managed to make it onboard ten minutes before they closed the door. Thankfully I didn't have to check any luggage.
After landing at Boston Logan International Airport, I retrieved my rental car so I could drive 2-1/2 north to the job site. But first? Breakfast.
Usually I just stop at McDonald's for an egg & cheese biscuit. They aren't great, but they are edible (unlike Burger King's shitty Croissan'wich). My biggest problem in eating at McDonalds is that most of them don't know how to ring up an egg & cheese biscuit. They ring up a bacon, egg, & cheese biscuit and remove the bacon. This is hardly fair because I end up paying for meat I don't eat.
But here in New England, Panera Bread restaurants are plentiful. This means I don't have to eat at McDonald's and can get one of Panera's "Egg Over Easy with Cheddar on a Brioche Bun"...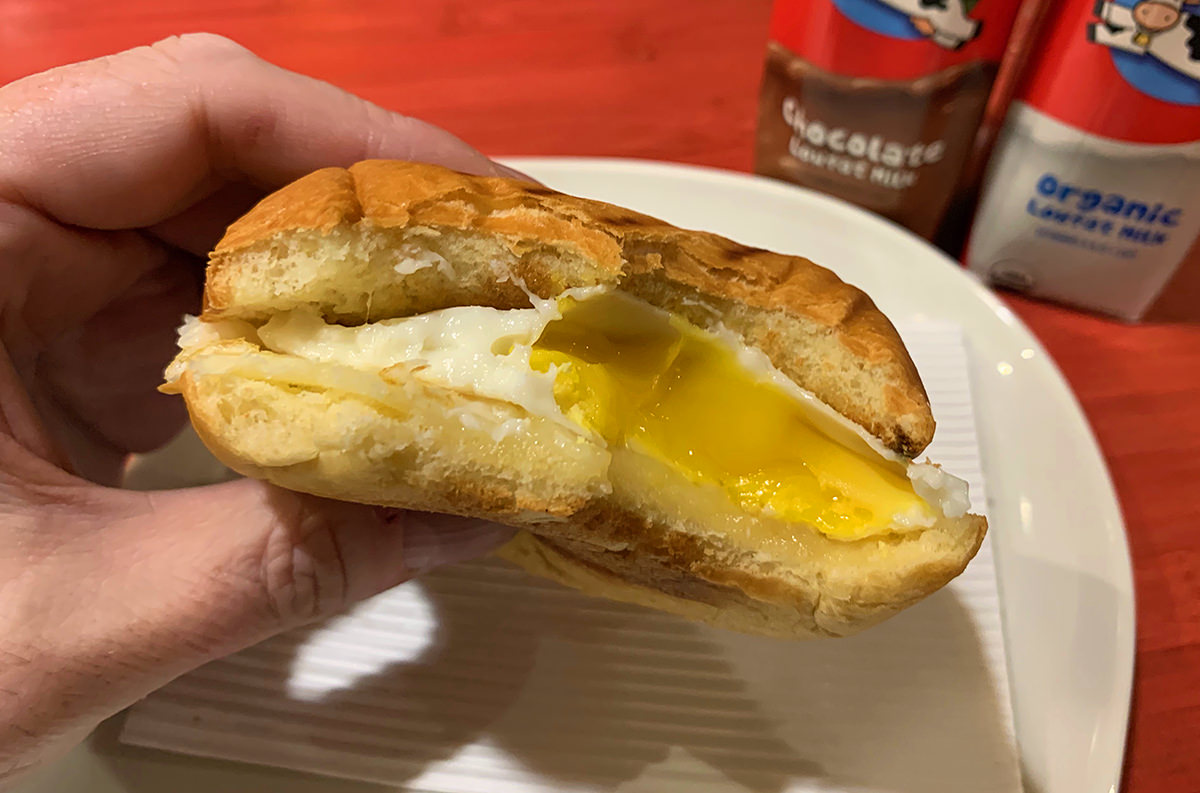 So far as breakfast sandwiches go, I've found nothing better...
The brioche bun is incredible. Light, airy, and holds up as you eat it. Unlike the McDonald's biscuit which falls apart easily, gets gummy when the moisture from the egg hits it, and sits like a brick in your stomach.
The over-easy egg is gooey and creamy and has fantastic flavor. Unlike the McDonald's eggs which are reconstituted powder that taste spongey. You can substitute a better "round egg" at McDonald's (which is an actual egg), but it's hard-cooked and rubbery.
The white cheddar that Panera uses is a bit sharp so it has a nice "bite" to it. Pairs wonderfully with the egg and isn't the least bit waxy. McDonald's, on the other hand, uses a lower-quality American cheese which is kinda bland and waggy. It doesn't add much to the flavor profile and, if the egg is overcooked (which happens all the time), it actually makes things worse because it's so flimsy.
All-in-all, my highest possible recommendation if you're near a Panera and are hungry for breakfast!
I had a few hours before work started, so I took a nap. Or, more accurately, I tried to take a nap. It was one of those bizarre situations where I was so exhausted that I was having trouble sleeping. No idea how that works, but it's incredibly frustrating.
And now... I'm at work.
Where the internet is broken, which means that this will have to be posted when I get back home.
Five hours down, eleven hours to go...