Don't be sad that my trip to California delayed your favorite post of the week... because Bullet Sunday on Monday starts... now...

• Weekend! Had such an amazing time in San Diego for Jester's birthday weekend...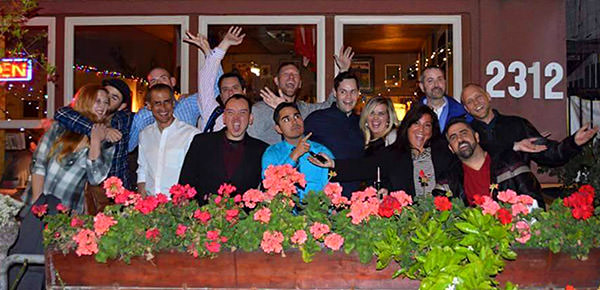 Thanks to Chuy for the Group Photo!
A nicer bunch of people you will not meet.

• Heart! Speaking of Jester... a song he wrote with Matthew Hayes is being performed by Kenyth Mogan in a clever Wizard of Oz inspired video... with a twist. Jester appears as Scarecrow, by the way...
And here's a behind the scenes making-of video for the video where Jester (Aaron) explains the origins of the song...
I love having talented friends!

• Horror! One of the biggest surprises from this past weekend was attending the midnight showing of The Rocky Horror Picture Show at the Ken Cinema...

Newspaper and squirt gun ready! Thanks to Jester for the Photo!
I haven't "done" the Rocky Horror in 25 years. I remember a lot of the audience participation lines... but I was surprised by how much everything has evolved. There were plenty of current pop culture references (Justin Bieber?) to be found, and a lot of stuff had been added. Hopefully it won't be 25 years before the next time... it was a lot of fun.

• Carrots! Best episode of Billy on the Street ever!
We have the coolest First Lady ever.

• Sausages! Whilst having Sunday Brunch at the marvelous Cafe 1134 yesterday, I was introduced to the fact that Soy Chorizo exists. It was absolutely wonderful in my breakfast burrito, and made an ordinarily boring egg and cheese entrée into something flavorful and amazing. Now I just gotta find it local.

• Spock! As I was flying home today, I learned the Leonard Nimoy has been hospitalized for chest pains. Wishing him the speediest of recoveries. Nothing would make me happier than having him make a third appearance in the Star Trek reboot.

And that's the end of the bullets, everybody!