Time for a new beginning... because the first Bullet Sunday of 2015 starts... now...

• Back! Anybody who's a fan of the Back to the Future trilogy knows that it's the year 2015 that Marty travels to in the second film when he follows Doc Brown to do something about his kids. The result is a funky look at what the future has in store... as envisioned by filmmakers in 1989. Though, to be honest, I think they were more concerned with entertainment value than actually attempting to predict what was coming down the pipe in 25 years...
Newsweek interviewed some futurists to take a look at what Back to the Future II got right... and what they got wrong... and the result is worth a read.

• Snoopy! Usually, I'm dead-set against "improving" old animation techniques... especially with a property as beloved as Peanuts, but this looks amazing...
Nothing like what's come before, and yet oddly in-tune with the Peanuts aesthetic. I am hopeful that eventually there's a "making-of" which explains how they're achieving this perfect compromise of old and new.

• Remastered! Back before the original Star Wars hit theaters, Marvel Comics had an adaptation in the works... written by Roy Thomas and illustrated by Howard Chaykin. It didn't even hit my radar until I saw Star Wars, at which time I was obsessive about tracking down anything and everything that even mentioned the film. Including Marvel's over-sized movie tie-in. Since it would be years before home video would happen, it was about as good as I could get in re-living the movie. Flash-forward to today, and the adaptation of Star Wars is being remastered for release as a hardcover graphic novel this March. The "remastering" is basically cleaning up the original pages and then recoloring them using today's computerized technology. The original looks something like this (which I've muddied a bit because the paper back then was far from white)...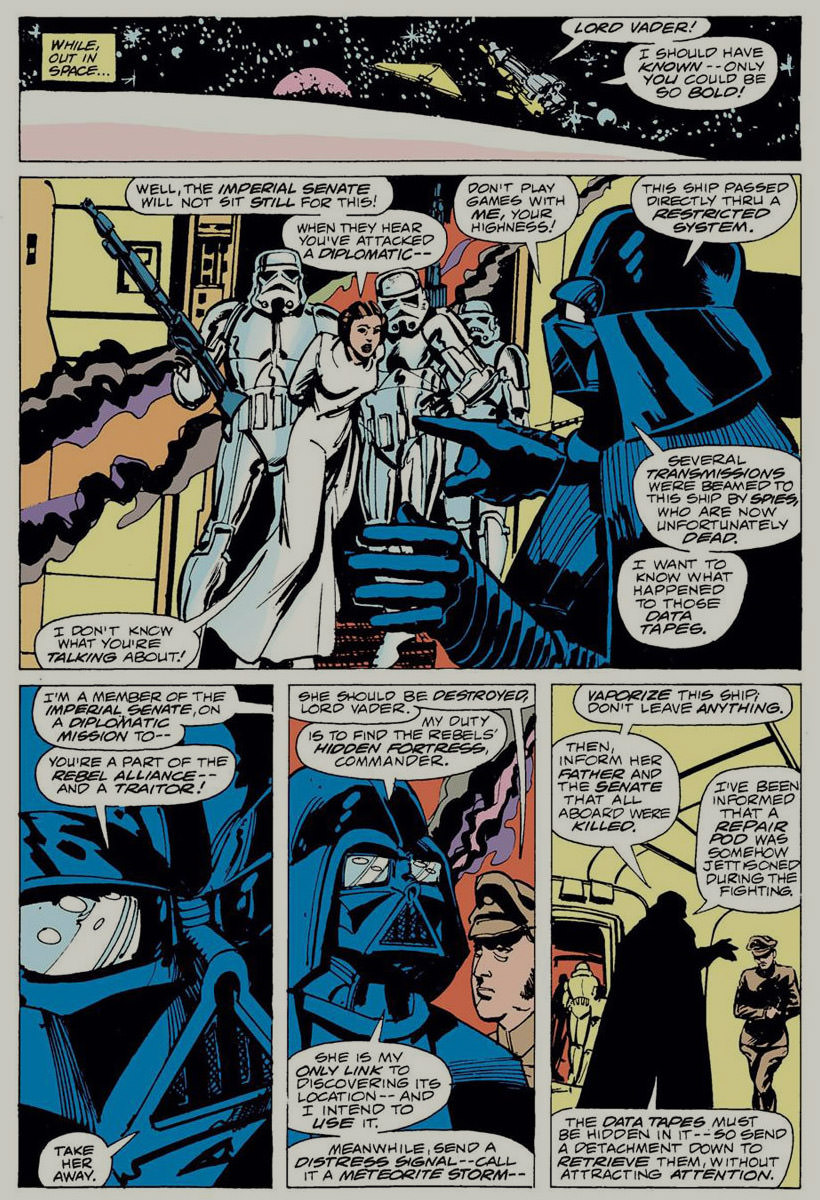 And here's the new hotness...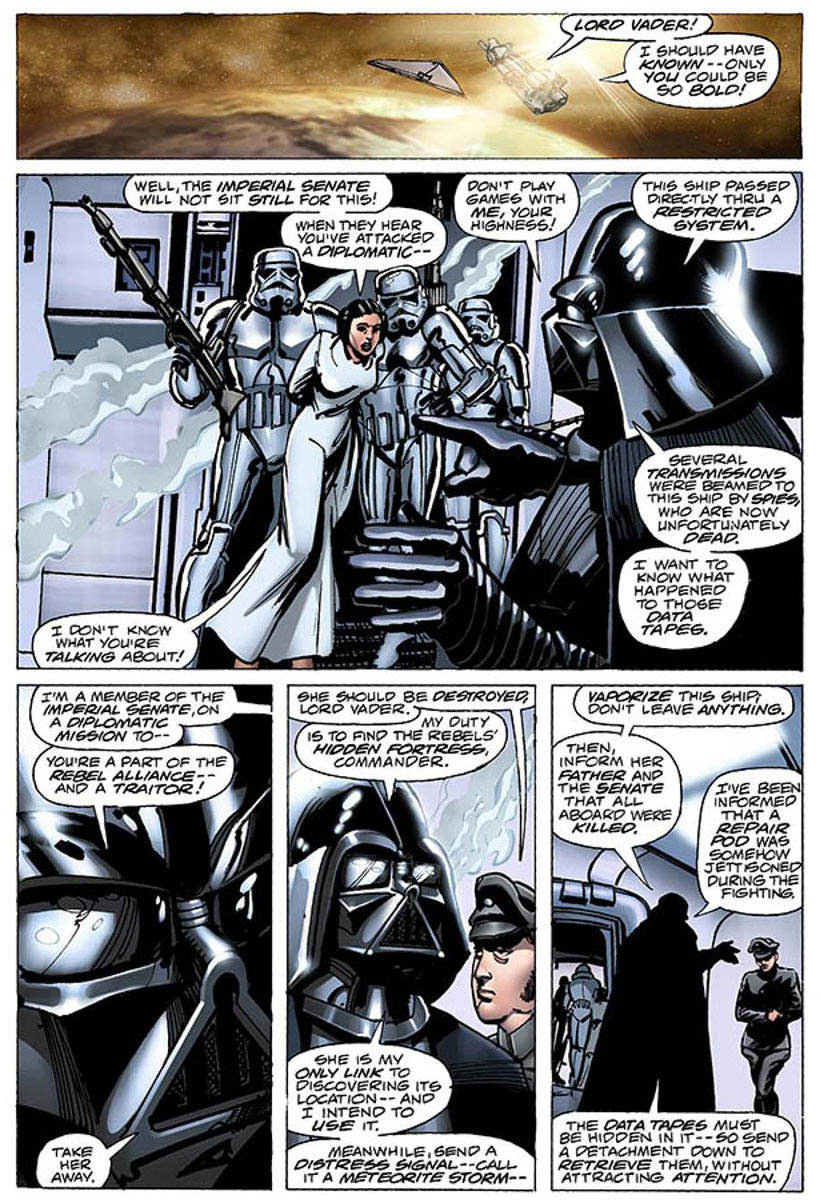 Nice. I guess. I mean, the Death Star is no longer day-glo yellow and Darth Vader is no longer day-glo blue which is good. But I think they went a bit too far. The intro panel, for example, doesn't look much like the original Chaykin art... it's all coloring. They even colored over the text panel for crying out loud! While I like the idea of having an updated edition of these comics, I just wish they hadn't gone quite so over-the-top gradient air-brushy with everything. More flat colors and a little more respect for the original linework would have gone a long way towards a better looking updated book.

• Giving! Taylor Swift, who seems to have a genuine appreciation for her fans, decided to celebrate her hugely successful foray into pop music this year by sending presents to some of the people who made it possible...
It's a sweet video, and I would have thought that anybody seeing it would love Taylor just a little bit more. And most people did. Except, of course, her haters, which were quick to point out that the millionaire country/pop star spent a mere couple hundred dollars of her massive fortune on this obvious publicity stunt.
So I'd like to point out that even if you're this cynical, there is one thing you can't deny: Taylor Swift doesn't stop at a couple hundred dollars when it comes to giving back. In fact, she topped the "Most Charitable Celebrities" list for 2014... for the third year in a row. Say what you want about her music or how she interacts with her fans but, when it comes to charity in the world of celebrities, it would seem as though few people are doing more than Taylor Swift.

• Connectivity! When my Mac displayed an incoming call at work, I couldn't find my iPhone so I accepted the call through my Mac. After the call was over I tore my office apart trying to locate my mobile (which was obviously on silent mode) and couldn't find it. Finally I realized that my Mac was connecting to my iPhone out in my car. I parked close enough that Bluetooth could still reach. Wonderful and bizarre at the same time. Which is how new technology should be, but often isn't. Most of the times now it's just frustration. Like trying to get a file from my iPhone to my Mac using "AirDrop" only to find that it only works half the time. Why? FOR THE LOVE OF JOBS, WHY?!? WHY CAN'T IT WORK EVERY TIME? You got me. And, while I should be happy for the times that this stuff "just works," the fact that you can't count on it is enough me make me want to light my Mac on fire.

• Devil! Back when I was at Victoria Falls, Zimbabwe, I posted photos of insane people on the Zambia side of the Zambezi taking a dip in what's known as "The Devil's Pool"...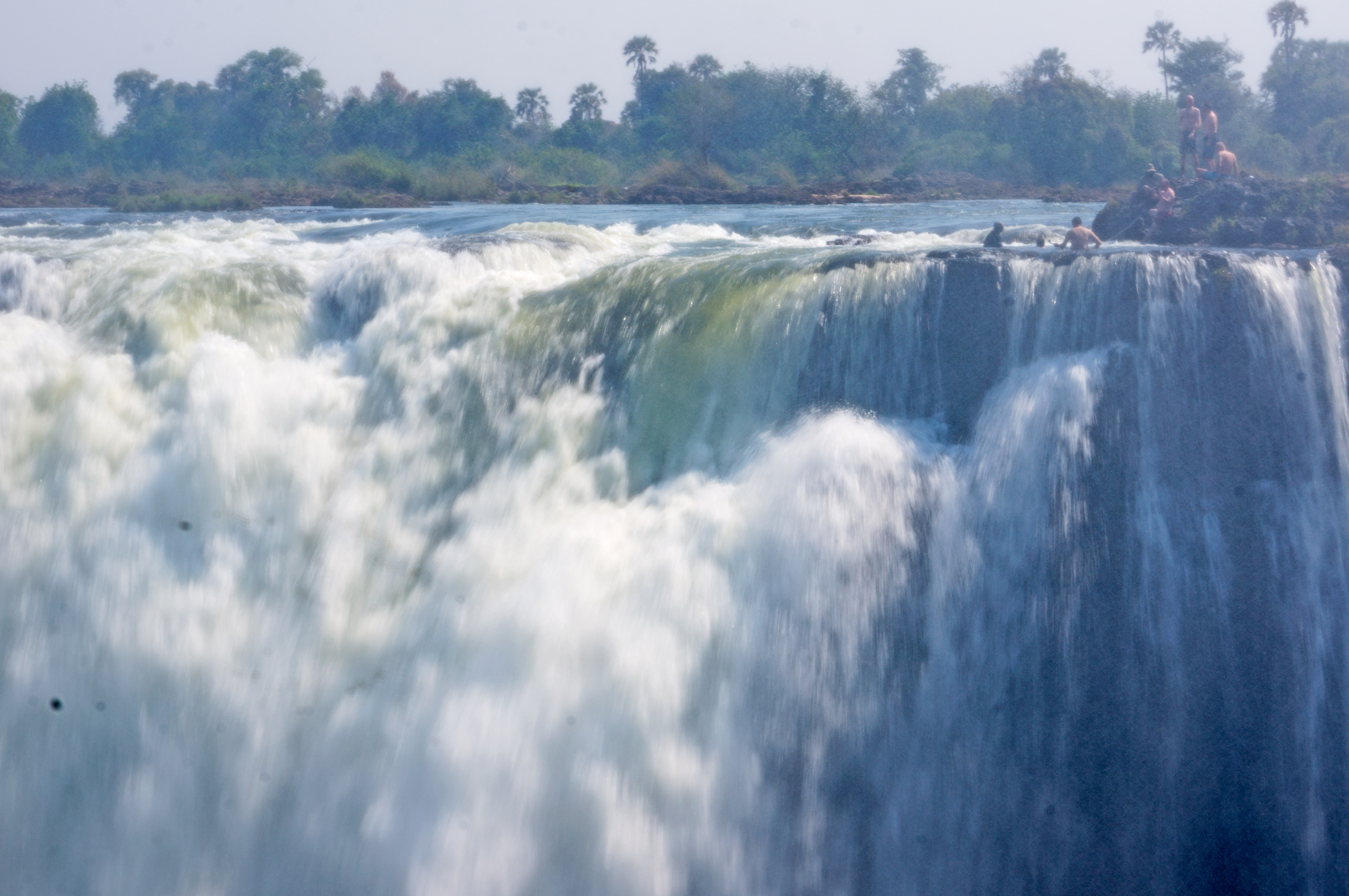 Yesterday I was searching YouTube for people who might have actually filmed the event, and was surprised to find all kinds of videos. Here's just two of them...
Given the opportunity, would I partake in this craziness? I really don't know.

And there you have it. Don't forget to use "2015" when you write the date!