The Plan was to fly out today since my work ended yesterday so I could have more time on my upcoming Hard Rock adventure. But to follow The Plan would cost four times the money than a hotel stay, so I'm instead flying out tomorrow morning. Early.
The rest of this entry should be prefaced with the understanding that cold Maine is cold. Very cold. Biting cold. Cold with a side of cold and a scoop of cold on top.
It's really f'in cold.
And it's Sunday in the off-season, so there's not much to do in Portland, Maine. Thus my incentive to go outside is not very high. So I didn't until the hotel kicked me out at noon. At which time I checked into my airport hotel, returned my rental car, then took a taxi back into the city because pizza and apple crumble was calling at Flatbread Company...
To say I love this restaurant is a gross understatement. The location is great. The atmosphere is great. The service is great. The beer selection is great. The food? Beyond great. Especially the desserts, which are worth a trip to Portland all by themselves.
Did I mention it's cold?
Yet I went wandering downtown anyway like the fool I am. Despite wearing a T-shirt, thermal henley, hoodie sweatshirt, and a coat, I was still freezing. But I wanted to get a shot of the fence with locks on it in daylight, so off I went...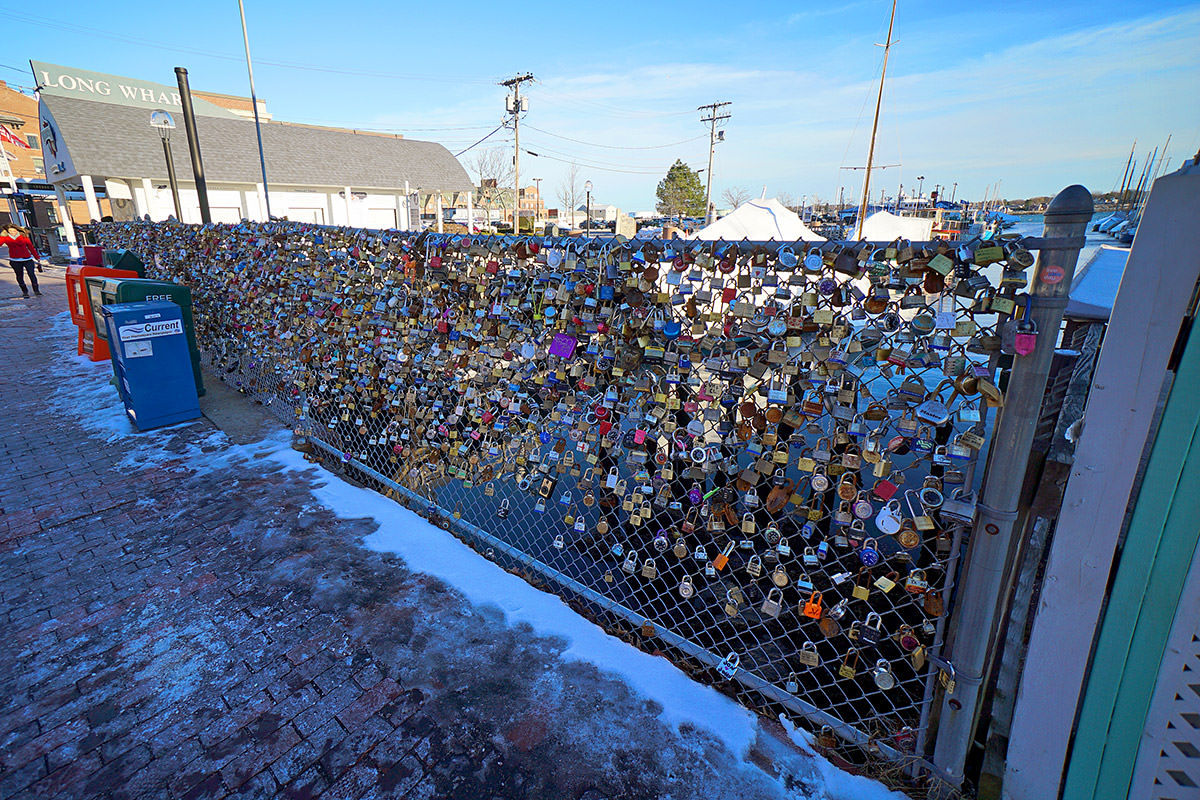 To profess their undying, never-ending love, a couple will write their names on a lock, attach it to the fence, then throw away the key. I have no idea if you come back with a bolt-cutter if things don't work out, but it's a nice idea.
I decided to explore somewhere new this time around, and left the Old Port area for downtown. That's when I saw... MAINE LOBSTERMAN!
Sculpted for the New York 1939 World's Fair, this piece has an interesting history (which you can read about here). At first I thought that the guy was giving first aid to a lobster with a hurt claw, but that's apparently not the case at all...
He's actually "pegging" the poor thing... which is to say he's shoving a wooden peg in the claw joint so it can't be opened (so he can't pinch anybody). This practice has mostly been abandoned, and now they just wrap a plastic band around the claw. Still a bit cruel, but I'm guessing it's not as painful to the lobster. At least until he gets boiled alive.
As I was walking, I saw a really cool painting on the side of a building that was meant to mimic a giant blueprint being laid over the structure...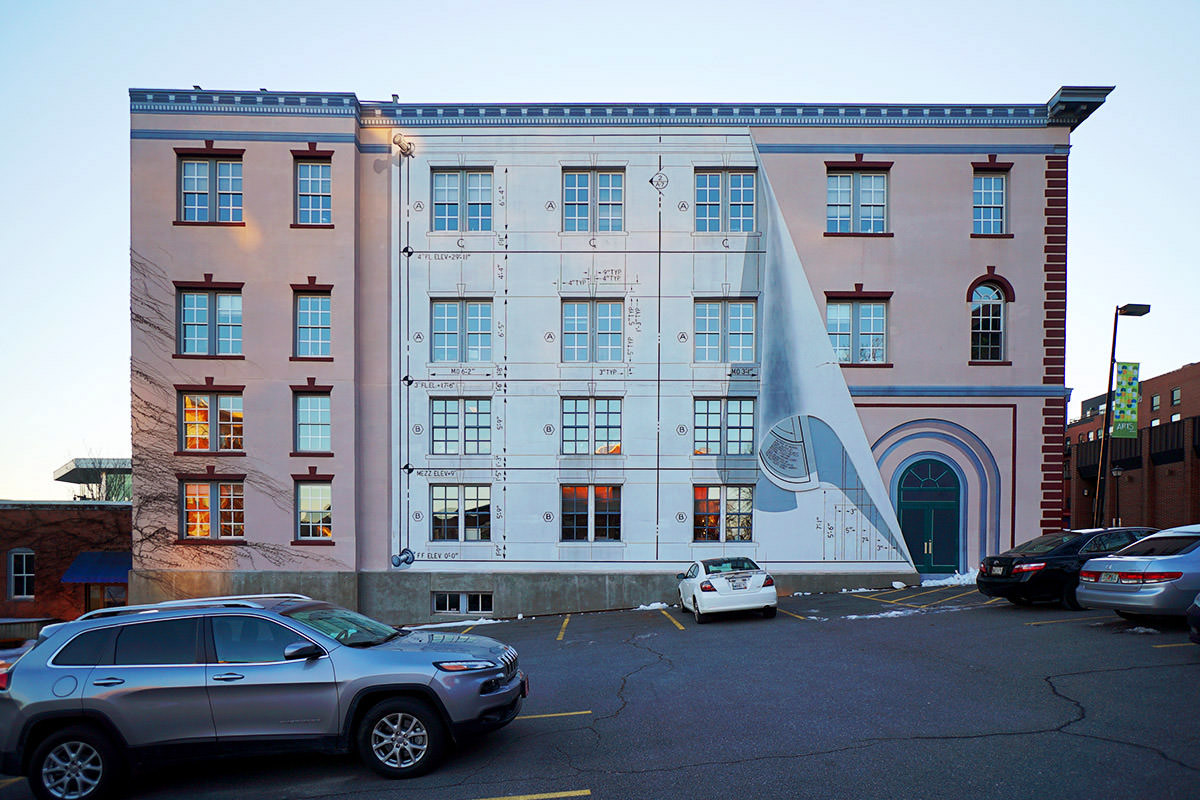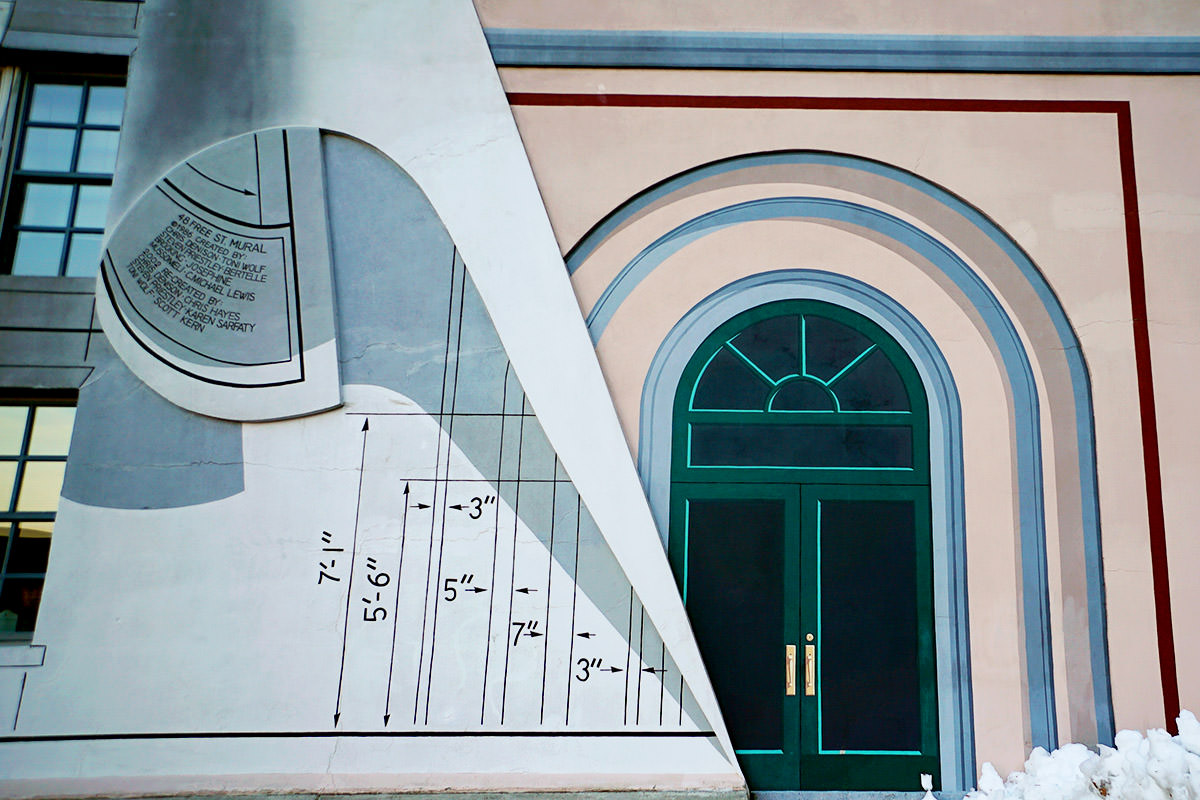 Just across the street is a giant postcard painting that's also pretty cool...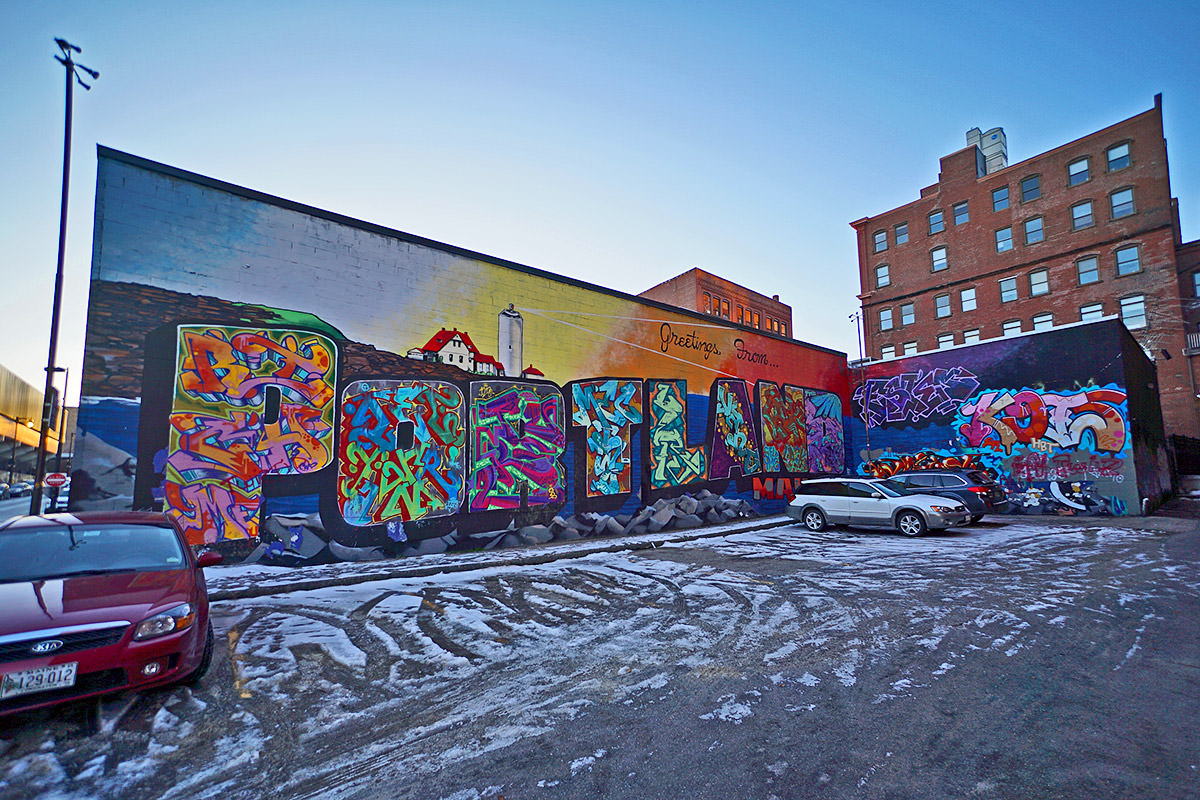 Click the above photo to embiggen it...
If you look closely, the "lighthouse" is actually a spray-can...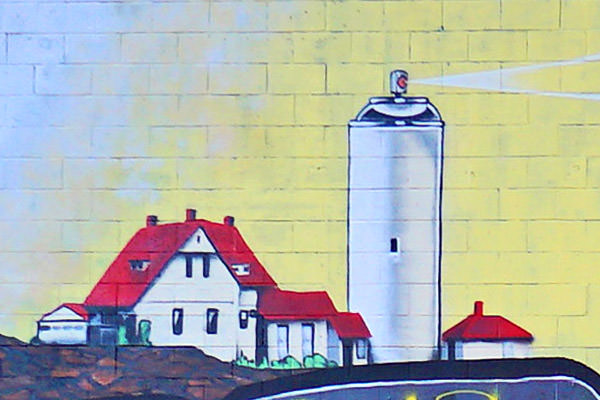 At this point I was so cold that I could barely move, so I called a taxi while taking a few last photos as the sun set...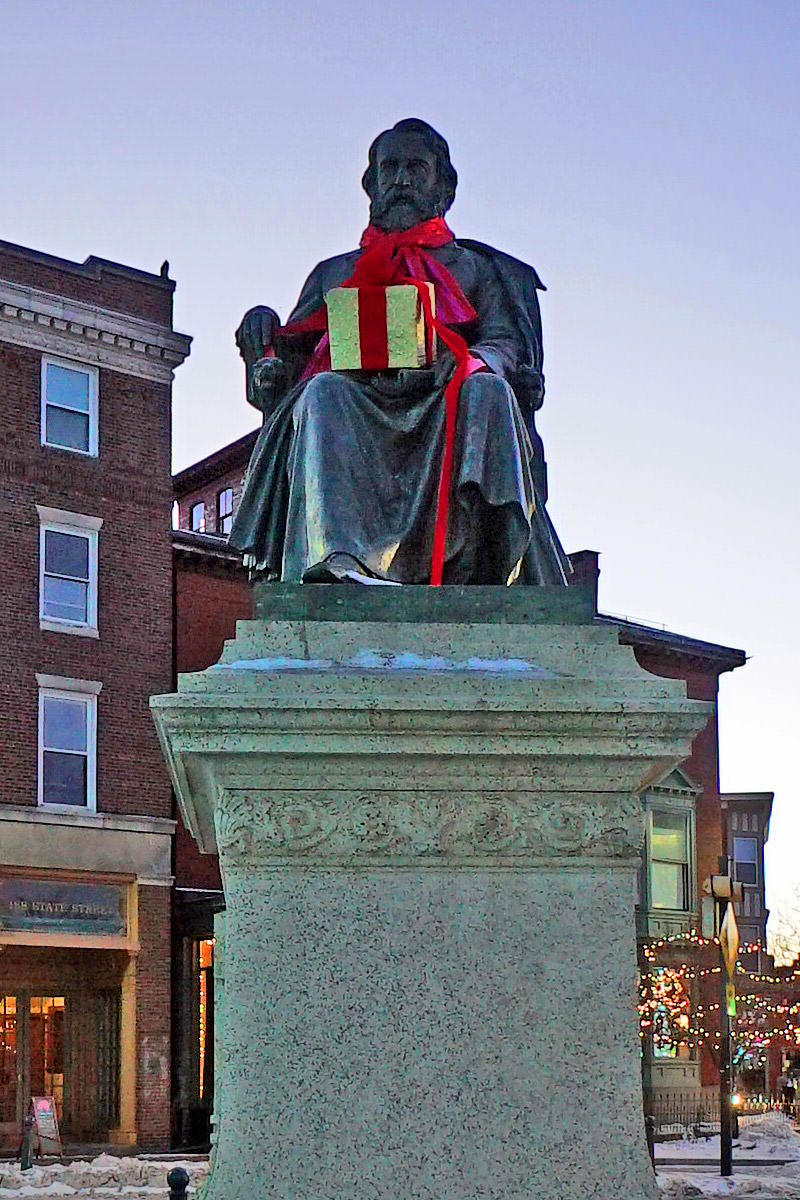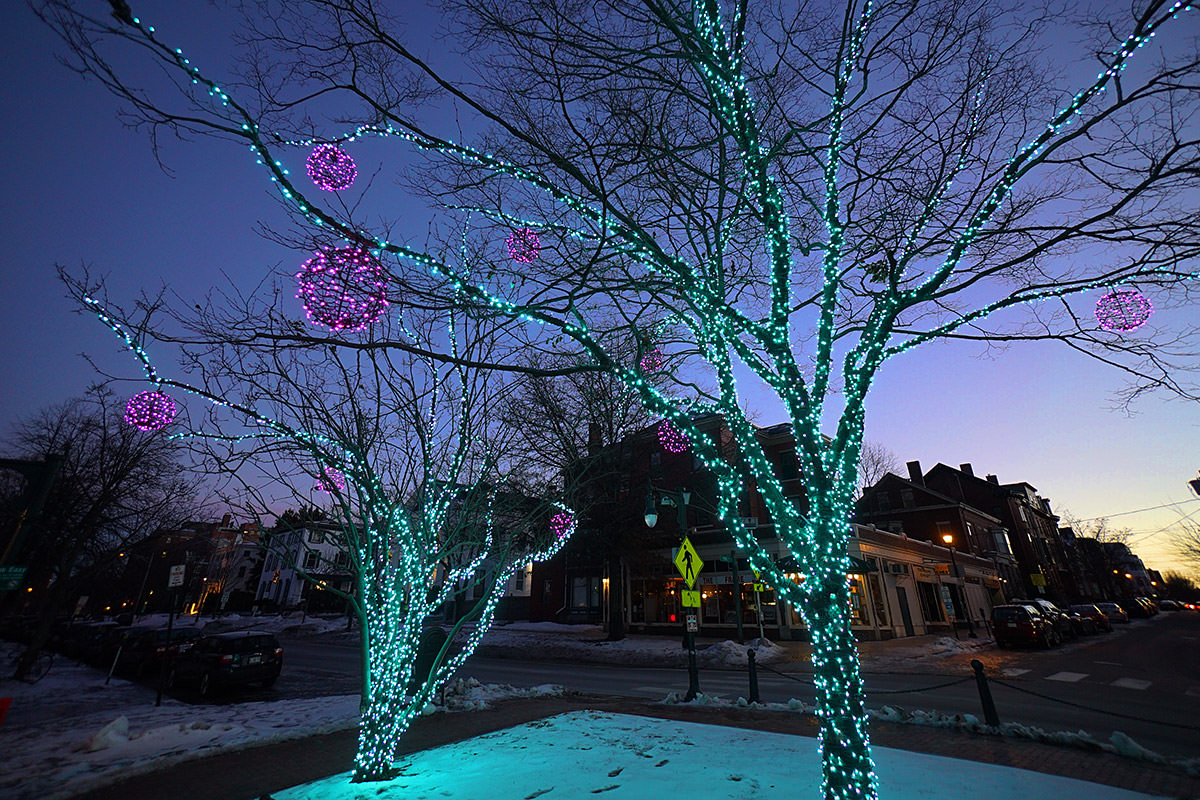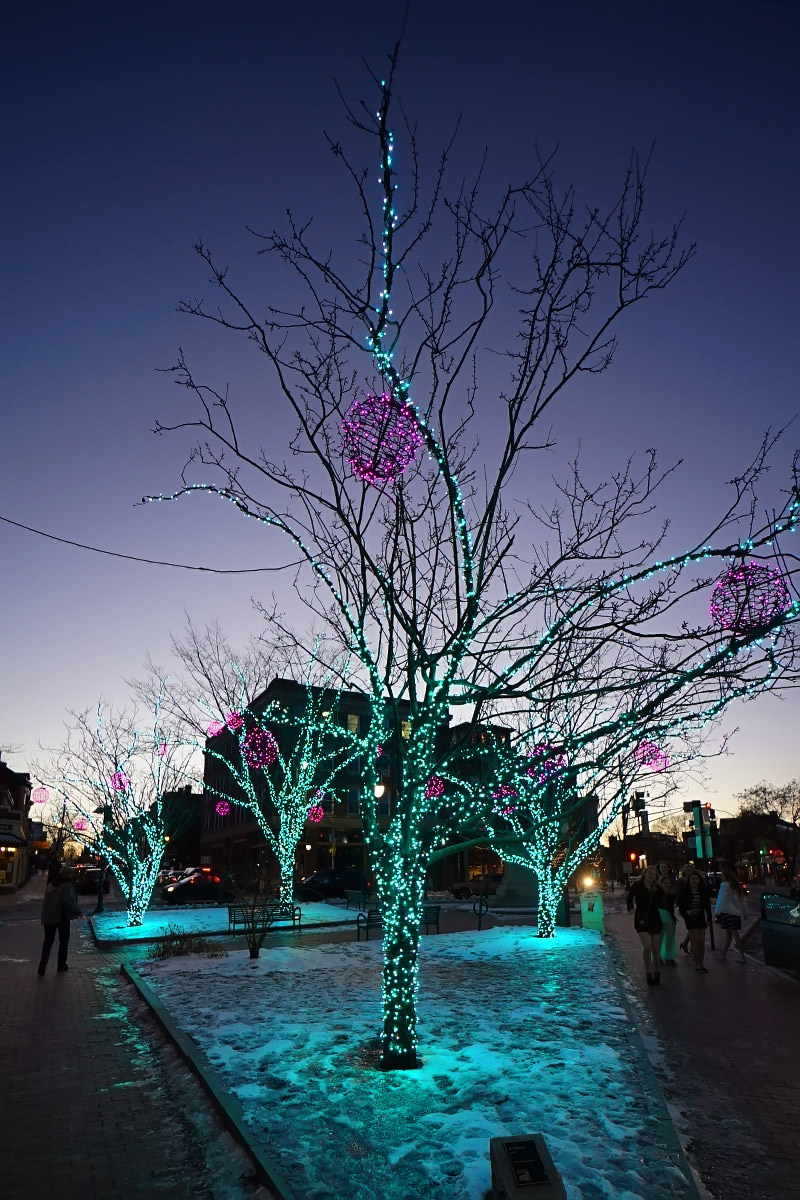 And that was that.
Back to my airport hotel room where I can (hopefully) get a few hours sleep before my early morning flight.