Yesterday's flight was completely uneventful, which wasn't surprising given that it's only an hour long (which is a lot nicer than driving 6-1/2 hours, which I've done before).
At first I had thought that I would just stay in the hotel for dinner since I was exhausted from work and the drive back to Atlanta, but it's pretty tough to be in New Orleans and not want to spend time in the city. And so I hopped on a cable car to Attiki Bar & Grill, which makes a mean falafel wrap and has great hummus (with cajun spice!). It's also a nice place to sit and watch the French Quarter light up as the sun goes down...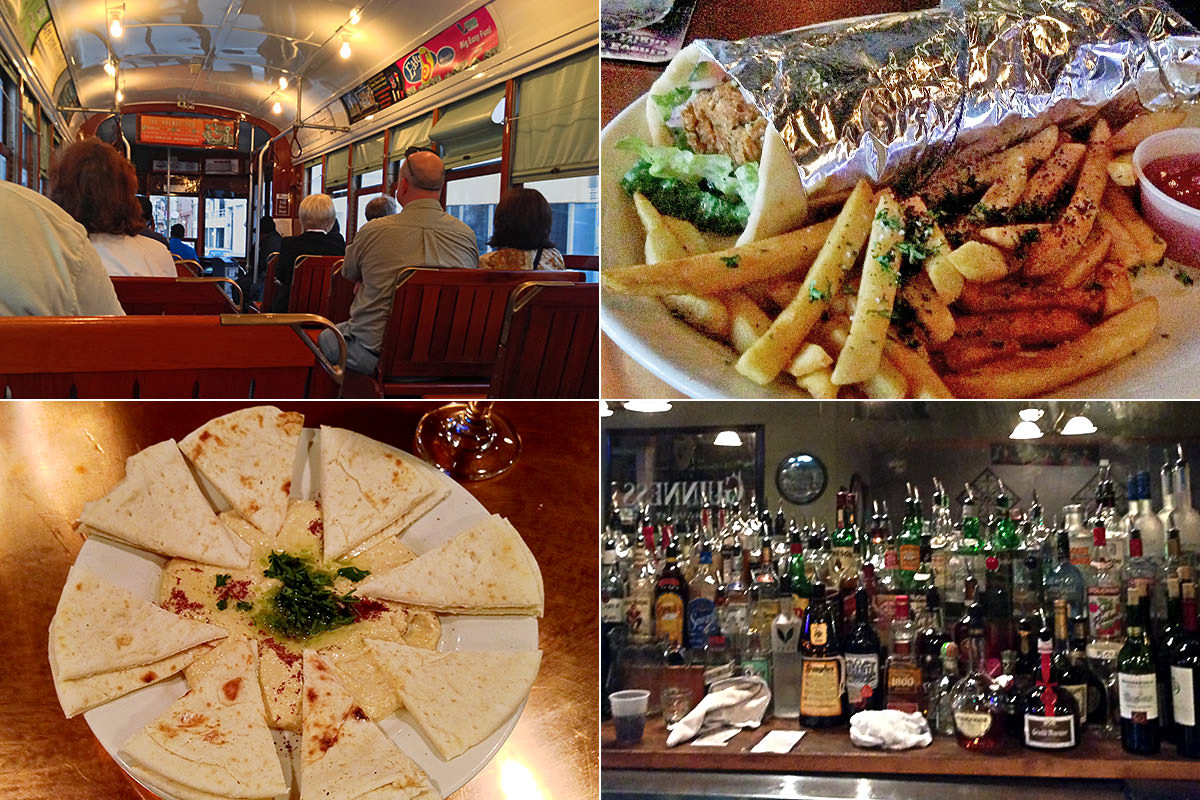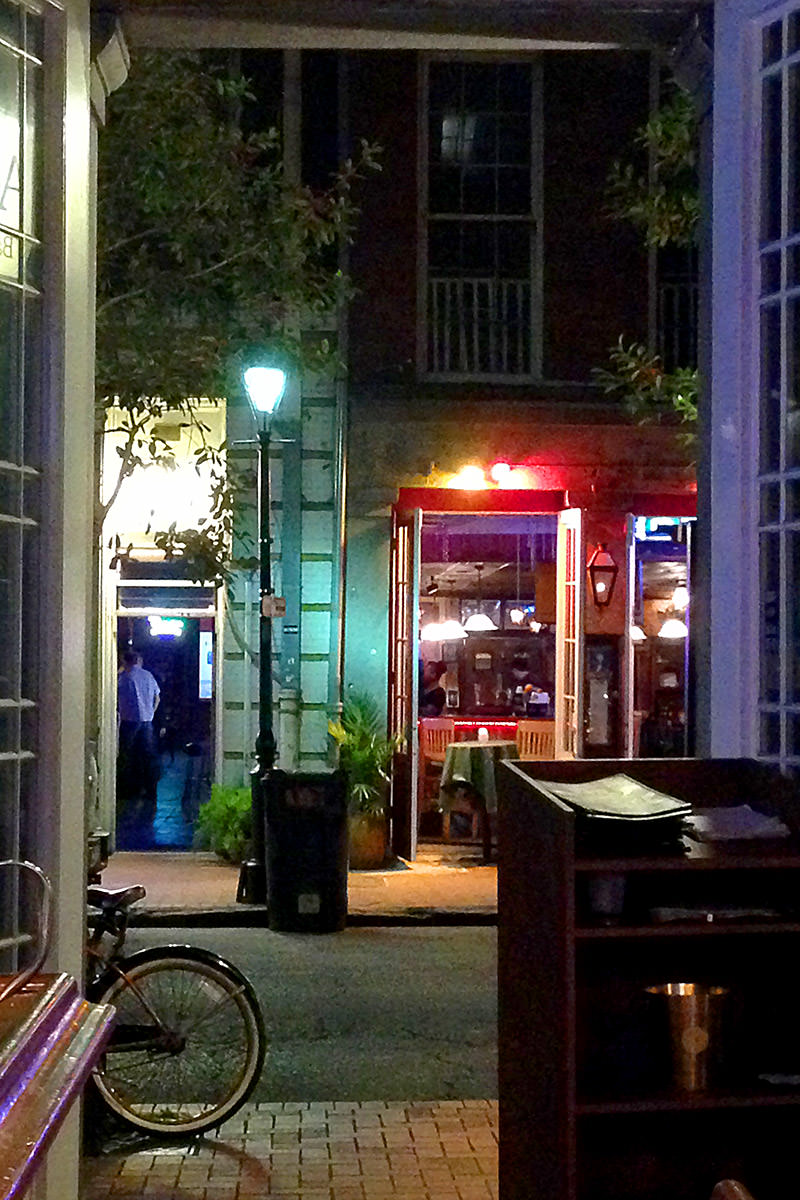 This morning I decided to sleep in. One of the great things about being in New Orleans is that I've been here a dozen times before, so there's not compulsion to wake up at the crack of dawn and play tourist. The only compulsion I had was to make it to one of my favorite restaurants in the city, Cafe Carmo. They have really good sandwiches (I get the Veggie King)... but the reason I love the place so much is for their Banquette Breads. It's a type of flatbread that's been smothered with Havarti cheese and scallions and it is absolutely amazing...
Then it was time to do one of my most favorite things in New Orleans... wander aimlessly through the French Quarter. There is always so much to see, and it's changing constantly, so it's an activity I never tire of. Along the way I saw an awesome ShopCat in the window of one of the Royal Street galleries...
After I walked past, I had to take out my camera because the painting behind the cat was pretty funny...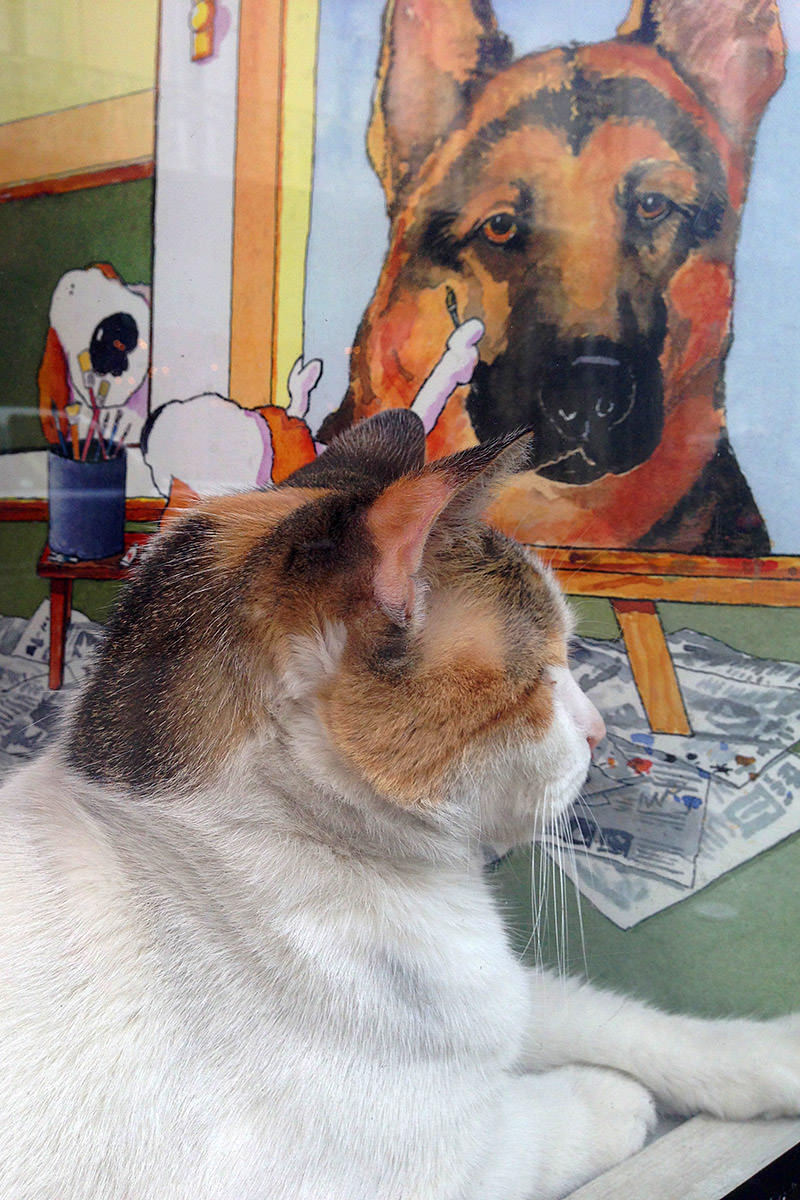 Then, of course, it was time for Cafe Du Monde. Absolutely no trip to Ner Orleans is complete unless you visit here at least once...
One of the things I keep meaning to do, but always forget to do... is visit the courtyard of the Napoleon House Bar & Cafe. This is one of the locations used in one of my all-time favorite movies, Undercover Blues, starring Kathleen Turner, Dennis Quaid, Fiona Shaw, and Stanley Tucci. I've been to most of the other filming locations on previous trips, but this one has eluded me for far too long...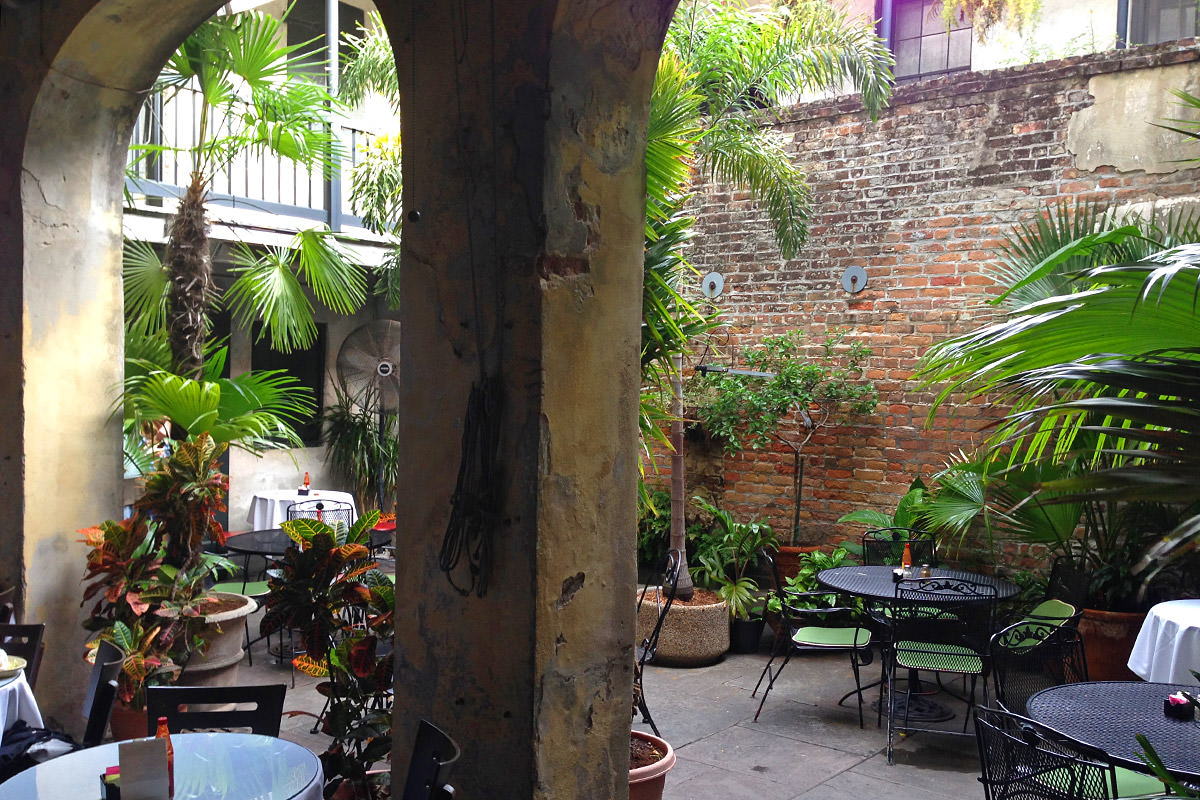 This is where Jeff and Jane Blue went for oysters, only to have both Muerte and Novacek's men show up to spoil lunch. One of the funniest scenes in the movie... which is saying a lot, because there are a lot of funny scenes in the film. If you haven't seen it yet, I give Undercover Blues my highest recommendation...
Dinner was at a new pizza place called Dolce Vita that I was told was good. And indeed it was. The decor is very plain... almost depressing... but they make up for it with the food. Their pizza crust was wood-fired and perfect. I don't know that it will replace Slice as my favorite pizza in New Orleans, but it's nice to have options.
And there it goes... my first night in New Orleans.
Time. She flies too fast.