The story burning up the internets today is about a letter written by Minnesota Vikings punter Chris Kluwe in support of Baltimore Ravens linebacker Brendon Ayanbadejo (who is vocal advocate of marriage equality).
Making a long story short, Maryland Democratic politician Emmett C. Burns asked the Baltimore Ravens football organization to make Ayanbadejo shut up about marriage. Kluwe (also a supporter of marriage equality) thought this was bullshit, and decided to write an open letter to Burns to tell him how he felt.
The letter is sheer genius. Go read it immediately.

I'm guessing this image of Kluwe is a team photo, courtesy of the Minnesota Vikings?

As you might have noticed, the letter is filled with colorful language which has raised some criticism of Kluwe's choice of words.
This really hit home with me, because I struggle with whether or not I should use swear words most every time I write in this blog. When I first started blogging I swore constantly and didn't think anything about dropping f-bombs. But then people started actually reading Blogography, which caused me to not only curtail my swearing... but also go back through old entries and eliminate the curse words I had previously used.
It was a practice that was destined to be short-lived. I use swear-words in real life when I'm fired up. So it's unavoidable that I'm going to use swear-words on my blog when I'm fired up. For a while I tried to disguise it... typing out things like "F#@%!" and "B#LL$H!T!," but comedian Suzy Soro commented that this is kind of stupid. Since absolutely everybody knows what you're trying to say anyway... why not just come out and say it?
She was absolutely right, and I've been cursing in my blog ever since.
Though I admit that most times I do regret it.
Somebody once told me that swearing is a sign that the writer is unintelligent. They don't know how to express themselves properly, so they foolishly have to resort to curse words to make their point. In some respects, I agree with this assessment.
In other respects, I'd argue that there's no word that can adequately take the place of "fuck."
And so I use it. Probably more often than I should... but definitely not as often as I want to. "Fuck" (and dozens of words like it) are forms of expression that I find helpful in communicating exactly what I'm feeling in a way that "shucky darn" doesn't quite reach.
Anyway...
Today I managed to get in my essential visit to America's Dog so I could get my Veggie Chicago Dog...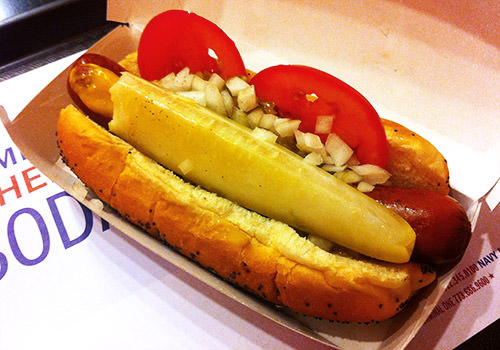 It was, as always, delicious.
Oh... and speaking of delicious food... I never check a bag when flying into O'Hare so I can grab a veggie burger at Johnny Rocket's before I exit through security. But yesterday as I approached the restaurant, I was horrified to see that IT WASN'T THERE!
WHAT THE FUCK?! Shucky darn!
I hate it when that happens.