Sorry, but this is a geeky computer post most of you will probably want to skip.
And so Apple finally unleashed their iTunes Match service today. I say "finally" because we were told that it was going to be released on October 31st, but then it wasn't. I can only guess that it wasn't ready yet, and Apple wanted to take some extra time to make sure everything was working perfectly before launch.
Or not.
Because, from my experience, iTunes Match is mostly crap. For now, anyways.
The idea is that you pay Apple $25 a year, and they manage all your music for you via iCloud. Songs in your iTunes library that Apple sells in the iTunes Store, regardless of how you acquired them, are immediately available online from Apple's servers. Also... no matter how poor quality your music files are, Apple automatically upgrades them to high-quality 256-kbps DRM-free files. You can then either A) Stream these files from iCloud over the internet to your computer or iOS device any time you want... or B) Download them to your computer or iOS device any time you want for offline listening.
If the song is not sold by Apple, it will be uploaded to iCloud so you can access the original file via streaming/downloading as stated above. It will not be upgraded in any way, however, because Apple doesn't have it for sale.
When it works... it's pretty special.
For example, I bought the CD Cruel Summer by "Ace of Base" years ago and ripped it into iTunes. Since the album is also sold by Apple, I am supposed to get the full benefit of iTunes Match. But not really...

Above you see iTunes Match in action. Or not.
The songs with NO cloud icon after them have been recognized by Apple as being sold in their store and I can stream or download them immediately to any device or computer I have registered with iCloud (but my original ripped file is left untouched on this computer). The songs with a dotted cloud icon after them are in-process and may or may not be recognized... if NOT recognized for some reason, they have to be uploaded. The songs with an exclamation(!) cloud icon after them have some kind of problem and return an undefined error when iTunes attempted to match/upload them...


What's the cause of the error? Who the fuck knows! This is APPLE we're talking about!
Usually re-processing them will work, but not always.
Anyway, to demonstrate how iTunes Match is supposed to work, I am going to delete the Ace of Base song Adventures in Paradise from my library (since it's one of just three measly songs iTunes Match has recognized off this album as being sold by Apple)...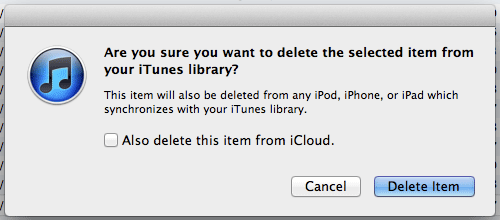 Note that I am net telling Apple to delete the song from iCloud. I'm guessing that I would lose it permanently if I did this (assuming I hadn't backed it up). From what I can tell, ONLY songs you purchased directly from Apple are permanently available from iCloud (whether your membership is current or not).
After the song has been deleted, the file is no longer on my MacBook, but the song is still listed as being available. I can then click the standard little "Download from iCloud" icon to the right of the title and get it back. Here it is downloading to my MacBook (a little "progress pie chart" is on the left there)...
Now here's the cool part...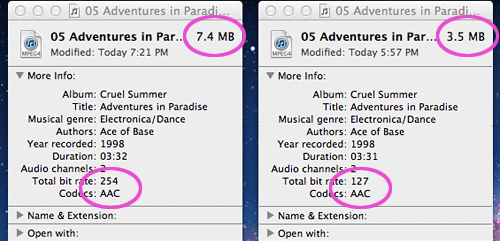 On the LEFT is the new high-quality Apple file I just downloaded. On the RIGHT is the original low quality file I dragged from the trash. iTunes Match is working as advertised. I just traded my old "low-res" music file for the fresh "hi-res" one that Apple sells in their store. Assumably, since the file was uploaded direct from the record label, it's the best possible version of the song available in a condensed digital format. To do any better than this I'd have to rip the file from CD in a "lossless" uncompressed format... but I don't have room on my MacBook for large files like that and, given that I'm not an audiophile, probably wouldn't notice the quality improvement anyway.
BUT... what if you don't want these audio files hogging up space on your hard drive? No problem! Apple allows you to "stream" songs to your computer for listening without downloading. KINDA. Technically the files are downloaded to your computer to a temporary buffer. This way, you can fast-forward, rewind, and skip around instantly... which is something you can't usually do with streaming music. As to how big this buffer is and how long it lasts, I have no clue. But it's a very nice way to handle streaming audio. To "stream" music that's not on your computer/device just click play or double-click the song anywhere except on the "Download from iCloud" icon.
So, yeah, when it works, Apple's new iTunes Match is pretty darn cool.
But, for a huge chunk of my library, it most definitely does NOT work...
Songs I own which Apple doesn't sell... NO MATCH!
Songs I own which Apple does sell... but they randomly aren't recognized for no reason I can fathom... NO MATCH!
Songs I own which Apple doesn't sell... which won't upload for some reason I can't figure out... NO MATCH! and NO iCLOUD SIMULATED MATCH!
And here's where it gets strange.
Just for kicks I deleted a song that I know Apple does not sell... The mono version of Baby's in Black from the album Beatles for Sale (2009 Mono Remaster). Apple only sells the Stereo version (which is not the version I want because true fans know that The Beatles only cared about the mono tracks on their early albums... stereo releases were considered a novelty at the time, and the band was rarely involved in making them).
After deletion, I immediately clicked the "Download from iCloud" button to get it back. Now, since Apple does not sell this song, I should have gotten the same mono version file I just uploaded. But, as you can probably guess, I didn't. I got back the stereo version that Apple sells... but they left the song label the same...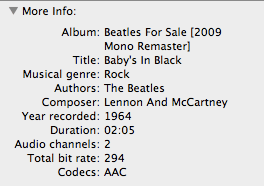 A quick look at the graphic equalizer confirms that this really is the STEREO version with two unique left and right channels...

Just to be sure, I also took the graphic equalizer to my original file so I could confirm is really is the MONO version with the same channels...

So, to sum up my iTunes Match experience...
Sometimes it works as advertised and it's all good. But an alarming number of times there are problems...
Songs I own that Apple sells which ARE NOT recognized means I don't get Apple files.
Songs I own that Apple doesn't sell can be recognized WRONG and I get Apple files I don't want which are labeled incorrectly.
Needless to say, this is a bit frustrating. Whether or not Apple can fix this is anybody's guess but, for me at least, I just paid $25 for something which is fatally flawed.
What Apple has to do is find some way of letting customers manually correct the iTunes Match information. The problem is that I can't even figure out when Apple has made a match... or when there was no match and they had to upload my files (UPDATE: Actually, I can, see below). So even if I could correct the data, I wouldn't know which files needed it. Unless I delete each and every one and downloaded it back. Then matched files would be flagged as "Matched AAC Audio File."
In the meanwhile, there are still a lot of questions to be answered. Like... what happens to all my downloaded "Match" files if I don't renew my membership? Do they evaporate? What happens when a record label jerks their music from Apple's store? Do you lose your music? And so on. And so on. Since this is only my first day with the service, maybe my questions will eventually be answered. But Apple is Apple, so I've resigned myself to the fact that they probably won't be.
As for iTunes Match?
The potential is there... but I can't recommend it. Yet.
Check back in a bit.

UPDATE: iTunes does have a column you can turn on which will show you the iTunes Match status of your music...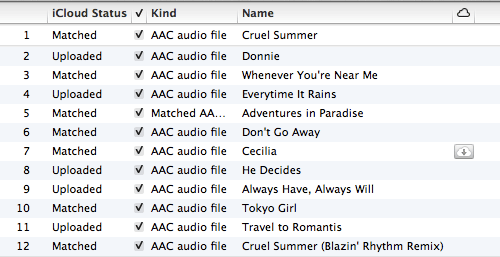 Still no way I can figure out why some tracks are recognized and others are not on the same frickin' album. You'd think that once Apple figured out I own the album, they'd recognize ALL the tracks. But, alas, no.
Finding this feature lead to my discovering something very interesting...

a-ha's amazing final album, Foot of the Mountain, was never released in the USA. I had to import the CD and rip it into iTunes. HOWEVER... iTunes Match totally recognized and matched it! Apparently, iTunes Match gives you access to ALL of Apple's music stores worldwide. This is very cool, but is it intentional? Time will tell.

UPDATE: One of the reasons I was so keen to sign up for iTunes Match was that I could finally get rid of all the DRM-Protected music I bought and replace it with fresh DRM-Free downloads. I had already upgraded most of my music to "DRM-Free iTunes Plus" but there were some songs that never wanted to upgrade for some reason. Such as the album Play by Moby. iTunes Match recognized all but one song (even though I bought it from Apple!), but I deleted them all anyway so I could test whether songs I uploaded were still intact when I downloaded them. Sadly, the answer is NO! Trying to download the DRM-Protected song I had uploaded fails completely...


Needless to say, this is a load of shit. I BOUGHT THIS SONG FROM APPLE AND YET APPLE CAN'T MATCH IT? WTF?!? Just goes to show... buying DRM crap will only end up punishing paying customers instead of the criminals it's supposed to.

UPDATE: And things just keep getting worse. Holy crap is iTunes Match a mess! Take a look at this...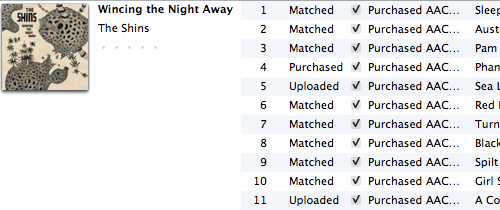 This is an album I bought from Apple's iTunes Music Store. Note that all songs are recognized as having been purchased. Note also that the status of the songs in iTunes Match is "Matched" or "Purchased" or "Uploaded"... seemingly at random. ALL OFF THE SAME ALBUM! They should all be registering as "purchased" but are not. If Apple can't even get the stuff THEY SELL YOU right, how in the hell can they be trusted to figure everything else out? And who do I talk to about getting all this straightened out?

UPDATE:I was hoping that re-importing a CD directly into iTunes with Match enabled would make it so that the entire album was recognized instead of just random songs. No such luck. iTunes is apparently matching by digital fingerprinting... and doesn't have very accurate fingerprints from CD rips to match against. Crap. I can only hope that their service will get smarter in time.

UPDATE: Despite a few minor bugs (like skipping to the next track when the current song isn't buffering fast enough and iTunes runs out of data to play), I have officially deleted (almost) all my music files from my Home Mac, my Work Mac, and my MacBook Pro. The only files I keep are unmatched protected songs, which won't play from iCloud for some reason. Since I mostly only use these devices when I have internet, it seems crazy to waste the hard disk space when I can just stream everything. For plane rides sans WiFi or other situations where I don't have internet, I'll just listen to the music I've got loaded on my phone (which is always with me). I gotta say... if Apple could just do a better job of recognizing the 800+ songs that are currently "unMatched" in my library, this whole iCloud thing would be absolutely killer. Until that day, it's just merely awesome.